How To Sell Sports Cards With The eBay Vault
Sponsored by eBay
The idea of vaults isn't new to the hobby, but the new eBay vault improves on existing vaults while offering a service that is directly linked to the most significant sports card marketplace in the world. On top of that, collectors who take advantage of the vault now get in on some nice perks for being first-movers. We highly encourage you to sign up right here.
In today's article, the newest addition in our eBay vault series, we'll look at how to sell cards using the eBay Vault. To better enjoy this article, be sure to read our introduction of the vault and our article about buying using the eBay vault.

An Introduction to Selling Cards with the eBay vault
To sell a card on eBay, that card can come from anywhere. A flea market. A hobby shop. A box break. You name it.
That's not the case with the eBay vault. Rather, to sell a card with the eBay vault, you need to have a card inside the vault, and that's only possible if you buy a qualifying card on eBay. (But, that will change when eBay eventually opens the vault up to personal collection submissions).
We talked through the qualifying cards in this article, but as a reminder, any card you buy for more than $250 that's graded by one of the major grading companies is eligible.
And if you have a card in the eBay vault you're looking to sell, it only takes a few clicks. Let's look at the process.
But first…
READ: Best practices for buying and selling in the eBay Vault
Why should you sell cards using the eBay vault?
You have two options with vaulted cards: you can sell them or you can withdraw them. Neither is hard to do, but if you're looking to actually sell them, it's significantly easier to sell them through the eBay vault than to withdraw them and sell them anywhere else.
The best part, as eBay explains here, is the vault comes with some perks for selling. Not only do you get free storage until 2024, but you also have no selling fees when you sell a card using the vault. Selling fees are about 12% per transaction, so think of all the money you can save. If you sell a $500 card that's in the vault, that's an extra $60 for the transaction. Not insignificant money by any means.
So if you like making money (and if you're reading this, you probably do), then consider the vault for that reason alone, if nothing else.
How to sell using the eBay Vault
Ready to sell a card you have vaulted? It's super easy. Here are the steps, with screenshots to guide you.
From the top…
Go to The eBay vault.
From the main eBay landing page, click on the "My eBay" dropdown and "The eBay vault."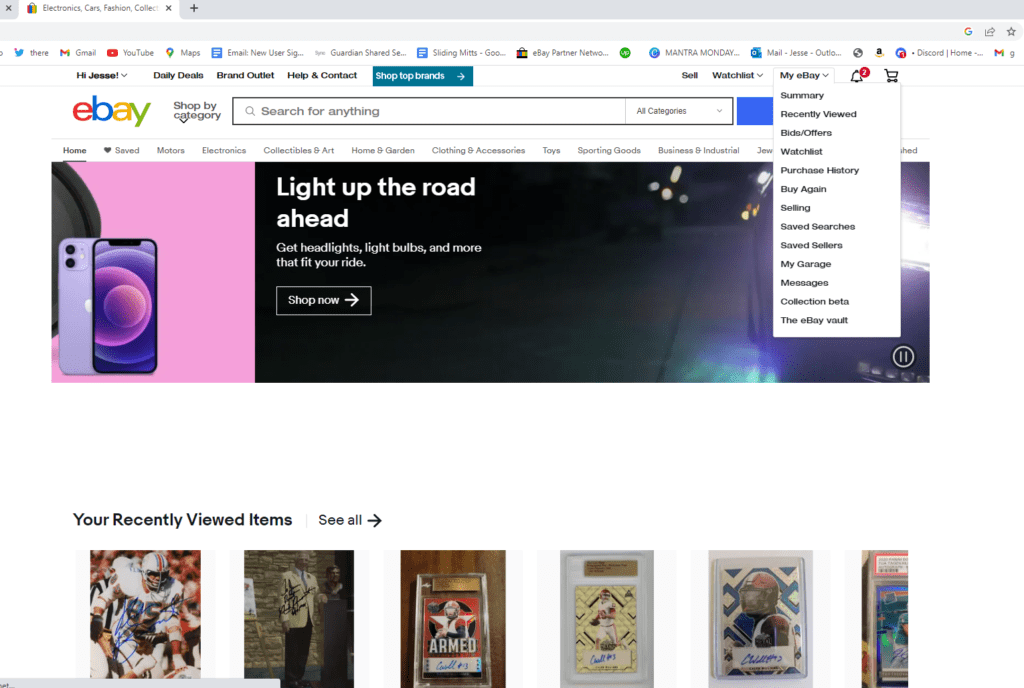 Click on the card in your vault that you want to list.
Under "Items in the eBay Vault," your cards should auto-populate as soon as they're entered. Find the one you want to list and click on it.
One note: it takes a couple of days for the card's image to appear, so be sure to wait on that before listing or you'll have to relist. I know from experience.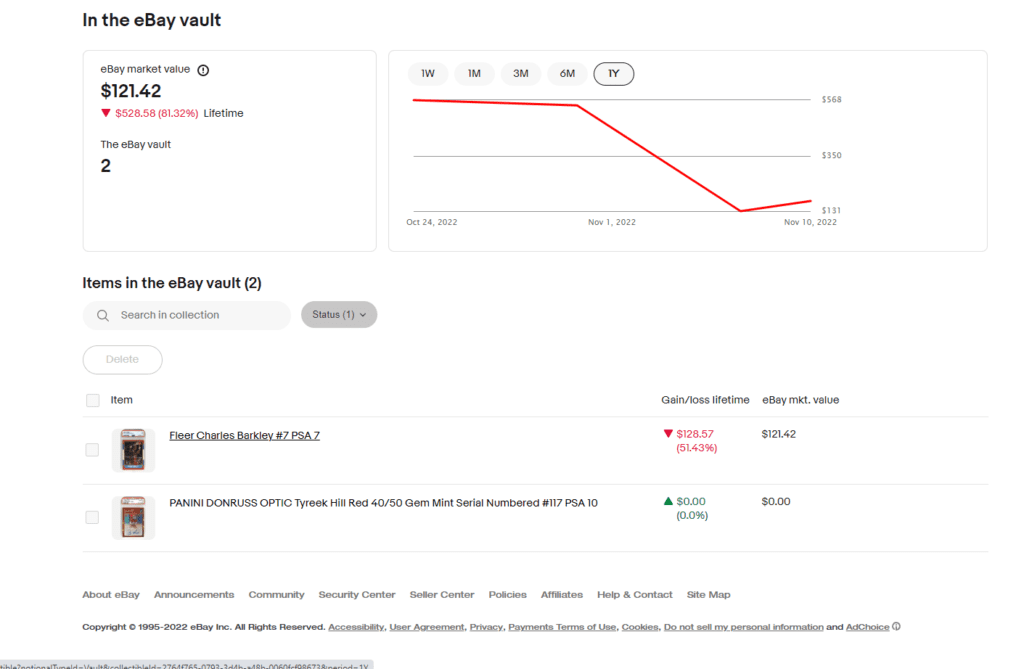 Click "Create Listing" on the card's page
There's a big blue button. Click it.
Make sure your details look correct and set the price.
This is where things really are amazingly simple. The listing creates itself based on the details, and while most of the features (title, images, description, etc) are locked by eBay, it takes 30 seconds to read through everything and make sure it's good to go.
Pricing is next. Determine whether you're doing an auction or buy-it-now, and go from there. Need help? Here's our guide on pricing an eBay sports card.
Click "List It."
Just like that, you're good to go. Your card will be listed and can be viewed in the selling tab, just like the rest of the cards you have listed.
What comes next?
Once your card is live, it will function just like any other card. Buy It Now offers will be sent like normal, bids will be placed the same way, and payment is processed just like always.
In a nutshell, the vault is makes selling on eBay even easier than ever. If you haven't, do yourself a favor and sign up to see for yourself.
Conclusion: Selling with the eBay vault couldn't be easier
The eBay vault makes the selling process as simple as possible. After enrolling, you'll be able to sell your vaulted cards with just a few clicks of a button. It's no more complicated than the standard eBay sale many of us have been doing for years. If anything, it's easier since the listings are auto-created.
We highly encourage you to get in on the vault. If you get in on the vault today, you can take advantage of all the collector-friendly perks, like free storage through 2024.
Your time is money – and your fees are money too – so sign up for the vault today to take advantage of eBay's awesome new service.