The Best Rookie Cards Of Hall Of Fame Candidate Carlos Beltran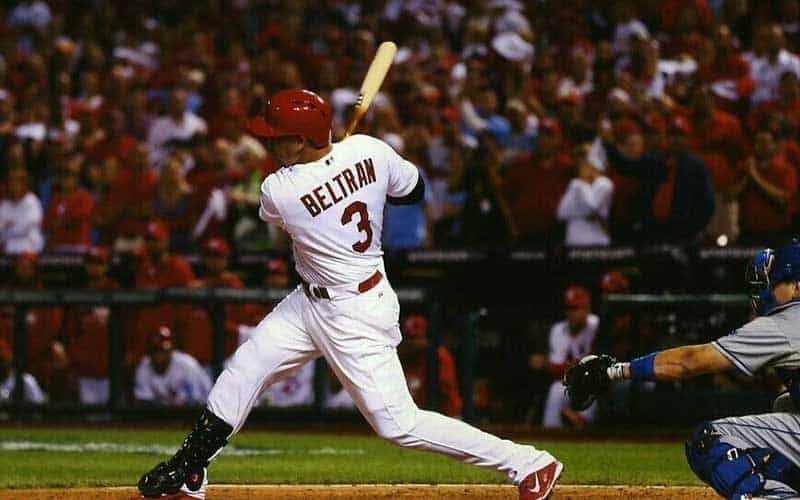 A Gold Glove center fielder with speed and power, Carlos Beltran did a lot of things really well. He will appear on the Hall of Fame ballot for the first time in late 2022.
Is he a Hall of Famer? What is his path to election? And what are his rookie cards?
We'll answer these questions and more as we explore the best rookie cards of Hall of Fame candidate Carlos Beltran.
Shop for Carlos Beltran rookie cards on eBay
Who is Carlos Beltran?
Carlos Beltran was a center fielder who played parts of 20 seasons in the major leagues with seven teams, mostly with the Royals and Mets. He retired after the 2017 season and will appear on the Hall of Fame ballot for the first time in late 2022.
During that long career, Beltran was an All-Star nine times, won three Gold Glove awards, and two Silver Slugger awards. For his career, Beltran produced a line of .279/.350/.486 good for a .837 OPS and Ops+ of 119.
He finished his career with 2,725 career hits, 312 stolen bases, and 435 home runs. His 70.1 WAR ranks him 8th all-time among centerfielders, ahead of 13 of the 19 centerfielders currently in the Hall of Fame. Beltran wrapped up his career with a world championship with the Houston Astros in his final season.
Shop for Carlos Beltran rookie cards on eBay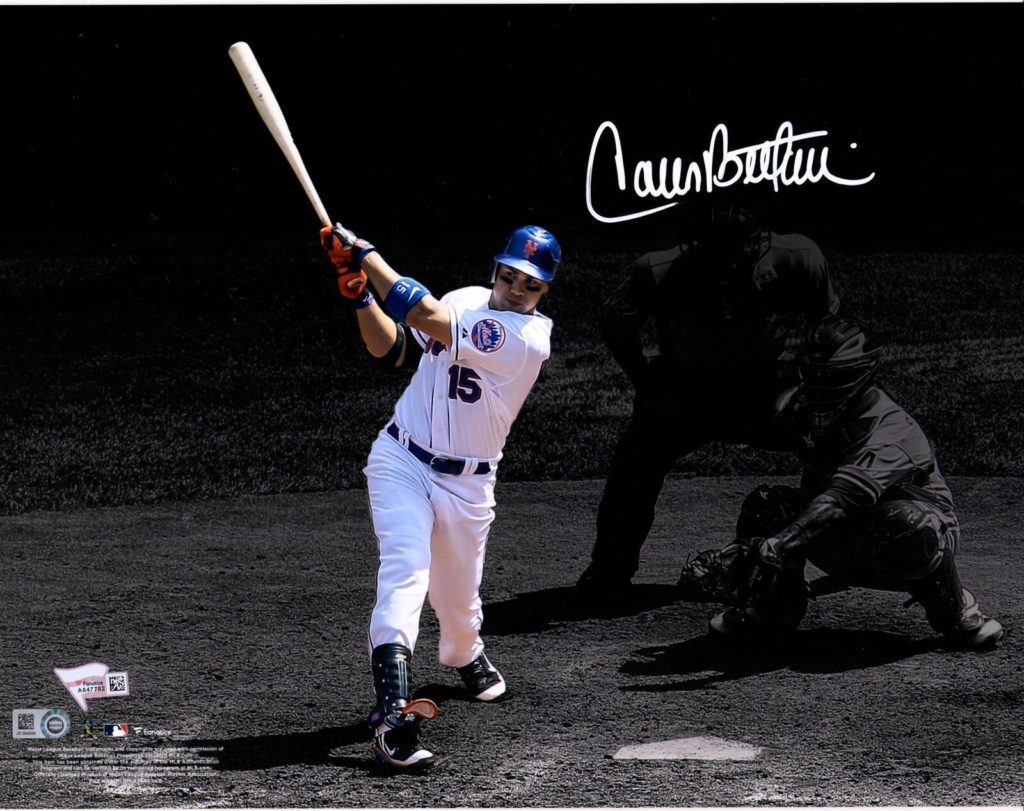 Carlos Beltran and the Hall of Fame
Based on the above, you might think Beltran is a sure-thing, first-ballot Hall of Famer. The reality is a bit more complicated for a number of reasons.
Beltran never won an MVP award, and only finished in the top 10 in the voting twice. So, he was more of a "very good for a long time" candidate than one with an obvious Hall of Fame peak. I believe that Beltran is clearly above the line, but based on the above it will take a little longer for the popular opinion of voters to "get there".
While Beltran was a very good hitter, a good amount of his value is from position/defense and base running. Those things are very important when it comes to winning ballgames, but again fans and voters can be slower to come around to that kind of value.
The final issue is with that 2017 Houston Astros team that won the World Series. That was the famous "trash can" club that was punished for using cameras and banging on trash cans to signal pitches to their hitters. In the league's report, Beltran was called out as something of a ringleader in the clubhouse.
Beltran lost his job as the Mets manager before ever getting to manage a game because of the fallout from the report. How much will voters hold his involvement in the scandal? It's tough to say.
Both fired managers have already been rehired. I think the scandal will slow his election to the Hall of Fame, but not stop it outright. What his vote total looks like this year will be very telling: will he be on the fast path with say 50% of the vote, or have a long road with a much lower total?
Shop for Carlos Beltran rookie cards on eBay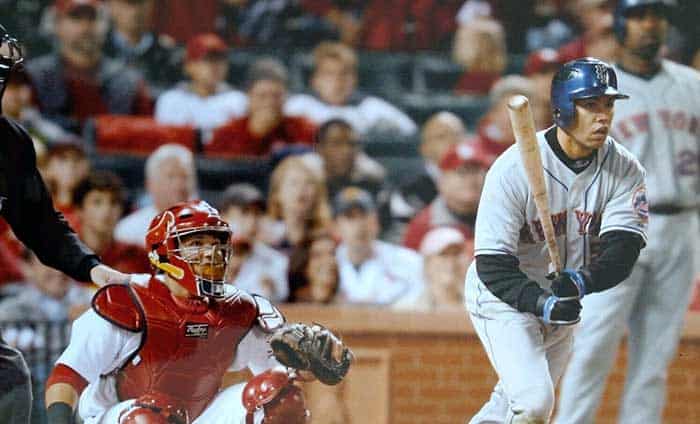 The best Carlos Beltran rookie cards
Carlos Beltran is a Hall of Fame caliber player who played in the modern era. How many rookie cards does he have?
Technically, he has one. Oh, and it doesn't have his picture on it. Let me explain….
1995 Topps Traded Carlos Beltran
Beltran was drafted in the second round back in June of 1995 by the Kansas City Royals. The Royals selected a young player named Juan LeBron in the 1st round. Topps included both players in the 1995 Topps Traded set.
Unfortunately, Topps reversed their photos, so LeBron appears on Beltran's card, and vice versa. The error was not corrected, since Topps Traded was released in complete set form, not in packs.
Three years later Beltran got his first taste of the big leagues, and won the 1999 American League Rookie of the Year award. LeBron? He never made the major leagues, although he played minor league ball for twelve years.
So the 1995 Topps Traded #18T is Carlos Beltran's only rookie card. And he doesn't even appear on it. He wouldn't even make his Bowman debut to 1997.
The 1995 Topps Beltran has a PSA population of almost 2,300, with close to 300 PSA 10s. Recent PSA sales have been around $115.
Shop for 1995 Topps Traded Carlos Beltran rookie cards on eBay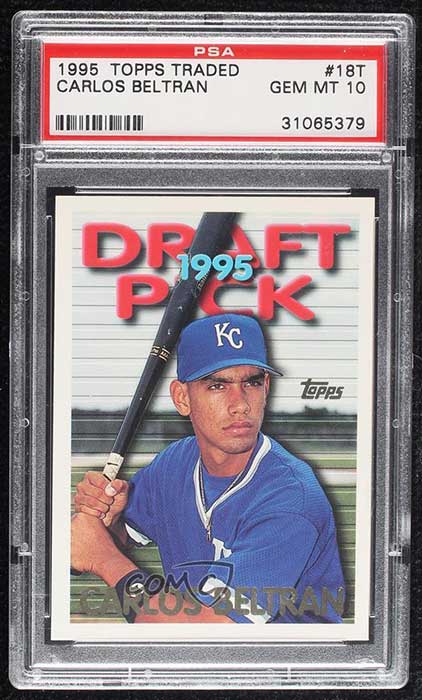 1995 SP Top Prospects Carlos Beltran
While technically a "prospect" card, the 1995 SP Top Prospects Carlos Beltran is the only other card Beltran appeared on in 1995. Only 234 copies of the card have been graded by PSA, with only 23 PSA 10s. Comps are hard to come by with a pop that low.
Shop for 1995 SP Top Prospects Carlos Beltran rookie cards on eBay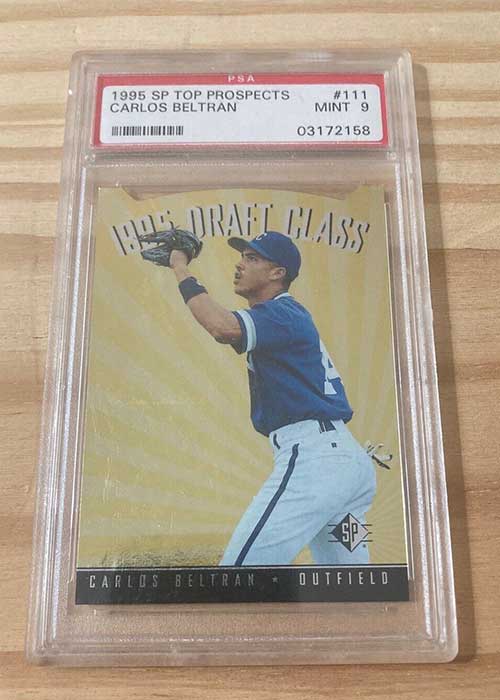 Carlos Beltran rookie card value
Other early career Carlos Beltran baseball cards
Beltran's early career cards are a little different, as after 1995, he didn't even appear on his first Bowman card until 1995. He didn't appear in the full suite of products until 1999.
As mentioned, Beltran makes his first appearance on a Bowman card in 1997. PSA has graded only 108 copies, including only 10 PSA 10s. The last PSA 10 1997 Bowman Carlos Beltran sold on eBay fetched $75.
In 1996, the year between his first appearance on a card and his first Bowman card, Beltran appeared on three different minor league cards. All three cards are produced by Best, with the first in their Top 100 Prospects set, and the other two team sets.
In 1997, Beltran also appears on two additional minor league sets, one a team set and one a Carolina League Top Prospects set.
All five Best sets have very low PSA populations, shockingly low in some cases. Most of the sets are difficult to find in unopened form as well, making comps difficult, but suggest these cards have some upside if you can track them down.
Carlos Beltran rookie card investment thoughts
Carlos Beltran's 1995 Topps Traded card has a reasonable PSA population, and sells for a very reasonable price. When Beltran makes the Hall of Fame, I expect some collectors will be caught off-guard. The card has some potential upside, although it's tough to know exactly how much.
The 1995 SP Top Prospect card, and the other 1996 and 1997 cards are all low population and hard to find. I think there's some nice upside here as well since the supply will never meet demand when Beltran makes the hall. If you can find these cards and they're reasonable, I think they're a good buy.
Final thoughts on the best Carlos Beltran rookie cards
Beltran is likely to become the only Hall of Famer to not appear on his own rookie card. That's crazy. His limited number of rookie and early career cards feel like a throwback to a much earlier time.
But his "sneaky" Hall of Fame case and the low number of his early cards, plus their low PSA populations, presents an opportunity for collectors to get on the Beltran bandwagon.
More Cardlines top baseball card rookie coverage
Other Cardlines 2023 Hall of Fame Coverage