The Ultimate eBay Sports Card Selling Guide: From Listing To Pricing, Optimizing, Shipping, And More!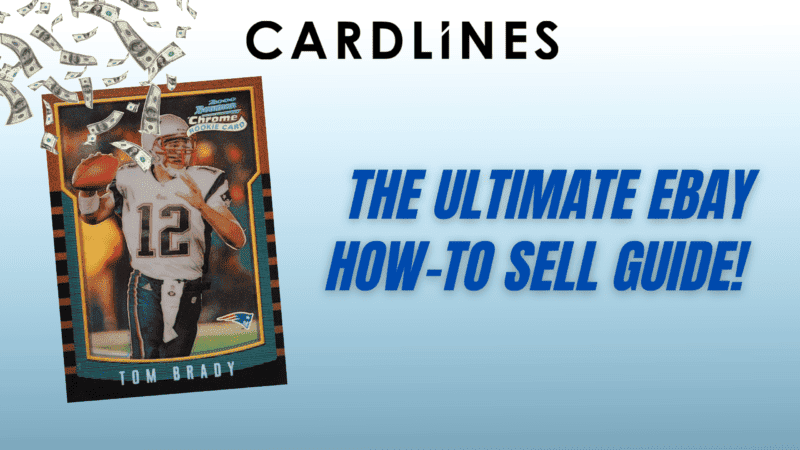 Inspired by the number of inquiries we receive daily about how to sell sports cards on eBay, we put together the 6-part, ultimate eBay sports card selling guide.
These include:
In addition, we made a short video to take a deeper dive into this content, which is posted on our CardLines YouTube channel.
In this ultimate eBay sports card guide, we'll recap the biggest takeaways from each of these segments. Be sure to click on the articles for a full, in-depth read of the topics covered. 
1. How to title your eBay listings
The title of your eBay listing can make a significant impact on the final selling price. In our first eBay listings article, we looked at a lot of common practices when it comes to listing cards. Here are some of the takeaways.
Three best practices for titling your listings
Nowadays, a picture and title are not enough to boost your card – you also need to fill out a lot of extra information such as team, player, grade, condition, and more.
After sifting through hundreds of listings, here are three very important things to remember.
If you do these three things every time, you'll be making major strides toward having the perfect title — as we've proven multiple times.
Common threads in all great listings
We also looked through some of the best-selling auctions on eBay to determine what traits all great listings have in common.
Here was the approach:
Search eBay recent sells for specific cards that have a lot of recent comps using the filters (Zion Prizm PSA 10, then separately input the year and "rookie" filters so as not to skew title results)
Find the highest selling price in the last month
Chart what factors are present in the listing
Repeat with 10 different cards, and then use results to figure out what is the best strategy for listing cards.
And, of course, given that the player's name was a given, here were the factors we were searching for:
Year of card
"Rookie"
"RC"
Visual Description ("looks centered")
Use of ALL-CAPS
Scarcity call ("Hot card," "rare," etc)
Here are the results:
As you can see, three of the six qualifications were present in almost every listing: the year, and the phrases "rookie" and "RC."
If you're listing your cards, you have to include these three elements in your title to give your cards the best chance of getting the max value. The other elements might help, but we can't call them "necessary" in any way.
2. Filling out the category, item specifics, photos and more
If you want your auctions to perform like those from the top sports card sellers on eBay, filling out the extra details is the most overlooked step.
The title is very important in converting viewers to buyers, but all the extra details are what give your card visibility and more watchers (although you should be aware of watcher bots, too).
Since the company makes money on transaction fees, it's in eBay's best interest to give better visibility to valuable cards that will sell for more. One way to ensure your card has a chance to sell for more is by providing all the details, which gives you more eyeballs on your card.
Here are the different areas to consider, and read the full guide on the topics for more.
Category
For 90% of your options, you'll probably list as "Sports Mem, Cards & Fan Shop > Sports Trading cards > Trading Card Singles."
Occasionally, the subcategory might be "trading card lots" or "sealed trading card boxes," depending on what you sell.
Photos
Photos are perhaps the most important element of the listing. We've grown so accustomed to high-quality pictures coming from our cell phones that the expectation is sky high for eBay cards you're considering buying.
I'd recommend buying a lightbox on eBay. For just around $30, you get an easy-to-assemble box that's matted all white and includes built-in lighting. Then, get a card stand so you can stand your cards inside the box for photos.
For raw cards, take these pictures:
Front of card
Close up of each corner (4 pics)
Back of card
Recommended: close-up of the top half and bottom half of the card (2 pics)
For graded cards, I usually just take a picture of the front and back of the slab. It's already graded, so people aren't exactly shopping for condition.
Make sure your images are:
evenly lit
focused
clear
show any flaws in the card or features you want to spotlight, such as a nice patch.
Item Specifics, Details, and Description
The item details, specifics and description are pretty straightforward – just know what you're listing and answer the questions appropriately as you create your listing.
You can go step-by-step in detail with our guide, and I also included a template for your sports card description.
3. Looking at the selling price of eBay auctions vs. Buy It Now
Your card will sell for more or less based on the type of listing you choose: auctions or buy it now (BIN). So should cards be sold on eBay using Buy it Now (BIN) or auctions?
Several factors are at play here, and there's not a one size fits all answer. Some cards will be better suited as a Buy It Now while others will thrive as an auction.
Read our full analysis here, which includes the unique advantages of different listing styles.
Three factors to help determine which listing style to choose
If you're trying to decide what type of listing to choose, consider these three traits of the card.
Age of the card
Rule of thumb: old cards should always sell as a Buy It Now. Why? If you're listing cards of a retired player, there are probably significantly fewer people searching for that player over the course of a week as there would be searching for cards of an active star.
Headlines
The same logic from above also applies to current players who aren't making as many headlines as perhaps they should be. The value of sports cards is largely determined by how popular the athlete is, so players who are flying a bit under the radar are much better suited to sell as a Buy It Now than in an auction.
How quickly you want a return
When you list a BIN, there's no end in sight. It might sell in three days or three months. If you need to generate a quick return on a timetable you can control, an auction is the best way. You know it's going to end in exactly X-many days, and even if it might not sell for as much as a BIN, you're giving up a bit of profit for the timely result.
So, do eBay auctions or BIN sports cards sell for more?
We logged some recent sales of modern stars and HOFers to see the difference in selling price.
All cards, unless otherwise noted, are PSA 10s.
On average, auctions sold for 14% less than BIN. The numbers speak for themselves: if you're selling, it's better to list BIN. If you're buying, it's cheaper to use auctions. Of course, there will always be some exceptions across the board, but if you stuck to this format for every purchase throughout the year, you'd ultimately be more profitable.
4. How to price your listing
Once you've decided what style of listing you're using for your cards, you then need to figure out how to price the listing.
Do research for recent sales
Searching for recent sales is the single most important step to take as you begin pricing your card.
It's a very simple process. First, go to eBay and search for whatever card you're about to list. Then, on the left side of the screen, scroll down to "Show Only" and click on the filter "Sold Items."
This will pull up only cards that have sold in the last 90 days, including their selling price. Since the card market changes so much over time, use the most recent listings as comps.
If a card sells BIN with the best offer accepted, there's a slash through the price. The price shown is the asking price, but you can't actually see the agreed-upon best offer price. Fortunately, 130point.com allows you to search for these listings and find the price, plus it has a window longer than 90 days.
If you're looking for more info, you can sort by "completed items" instead of "sold items." This shows you the auctions that did not sell as well, and you can draw more conclusions about pricing and listing techniques from this.
Note: if you're doing this on mobile, the eBay app has the same functionality. You just tap "filter" on the right side of the screen, "show more," and the check "sold items."
Do research on the asking price
It's also smart to do some "competitor research," if you will. Before you list a card, search for that card among active listings and determine what the typical asking price is (and if more are auction or BIN). If it's a pretty low-numbered card and there's only a handful on eBay, you could list yours as a BIN for a few dollars less than the cheapest if you're really serious about selling it.
We also took a deep dive on the different strategies when you're listing BIN or auctions, which we covered in our full study.
5. Best listing and post-sale strategies
It might be overwhelming when you sell your first card, but we're here to help reduce the stress! In our post-sale practices article, we talked about everything from shipping to improving customer experience, which will get you better feedback, as we wrote in this guide. Here are the highlights.
Strategies for shipping cards
The shipping and handling is the most important aspect of the post-sale transaction. Your number one priority is getting the card safely to the buyer, but there's also a fine line between secure and overkill.
For this, you'll need supplies: penny sleeves, team bags, top loaders, bubble mailers, and optionally (but highly encouraged) cardboard, too.
Now let's talk packaging.
Single cards should always be put in a penny sleeve and top loader, and then put a piece of painter's tape across the top of the top loader to keep the card from slipping out in transit.
Additionally, it's never a bad idea to put cardboard around the outside of your top loader. Get two pieces that are just bigger than the top loader and tape them around your card.
Of course, you'll occasionally sell a BIG card. Hundreds or thousands of dollars, the kind of card that eBay is now authenticating. If this is the case, you can always contact the buyer and discuss shipping and insurance options. Your buyer will NOT mind spending $15 on insurance to get a $1,000 card.
Strategies for improving customer experience
There is an element of "branding" that goes into selling cards and creating a business. A few elements we talked about:
Become a brand
Communicate well with your buyer
Ask for feedback
For details of what each of these looks like when executed properly, just click here. To learn more about vaulting your cards in the eBay vault, click here.
6. FAQ and other pro tips
Finally, we winded down the series with a few other pro-tips from our Cardlines team. For this one in particular you'd be better suited to read the full commentary here, but here are a few of the topics covered.
The eBay Standard Envelope
eBay has realized just how essential sports cards are for its ever-growing business, and with that in sight, they've taken some steps to reward sports card sellers.
One of the best additions is the eBay Standard Envelope, which allows sellers to ship raw cards that sell for $20 for less than $1, as long as the packing meets the following criteria:
The maximum weight is 3 oz.
The maximum thickness is 0.25."
The minimum dimensions are 5″ x 3.5″
Maximum dimensions are 11.5″ x 6.125″
The destination address must be parallel to the longest side
Envelopes must contain no clasps, strings, buttons, or similar closure devices
The envelope is not enclosed or made of any plastic material
Bubble mailers or any packaging made of plastic are not supported
For a long time, it wasn't worthwhile to even sell $20 cards on eBay because shipping and fees ate away the vast majority of this profit, but this addition helps make these sales worthwhile.
Read more about this eBay offering right here.
There's a time of year to sell
The easiest thing to remember is this: always sell in-season, always buy during the off-season. If you have cards of players that will be playing in the playoffs, that's the peak time to buy and sell.
With sports based on a calendar and card value depending heavily on in-season and out-of-season, it's almost a hack to making a lot of money.
Here's an article in which we took a deep dive into the cycle of values.
There's a time of day to sell
The time of day that your auction ends makes a big impact on selling price.
You should have all your cards end during "primetime." That means either listing your auctions during prime time so they'll end that way, or scheduling them to launch at prime time.
Here's an article we wrote about this listing strategy. While it's written more for the buyer, the same info can help you as a seller.
Final thoughts on selling sports cards on eBay
eBay will always be the super power for sports card sells online despite the number of pop-up competitors.
If you're serious about getting the most value out of your eBay listings, everything you need to know can be found in our six-part series.
Cardlines is here to support you every step of the way. If you have any more questions, ask us on Twitter @card_lines, and be sure to subscribe to our FREE newsletter to stay up-to-date on all industry news, releases, reviews and more.