eBay Sports Cards Listing Guide #1: How To Title Your Listings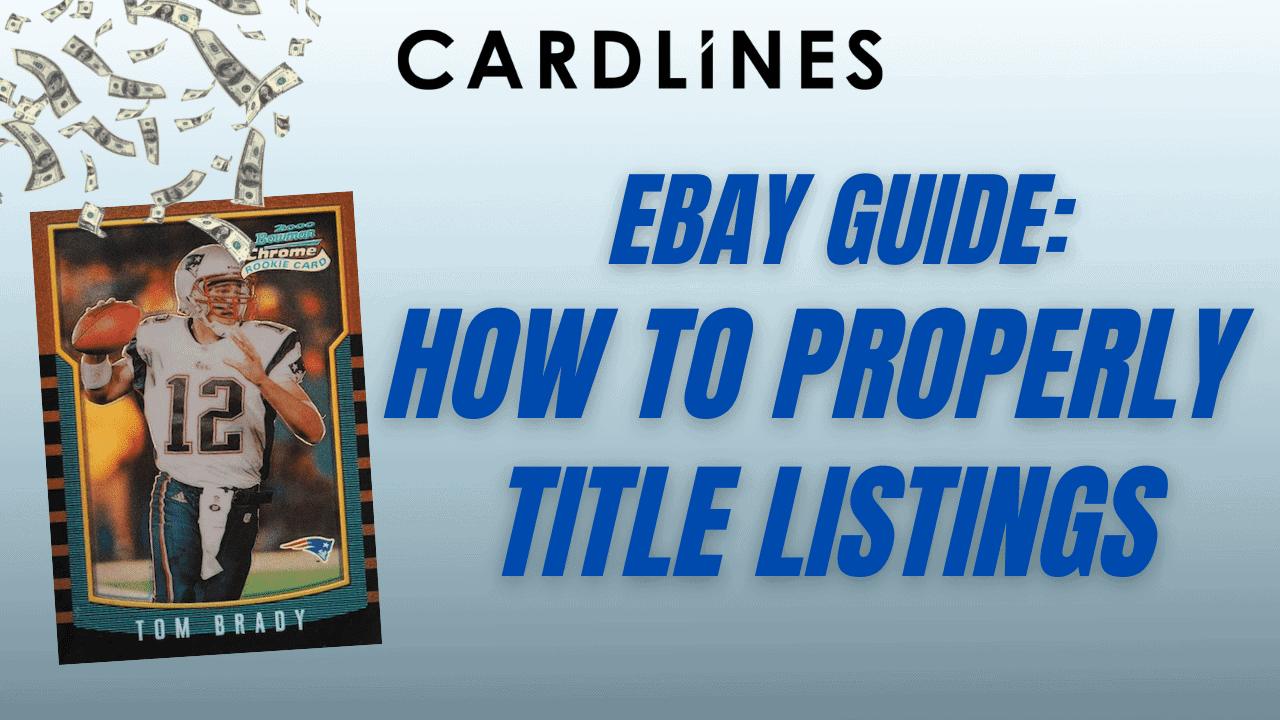 At CardLines, we get hundreds of monthly inquiries from collectors. Nearly half of them are about selling sports cards on eBay. The need is apparent, and to help, we're putting together an eBay guide with the best tips to take a deep dive into selling cards on eBay.
This is the first article in the guide. Next up, we'll look at properly filling out the meta fields.
Enjoy this article and be sure to read the rest of our eBay selling guides to ensure you're getting max profit for all your listings.

Three best practices in titling your cards
Listing has evolved just as much as the card market itself. Nowadays, a picture and title are not enough to boost your card – you also need to fill out a lot of extra information such as team, player, grade, condition, and more.
And still, even with the extra requirements, the title is the most important aspect of the listing.
So what can you do to make yours stand out? Here are a few pointers.
Always spell the player's name correctly (No excuses)
First and foremost, ALWAYS spell your player's name correctly. Don't be the person who sells a "Patrick Maholmes" rookie. Taking 5 seconds to double-check the spelling of the name is the best time investment in the listing.
As I wrote about during my Card Quest adventure, I made a lot of money by simply buying cards that were misspelled, correcting the spelling, and selling them for 2x – 3x as much. Don't be on the wrong end of that.
Use both "RC" and "Rookie"
We get a lost of questions asking if you should list your card as an "RC" or a "rookie." With that in mind, we searched for Kevin Durant rookie cards under specific qualifications. Here were the results:
"RC" included but no "rookie": 425 cards
"Rookie" included but no "RC": 1195
"RC" used in listing: 1,669
"Rookie" used in listing: 4007
Sure, this was one search at one point of time with a specific card, but the results are one-sided enough to suggest that by including "rookie" in your listing, more people will be searching for your cards since that's how more people refer to them.
Circling back to the original question: which should you use?
Both.
Don't risk it. Adding "RC" to a listing will be a very good use of 2 characters of space.
Stay in the know about best practices
eBay auction listing practices change all the time. They've done a complete 180 since I first started listing (I swear everybody said "RC" and nobody used "Rookie").
Since eBay has made a point to start featuring the best-listed cards first when you search for a particular phrase, you can always do a bit of homework before listing. Search for something very generic ("LeBron James Prizm") and see what auctions are populated at the top of the results. That can give you ideas of how you should list your cards, too.
And now… what is the BEST strategy for selling sports cards on ebay?
Keeping those best practices in mind, we're going to look at a bigger picture and figure out the best way to list your cards.
This was some hands-on research, and the conclusions were surprising.
Here was the approach:
Search eBay recent sells for specific cards that have a lot of recent comps using the filters (Zion Prizm PSA 10, then separately input the year and "rookie" filters so as not to skew title results)
Find the highest selling price in the last month
Chart what factors are present in the listing
Repeat with 10 different cards, and then use results to figure out what is the best strategy for listing cards.
And, of course, given that the player's name was a given, here were the factors we were searching for:
Year of card
"Rookie"
"RC"
Visual Description ("looks centered")
Use of ALL-CAPS
Scarcity call ("Hot card," "rare," etc)
Also, given how pictures and the actual condition of the card can impact the selling prices of raw cards, we only searched graded cards for the consistency of having a common standard.
Here are the results: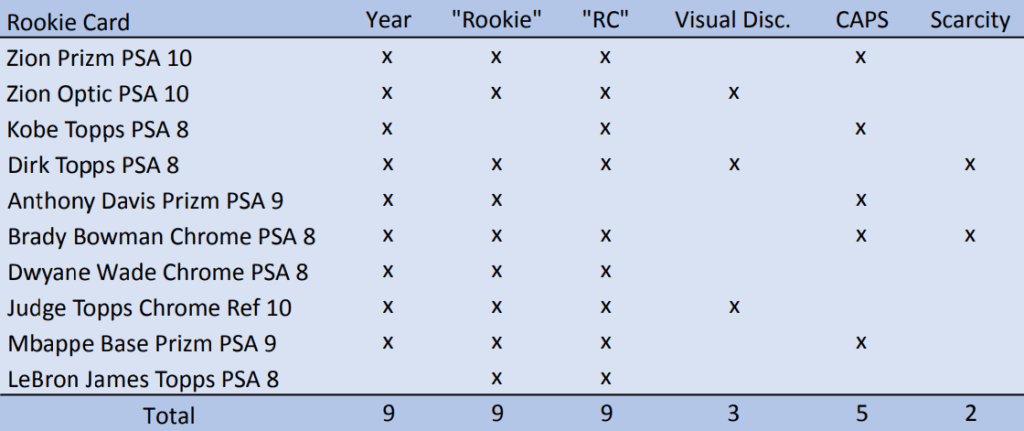 As you can see, three of the six qualifications were present in almost every listing: the year, and the phrases "rookie" and "RC."
If you're listing your cards, you have to include these three elements in your title to give your cards the best chance of maximizing their selling price.
The other three qualifications were not nearly as prevalent.
Of them, using ALL-CAPS was the most common occurrence—coming in exactly one-half of the highest-selling listings. This frequency suggests you should consider using all caps for your cards, too. This gives them an eye-catching visual appeal.
Finally, the "scarcity" and "visual description" are both common listing practices on eBay – you'll see them both quite a bit as you browse – but the data doesn't support that either of them has much impact on the final sell price of the card. If nothing else, they're listing gimmicks; shorter might be better.
BOTTOM LINE: Here's how to BEST title your card on eBay!
It all boils down to this.
From the research, we've concluded that the best listings are short, to the point, and eye-catching.
Here are a couple of examples of the perfect listing:
LEBRON JAMES 2003-04 BOWMAN CHROME RC ROOKIE PSA 10
LUKA DONCIC 2018-19 PRIZM ROOKIE RC PSA 9
There's really nothing fancy about it, but they still look professional and clean.
As the numbers show, that's all it takes!
Now go grab your cards, hop on eBay, and start getting the MOST out of each listing. And don't forget to check out the rest of our eBay Guide articles!
More tips for selling sports cards on ebay
To learn more about how to sell sports cards on ebay, be sure to check out our other articles on the topic below:
Looking for alternatives to eBay? Check out the Loupe Card app