Mac Jones Sportscard Investment Outlook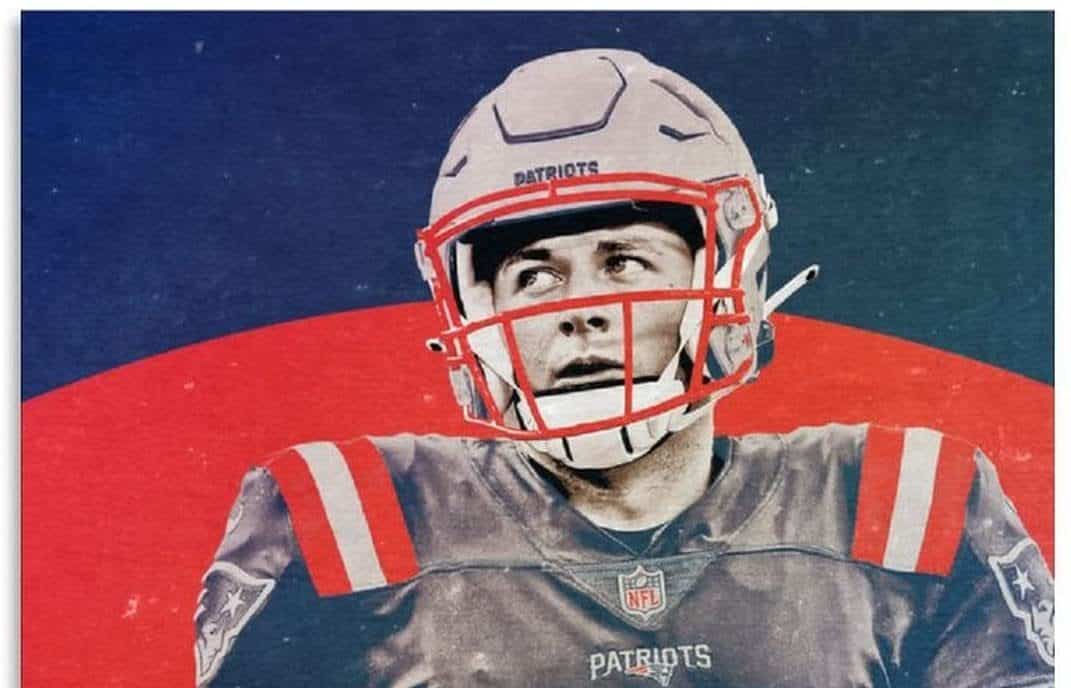 Mac Jones is the hottest rookie quarterback in the NFL. But will he live up to the hype? The Mac Jones sportscard investment outlook will answer all your questions.
Mac Jones seized the national spotlight in his lone season as a starter at Alabama. But, to reach that point, Mac had to wait patiently behind Tua Tagovailoa and Jalen Hurts.
He finished second-place in Heisman voting (behind teammate and receiver DeVonte Smith). And as if that was not enough, he led Bama to the national championship while also producing the most efficient quarterbacking season in college football history – throwing for 4,500 yards and 41 touchdowns on a 77% completion rate.
Now, as the Patriots roar to life and Mac Jone's rookie season nears the playoffs, we'll look more into his investment prospects.
Who Is Mac Jones?
Mac Jones is no stranger to being overlooked.
Jones was expected to be drafted at number 2 or 3 overall at one point. Instead, the 49ers – who might have traded up to #3 with the intent of drafting Jones – ended up taking Trey Lance instead. Jones, meanwhile, slipped down to the Patriots at Pick 15.
In a way, it makes sense: he doesn't have the best athletic upside, quarterback body, or any particular standout qualities. However, that doesn't stop him from being great at what he does.
Déjà vu: Mac Jones and Tom Brady
The similarities between Mac Jones and another Patriot great, Tom Brady, are too great to ignore. Neither were stellar athletes; both were known for accuracy and footwork in the pocket (Jones has a background in tennis that comes into play). To top things off, both were ready to play their part in a Bill Belichick-led offense.
In Brady's first season as a starter (2001), he threw for 2,843 yards and 18 touchdowns. The rookie led the Patriots to an 11-3 record.
How does Mac compare? Through 12 games, Jones has thrown for 2,850 yards and 16 touchdowns. Meanwhile, he is leading the Patriots to an 8-4 start. After winning 6 straight, the Patriots look like one of the hottest teams in football.
While the first-year stats weren't flashy for Brady or Jones, they look spookily similar. Therefore, it's hard not to ask: Is Mac Jones the next megastar?
Mac Jones Sportscard Investment Outlook: Comparing The QBs
You may remember that most of the pre-season hype surrounded Trevor Lawrence. Unfortunately, Lawrence has been underwhelming so far. However, a lot of that can be attributed to the environment in which he's playing. Even our primer on the rookie class had Trevor ahead of Mac.
Zach Wilson and Trey Lance also crept into the spotlight. They ended up going #2 and #3, respectively. Unfortunately, both of them have had disappointing rookie years – Zach Wilson looks terrible 90% of the time. It's hard to imagine either one of the teams would have passed on Mac Jones if they could rewind the draft.
Indeed, Jones has been the best quarterback of the rookie class by far. But, of course, Mac is in a position to get the most out of his skillset. If 70% of who wins a NASCAR race is about who's driving the best car, the same applies here – and the Patriots are the best car.
But that's also not to take anything away from the young man. He's playing with poise, confidence, and the savviness of a seasoned veteran. He's started since day only thrown 8 interceptions through week 4. His Crimson Tide counterpart, Jalen Hurts, threw 3 just a week ago.
The efficiency of Jones can't be overlooked, and he's doing something even more critical… he's winning.
Mac Jones Sportscard Investment Outlook: Pros And Cons
If you're looking to invest in Jones, here are some pros and cons to consider.
Pros
A Great Fit
Jones is the perfect fit for New England. He's so similar in quarterbacking style to their former quarterback of two decades that building a system around him required minimal adjustment.
Winning Culture
In the same way, as he's an excellent fit for the Patriots, they're a strong fit for him. If he were in Jacksonville or a Jets uniform right now, his season would probably look slightly different.
Potential Long-Term Value
It's hard not to wonder if Jones could put up a similar career to Brady. Yes, that feels blasphemous even to write. But the similarities between the two instill that thought in us. While there is a lot to be played out with Jones' career, you'd also have a hard time finding a collector who wouldn't have loaded up on more Brady rookies early in his career. So now's a chance to get in on Jones, early.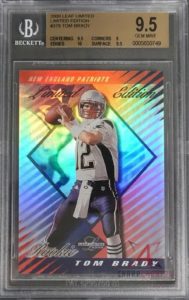 Cons
We Haven't Seen Enough
It's so early in Jones's career that going all-in after 14 games played is a considerable risk. He's looked great thus far but through a minimal sample size.
Prices Are Already High
Perhaps the biggest con is this: prices are already sky-high. We haven't seen many cornerstone collecting cards come out yet, but the Donruss Rated Rookie paper cards are selling for $35-$40. Likewise, most NFL-licensed autos are flirting with $800 – $1,000 price tags. So if you're buying Jones, expect to pay a premium.
Superglow's Mac Jones Collection
A unique collecting opportunity with Mac Jones is the Super Glow collection. If you don't know Super Glow, they're a "trading card brand of Super Products Inc, which has been a trading card manufacturer since 1998," and their goal is to "provide unique trading card products that focus on what the collector and hobbyist want."
They only work with JT Daniels, Mac Jones, and Sam Howell. However, their offerings are unique: college players' first-ever autograph cards (with the new payment rule changing).
The Mac Jones cards come in a rainbow of colors – many of which are numbered – but the Cardlines pick for our favorite card is Mac Jones 1st Ever Glow Cigar Photo Rookie. This fun card features Jones's viral cigar photo, and it has a classic feel to it that could, potentially, age well. At $15, it's worth a shot.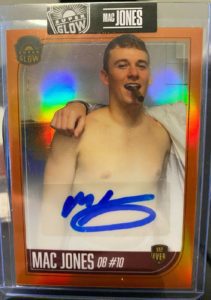 Mac Jones Sportscard Investment Outlook: What To Buy
Ready to invest in Mac Jones? We have some advice.
Why You Should Wait
As hard as it might be, consider pumping the breaks.
Not because we don't believe in the long-term value of the young man, but instead because of the current releases of Mac Jones cards.
In other words, we haven't seen any of the significant long-term investment brands: Prizm, Select, Optic, or even National Treasures.
Yes, a few high-end brands have already been released. They will be worth something in the future if you have a Jones. However, the proven long-term collectability of the four brands listed is enough that I, personally, am waiting until they release to invest in Jones.
If You Want To Pull The Trigger Anyway
If you want a Jones rookie right now, a colored Donruss Rated Rookie is your best bet. First, pick up something that's numbered – even if it's numbered as high as 500. Collectors will realize there are 100,000 of the base Donruss rookies out in the ether at some point down the line.
If you're not feeling Donruss, perhaps an Origins or Gold Standard autograph.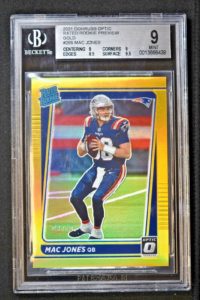 Bottomline Of The Mac Jones Sportscard Investment Outlook
While there are no certainties in sports card investing, Mac Jones feels as safe of a bet as any. If you can find a card you like without an entry fee that's out of your budget, Jones presents a significant long-term upside. First, however, wait for the big four releases. Then, you won't regret it.