A Breakdown Of The Top Shaq Rookie Cards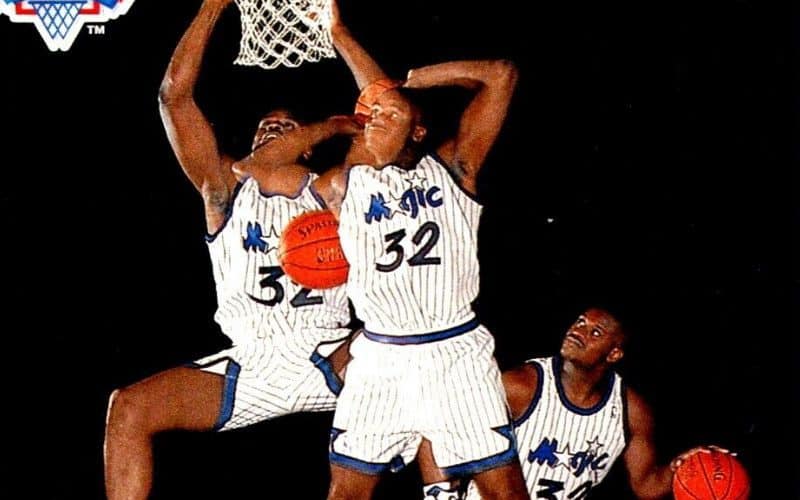 Shaq. Shaq Daddy, the Big Diesel, Superman. One of basketball's most electrifying big men to ever play. And one of its loudest personalities.
A decade after his retirement, Shaquille O'Neal cards remain some of the most sought after in the hobby. In this article we offer a comprehensive guide to collecting Shaq rookie cards – from his most popular and iconic, to some of the more eccentric releases that have slipped through the cracks.
Shop for Shaquille O'Neal rookie cards on eBay
Who was Shaq?
NBA Finals MVP, rapper, TV personality, and movie star. Shaquille O'Neal was, and still is, a larger-than-life character in the world of basketball and pop culture.
On the court he was a 4-time champion and ESPN's 11th ranked player ever. Off the court, Shaq has built a legacy as an analyst and spokesperson, and a beloved and relevant public image that has kept his cards in high demand over years after his retirement.
The media hailed Shaq as a phenom as a high schooler in the late 80's. Few players his size (7'1) had ever flashed his combination of power and fluidity. Once he hit the national spotlight at LSU, basketball fans around the world were fascinated by what his game would look like at the professional level.
Michael Jordan dominated much of NBA discourse in the 1990's. And as league popularity skyrocketed due to Jordan's international intrigue, the NBA was desperate to name his successor. The decade, in turn, is littered with busts prematurely labeled "the greatest thing since Jordan."
Shaq was one of the few prospects who lived up to the hype. The Orlando Magic selected O'Neal first overall in the 1992 draft. His rookie season he averaged 23 points and 13 rebounds a game; eye-popping numbers for a first-year player that earned him an All-Star starter nod. He was the first rookie to do so since Jordan himself.
As most sports fans know, Shaq's career eventually landed him in Los Angeles. It was there he partnered with Kobe Bryant and formed perhaps the most potent scoring duo in NBA history. The two led the Lakers to three consecutive championships, and O'Neal was named the Finals MVP in each. A few years later, Shaq settled into more of a "second-star" role and helped Dwayne Wade and the Miami Heat win their first ever NBA championship.
Over his career, Shaq remained heavily involved in roles outside of his life as a basketball player. He released 4 rap albums and was the lead actor in the movie Kazaam. He even graduated from the Los Angeles Police Academy and was a reserve officer for several years.
Shaq was one of the first players to leverage his stardom into his personal brand and business, blazing the trail for many other basketball players in the last 20 years to do the same.
Shaq remains a solid investment for collectors due to his ubiquitous public persona. He is revered legend for one of sport's most famous franchises and can be found cracking jokes with Charles Barkley on TNT on a nightly basis. The demand for Shaq cards is high, and there's no reason to believe that will change in the foreseeable future.
Shop for Shaquille O'Neal rookie cards on eBay
The 3 Premier Rookie Shaq cards
While there are dozens of Shaq cards commonly bought and sold on eBay, these three stand out as the premier Shaq rookie cards. If you're looking for a place to start your Shaq collection, look no further.
1992 Stadium Club Beam Team #21
The dream of the 90s is alive with this Stadium Club Beam Team rookie.
Everything about the design of this card screams vintage nineties; from the multi-colored squiggly line borders, to the neon sludge-green colored "beam-team" in the top right.
This is one of Shaq's rarer rookies, with only 2,341 in print. PSA 10s of this highly coveted card are valued around $5,300.
Find prices on a Shaq 1992 Stadium Club "Beam Team" rookie card on eBay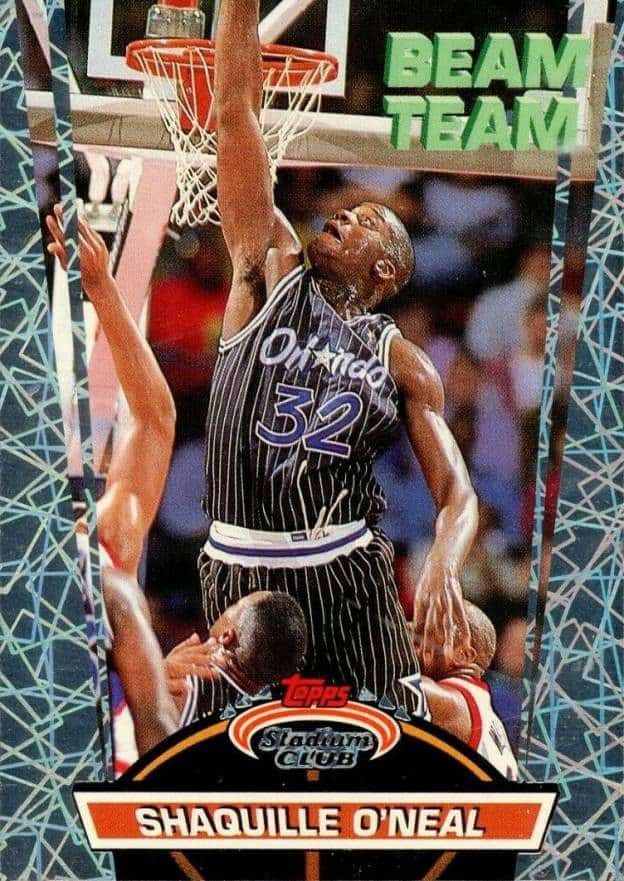 1992 Topps #362
While the Beam Team might be Shaq's most valuable rookie, the Topps #362 is definitely his most iconic.
That stems mostly from the fact that it is also his most popular. There are over 29,000 graded cards in circulation, which accounts for over 60% of the total cards from the set that year! That dwarfs the numbers of other popular players from that year like Michael Jordan and Alonzo Mourning.
While some rampant over-printing has hurt the Shaq rookie card value, it's still an absolute must for NBA collectors. It's a clean-cut card, with a sharp white border and a picture of Shaq in the paint with his eyes nearly popping out of his head. It's a famous shot that captures much of Shaq's personality and playing style in a single image.
PSA 10s are valued around $200.
Find prices on 1992 Topps Shaquille O'Neil rookie cards on eBay
1992 Shaq Upper Deck rookie card #1
One of Shaq's most creatively designed rookie cards, the Upper Deck #1 show's Shaq in 3 distinct positions of a dunk. Take-off, cock it back, and throw it down.
This is personally my favorite of the premier Shaq rookies. It's a perfect blend of creativity and sharpness. I love the contrast of Shaq's white jersey against the black background. And the sequence of images allows you to feel the strain that Shaq's massive figure puts on the backboard as he dunks the ball.
There are just over 13,000 graded cards in circulation, and PSA 10's fetch about $2,500.
Shop for 1992 Upper Deck Shaq rookie cards on eBay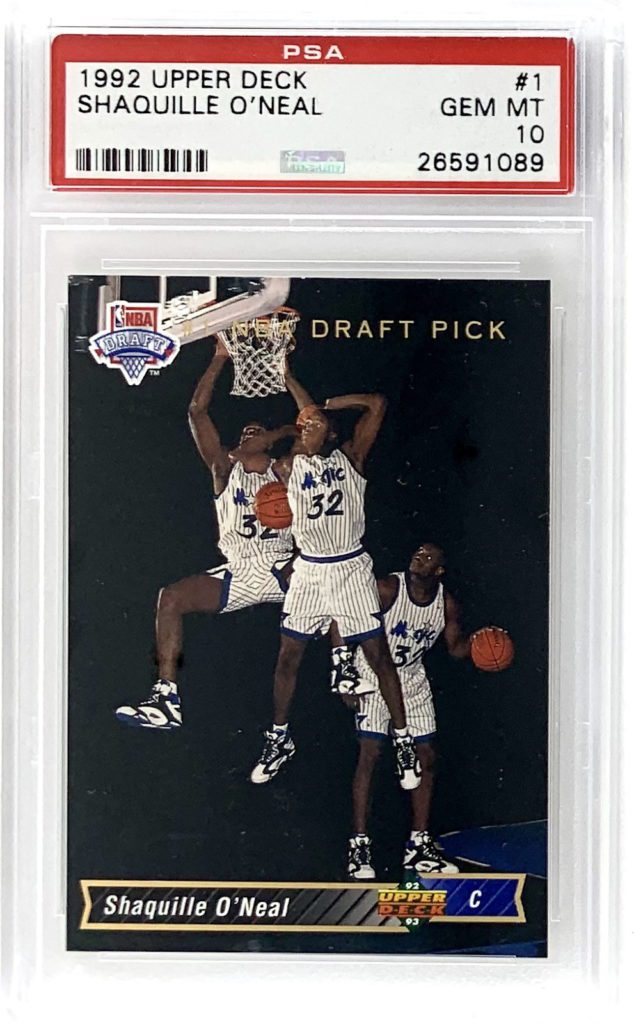 The most unique Shaq rookie cards
Whether it be a creative stylistic choice or a quirky release format, these three cards represent Shaq's most unique rookie cards.
While they might not be as iconic as the three above, they are still fun pickups for collectors who value some personality in their cards
1992 Fleer Ultra Rejectors #4
This Fleer Ultra Rejector almost feels like a predecessor to the Kaboom inserts, which use refractors to emphasize explosive players and moments. While there's no refractors here, this card blends a real image with some cartoonish elements.
The card features a hand-drawn explosion around the basketball, but otherwise is a conservatively designed card. That basicness makes the artistic flair even more compelling, as it's the first thing your eye is drawn to when you look at the card.
The Fleer Ultra Rejectors only features a few other block-happy big men like Hakeem Olajuwon and Dikembe Matumbo. The short list of players included in this set adds a bit to its exclusivity.
The total number of graded cards comes out to just over 2,000. A PSA 10 of this card recently sold for $400.
Shop for 1992 Ultra Rejectors Shaquille ONeil rookie cards on eBay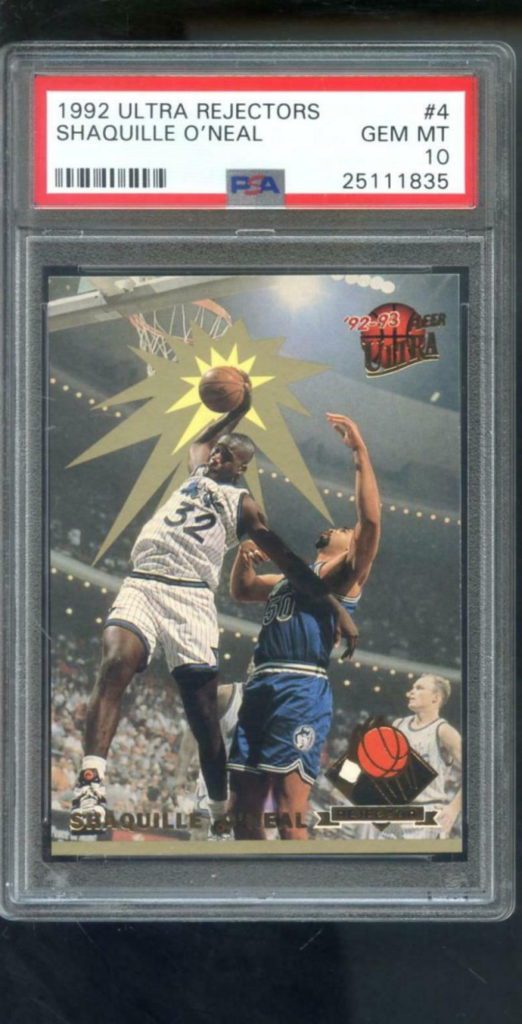 1992 Fleer Tony's Pizza #68
The Tony's Pizza cards are definitely some of the strangest of the lot. They are just what they sound like; unnumbered cards that came inside packages of Tony's pizza.
While the cards were originally low value, their intrigue has grown over the years. Due to their low population numbers (only 660 graded in circulation from the entire set), there is a scarcity that drives value up as well.
The actual card itself isn't anything special, with a gold border and a standard image of a Shaq dunk. But the novelty of a rare card found in an early 90's pizza box has gained interest from a number of collectors.
There are 302 graded Shaq cards (just under half the total number of graded cards for the entire set), and a rare PSA 10 has sold for as high as $411.
Find prices on 1992 Fleer Tony's Pizza Shaq rookie cards on eBay
1992 Ultra All-Rookies #7
The all-rookie insert from Ultra featured only the ten best rookies from the '92 class.
The design for Shaq's card is somewhat polarizing in the hobby. The card uses an image of Shaq in the pinstripe Magic uniform, and plasters it 24 times in a row as the background of the card. The main image is a cutout of Shaq from that same image holding the ball, powering towards the basket.
While some love the creativity, others feel that it's just too much. And to be fair I kind of understand the criticism. 25 Shaq's might be a few too many for a single card.
If you're somebody who appreciate the design of this card, you can pick one up for around $400.
There are 2,700 graded Shaq cards, out of only 3,300 in the entire set, which goes to show just how singularly popular Shaq was as a prospect from the '92 class.
Check out 1992 Fleer Ultra Shaq rookie cards on eBay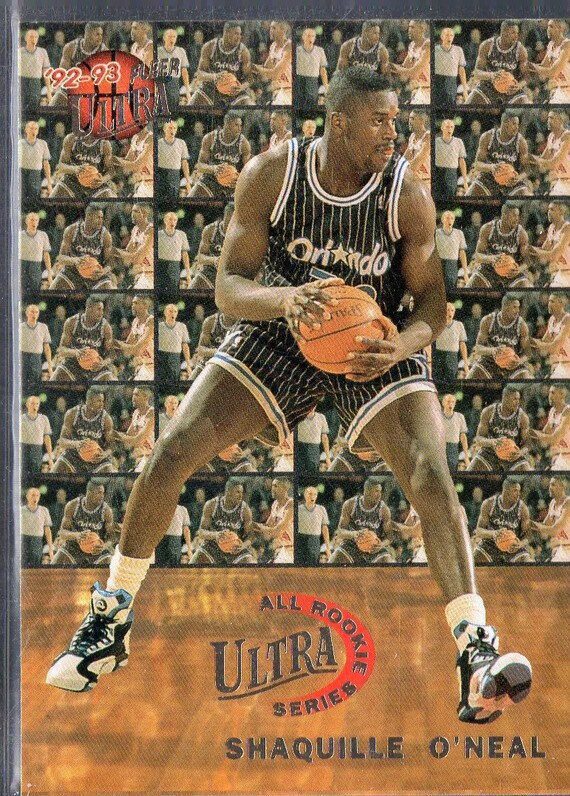 Draft Day Cards
The next two cards are thematically linked, as they both celebrate different aspects of the draft.
While one features Shaq in his draft day attire and the other features the biggest names in the '92 class, both highlight the draft in ways his other cards don't.
1992 Hoops Draft Redemption
For the draft junkies out there, this card is a must have.
The image features Shaq with a payday smile, rocking a flat brimmed Orlando Magic hat. Shaq's white shirt and blue blazer are surprisingly conservative considering his penchant for flair, but I suppose it was the early nineties and the precedent for outrageous outfits hadn't been set yet (we were still 25 years away from Trae Young wearing shorts to the draft.)
The Hoops Draft Redemption set only features rookies. So, it's not overly surprising that Shaq counts for a majority of the graded cards from this set.
There are 1,421 graded cards in circulation, and a PSA 10 recently sold for $490.
Shop for 1992-93 Hoops Shaquille O'Neal rookie cards on eBay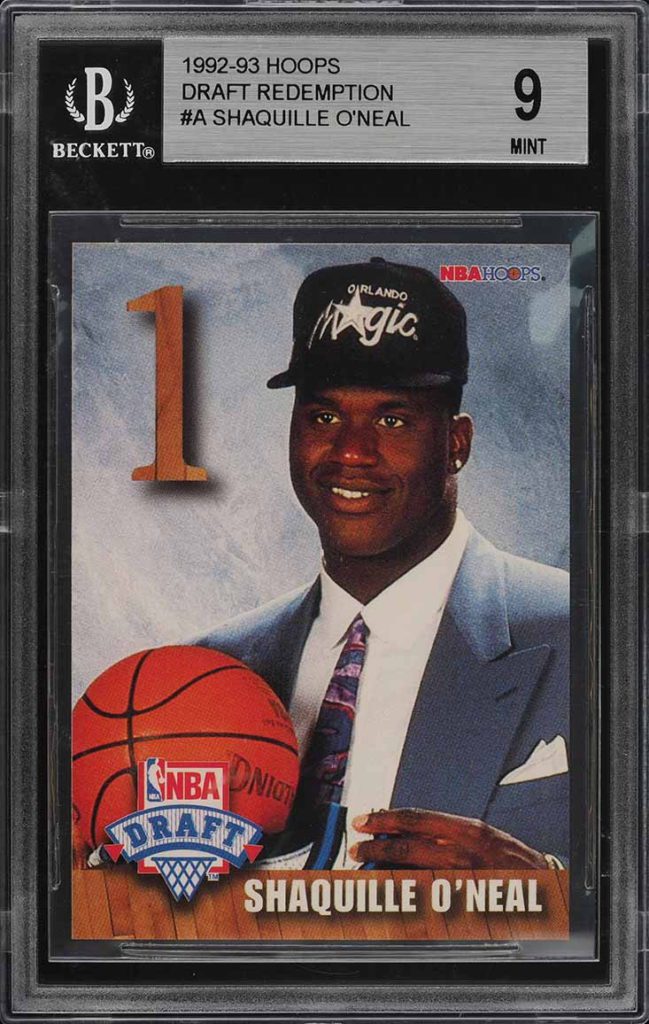 1992 SkyBox Head of the Class #382
SkyBox head of the Class is a classic three player rookie card that also features Alonzo Mourning and Christian Laettner.
The nice thing about this card is that both Mourning and Laettner went on to have solid NBA careers. While Laettner is still probably better known for his infamous Duke career, he still went on to make an all-star team in the NBA. Mourning is one of the best defensive players ever and reached all-NBA status.
I know some people find the triple player cards to be somewhat gimmicky, but I like this one. Shaq is in the middle (right where he needs to be). Plus, the design and colors give off a retro look that I love.
There are 2,221 graded cards, and PSA 10s are valued around $250.
Shop for Shaquille O'Neal 1992 Skybox rookie cards on eBay
Final verdict on Shaq rookie cards
It would be foolish to suggest that any of these cards will really go up significantly in value at this point. For the most part, the value of retired players tends to remain pretty static, with some slight bumps around big events such as an HOF induction or the player's death.
That said, there are still a few reasons to invest in Shaq cards. For one, their value is steady, so if the card market goes up overall, you can expect that these cards' value will rise with the tides.
Secondly, there are always going to be an abundance of Shaq buyers. His post-retirement popularity, coupled with his all-time great playing career, keeps him relevant in collectors' circles. So, if you ever need to get these cards off your hands, selling them is a piece of cake.