Breaking Down The Best TJ Watt Football Cards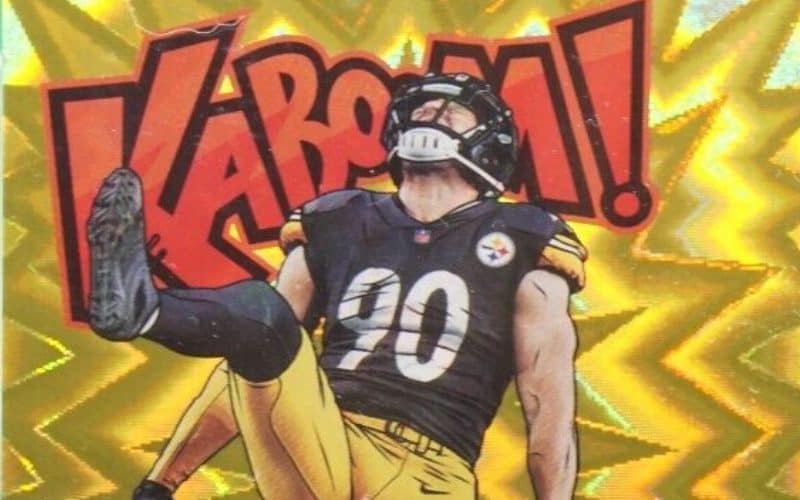 Going into the 2022 NFL season we could finally say it – TJ Watt is the best defensive player in the NFL. And it really isn't even close.
The Steelers' linebacker has lost a few close battles for Defensive Player of the Year in recent seasons, but last year Watt put an emphatic end to the debate. Watt terrorized opponents behind the line of scrimmage, leading the league in both tackles for a loss and sacks. In the minds of most NFL GM's, the award was his.
He started 2022 off on a negative, after leaving in the 4th quarter of Week 1 with a pectoral injury and a few weeks later, Watt went under the knife for knee surgery, but he should return to the field in November.
So why is it that the cards of his 2017 draft classmate Christian McAffrey – who hasn't ever even been the best offensive player in the NFL – are valued at nearly double Watt's going into the year? The simple answer is that the industry has a bias against defensive players.
As TJ Watt continues to climb the ladder of NFL stardom, many collectors are wondering if he's good enough to break through the bias. Could an investment in Watt lead to a big payoff down the line? Or is his value limited by the low ceiling of NFL defenders?
It's in the family
Coming into the league most people knew TJ Watt as the little brother of Defensive End JJ Watt.
JJ Watt is, of course, one of the best defensive players in league history. The 2017 SI Sportsman of the year has won Defensive Player of the Year three times, and is the Texans all-time leader in fumbles and sacks.
In many ways, TJ followed JJ's unorthodox path into the NFL. Neither were highly ranked recruits out of high school, and both actually entered college as tight ends.
Transition from TE to LB
Two years into his collegiate stint at Wisconsin, things looked grim for TJ. He didn't see any playing time at all as a tight end in his first season with the Badgers, and a knee injury kept him out of the entirety of his sophomore campaign. However, going into his junior year a coach made the suggestion he switch to linebacker, where Watt immediately found a starting role and a national spotlight.
Watt finished his first year at linebacker as an All-American and one of the top defensive prospects in the country. He entered the NFL draft and was selected by the Steelers with the 30th pick.
As a Steeler
TJ came into the league on fire, setting the Steelers' rookie record for sacks in a season and earning a Pro Bowl selection in his first year. Watt was immediately an anchor for a top 7 defense on a Steelers team that ended up with the 2nd seed in the AFC.
By his third season in the NFL he was the league leader in sacks and tackles for a loss. This past season TJ tied Michael Strahan's record 22.5 sacks in a season, despite sitting out a full 2 games.
TJ has become one of the most recognizable faces in the league, shedding the label of "JJ's brother" and replacing it with his own claim to the throne as the outright best defensive player in the NFL.
Defensive bias in NFL
If we were to ask an average NFL fan off the street who their favorite player was, what percentage would say a defensive player?
If we were to ask them to name the all-time leader in passing yards vs the all-time leader in tackles, which would be easier to answer?
Regardless of what the age-old adage "defense wins championships" might suggest, NFL fans don't care about individual defensive players like they do offensive ones. Quarterbacks, wide receivers, and running backs are the recognizable faces of the league, and therefore are the ones whose names carry value.
Taking a look at jersey sales in the NFL, only four defensive players made it into the top 25 (TJ Watt was 25th.). None broke the top 10.
Defensive bias in cards
For anyone holding on to a stockpile of the NFL's best defenders, we have bad news. The defensive bias exists in sports card value too.
In the 2020 draft, 5 of the top 10 picks were defensive players. But just two years later, all 10 of the most valuable rookie cards from that class played on the offensive side of the ball.
While the phenomena of fans not caring about defense holds true across every sport, the plight of the undervalued defender is unique in the NFL. In sports like baseball, basketball, and hockey, defensive-minded players still contribute something on offense.
A guy like Draymond Green in the NBA, who is known more as a defensive star, is still a big name because he plays alongside Steph Curry. In the NFL, top defenders don't play alongside guys like Tom Brady, and they miss out on that value by association.
Can the bias be overcome?
Despite the way the odds are stacked against them, there are still defensive players whose top cards sell for thousands of dollars.
Let's take a look at what it takes to overcome the bias, and what TJ Watt would need to do to get there.
What it takes to break the bias
There's one pretty easy way for a defensive player to pull in a high value – be an all-time legend with a low population rookie card.
While it sounds obvious, guys like Lawrence Taylor and Reggie White don't seem to be phased by the defensive bias at all. A Topps #434 Lawrence Taylor rookie recently sold for $4,827. A Reggie White rookie has gone for over $3,200 in the past few months.
Part of the value of those cards is that they are PSA 10s, and the population numbers are way lower than recent defensive stars. But the other half is that they have names that are etched onto the Mt. Rushmore of all-time NFL players.
The verdict is still out on how current defensive players will age. However, Taylor and White show us that if a player is to break the bias, they have less room for error than offensive stars. High value defensive players need to be anchored to the history of the league, through legacy, records, and winning.
Can TJ Watt break the mold?
While rookie cards from 80s stars like White and Taylor can command thousands of dollars, the top defenders of the 2010's are pulling significantly less.
PSA 10 base card rookies of guys like JJ Watt, Aaron Donald, and Von Miller rarely sell for outside the $100-300 range.
No matter how good he gets, a TJ Watt rookie is unlikely to ever be worth what a Lawrence Taylor rookie is, simply because there are way more Watt cards floating around than Taylors.
Still, there is a case to be made that Watt might end up being valued higher than the likes of other great defenders of his era, simply because he is now an NFL record holder in a major defensive stat category. As the co-holder of the sacks record with Michael Strahan, Watt's name will be brought up whenever the single season sack record is mentioned.
While other great defensive players from this era might easily be forgotten, being etched into the record books sets TJ apart. Plus, TJ has averaged .93 sacks per game throughout his NFL career, meaning he is about 8 years of consistent production away from being the all-time record holder at 200. While 8 years is a big ask for a linebacker, it's still a possibility.
And if he broke the record, he might just break the defensive bias in the process.
The Top 10 TJ Watt rookie cards and non-rookie cards
1. 2017 Panini Prizm #216
TJ Watt's Panini Prizm rookie card is a must have for any Watt fan.
With a classic Prizm design, it's an affordable and frequently sold classic that serves as a great starting point for a TJ Watt collection.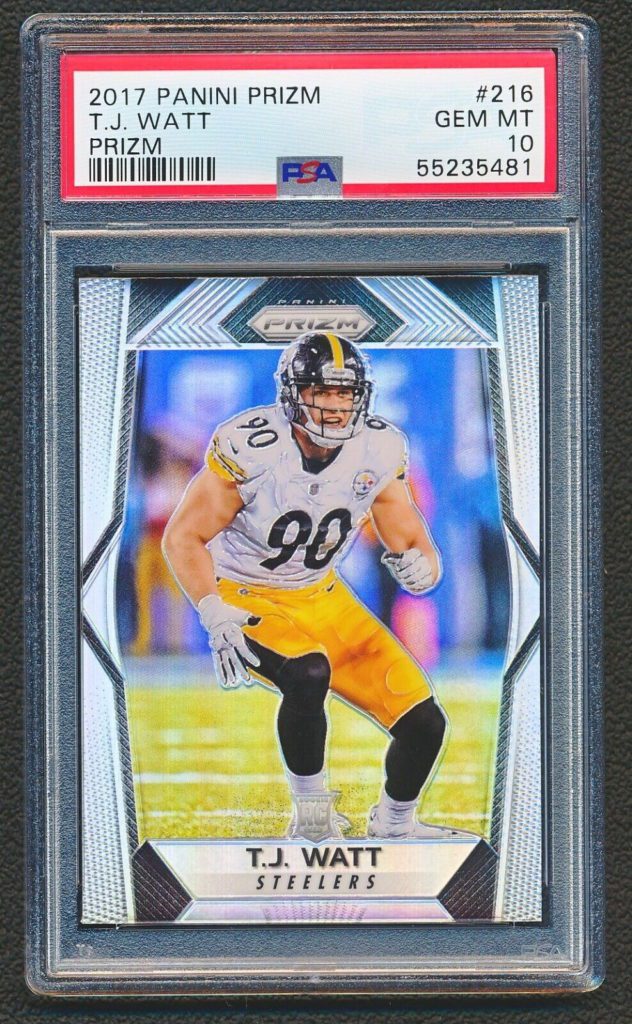 2. 2021 Panini Absolute Kaboom #k36
The 2021 Kaboom card isn't a rookie or an auto, but it's a fun and rare insert that we love the look of.
The image is of Watt on a single leg in a celebratory pose, and minimal text allows the explosiveness of the card to shine though.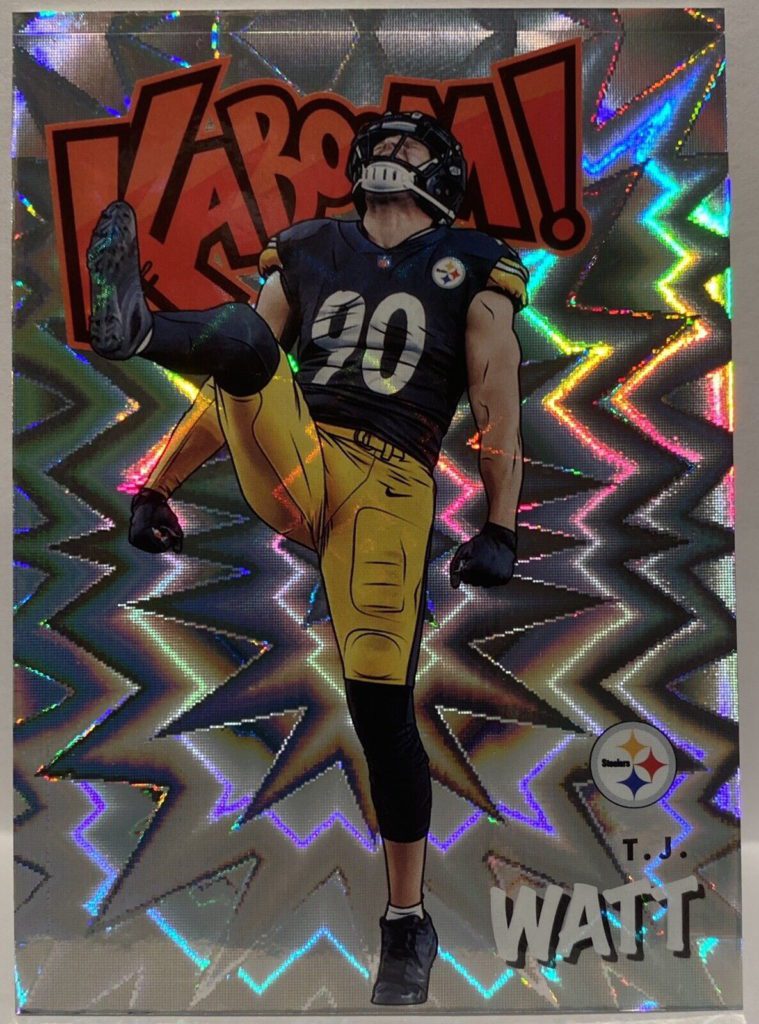 3. 2017 Panini Contenders Playoff Ticket #102 Auto
This numbered (#/99) TJ Watt auto for it's unique "ticket" design, as well as for the way it commemorates the Steelers' successful 2017 season.
It's an expensive buy, but one whose value could skyrocket alongside TJ's.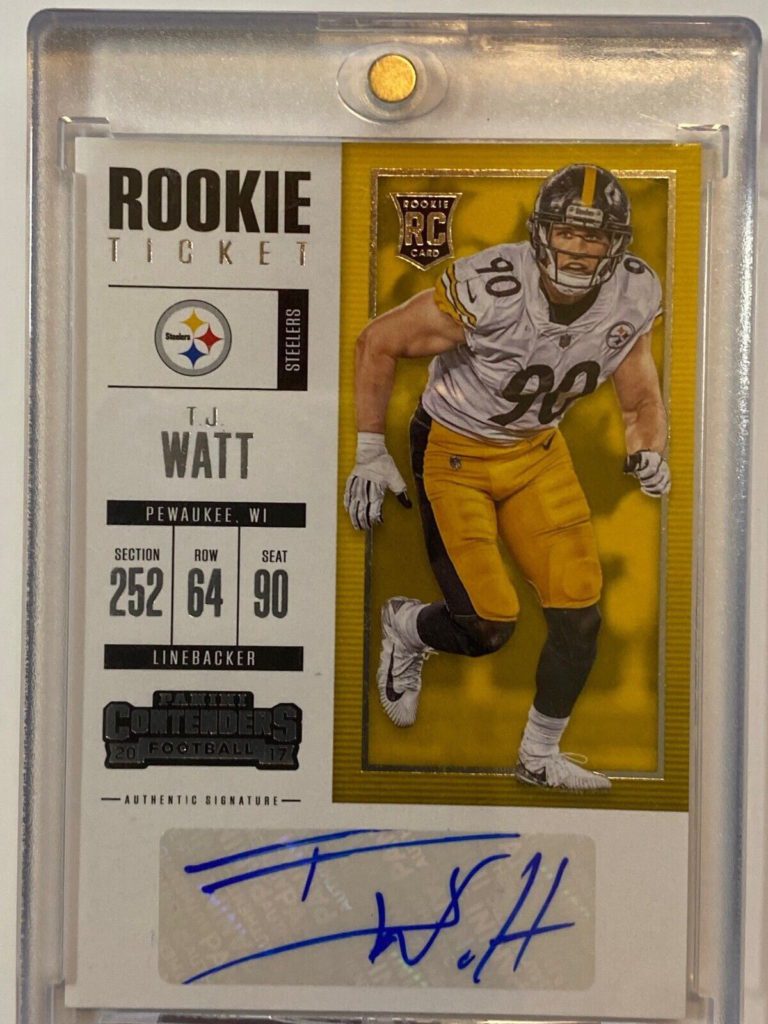 4. 2017 Panini Elite Draft Picks #233 Auto
We've said plenty about the pros and cons of college uniform cards. And while it's true they don't hold their value nearly as well as the pro ones, they are still a fun grab for a collector.
Since TJ has been in the league for 5 years now, his college uniform cards have gone through the devaluation phase, so they shouldn't be expected to drop much more.
This card is one of our favorites with Watt in a Badger uniform, and is incredibly affordable for a #/99 auto.
Buy here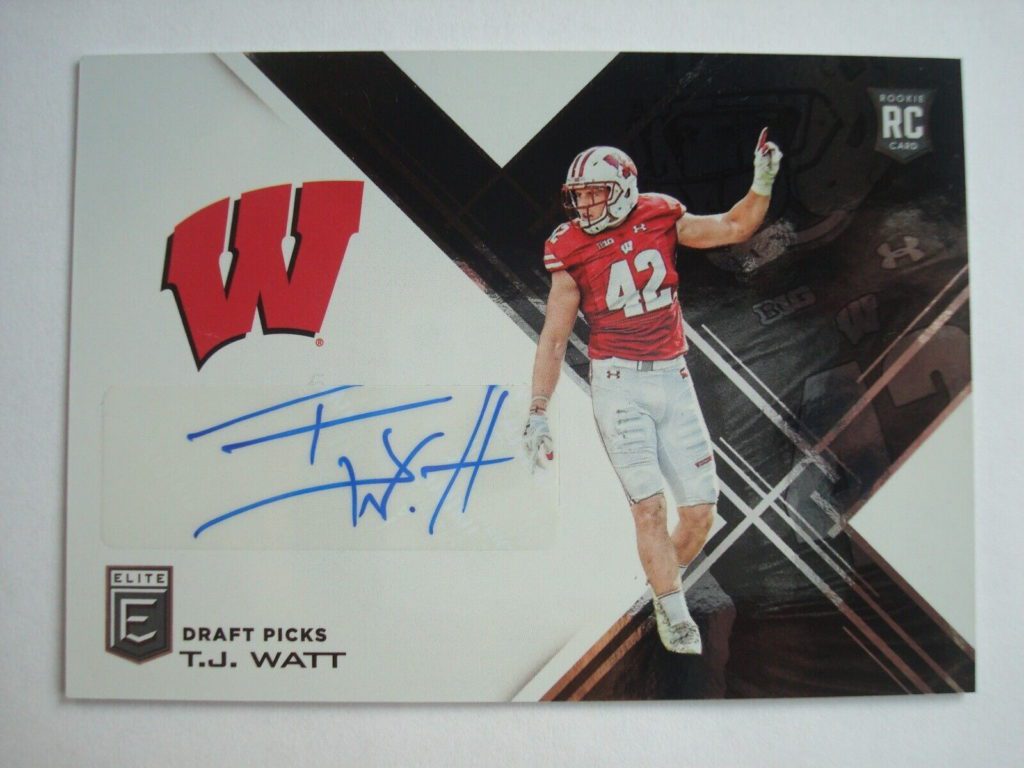 5. 2017 Panini Certified Potential Mirror Blue #216 Auto
In our minds this is hands down one of the sleekest inserts from Watt's rookie year.
It's a rare (#/50) auto that has a cool blue trimming along the edges.
6. 2017 Panini Prizm White Sparkle
The White Sparkle is one of the more unique of the Panini Prizm Parallels.
It has a somewhat controversial design — it has a white and black blotchy filter that makes it look like you're watching TJ Watt on a bad cable connection.
Nevertheless, it's a unique look that works for collectors who want something different than a more conservative parallel.
7. 2017 Panini Spectra #188 Auto
One of the most expensive TJ Watt cards on the market, the Panini Spectra and it's low print parallels is a must have if you're looking to drop some cash on Watt.
It comes has colorful parallels like blue, green, and orange, which can range grab up to $1,000 for the #/75, and $2,000 for the #/15 and #/5.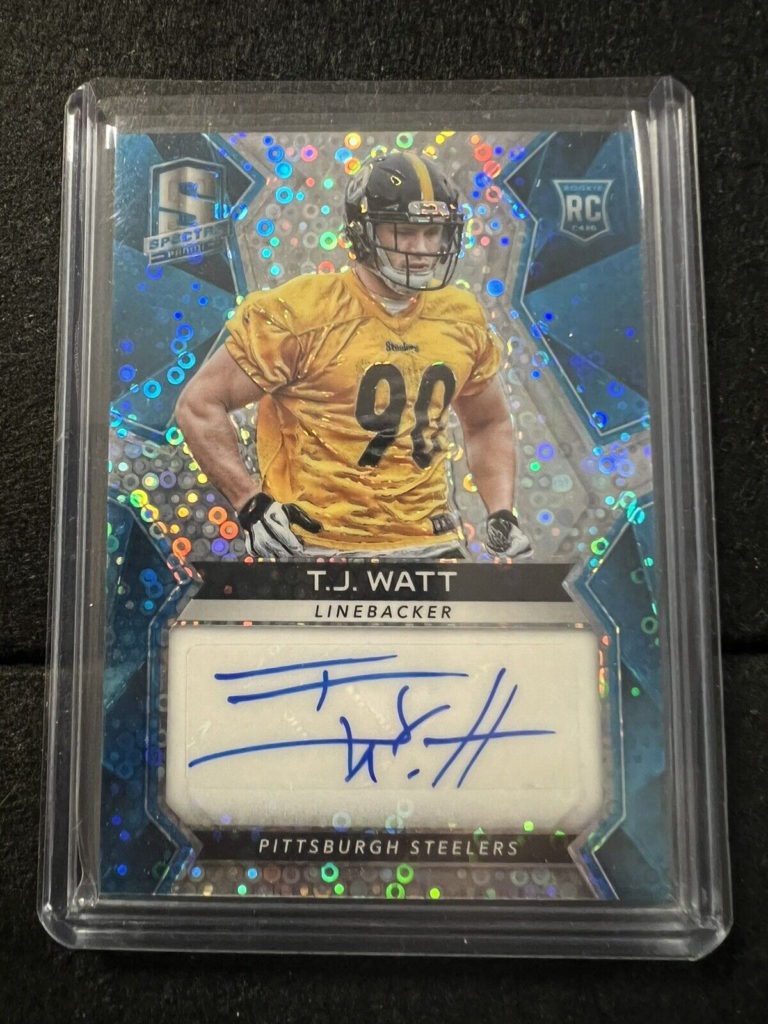 8. 2017 Donruss Optic #122
This is another popular card for which there is always a buyer and always a seller. It features a more traditional design with a dark border, and uses a picture of Watt in between plays with his hands on his hips.
This card has quite a few parallels. While the base card is one of the cheapest Watt offerings, some of the rare autos can go for four-figures.
9. 2018 Panini Select Snapshots #Sn-15
This is not the most valuable of TJ Watt cards – it's not a rookie and isn't particularly rare.
But it's a fun card that you can snag for a super low price. It's a horizontal card that features Watt running, arms outstretched, and an expression of excitement. This isn't a card to invest in for a huge return, but it's a nice addition to any Watt collection.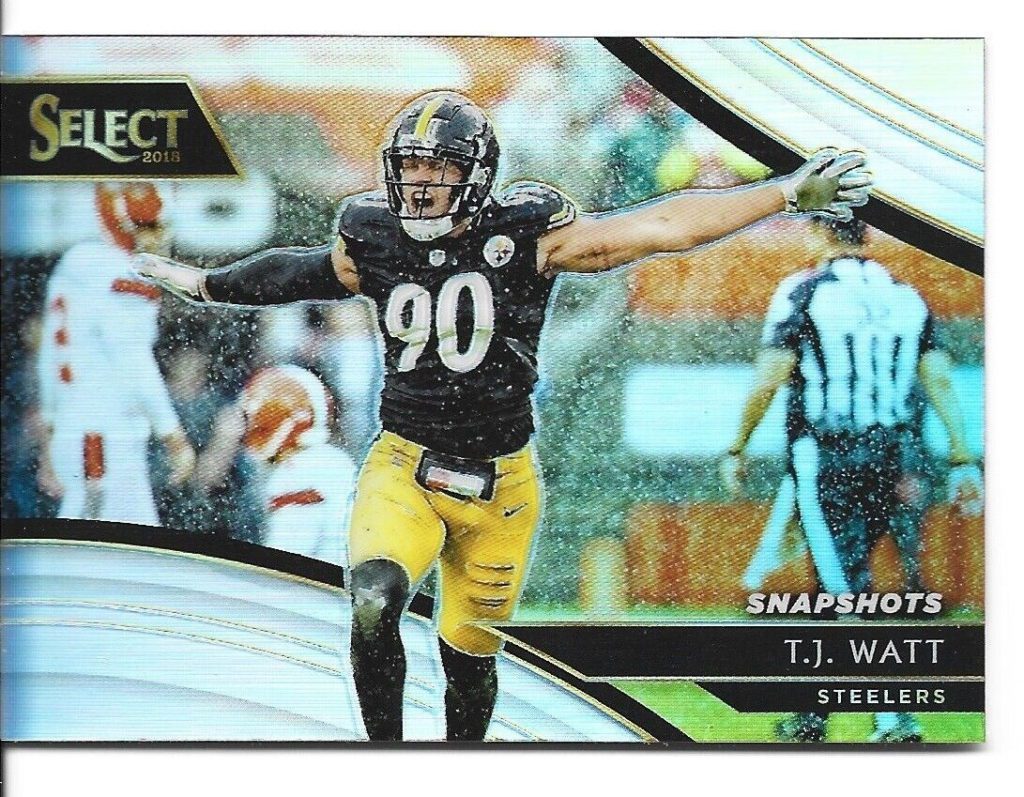 10. 2017 Panini Flawless #83 (Diamond)
No top 10 list is complete without the Flawless card.
Flawless comes with incredibly low print runs, and the TJ Watt from this year has an embedded diamond. It's literally the crowning jewel of any Watt collection.
Pricing is hard to gauge due to the few numbers of transactions, and there aren't currently any for sale on ebay. Still, this should be looked at as one of the, if not the, premier TJ Watt card.
Bottomline: Now is the time to invest in TJ Watt
I'm high on TJ Watt because his cards aren't selling for much higher than the other great defensive players in the league. Combine this with an early 2022 injury and now might be the best time to give TJ Watt a look.
As the newly crowned single season sack record holder, Watt is more than just one of the best defensive players of his time. He is a part of NFL history, and has a chance to etch himself deeper into that legacy with more sack records in the coming years.
Even if this is his peak, he's achieved a lot. It's not likely that Watt cards will retreat in value. But if his production stays as historically high as it has been, Watt is the type of defender who could break the bias, and become one of the most valuable cards of his draft class.