Everything You Need To Know About Rated Rookie Cards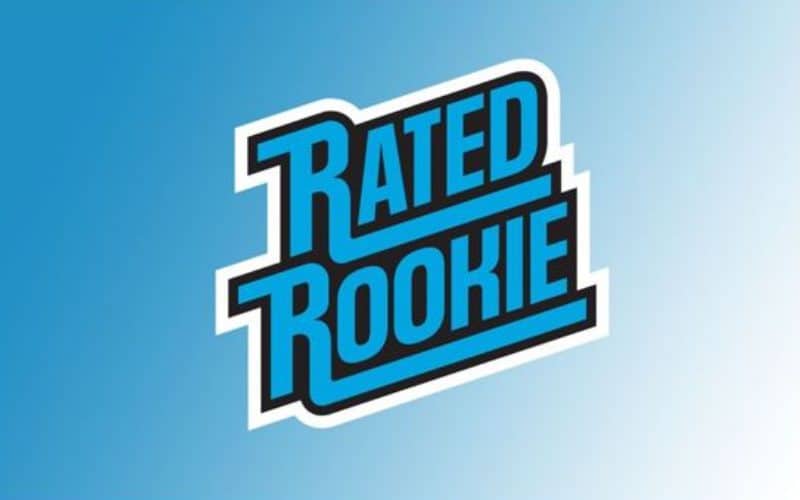 There have been several trends when it comes to collecting trading cards. Over the decades, collectors have chased game-used cards, serially numbered cards, error cards, and insert cards at several points.
While most of these trends have faded in varying degrees, collecting rookie cards is a hobby staple that hasn't slowed since collecting cards became a thing. Indeed, a few decades from now, collectors will still value genuine rookie cards from the game's top players.
When it comes to collecting trading cards, one of the more popular and iconic rookie cards that has stood the test of time is Donruss' "Rated Rookies" line.
Rookie cards has helped define an important era of the trading card industry. This article shall review Donruss Rated Rookie cards and why they are one of card collectors' most sought-after rookie cards.
Check out the huge selection of rated rookie cards available on eBay
What are Rated Rookie cards?
Typically, rookie cards are the first base or regular issue cards of a player from a major licensed brand issued in the first year they appear on cards. As card collecting became more popular during the 1980s, Topps, Fleer, Donruss, Score and other brands needed a way to spotlight promising young talents.
While Topps had their "Future Stars" concept, Donruss highlighted rookie players as "Rated Rookies". Rated Rookies cards let collectors know which players had the most potential to become great someday.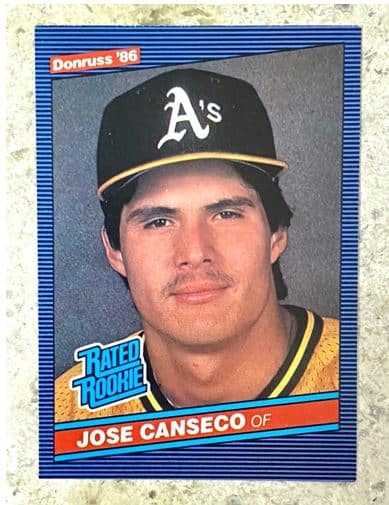 A history of the Rated Rookie
The 1980s brought a new boom of rookie cards! It all began with the reputation of Topps's 1952 Mickey Mantle rookie, which gained in popularity during the decade card as one of the vintage era's holy grail. The decade ended with what what is possibly most popular rookie card of the modern era, the Upper Deck's 1989 Ken Griffey, Jr rookie card.
In-between the release of both cards, a large variety of iconic rookie cards were released. Collectors understood the appeal behind these cards, and Topps, Donruss and other card producers of the time attempted to get their slice of this rookie pie.
Topps had released their All-Star Rookie card brand, which featured a special card design with a trophy symbol. This was similar to their "Future Stars" set. The All-Star Rookies showcased highly rated rookies and were limited to a full infield and outfield plus two pitchers.
Donruss introduced Rated Rookies in the 1984 Donruss Baseball, 25 years after Topps All-Stars Rookie debuted.
Like Topps All-Stars Rookies, Donruss Rated Rookies showcased young players destined to be amongst the game's best. Players with a Rated Rookie logo inscribed inspired collector dreams of how high prices would rise, how great the player could become and whether an MVP or Hall of Fame might be in their future.
There was a certain weight to why Donruss placed the Rated Rookie Logo on one player's card and not the other. While analysts may follow every game and judge a player's career by his stats, collectors over the years put extra weight on cards that where Donruss had designated as Rated Rookies cards.

You had a feeling Gary Sheffield would be great because his likeness was graced on a Rated Rookie card. Same thing for Greg Briley, Jose Canseco and other players with a Rated Rookies card. Even if most of them didn't pan out (more on this later), the fact that they had a Rated Rookie card was enough reason for optimism.
Check out the huge selection of rated rookie cards available on eBay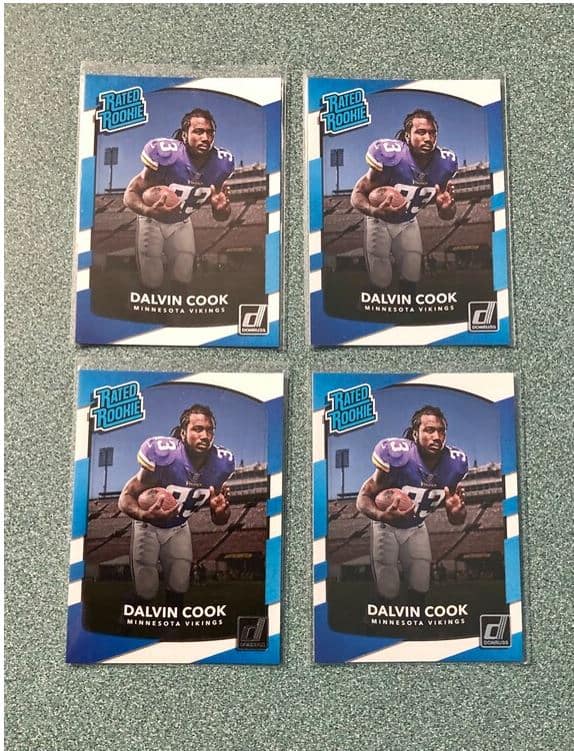 Why are Rated Rookie cards valuable?
Rookie cards have ruled as the kings of the hobby for several decades now, and Donruss Rated Rookies earning a spot as one of the more popular types of rookie cards. However, why are Rated Rookies cards so sought after compared to other cards?
We could chalk this up to four reasons:
History
Scarcity (a player only has one year to have a rookie/rated rookie)
Condition scarcity
Great looking cards
Donruss Rated Rookies are one of the longest-running brands in the hobby. Asides from being one of the longest-running brands, it has a history of significant and iconic Rated Rookie cards. Cards that have held their value exceedingly well and went on to be sold for lots of profits.
This alone has ensured that it is looked at fondly by the entire collecting community. While some collectors collect these Rated Rookie cards because they love the highlighted players, some are after a return on interest (profits). Donruss Rated Rookies have historically held their value well, so investors are willing to invest and collect these cards.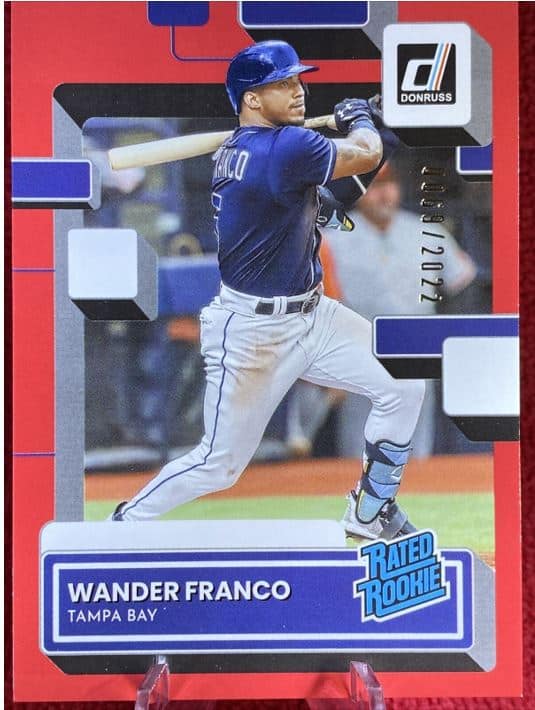 Shop for rated rookie cards available on eBay
How it became an iconic card brand
While not a Donruss Rated Rookie card, the 1984 Donruss Don Mattingly rookie card turned out to be a turning point in the hobby. Released in the same year Donruss launched the Rated Rookie brand, most collectors say this card was at least partly responsible for the hobby boom of the 1980s.
Mattingly, who was drafted in the 19th round in 1979 by the Yanks, swiftly moved up the ranks. He won the batting title, edging veteran Winfield, .343 to .340. While most Baseball fans loved the story of an underdog getting one over a veteran, the reaction in the trading card community was different.
Collectors had just discovered how valuable rookie cards could be through the legendary 1952 Topps Mickey Mantle and 1963 Topps Pete Rose cards. Here was a player who had somehow escaped notice until now and whose rookie card could be pulled by a trip to the corner shop! While every significant set from Topps, Fleer and Donruss featured his card, his Donruss Rookie card had an attractive portrait of a clean-shaven Mattingly on one of the best card designs of the 1980s.
This made it "the" 1984 Don Mattingly rookie card, and its value reflected this status. Mattingly's 1985 season was even better and ended with him winning the AL MVP award. Donruss announced the Rated Rookies cards, and seeing how well the Mattingly card performed, the Rated Rookie cards rode on the coattails of the card.
The 1986 Donruss Jose Canseco Rated Rookie performed even better for collectors and won the Rated Rookies brand a place in the collector's heart. It immediately became a hit with collectors, and it still is until this day!
Rated rookies today
While its card designs have changed from when it debuted, Rated Rookies are still one of the most sought-after rookie cards by collectors today for football and basketball.
Its fundamental idea remains to highlight rookies with the most prospect, and it's one of the most recognizable brands today. While this is thanks to its fantastic design and distinct blue logo, it's been admirable how well Rated Rookies cards hold their value.
They're rated at the same level as Prizm rookies and are the favoured choice for collectors chasing rookie cards. The collector's forum ranked Rated Rookies as the second-best rookie cards to own from an investment standpoint, with Prizm just edging it. Another reason most collectors prefer Rated Rookies is that they are a little easier to afford compared to Prizm yet hold their value incredibly well.
Lastly, Rated Rookies like Prizm and All-Stars Rookies before them all have one thing in common, highlighting rookies with the most prospects. Of course, not all these players turned out to have outstanding careers.
However, Rated Rookies was able to correctly predict future stars more accurately than Topps All-Stars Rookies and Future Stars. A few examples are Greg Maddux and Randy Johnson, who got Rated Rookies cards, while Topps ignored them for players like Steve Searcy, that ended up having not-so-great careers.

While not much, this instilled a bit of trust in collectors that they could get these Rated Rookies cards and be assured the player would have a successful career. With rookie cards, a successful career is essential to cash in on your investment.
Donruss baseball rated rookies lose clout
While the Donruss Rated Rookie brand is still quite famous today, Baseball collectors tend to favour Topps rookie cards. This is because Donruss no longer have the right to use team names or logos on their trading cards. Topps holds the exclusive MLB license, and while Donruss can keep producing trading cards, they cannot use the team names or logos.

Donruss continues producing nice-looking MLB cards without the team's name and logo. However, most collectors are put off by the lack of a logo, which is reflected in the card's value. Nevertheless, there's a plus to this lower value as Donruss has a fair entry point for new collectors or collectors on a tight budget. It's a plus either way!
The Donruss Rated Rookie logo
While the Donruss Rated Rookie logo has undergone several changes over the years, it's one of the hobby's most famous logos. We shall look at the rich journey and its various iterations to become the iconic logo it is now.
Less expensive raked rookie cards are great cards to get signed through the mail.
Initial Logo – 1984
Donruss asked Bill Madden to declare which players had the most prospect and deserved being "Rated" in the 1984 Donruss set. These exceptional players were given Rated Rookie cards and had the phrase in a white and blue banner on the bottom left of the 1984 Donruss set.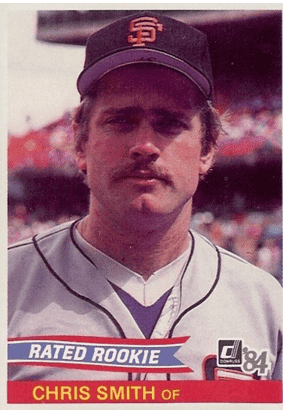 Second Logo Design – 1985 – 1993
The design of trading cards changes from year to year, so it didn't come as a surprise when Donruss changed their initial Rated Rookie logo after a single outing. They did away with the banner design and went with the iconic blue Rated Rookie logo that's known and loved until this day. Tracy Hackler, Panini's America hobby marketing manager, shares his thoughts on why Donruss chose the color blue.
"I'm trying to get into the mind of a designer who probably designed the logo (with a deadline of) about 10 minutes. They're probably going, 'You know what, this is probably far enough away from every team color that it will stand out….. the hue of blue was chosen because it was a team-neutral blue."
Donruss registered the Rated Rookie phrase and this second iteration of the logo in the U.S. Patent and Trademark Office in 1985. Its sample mark included five 1985 Rated Rookie cards.
Shawon Dunston
Steve Lyons
Doug Loman
Russ Stephans and
Alfonso Pulido
Third Logo – 1993
The classic Donruss Rated Rookie Logo ran from 1985 – 1993 when Donruss experimented a little with the hue. While the classic logo remained more or less the same, it got a color makeover.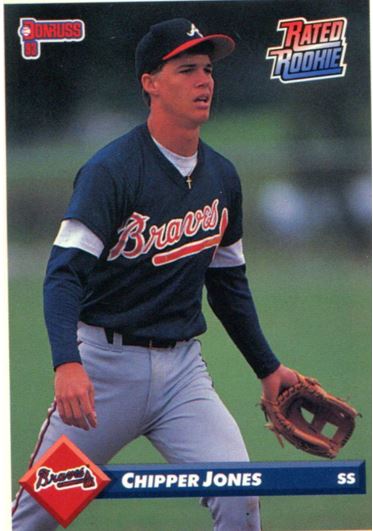 Fourth, Fifth, Sixth, and Seventh Design – 1994 – 2005
Donruss took the logo experiments to insane heights from 1994 to 1997 and then from 2001 – 2005. Each year had its own unique Rated Rookie logos. Donruss didn't produce baseball Rated Rookie cards from 98-2000.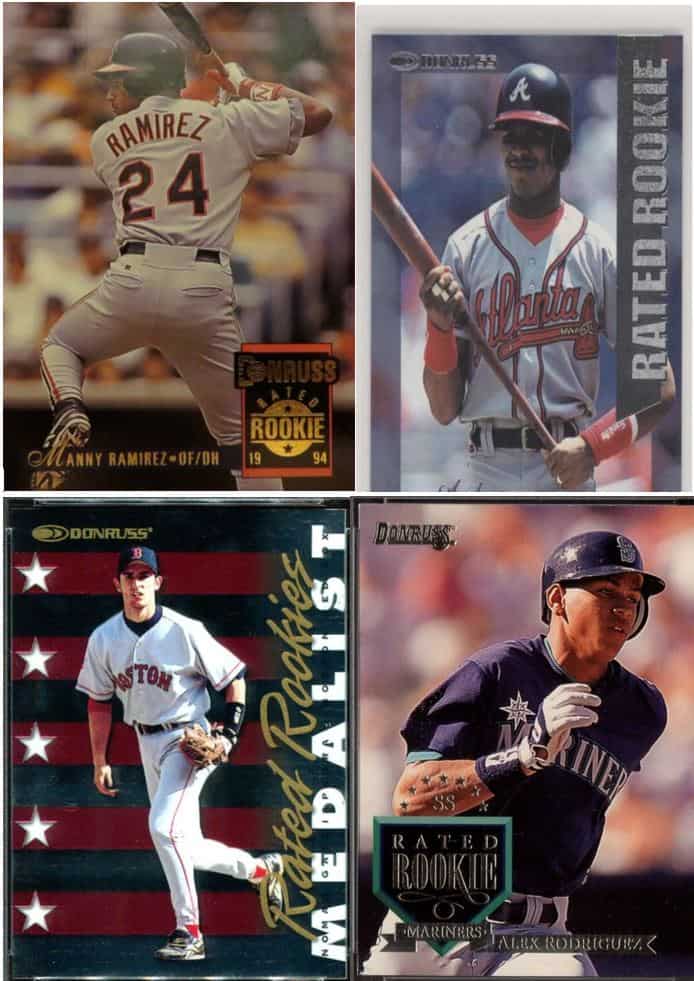 Donruss Football Rated Rookie – 2000, 2002
Donruss introduced collectors to Football Rated Rookie cards in 2000. These Football Rated Rookie cards featured their Rated Rookie logo, unique from the iconic brand logo.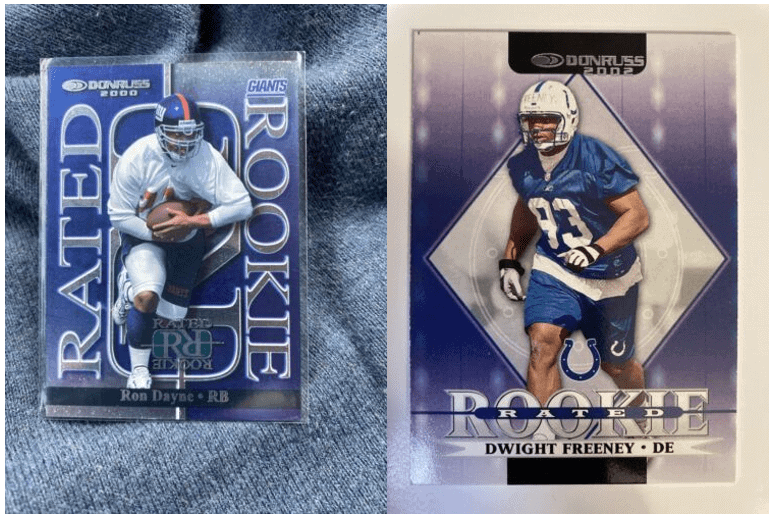 The Classic Logo returns – Donruss Football Rated Rookies 2009
While most of the Rated Rookie logos created were aesthetically pleasing, they ultimately didn't help build the Rated Rookie brand. Donruss returned to the classic logo with the 2009 Donruss Football Rated Rookies.
Donruss Basketball Rated Rookies – 2010
Basketball Rated Rookie cards didn't exist until 2010-2011. By this point, Donruss was through experimenting with various logo designs, and they introduced the 2010 Basketball Rated Rookie cards with the classic Rated Rookies logos.
When Donruss began producing Baseball Rated Rookie again after a five-year hiatus ( 2006 – 2010), they kickstarted it with a version of the classic rated rookie logo. However, by 2011, the classic logo had returned to all their products. And it's remained that way until this day.

Donruss might have created the retro Rated Rookie logo several decades ago in a matter of minutes, but it's become a hobby staple. With its reintroduction in 2009, it earned its place on the most iconic trading cards logo list. In the words of John Mata, an art director of Panini America,
"It's funny.. They may have created this thing in a matter of minutes, but it's definitely something that's going to last longer than our careers, I believe. Because it's not going anywhere."
Modern popular rated rookie cards
2020 Donruss Rated Rookie Lamelo Ball
LaMelo Ball is one of the most exciting point guards in the NBA. The third overall pick of the 2020 NBA Draft class, LaMelo Ball was named rookie of the year after dazzling the league with his performance. His Donruss rookie-rated card is among the most highly sought-after RC options.
Shop for Lamelo Ball rated rookie cards on eBay
2020 Donruss Rated Rookie Justin Herbert
Justin Herbert is undeniably one of the best Quarterbacks in the league. Drafted with the sixth pick by the LA chargers in 2020, Herbert went on to win the NFL Offensive Rookie of the Year and broke a few records, including the "Most passing touchdowns by a rookie quarterback."
His Donruss rookie card is highly valued among collectors mainly due to his potential and what he can do in the future
Find prices of Justin Herbert rated rookie cards on eBay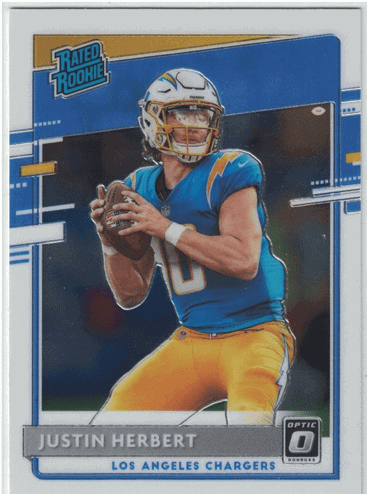 2021 Donruss Rated Rookie Trevor Lawrence
Touted as a once-in-a-generation quarterback, Trevor Lawrence dominated the 2019 National Championship game as a freshman at Clemson and broke the record for total QB wins.
Over the last one and a half seasons, Lawrence and the Jaguars haven't really found success. However, that hasn't stopped collectors from investing heavily in his rookie card.
Shop for Trevor Lawrence rated rookie cards on eBay
2018 Donruss Rated Rookie Trae Young
Trae Young is undoubtedly one of the best ball handlers and passers in the NBA. With two All-star and an all-NBA appearance, he led the hawks to an Eastern Conference final in 2019. Trae Young's rookie Card has sparked a lot of curiosity since his debut on an NBA court.
Leaving aside the Hawks' disappointing record this season, Young remains one of the NBA's finest offensive players. Collectors can rely on him to provide outstanding performances regularly due to his ability to grab baskets from wherever on the floor and his brilliant playmaking talents.
Find prices for Trae Young rated rookie cards on eBay
2020 Donruss Rated Rookie Tyrese Maxey
Tyrese Maxey is considered one of the most hardworking guards in the NBA. Despite the buzz around some other big-name players making their debut in 2021, Tyrese Maxey may be one of the most underrated prospects from the 2020 draft.
Maxey's third season is shaping up to be even better than the previous two. This is the ideal opportunity to get one of the top Tyrese Maxey rookie cards.
Shop for 2020 Donruss Rated Rookie cards on eBay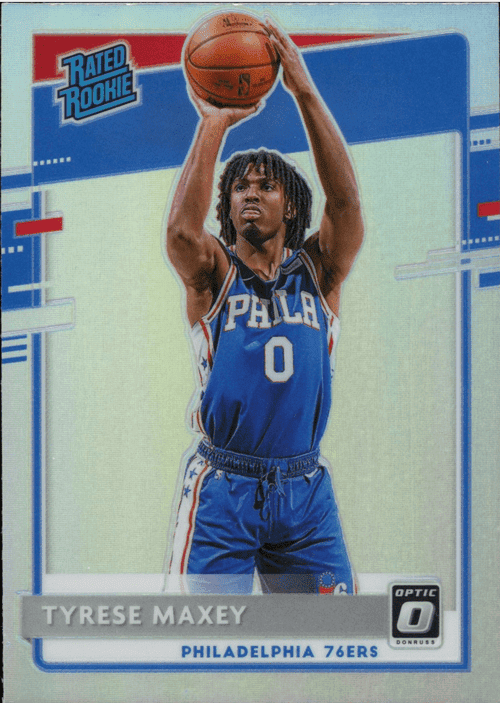 2019 Donruss Rated Rookie Zion Williamson
The most significant drafted rookie since LeBron James, Williamson, got into the NBA with a lot of hype and fanfare. Described as a "once-in-a-generation type athlete" by Kevin Durant, Williamson went on to become an all-star a year later before stumbling to a long-term Injury.
However, Williamson's Donruss rookie card is precious and will continue to be due to his hype and abilities on the court.
Shop for Zion Williamson rated rookie cards on eBay
2019 Donruss Rated Rookie Ja Morant
Morant is one of the most dynamic NBA players and is a joy to watch. An integral part of the 2019 NBA Draft class, Morant won the 2019-20 Rookie of the Year with 99 of 100 forst-place votes. His Donruss Rated Rookie card with the iconic RR design is one of his most popular RC options.
Shop for Ja Morant rated rookie cards on eBay
2018 Donruss Rated Rookie Luka Doncic
Luka Doncic entered the NBA as one of the most fascinating draftees in the league. Some questioned how his game would translate from the international stage to the NBA. So far, everything has gone spectacularly. With 3x NBA all-stars, 3x All- NBA first teams, and a rookie of the year award, Doncic became a dominant force in the NBA.
During the first few months of 2018, Luka Doncic rookie cards became the most sought-after cards of the year. However, Doncic has since established himself as one of the best players in the NBA and the hobby.
Shop for Luka Doncic rated rookie cards on eBay
2017 Donruss Rated Rookie Jayson Tatum
Jayson Tatum is one of the best small forwards in the NBA and is a delight to watch. Like his idol love, a gifted, instinctive, hard-to-guard true scorer, Tatum is the eastern conference MVP and led the Celtics' first finals since 2010. The Jayson Tatum rookie card is a valuable investment that is beginning to show immense promise.
Check out prices for Jayson Tatum rated rookies on eBay
Popular classic Rated Rookie cards
1989 Donruss Ken Griffey Jr
Ken Griffey Jr was named the United State High School baseball Player of the Year and was quickly selected by the Seattle Mariners as the #1 overall pick of the 1987 MLB June Amateur draft. This is one of Ken Griffey Jr's most well-known rookie cards and a favorite of collectors.
It holds excellent value even though it is from the "junk wax era". A PSA 10 is valued at around $400 in today's market.
Shop for Ken Griffey Jr. rated rookie cards on eBay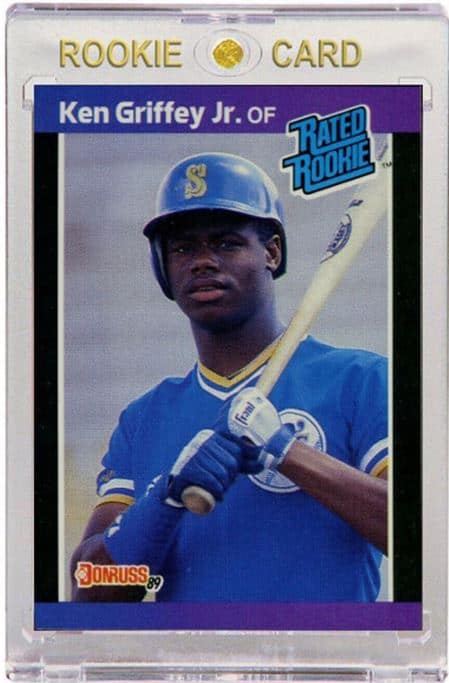 1986 Donruss Jose Canseco
One of the most recognizable rookie cards in the hobby, the 1986 Donruss Jose Canseco card drove the hobby through the summer of 1986 and subsequent years after. He'd just had a fantastic minor-league season and was hyped up to be the next Babe Ruth!
It didn't surprise anyone when he appeared on the 1986 Donruss Rated Rookie checklist. Today, this card is regarded as one that helped solidify the Rated Rookie brand as a staple for collectors. A signed copy recently sold for $6,600, while PSA 10 are valued at just below $500.
Shop for Jose Canseco rated rookie cards on eBay
1989 Donruss Randy Johnson
Randall David "Randy" Johnson earned his spot as one of the greatest pitchers to ever play the game during a 22-year career. Drafted in the second round of the 1985 Major League Baseball Draft by The Montreal Expos, Johnson ended his career as a 10-time All-Star.
He's only the second player in Major League history to win four consecutive Cy Young Awards. Every collector needs a Johnson Rookie card, and his Rated Rookie card is one of the most valued by collectors. A PSA 10 condition card is valued at around $400 on eBay.
Shop for Randy Johnson rated rookie cards on eBay
1987 Donruss Greg Maddux RC #36
Aside from the fabulous designs on this set, Donruss filled it with so many memorable names and dynamic stars. Maddux was undoubtedly one of the best pitchers of the game. He dominated the 90s, winning more games than any pitcher in Baseball history.
Greg Maddux also won four Cy Young Awards on his way to becoming a game legend. His 1987 Rated Rookie card is his most popular rookie card and one of the most notable Rated Rookie cards. A PSA 10 is valued at $235.
Shop for Greg Maddux rated rookie cards on eBay
1988 Donruss Roberto Alomar
Roberto is, without a doubt, one of the greatest second basemen to play in Major League Baseball. With ten American league Gold Gloves and four Silver Slugger Awards, he helped the Jays to two World Series titles.
Although produced at the height of the junk wax era, his Rated Rookie card is one of the most iconic and popular among collectors. The condition sensitive PSA 9 version of this card is valued at $130.
Shop for Robert Alomar rated rookie cards on eBay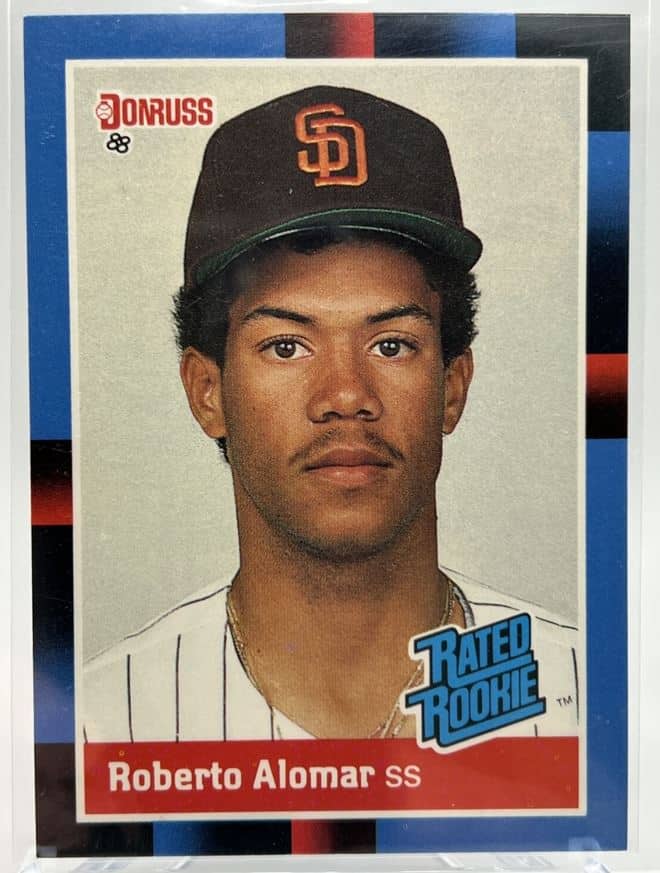 Bottomline of Donruss Rated Rookie cards
Rated Rookie cards have a legacy as iconic rookie cards that have helped push the success of the hobby. Collectors in the 80s and 90s felt they'd struck gold when they pulled the right Rated Rookie card.
That euphoric feeling when you pull the right Rated Rookie card is still the same today, several decades later!
Rated Rookies would always be a big deal in the hobby for as long as card collecting exists. If you're looking at getting into baseball cards from an investment standpoint, Rated Rookies are a good option.
Check out the huge selection of rated rookie cards available on eBa