An Exploration Of 2022 Hall of Famer Tony Oliva And His Best Baseball Cards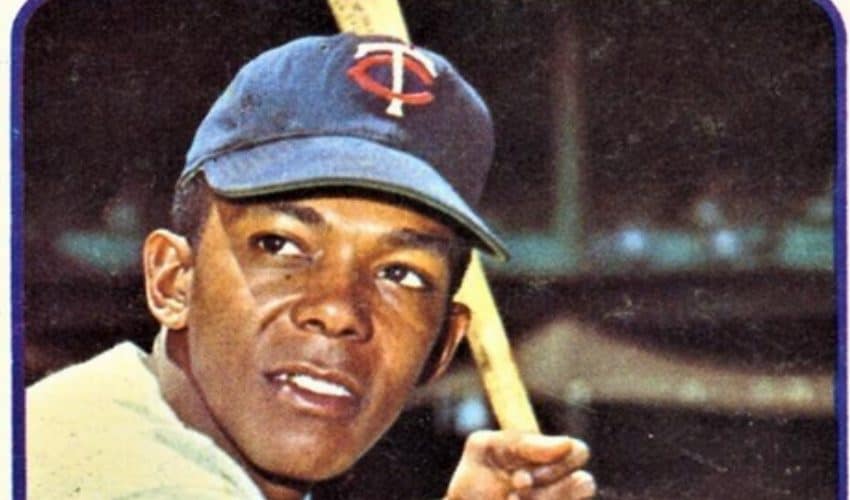 Sunday, July 24th will be a historic day for baseball fans and card collectors. Six new members of baseball's Hall of Fame will be inducted on that day.
We'll explore players such as David Ortiz, Buck O'Neil and Gil Hodges going over their Hall of Fame credentials, their path to the Hall of Fame, and of course, their rookie and other baseball cards. We will even have a look at Dick Allen, who once again did not make the cut.
Today we begin the series with Cuban-born Minnesota Twins legend Tony Oliva.
Hall of Fame elections in a nutshell – The BBWAA Ballot
A player becomes eligible for election into the Hall of Fame five years after retirement. If a player had a 10-year career and is selected by the committee, they appear on the ballot to be voted on by the Baseball Writers Association of America (BBWAA).
A player appears on the ballot until elected by appearing on 75% of ballots, dropping off the ballot by appearing on less than 5% of ballots, or appearing on the ballot for 10 years (until recently, the maximum years on the ballot was 15).
Alternate paths to Cooperstown
Now, after a player drops off the ballot, induction into the Hall of Fame isn't off the table. The Hall of Fame knows that with more time, some players' careers can be re-examined and their Hall of Fame case becomes more convincing. The Hall has a series of committees that meet to examine these players and their hall of fame merits.
These committees consist of 16 members that meet in person and vote. Just like the BBWAA ballot, 75% or more of the vote is required for induction, in this case, 12 out of 16 votes.
Oliva's Hall of Fame credentials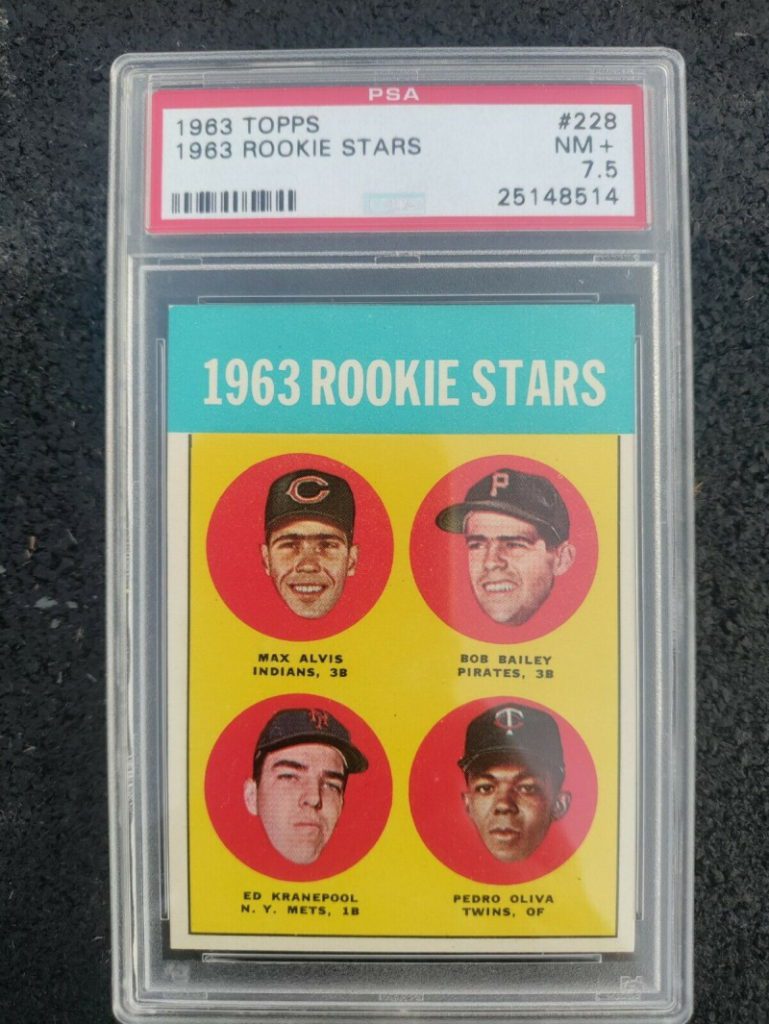 Oliva appeared in parts of fifteen major league seasons, but in three of those seasons, he appeared in 10 games or fewer. In another, he appeared in only 67. So, he only had eleven full seasons, which is likely what has kept him out of the Hall of Fame to date.
What Oliva did in those eleven seasons though, was pure dominance. During one of the lowest offense eras in the history of the game, he hit .304/.353/.476, good for a .830 OPS and 131 OPS+. He hit 220 home runs and drove in 947 runs.
He was Rookie of the Year in 1964, an 8-time All-Star, won three batting titles, and a gold glove. He finished in the top 10 in the MVP voting five times.
His WAR total of 43.0, which is on the low side for a Hall of Fame outfielder. The late start (he turned 25 during his rookie season) and rapid decline (42.3 of his 43.0 WAR came in his age 25-32 seasons), led to the lower total. That being said, he put up 42.3 WAR in only 8 full seasons. That's a dominant stretch that lasted the better part of a decade.
Longevity vs. peak has always been a key discussion (and disagreement) point in Hall of Fame discussions. Some of the game's all-time greats had both, but many other players have gotten into the Hall with more of one than the other. Bert Blyleven and Jim Kaat, for example, used longevity to put up strong counting stats. Players like Sandy Koufax and Kirby Puckett got there on the strength of short but dominant careers.
Oliva's path to the Hall of Fame
Oliva appeared on the BBWAA ballot for fifteen seasons, from 1982 to 1996, maxing out at 47.3% of the vote in 1988.
He appeared on Veteran's Committee ballots in 2000, 2001, 2003, 2005, and 2007, but did not get elected. He appeared on the Golden Era ballot in 2011 and 2014, again falling short, in 2014 by only one vote.
The Golden Day Era Committee elected Oliva to the Hall of Fame with 75% of the vote. He will be inducted to the Baseball Hall of Fame in Cooperstown New York during induction weekend on July 25, 2022. The MLB Network will be covering the festivities.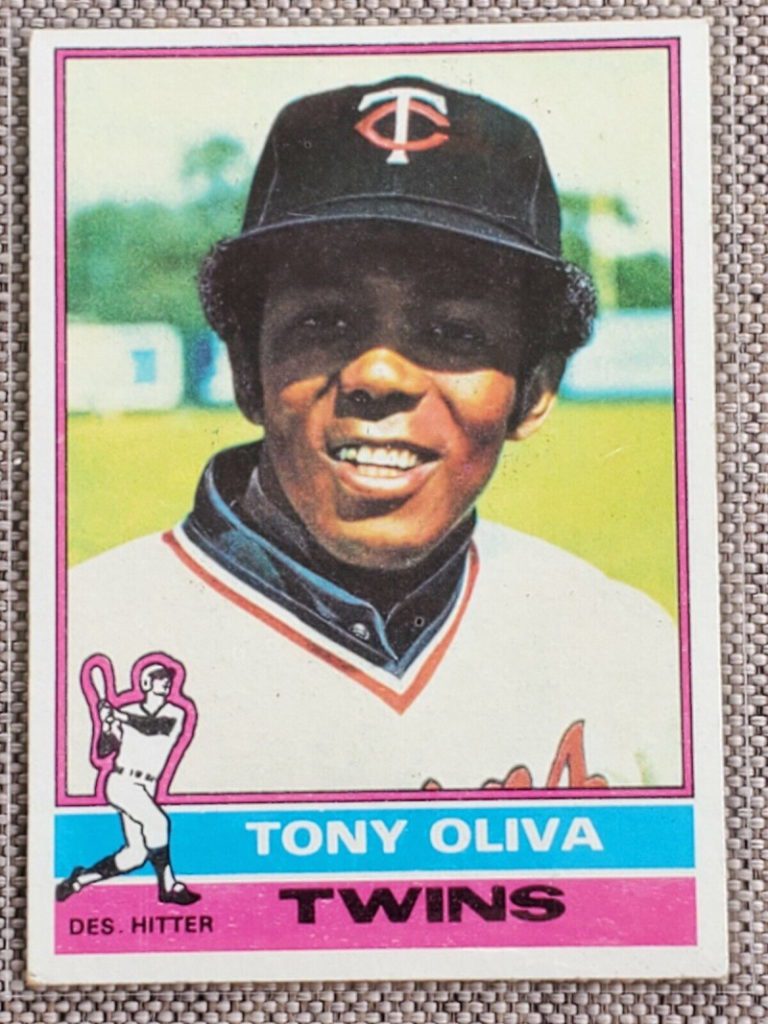 Oliva's cards
The Trading Card Database shows Oliva appearing on 913 cards, most released after his playing days were complete.
Oliva's rookie card is the 1963 Topps Rookie Stars #228. Oliva is listed as Pedro Oliva on the card, which is actually his brother's name. A few weeks before the election, a PSA 8 version of the card went for around $625. PSA 8's are now selling for somewhere in the range of $1,300-$1,400 if you can find one.
Interestingly enough, Oliva appears on a 1964 Topps card titled "Twins Rookie Stars" card, although it's obviously not his rookie card. If the 1963 card is a bit out of your price range, the 1964 can be had for $150-200 in PSA 8.
Oliva appears on many other great vintage cards from his playing days, from standard Topps issues and league leaders with other stars of the era to some interesting team-issued, regional, and odd-ball issues.
If game-used, serial-numbered, and/or certified autographs are your thing, Oliva appeared on quite a number of them starting in the early 2000s. The fact that there are a good number of Oliva-certified autographs and GU cards out there means they're not particularly expensive or hard to track down. That may not make them the best investment, but it makes them an affordable addition to your collection.
Here are a few select examples of Oliva cards, with info on total PSA population size and some recent sales data:
| Year/Set | Total PSA Pop | Recent Sale Pop | Recent Sale Price |
| --- | --- | --- | --- |
| 1963 Topps Rookie Stars #228 | 964 | PSA 8: 162  | $1,300-1,400 |
| 1964 Topps Twins Rookies #116 | 879 | PSA 8: 285 | $150-250 |
| 1970 Kellogg's #63  | 489 | PSA 10: 106 | $75-90 |
| 2001 Fleer Greats of the Game Auto | 7 | RAW | $25 |
The final word on Tony Oliva and Oliva's cards
Cuban-born Tony Oliva had a short career, but an amazing peak. After many years of being considered for the Hall of Fame, time and advanced metrics made his credentials as an all-time great evident to the Golden Days Era committee. As he prepares to take his place in the Hall of Fame in Cooperstown, NY, you should consider finding a place in your collection for Oliva, as well.