Why You Should Love Vintage Topps Baseball "League Leader" Cards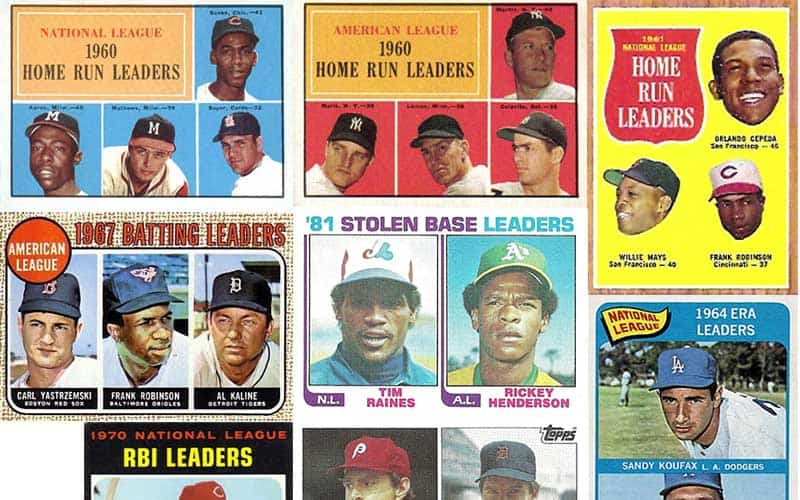 Vintage cards are a great addition to any collection. Collecting a little piece of cardboard history adds to both our knowledge and appreciation of the history of our favorite sports.
As exciting as adding a vintage card of a star of yesteryear to your collection can be, adding a card featuring several stars of the past can be even more fun, educational, and surprisingly, affordable.
Vintage League Leader Cards are a great addition to any collection, find the latest on eBay
What are vintage Topps League Leader cards?
For many years, Topps released cards featuring the prior year's leading players in the major statistical categories. With hitters that were usually Batting Average, Home Runs, and RBI. Pitchers typically were featured for Wins, ERA, and (eventually) saves.
Most years, these were split with one card for each category for each of the American and National League, although some years the leaders were combined onto one card.
Who are the League Leaders?
Because good players usually lead the league in major statistical categories, many of the leader cards picture Hall of Famers, or players who had long and productive careers. Sometimes, however, they are historical proof of a player who caught lightning in a bottle for a brief period of time during a shorter or more mundane career.
A perfect example of this is the very first Topps League Leader card, 1961 Topps #41 "NL Batting Leaders". The card features two inner-circle Hall of Famers in Willie Mays and Roberto Clemente.
It also features Dick Groat, who played in parts of 14 seasons and won the 1960 NL MVP (and finished #2 in the MVP voting in 1963). Also featured is Norm Larker, who only played 667 games across parts of 6 seasons in the majors, including only two years of over 130 games played. 1960 was one of those years, though, and he hit .323 and made his only All-Star team.
An interesting price consideration with Vintage Cards
Back in the pre-insert era (let's say pre-1992), there were only base cards, and other than the occasional double-printed (DP) card, they were all produced in similar quantities within any given set (or series).
During this time, it was not unusual for a star player to appear on several cards in a set. They may appear on their "regular" card, but also some combination of an All-Star, In Action, World Series, Highlight, or a multi-player League Leader card(s).
Since cards are produced in similar qualities, making "supply" similar, pricing comes down to demand. Collectors have long preferred the "regular" card, so these cards almost always demand higher prices than the other card types mentioned above.
There are exceptions to this rule, of course. The first and last cards in vintage sets often demand a premium as they were the cards that took the brunt of the rubber bands many collectors used to store their cards. 1973 and prior Topps sets, which were released in series, are also a potential outlier as cards in later series typically demand a premium.
Get a good deal on a Vintage League Leader card on ebay
More stars for your dollar
In terms of League Leader cards, what this means is that you can often buy a card with multiple players, and often multiple stars or even Hall of Famers, for less than the cost of a card of the biggest star pictured.
For example, let's look at Willie Mays and 1965 Topps. Mays' regular card is #250 in the set and is a classic vintage Mays card. A PSA 7 version will set you back somewhere in the $525-700 range.
But you could consider card #4 in the same set, "NL Home Run Leaders", which features Mays, as well fellow Hall of Famers Orlando Cepeda and Billy Williams, plus stars Johnny Callison and Jim Hart. A PSA 7 copy will set you back about $125. Or how about card #6, "NL RBI Leaders", which again features Mays, fellow Hall of Famer Ron Santo, and star Ken Boyer. A PSA 7 copy sells in the $40-60 range.
So, you can get a card featuring the same player from the same year, along with other stars, which also gives a snapshot of the prior year's results, for a fraction of the cost of the "regular" card.
For collectors on a budget, or those who simply love the historic connection, these offer an affordable approach to collecting vintage stars and Hall of Famers.
The Topps vintage League Leader era
While later sets, especially Topps flagship, produced leader cards from the 1990s to the current day, I'd define the vintage league leader era as the years from 1961 through 1984.
As you would expect, the two factors that affect the price of leader cards are the player(s) featured and the year/set they are included in. So, the 1960s cards are generally higher priced than the 1970's league leaders, which sell for more than those of the 1980s.
And cards featuring inner-circle Hall of Famers tend to be more expensive than those that don't. In particular, anything featuring Mickey Mantle is a strong seller.
Multiple Hall of Fame leader cards
Leader cards feature some of the biggest stars of their day, and because of that, often feature one or more Hall of Famers. Below are a few examples of the many vintage league leader cards that feature more than one Hall of Famer.
| Card | PSA Pop | Recent Sale |
| --- | --- | --- |
| 1961 Topps NL HR Leaders #43#43 (Banks, Aaron, Mathews, Boyer) | 1,749 | PSA 7 = $45-90 |
| 1962 Topps AL HR Leaders #53 (Maris, Mantle, Killebrew, Gentile) | 3,272 | PSA 7 = $225-250 |
| 1962 Topps NL HR Leaders #54 (Mays, Robinson, Cepeda) | 987 | PSA 7 = $100 |
| 1965 Topps NL ERA Leaders #8 (Koufax, Drysdale) | 1,075 | PSA 6 = $50-100 |
| 1968 Topps AL Batting Leaders #2 (Yaz, Robinson, Kaline) | 825 | PSA 7 = $150 |
| 1971 Topps NL RBI Leaders #64 (Bench, Perez, Williams) | 700 | PSA 7 = $35-50 |
| 1979 Topps Leading Fireman #8 (Fingers, Gossage) | 238 | PSA 9 = $30 |
| 1982 Topps Stolen Base Leaders #164 (Henderson, Raines) | 509 | PSA 9 = $20-30 |
| 1984 Topps Strikeout Leaders #136 (Carlton, Morris) | 132 | PSA 9 = $35 |
There are many other league leader cards that feature Hall of Famers, either multiple on a single card, or one Hall of Famer with other stars of the day.
Even the league leaders that don't feature Hall of Famers are worth your collecting attention and often come at an even more affordable price point.
The final word on Topps Vintage League Leader cards
Vintage league leader cards are a fun and affordable way to add some really interesting cards featuring the best players of their era to your collection, be they Hall of Fame icons, stars, or players whose brush with greatness was short but captured on cardboard.