Topps UEFA Champions League Club Competition 2023 Rookies Ranked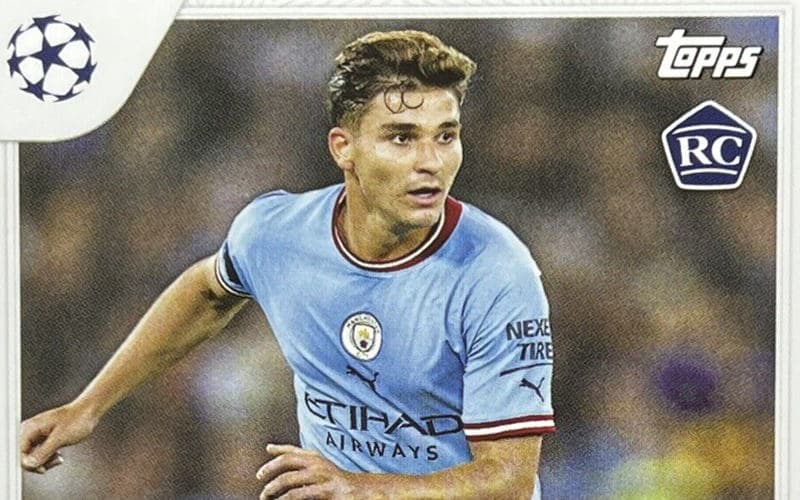 Topps has changed its European Competition cards format for the 2022-23 season. Instead of just including players from the UEFA Champions League competition, the Topps UEFA Champions League Club Competition 2023 product has players from the UEFA Europa League and Europa Conference League competitions as well.
That means that Topps now has a deeper bench to bring their rookies from and can select the best of the best. Of course, only time will tell if they didn't miss any significant gems by stretching the net.
But it looks to me like they did a pretty good job overall. We looked at the rookies they selected and divided them into four tiers for your edification.
Wondering who to collect? Look further than our Topps UEFA Champions League Club Competition 2023 Rookies ranked feature.
Shop for 2022-23 UEFA Champions League Club Competition rookies on eBay
A word about Topps UEFA Champions League Club Competition 2023 rookies ranked tiers
We can't predict the future; sometimes, I have blown it with a prospect. But overall, it isn't hard to predict who has a high ceiling for collecting. You are looking for a few basic things in a soccer prospect. Incredible talent, youth, and an attacking position.
It also helps if they are from a big footballing nation. For example, players from England and Brazil tend to do better than Croatians on the market. Fair or unfair, that is how it works. If a player has those things, you know they have the potential to be a collecting hit.
So, those are the criteria by which I placed these young players in tiers. Therefore, this is not a judgment of the players' ability.
Well, not on that alone. With that out of the way, here are the Topps UEFA Champions League Club Competition 2023 Rookies ranked.
Shop for 2022-23 UEFA Champions League Club Competition rookies on eBay
Tier 1 Of The Topps UEFA Champions League Club Competition 2023
Julian Alvarez – Manchester City- Forward
Alvarez is already one of the biggest stars in the world and will continue to be a top name in the soccer world. If there were still any doubters, the forward dispelled them with a dominant performance at the 2022 World Cup.
Julian was, in my opinion, one of the best players of the tournament. There are a couple of issues here, however.
First, he has to compete with Erling Haaland for a team spot, and the Norwegian is one of the few players in the world Julian will have trouble competing with. He is also a bit old for a rookie.
I would also note that considering the nature of the Argentine's breakthrough, the World Cup Prizm rookie is the one to get rather than this one.
Shop for 2022-23 UEFA Champions League Club Competition rookies on eBay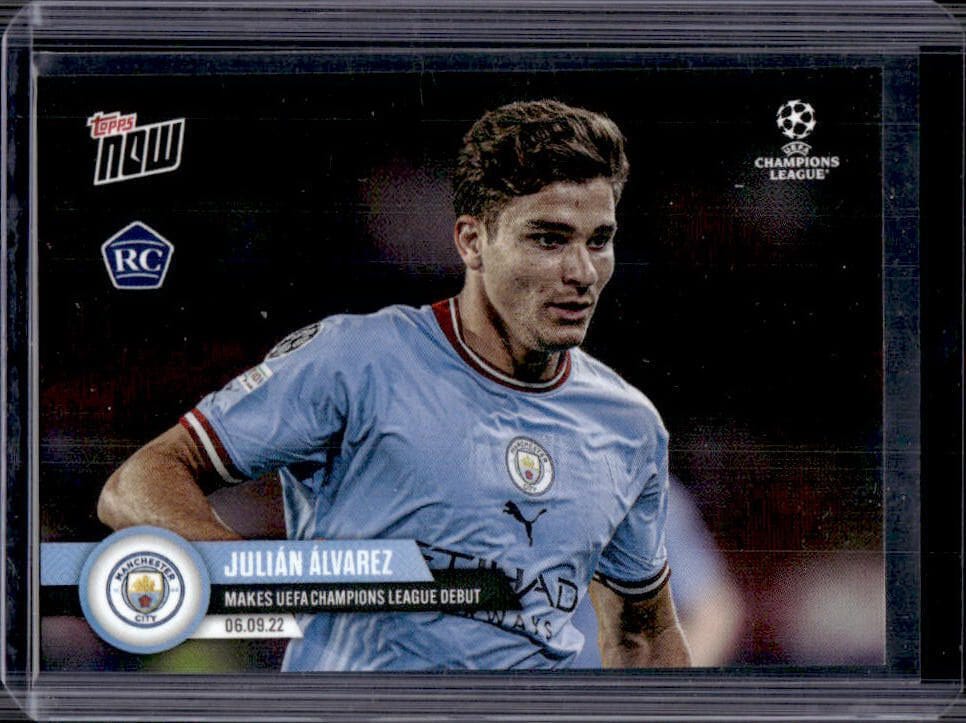 Johan Bakayoko – PSV Eindhoven – Winger
The 20-year-old Belgian winger has already won two caps for the Belgian national team. Bakayoko is a first-rate dribbler with the kind of acceleration skills you want from a winger.
But Johan suffers from that young player's disease of inefficiency close to the goal and getting in his own way by overdribbling. Will he develops that killer instinct? That is anyone's guess.
Roony Bardghji – FC Copenhagen – Winger
The 17-year-old Kuwaiti looks like one of the most exciting prospects to emerge from the Persian Gulf area. According to the scouting reports, Roony is nearly perfect on the ground.
He can dribble around everyone, shoot with both feet and accelerate at will. In addition, Bardghji is at his best, dribbling into and out of tight spaces. Roony has one weakness, playing in the air.
But that shouldn't be a particular barrier for a tricky winger. Like a modern winger, Bardghji can also sprint back to cover defense. He is a potential gem with a big move in his future.
Valentin Carboni – Inter Milan – Attacking Midfielder

Carboni is merely 18 years old but has been playing regularly for powerhouse Inter Milan since he was 17. Valentin recently elected to represent his native Argentina rather than his adopted home of Italy and has already figured in the Argentine U-21 side.
Valentin plays as an advanced playmaker and can even work as a false nine. Like many precocious youths, he has excellent pace and technical ability.
But what sets Carboni apart is his already muscular build and toughness in the classic Argentine playmaker mold. The potential makings of a world-class playmaker are there.
Fabio Carvalho – Liverpool FC – Winger or Attacking Midfielder

Fabio is probably the biggest name on this list. At age 20, he has already made that big money move that young players dream about. Even more amazingly, Fabio is already an essential part of the plans for Jurgen Klopp and was one of the few bright spots in a pretty miserable season at Anfield.
That overcomes the foremost concern collectors may have had: he will not see much time in the star-studded team. And there is no question Liverpool is ready for an overhaul, and it looks like Carvalho is believed to be the answer to many of the ailing side's problems. It's easy to see why, as well.
The Portuguese player is constantly active, looks brilliant on the ball, and racks up goals and assists. Seems like a future star to me.
Mohamed-Ali Cho – Real Sociedad – Forward
Mohamed-Ali has everything you want in a prospect. At 19 years of age, he has youth, incredible talent, and international experience for a sizeable footballing nation. Cho was playing for the French U-21 team when he was 16.
The player was the second youngest ever to sign a professional contract in France, behind only Eduardo Camavinga. His pace and dribbling are blinding and the main reason Mohamed-Ali is so highly touted. However, there are still things he needs to improve.
Most notably, strength and the ability to hold up the ball for teammates. But those are the kind of problems you can work out with experience and time spent in the weight room. Big teams, including Chelsea, Tottenham, and Borussia Dortmund, are already chasing the forward.
Alfie Devine – Tottenham Hotspur – Attacking Midfielder

The 18-year-old made headlines by becoming the youngest debutant for the Spurs. Like ever. Tottenham is banking on his work rate and creativity to make Devine a world-class midfielder. And they are probably correct.
But Alfie doesn't look like a modern midfielder in terms of contribution to the defensive end just yet. However, the kid is very young. Devine will learn.
Desire Doue – Stade Rennais – Attacking Midfielder 
The 17-year-old is already a regular for Rennes, with 15 appearances. Even more impressively, this kid already has a 3-goal haul.
So Doue was already identified as a rising star at 5 years old. Yup, you read that right. But he does have some soloist tendencies that could either make or break Doue's career.
One of Desire's coaches remembers, "We told him not to dribble, but he was sure he was going to get past his opponent, he'd do it anyway. He is aware of the risk".
Therefore, a scout described him as "frustrating, sassy, and a bit of a roulette." Still, you can teach discipline and teamwork. You can't teach incredible raw talent.
Issahaku Fatawu – Sporting CP – Winger
The Guardian touted Fatawu as his generation's most significant African prospect in their "Next Generation 2021" soccer project. And who are we to argue with this esteemed publication?
The kid is already a regular for the senior Ghana national team, though Issahaku has only one goal in 14 appearances. However, if you get to watch the playmaking winger go at it, his creative skills will astound you. Fatawu sees the game differently from other players and sees opportunities where others see dead ends.
The most comparable player in this regard is Kevin De Bruyne. Once Issahaku's contract with Sporting is up, or a bit before, expect a big move for this brilliant winger.
Alejandro Garnacho – Manchester United – Winger

Garnacho may be unproven, but that hasn't stopped card enthusiasts from stocking up on his cards. Is this a case of an overhyped United prospect? It is still unclear.
Alejandro has made numerous appearances for Manchester United and is honestly probably one of the reasons Topps included non-Champions League prospects in this release. He has also been selected for the full Argentina team.
But Garancho has yet to prove he can be reliably effective at the top level. And his injury proneness is a concern. Still, he has the kind of close control you want in a winger, and Alejandro's pedigree speaks for itself.
Jamie Bynoe-Gittens – Borussia Dortmund – Winger 
The 18-year-old Bynoe-Gittens is English, which is always good news for collectors. The Athletic has called him "Borussia Dortmund's next big thing in English football."
The comparisons to Jadon Sancho are almost inevitable. I am always suspicious of these comparisons. But look, he has 19 appearances for the Dortmund first team at age 18. Jamie keeps it tight with close ball control and beats defenders with ease.
There is a lot to love here. And yes, Dortmund has quite the record in developing young talent.
Hakon Arnar Haraldsson – FC Copenhagen – Attacking Midfielder or False Nine
The 20-year-old is already a starter for the Iceland national team. Scouts love Hakon because he is big and strong but has a silky technique and a deft first touch. He is also equally good at scoring and playmaking.
And if that isn't enough, he is a notoriously hard worker, running tirelessly up and down the pitch. So I don't think he will remain at FC Copenhagen for too long.
Arnaud Kalimuendo – Stade Rennais – Forward
Arnaud didn't make it at PSG and is now rebuilding at smaller Rennes. He has what it takes to be a good Ligue 1 forward. That is quite clear. But beyond that?
Probably not. He is too much of an old-school forward, staying at the front too much. He doesn't run back to cover or go over to the wings as much as we would like. And he has yet to make that push forward we want from a 21-year-old forward.
Dijon Kameri – Salzburg – Attacking Midfielder

Dijon is an 18-year-old Austrian phenom and a product of the highly vaunted FC Red Bull Salzburg youth academy. And considering everyone in Austria is saying he is the best prospect they have in the system, that is very high praise for the youngster.
The scouting reports focus on his vision and creativity, the classic hallmarks of a number 10 playmaker. Considering the talent and pedigree we are talking about here.
Charlie McNeill – Manchester United – Forward
The 19-year-old forward looks a bit like Wayne Rooney and also plays for United, so the comparisons are almost inevitable. But of course, Wayne was an international star at 19, and Charlie is on loan at EFL League Two club Newport County.
But that isn't telling the whole story. McNeill has an old-school eye for goals and netted 600 goals (yes, you read that right) in the various youth levels. That includes a stupendous 24 goals in 21 appearances for the Manchester United Under-18 team.
But he isn't just a goal machine; Charlie is a relentlessly hard worker and is always on the go.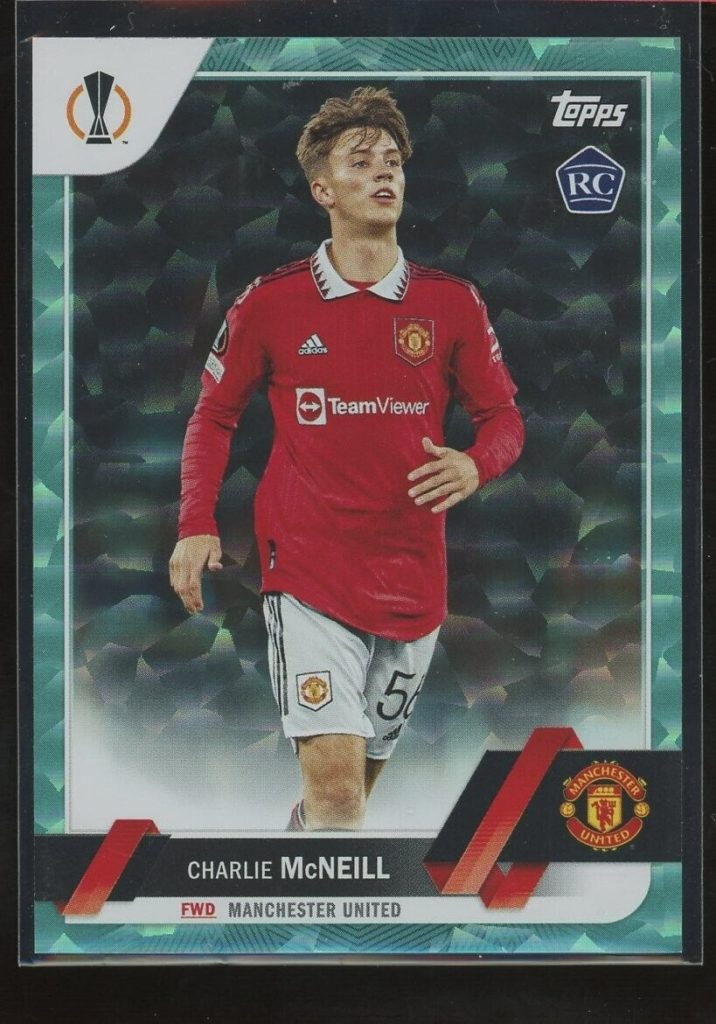 Antonio Nusa – Club Brugge – Forward
Antonio has been inspiring for Club Brugge and has already put together a strong, inspiring first-team performance at age 18. Because Nusa is Norwegian, much speculation has been about the killer forward duo he could create with Haaland.
But that is certainly getting ahead of ourselves. Still, he has a rare combination of technique, agility, and strength. In addition, Nusa is getting the kind of top-level experience a future star needs.
Rodrigo Ribeiro – Sporting CP – Forward 
Like every young talent to come out of Sporting, Ribeiro is compared to Figo and Ronaldo. Does he have what it takes to fill those shoes? Hard to believe. But that is just the skeptic in me.
The Portuguese soccer world considers him their premier prospect. And who am I to argue? Rodrigo has a unique playing style, taking the ball to the wings and stretching the opposition.
From there, he can dribble into position or set teammates up. What remains to be seen is if he can do this at the top levels.  
Andreas Schjelderup – SL Benfica – Winger or Forward 
As difficult to defend against as his name is to pronounce, Schjelderup has the scouts raving, and they won't shut up. Sorry, I got carried away. But the 18-year-old was phenomenal in the Danish league.
Indeed, he turned down Liverpool FC to get some minutes in Denmark. Now he has upgraded somewhat to Benfica and seems determined to work his way up the European ranks. Will that succeed? Good chance it will.
While Schjelderup is not the most natural scorer, his dribbling and creativity more than makeup for it. Andreas makes the players around him better. The upside for this youngster is phenomenal.
Warren Zaire-Emery – Paris Saint-Germain – Central Midfielder 
Warren is not the kind of offensive player we usually invest in. But we are talking about a 17-year-old who has already earned a spot in the rotation for Paris Saint-Germain: one of the best clubs in the world.
This season, Zaire-Emery also became the youngest player to appear in a Champions League knockout match. Moreover, at an incredibly young age, Warre has the kind of tactical mind we expect from a world-class veteran.
He can create chances but also shoot from long range. Indeed, one scout said he "already looks like the best midfielder we've seen in a generation. 
So, while we don't usually recommend central midfielders as an investment, we can make an exception for Zaire-Emery.
Tier 2 Of The Topps UEFA Champions League Club Competition 2023 Rookies Ranked
Shop for 2022-23 UEFA Champions League Club Competition rookies on eBay
Fabio Blanco – Barcelona – Winger
We like promising youngsters from the Barcelona FC youth system. And Blanco is undoubtedly that. He has some significant advantages, most notably the ability to play on the right and through the middle equally well and attack from the right on occasion.
In other words, a complete offensive player. His command of the ball is impeccable, like all Spanish prospects nowadays. But he has yet to have any first-team soccer.
Nicolo Fagioli – Juventus – Central Midfielder

An excellent and proven player. In many ways, Fagioli is head and shoulders ahead of most of the players on this list.
At 22, Nicholas established himself as the engine for Juventus and even broke into the Italian national team. I expect he will have many more appearances for the Azzurri.
But he isn't a spectacular goal scorer and isn't quite in that sublime Xavi midfielder mode that allows for high card value.
Enzo Fernandez – SL Benfica – Central Midfielder
A big name already, Enzo won the World Cup Young Player Of The Tournament and lifted the Jules Rimet trophy alongside Lionel Messi. But not many 22-year-old players can claim that.
So Chelsea nabbed Fernandez and will look to his ball-winning talents to help rebuild the ailing London club. But he will probably become a bigger star soon, but he doesn't have the attacking upside we look for.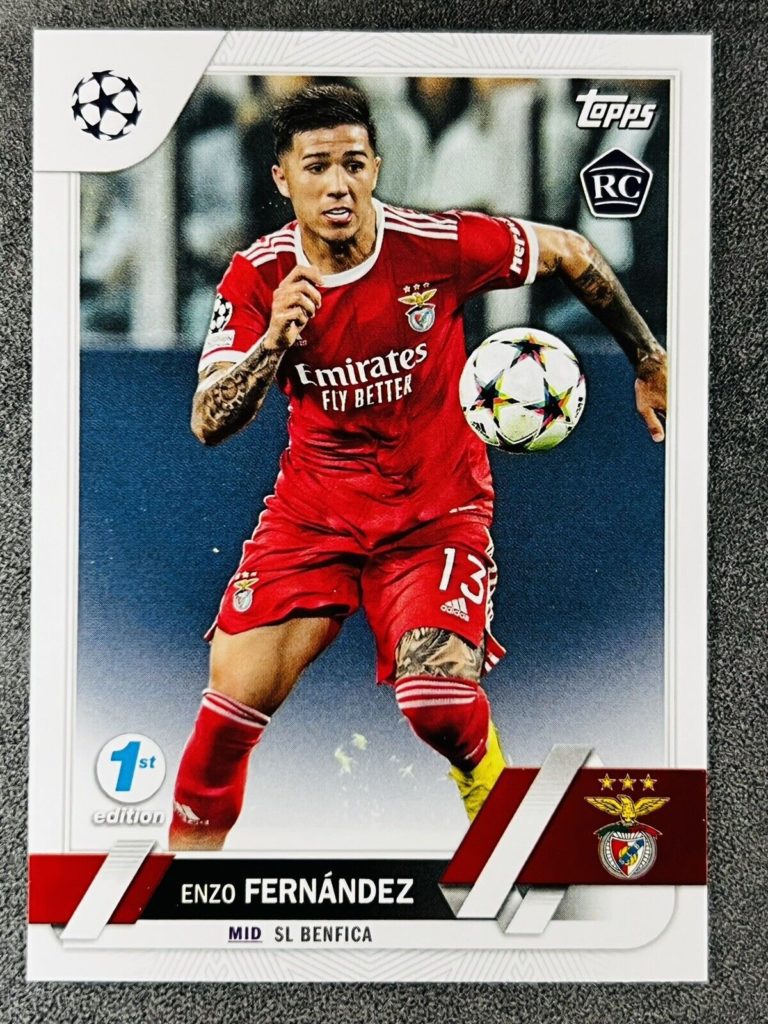 Santiago Gimenez – Feyenoord – Forward
Gimenez is already 22 years old, so not a very young prospect. But on the other hand, he has a proven scoring record. 20 goals in 88 appearances for Cruz Azul, and even more impressively, 12 from 28 at Feyenoord.
The way it looks now, Mexico will use him as a starter for a long time. The only question is, can Santiago move on (and succeed at) a big European team?
Amine Gouiri – Stade Rennais – Winger or Striker
Amine is one of the most proven players in this crop of rookies. However, that cuts both ways. Sure, he already has 32 goals in Ligue 1, which is a remarkable tally for a 23-year-old striker.
But he is already at the upper age for a young player and well beyond being a prospect. While there is no doubt that Gouiri is one of the better forwards in France, there are a few issues here. His goal-scoring rate has been solid but not spectacular.
In addition, Amine plays for a relatively small club. And he has yet to make even a single appearance for the French national team. Still, moving to a big club and a call-up for France is both possible and will help his value.
His technical ability is enviable, especially in terms of a top-notch first touch. But Gouiri does lack the speed and strength top teams like to see from their poachers.
Lucas Gourna-Douath – FC Salzburg – Defensive Midfielder
We love players who come through the FC Salzburg system because they have an excellent track record. Does Lucas measure up?
It looks like Gourna-Douath does. Some of his scouting reports legit say that he has no serious weaknesses. Lucas may develop into a top-notch box-to-box midfielder. But that position is not ideal for hobby value.
Bruno Iglesias – Real Madrid – Attacking Midfielder
A 19-year-old from Real Madrid is often a good investment. However, Bruno seems kind of stuck right now. He hasn't been able to break into the Madrid first team, while some of his cohorts have.
The player also hasn't been selected for the Spanish U21 side as of yet. Nonetheless, he has some shining scouting reports. Bruno is at his best as a playmaker with the ball at his feet.
That seems to be the description of every Spanish midfielder, by the way.
Samuel Iling-Junior – Juventus – Winger
This 19-year-old from Islington is already playing for one of the biggest clubs in Europe. Even though Serie A doesn't get the attention it once did, that is still a big deal.
And Iling-Junior has already made 7 appearances for the Italian team. However, he came up through the Chelsea system and could not break through.
Shop for 2022-23 UEFA Champions League Club Competition rookies on eBay
Marko Lazetic – AC Milan – Forward
The 19-year-old Serbian has already made the big move youngsters dream of, coming to AC Milan for four million Euros.
But unfortunately, Marko isn't playing much in Serie A. But Lazetic has some valuable tools at his disposal. The 6″ 3 striker is great at holding up the ball but has acceleration and quick feet.
Marquinhos – Arsenal – Winger or Forward
This is Marquinhos, the Arsenal forward, not the PSG defender. Don't be ridiculous. Can't you tell your Marquinhos apart? The Brazilian can play on either side of the wing, and there is no slouch bursting through the center.
Therefore, we imagine Arsenal will allow the player to show his stuff. But it is hard to say if this Marquinhos has what it takes.
Diego Moreira Jr. – SL Benfica – Winger

Diego Moreira Jr. does what Portuguese wingers do best. Dribbles his ass off. In the mold of Luis Figo and Cristiano Ronaldo, it's hard to mark this kid. But he hasn't broken into the Benfica first team regularly yet (though Moreira Jr. did make his debut recently).
The problem he has is that the dribbles often lead nowhere. But Ronaldo was also like that at this age, and look how that turned out. What I really like about Diego is his work rate. The player runs everywhere and goes back to defend as well.
Randal Kolo Muani – Eintracht Frankfurt – Forward
Randal has broken into the first team of the French national team after some excellent displays for Eintracht Frankfurt. Kolo Muani could have been one of the most famous players in the world had he scored that tremendous chance against Argentina in the 120th minute of the World Cup final.
But the Argentina goalkeeper made a fantastic save instead. Still, he has a lot to offer. Last season he was one of the best forwards in all of Europe as far as setting up assists is concerned. Still, Randall is 24, and we like to see our rookies a bit younger.
Mykhailo Mudryk – Chelsea FC – Winger
My condolences if you watched any Chelsea games from the middle of the season. But seriously, if you did, Mudryk would have left a clear and wonderful impression on you.
His speed is blinding, and Mykhailo has a way of taking over the entire game. His speed and close control are peerless. But there are a few marks against Mudryk. First of all, at 23, he is a bit on the ancient side for a rookie.
In addition, the Ukrainian isn't a modern player. He doesn't get back to defending as much or with the intensity he should. So while electric, coaches may be hesitant to play Mudryk often.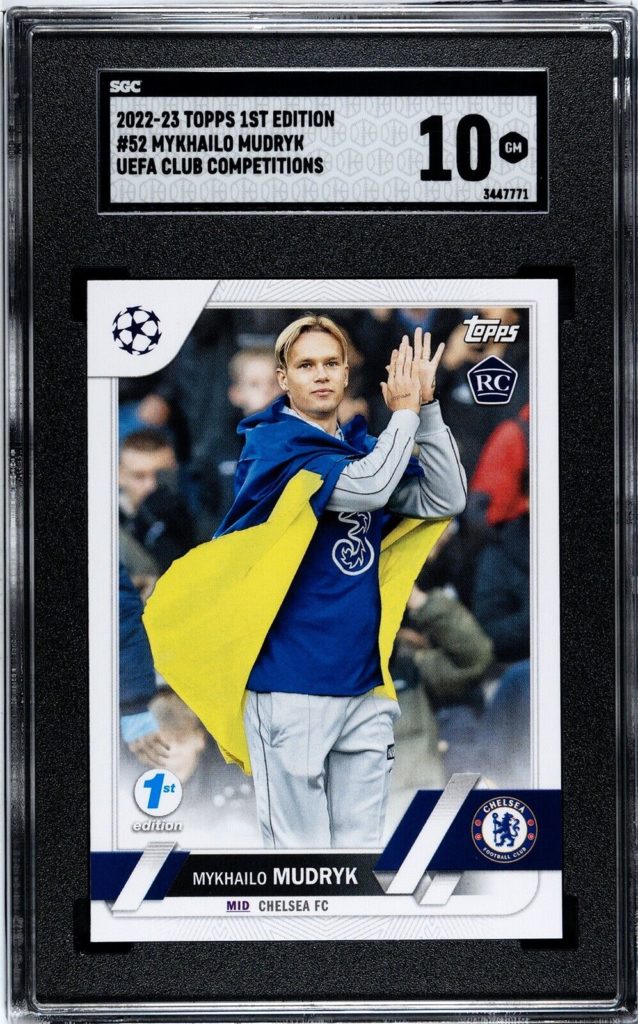 Roko Simic – FC Salzburg – Forward
No, he is not named after the smart TV application. Simic is a father with an excellent soccer pedigree, as his father was a legendary defender for the Croatian national team.
The forward is playing for Salzburg, which is a good sign, but he had to be loaned to Zurich, which is not.
But his record of goal-scoring at the youth levels is incredibly impressive. And Salzburg is selling off some of its biggest stars now. So the next season will be Simic's big chance.
Matias Soule – Juventus – Winger
The 19-year-old Argentine winger has broken into the Juventus rotation this season and gotten some experience in a Champions League setting. Soule is a fantastic dribbler with that classic winger acceleration.
In addition, the player has some beautiful moves at his disposal, most notably cutting into the box to shoot. Then there are also the superb free-kicks he is known to launch.
Pablo Torre – FC Barcelona – Attacking Midfielder
The hobby will never ignore a 20-year-old player with an upside coming up with Barcelona. But in a team absolutely loaded with young talent, Pablo Torre sometimes seems like an also ran.
He's the kind of roaming playmaker with pace, agility, and flair that Barcelona is known for producing. But is Pablo going to out-compete Gavi and Pedri? And will he become genuinely effective rather than a promising talent? We really aren't sure yet.

Patrik Walemark – Feyenoord – Winger
Patrik was sensational in Sweden for BK Häcken, creating several chances a game. But the move to Feyenoord hasn't been as smooth as he would like. So far, he has often come off the bench.
But Walemark can potentially become an Arjen Robben style of goal-scoring winger. But we are not sure at what level yet.
Tier 3 Of The Topps UEFA Champions League Club Competition 2023 Rookies Ranked
Matthis Abline – Stade Rennais – Forward
Abline hasn't shown the top-notch pedigree we want from a forward prospect. So far, he has also struggled to find minutes in Ligue 1, adding to my overall skepticism.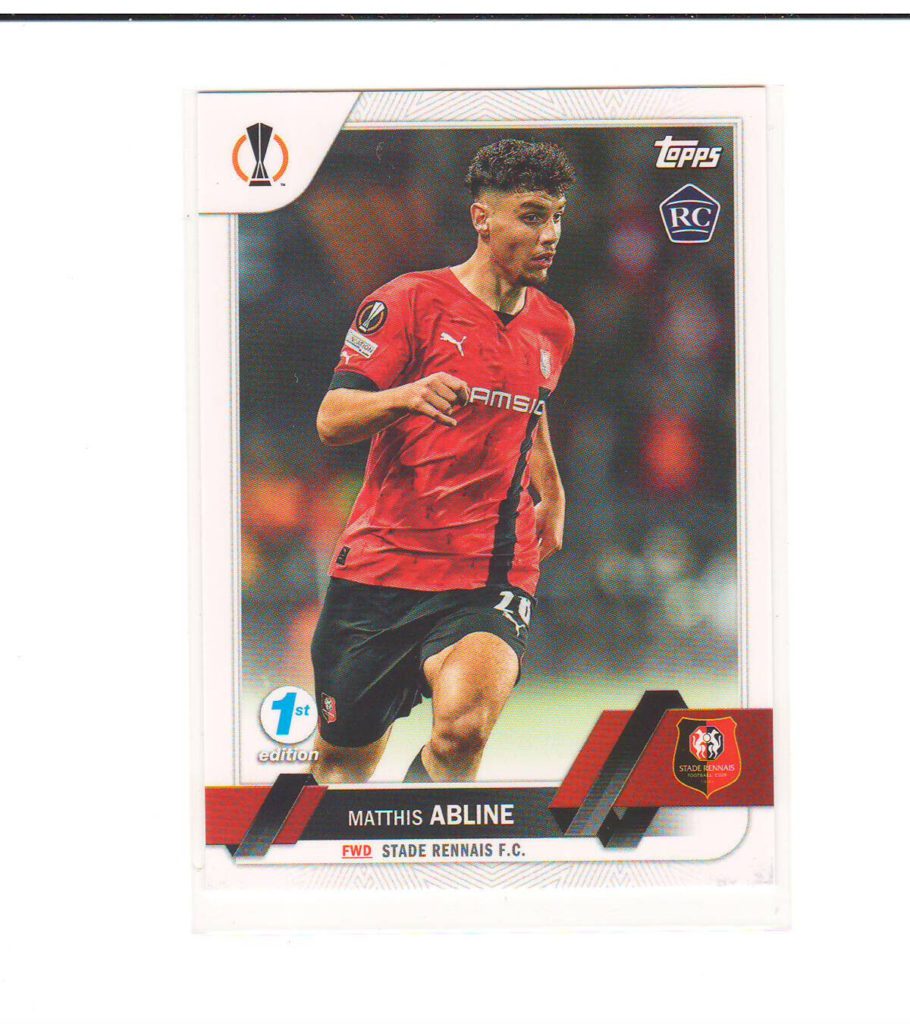 Faride Alidou – Eintracht Frankfurt – Winger
We are somewhat troubled by Alidou's inability to break into the Frankfurt first team. However, he is only 21 and has time to develop. In addition, we have not forgotten that the winger looked far more effective when playing for Hamburger SV and the Germany U-21 side in the past.
Pablo Barrios – Atlético de Madrid – Central Midfielder

Another of many talented central midfielders is coming up in Spain. I don't see anything that differentiates him from the pack.
William Clem – FC Copenhagen – Defensive Midfielder
A wonderfully talented 18-year-old midfielder. Is Clem talented enough to be a good investment despite his position? Probably not.
Dario Essugo – Sporting CP – Defensive Midfielder
Dario is a powerful and dominant player who can control the center of the pitch. The youngster has terrific balance, pace, flair, and power. The whole package. But he is a primarily defensive player and hasn't proven his first-team credentials yet.
Isak Bergmann Johannesson – FC Copenhagen – Central Midfielder
When did Iceland start producing so many prospects? Johannesson is an Andrea Pirlo pivot midfielder who can create a ton of chances from behind the midfield line. But that is not usually a position from which we get much-collecting satisfaction.
Orkun Kokcu – Feyernoord – Midfielder
The 22-year-old is already a regular starter for the Turkish national team. Moreover, his goal-scoring stats are actually quite impressive. Kokcu nabbed 23 goals in 114 games for Feyenoord.
And he has lovely off-the-ball movement. Therefore, it isn't surprising that big teams like Arsenal have shown an interest. Still, while Orkun has a great career ahead, he doesn't strike me as a star.
Noah Sahsah – FC Copenhagen – Winger
While Dortmund and Salzburg get all the glory, FC Copenhagen has also become a significant player nursery. But is Noah a top-notch prospect? Probably not. He isn't quite as physical as we would like and is prone to making mistakes.
Gabriel Veron – Porto – Winger
Veron is already a starter in a high-quality league and will probably have a more significant role in Porto next season. He is also Brazilian; if he can break into the national team, that is excellent news for his collectors.
But the Portuguese league is not all that high profile, and Gabriel certainly doesn't seem ready for the big-money move that will put him over the top yet.
Tier 4 Of The Topps UEFA Champions L
Kristjan Asllani – Inter Milan – Defensive Midfielder
There aren't too many top-notch players from Albania. Kristjan can be one of the best to come out of that country. However, he doesn't have the offensive upside to be collection worthy.
Lynnt Audoor – Club Brugge – Defensive Midfielder
The first strike against Lyntt is that he is a primarily defensive player. The second is that he plays in Belgium. The third is that he isn't as physically dominant as you would want a defensive midfielder to be.
El Chadaille Bitshiabu – Paris Saint-Germain – Defender
An unproven 17-year-old with the potential to be one of those top-notch elegant French center-backs. May have a bit more hobby potential if he converts to the defensive midfielder, a role Bitshiabu sometimes fills.
Goncalo Borges – Porto – Winger
Borges is competing for minutes over at Porto. And that is an excellent place to be at age 22, but not where you want your hobby investment to be.
Lorenzo Lucca – Ajax – Forward
The forward is trying to find a place to play first-team football after not quite making the grade at Pisa over at Serie B.
Ajax saw some potential there, but he has spent most of his team in the B Team. So, don't get your hopes up.
Pablo Marin – Real Sociedad – Attacking Midfielder
A decently promising player. But nothing remotely like a potential superstar.
Youri Regeer – AFC Ajax – Defender
Seeing a gifted Dutch player break into the Ajax first team as a teenager warms my heart. It reminds all of us fans of greats like Johan Cruyff, Marco Van Basten, and Dennis Bergkamp. But Youri is a defender, so his value will remain sentimental rather than monetary.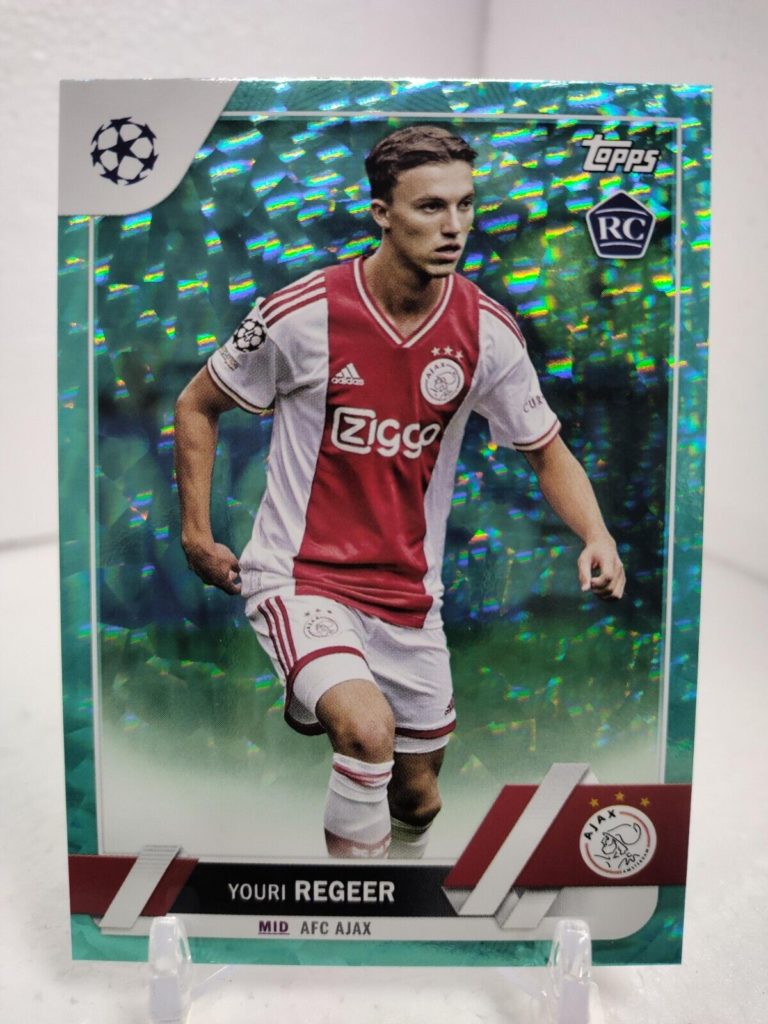 Nicola Zalewski – AS Roma – Left Back
The 21-year-old defender is already a starter for the Polish national team, which is quite impressive. He also has the ability to support the attack and dribble capably. But still. A defender.
Final word on the Topps UEFA Champions League Club Competition 2023 Rookies
There is such a plethora of incredible young talent in the soccer world that the addition of prospects from outside the Champions League hasn't changed much.
But it did add some depth, as you can see from the size of tiers 1 and 2 of the Topps UEFA Champions League Club Competition 2023 Rookies ranking. Of course, the best young players often fade, and there are no sure things.
However, the overall quality of this class would suggest at least two huge stars emerging from this crop. Hopefully, we have helped you narrow the prospecting down.
Shop for 2022-23 UEFA Champions League Club Competition rookies on eBay