Breaking Down The Best Cards Of 1961 Topps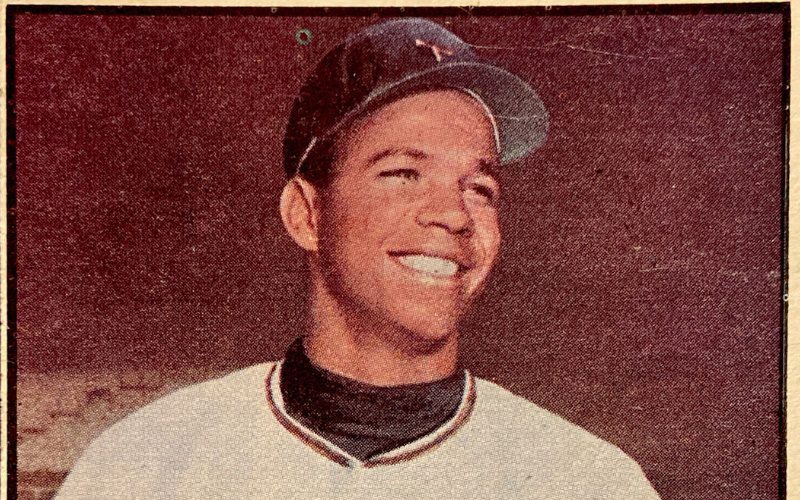 The 1961 Topps baseball set is comprised of 587 total cards, making up one of the more unique sets of its time.
The '61 season was a year of expansion for the MLB, adding the Los Angeles Angels and the Washington Senators, becoming the 17th and 18th teams in the league.
Find singles from 1961 Topps on eBay
Expansion affects 1961 Topps
In addition to Major League expansion, 1961 was also a year of expansion for Topps as they debuted sub-series cards for the first time. Topps included a sub-series called "League Leaders" as well as World Series Cards, Baseball Thrills, Sporting News All-Stars, and MVPs of the 1950s.
The set includes three rookie Hall of Famers: Juan Marichal, Ron Santo and Billy Williams. The Topps 1961 set was also known as the first to include "League Leader" cards.
The base set was donned with a large color photograph of the player on each card's front, with the player's name and team affiliation printed across the bottom. There were no fancy elements or designs in the 1961 set. In fact, there was a distinct lack of team logos, player autographs, and fancy additions. Instead, they chose to go for a classic, simple portrait of the player.
The reason for this is said to be that Topps started the design and production of these cards before the expansion draft was completed. This caused the cards to appear a bit dull to the eye.
There are reasons though that make this set a classic one in the eyes of collectors. It has unique, interesting variations, a few errors, and a high-number set that is said to be among the toughest to complete of all Topps sets.
Compared to the sets in either year before and after that of the 1961 collection, the authentic, unopened 1961 wax and cello packs are very difficult to locate, commanding high prices in auctions.
1961 Topps cello packs can be found on eBay in limited quantities
The Top Cards In The 1961 Topps Baseball Set
1961 Topps #578 – Mickey Mantle All-Star
While this is no rookie Mantle, a Mickey Mantle baseball card will hold some weight in any Topps set.
A PSA Gem Mint Mantle AS #578 sold for $17,250 in 2013 and $16,214 in 2016.
Find Mickey Mantle 1961 Topps All-Star cards on eBay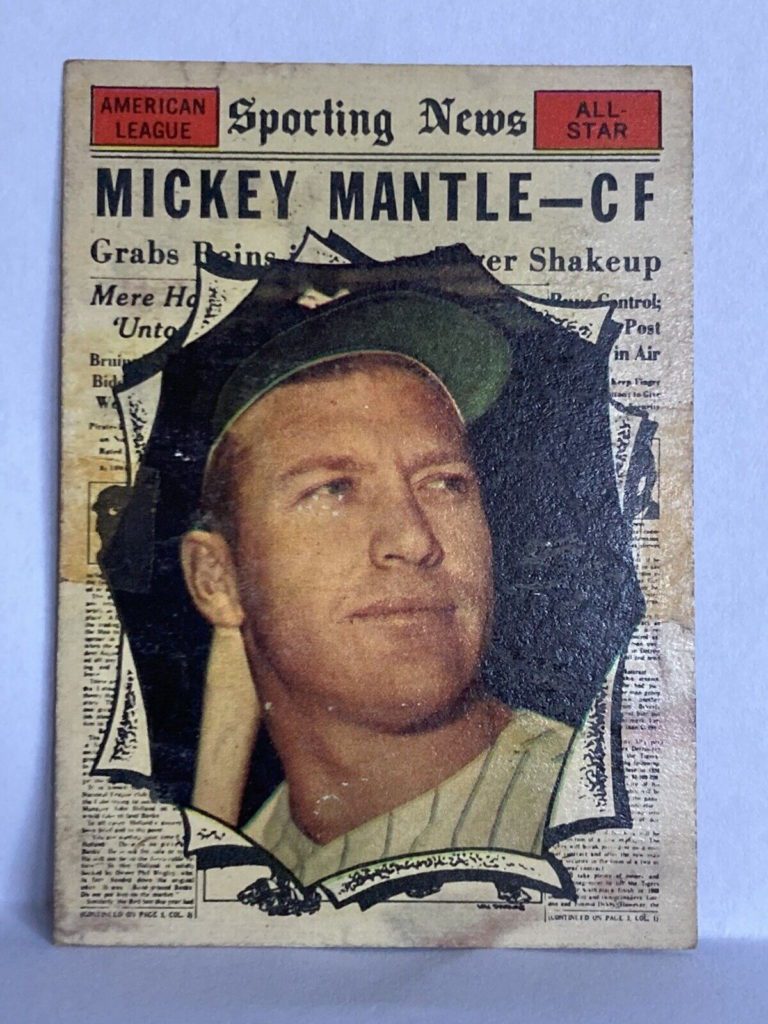 1961 Topps #300 Mickey Mantle
Mickey Mantle appears in this set numerous times, with different variations and sub-series appearing throughout. This card is one of the most common in the set, which drives down the value a bit among the mid-level graded cards.
A Mint 9, only 71 of which have been graded by PSA average a selling price of $16,588. With grades below, there is a steep dropoff in value, dipping below $1,000 at NM 7.
Check out 1961 Topps Mickey Mantle baseball cards on eBay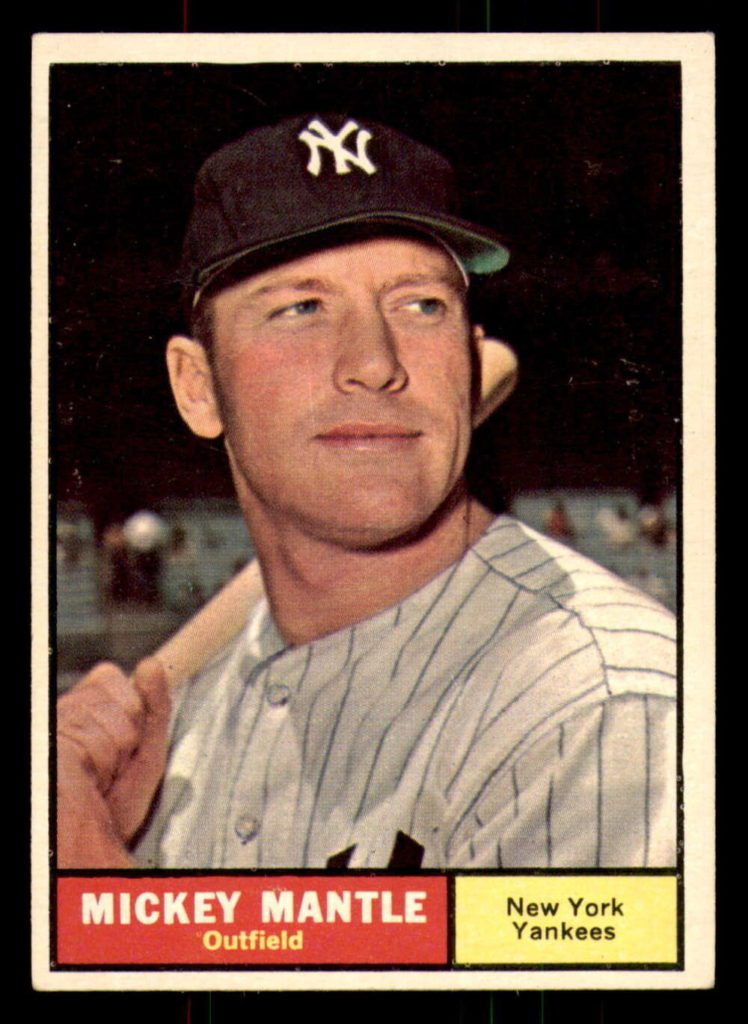 1961 Topps #576 – Roger Maris All-Star
The card itself does not hold much monetary value but the context of his season makes this Roger Maris baseball card a popular one for collectors. In the 1961 season, Maris led all of baseball in runs (132), home runs (61), RBI (141), and total bases (366). He was awarded the MVP and was a member of the World Series-winning New York Yankees.
The average price of a Mint 9 1961 Topps #576 Roger Maris All-Star is $560. There have been only three PSA-graded Gem Mint 10s.
Find 1961 Topps Roger Maris All-Star cards on eBay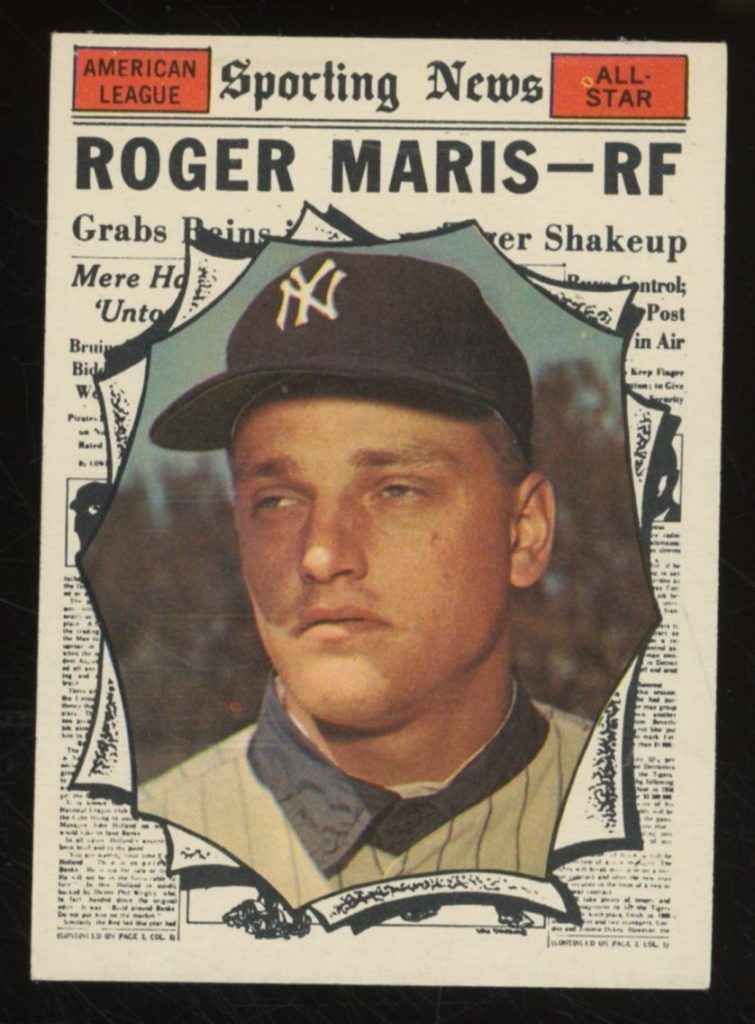 1961 Topps #579 – Willie Mays All-Star
One of the greats of all time as a 24x time All-Star, 2x MVP, 12x gold glover, rookie of the year winner and World Series champion, Willie Mays attracts all eyes.
According to PSA, a Gem Mint 10 #579 Mays All Star sold for $20,000 in 2015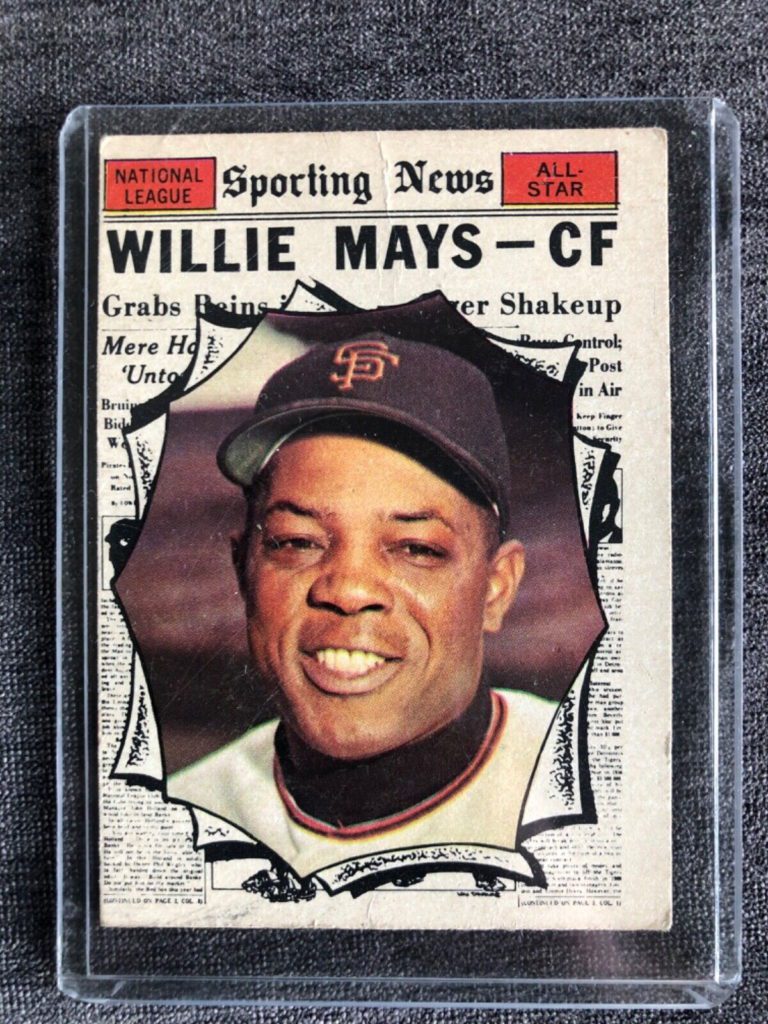 Find 1961 Topps Willie Mays All-Star cards on eBay
1961 Topps #417 Juan Marichal (RC)
In a set with few rookie cards, Marichal becomes a bit more valuable, especially being a Hall of Famer and 10 time All-Star. Even being overshadowed in an era with Koufax and Bob Gibson, Marichal remains an icon and memorable due to his unique delivery and undeniable performance.
A Gem Mint 10 Juan Marichal sold for $23,400 in 2021, according to PSA.
Find 1961 Topps Juan Marichal rookie cards on eBay
1961 Topps #388 Roberto Clemente
Arguably, the greatest Latin player of all time,Robert Clemente cards are high dollar and for good reason. In 1961, just one season after his first all-star designation, Clemente led the MLB with a .351 batting average, the highest in his career at the time. He was also 4th in MVP voting and won his first of 12 gold gloves.
This is a card that goes for premium value when found in perfect condition. In 2016, a Gem Mint 10 sold for $131,450, a vast rise from a $25,000 purchase in 2008. A mint 9 and near-mint 8 will still net you several thousand dollars today.
Find 1961 Topps Roberto Clemente baseball cards on eBay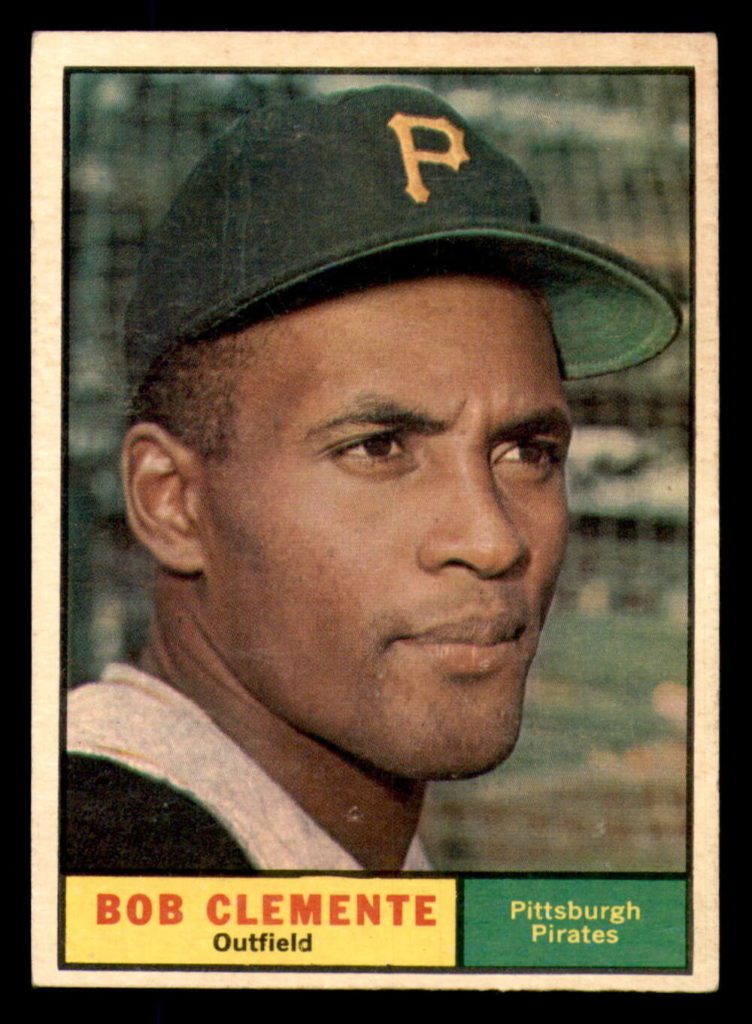 1961 Topps #35 Ron Santo (AS-R)
Ron Santo had a number of cards made during his rookie era, however, this is the one that garners the most attention as his mainstream Topps rookie card.
PSA has reported sell prices of $5,948, $8,962, and $11,300 since 2010.
Find 1961 Topps Ron Santo rookie cards on eBay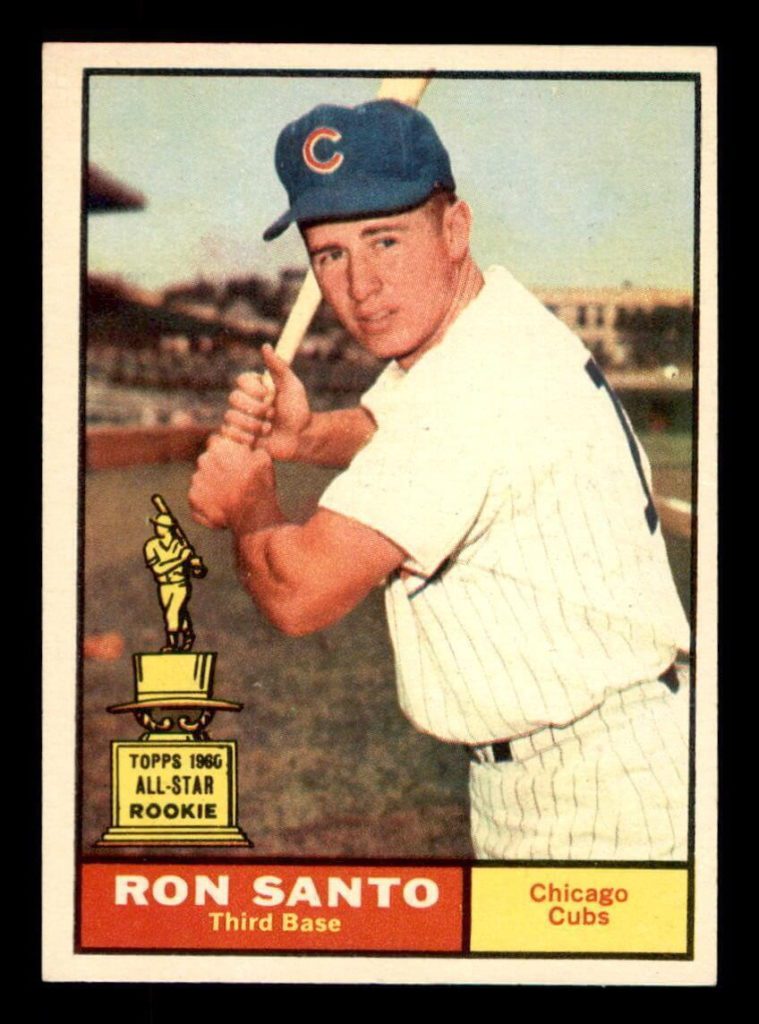 1961 Topps #141 Billy Williams (RC)
While this is not the most difficult Williams card to track down, it is the one that attracts the most attention, being his only mainstream rookie card. This card also falls in line roughly around the same price point as the other rookies in this set.
In 2012, a Gem Mint 10 sold for $6,378 with a Mint 9 going for $2,341 in the same year.
Find 1961 Topps Billy Williams rookie cards on eBay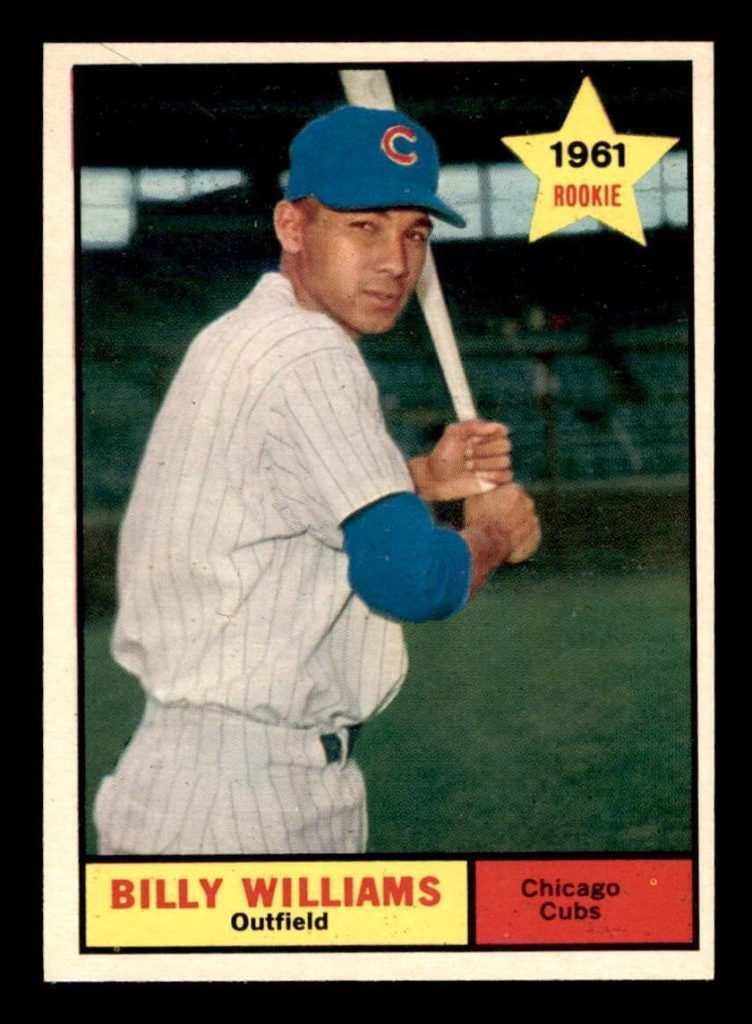 What are the population reports of Topps 1961 Baseball cards?
Check out the population reports of select 1961 Topps cards with links for purchasing the cards on eBay.
| | | | | | |
| --- | --- | --- | --- | --- | --- |
| Card | PSA 7 | PSA 8 | PSA 9 | PSA 10 | Total |
| Mickey Mantle #578 | 624 | 453 | 98 | 4 | 2,817 |
| Mickey Mantle #300 | 1,066 | 511 | 71 | 2 | 7,432 |
| Roger Maris #576 | 355 | 369 | 80 | 3 | 1,533 |
| Willie Mays #579 | 332 | 273 | 36 | 2 | 1,431 |
| Juan Marichal #417 | 626 | 583 | 89 | 6 | 2,589 |
| Roberto Clemente #388 | 1,234 | 733 | 96 | 2 | 4,761 |
| Ron Santo # 35 | 670 | 577 | 113 | 15 | 2,975 |
| Billy Williams #141 | 903 | 509 | 51 | 2 | 3,423 |
Final thoughts of the 1961 Topps Baseball Set
If you were looking for one set that is representative of a classic era of baseball, the 1961 Topps is a great pick. It features great photos, plenty of Hall of Famers and a handful of rookies that went on to have big careers.
It also has plenty of interesting subsets and is loaded with surprises. The variations and condition-sensitive high number cards will keep you busy, should you embark on a journey to tackle a high-grade collection.
Check out other 1960s Topps guides