Breaks of the Past #2: 1994 Classic Best Gold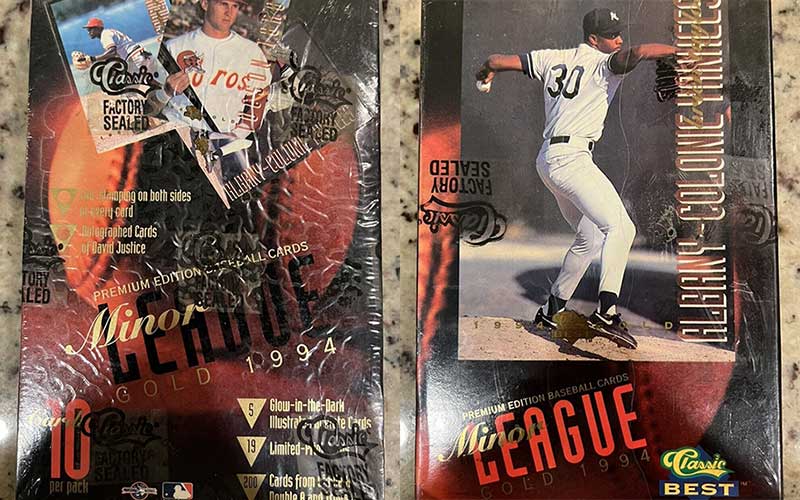 Welcome to our second Breaks from the Past thread. If you'd like to check out the first post from the series, you can find it here.
What is a break from the past? The idea is usually to find some reasonably priced box from the past. The box should have something of interest in it worth pulling. This can be a key rookie card, an interesting parallel or insert, or maybe an autograph. Often it's something fun and low population that I can submit to PSA.
So, not breaking the bank while scratching the pack-ripping itch, with a little something of interest to "chase". It's like a low-cost, old-fashioned version of ultra-modern breaking.
Sound good? Let's check out today's break!
Shop for 1994 Classic Best Gold boxes on eBay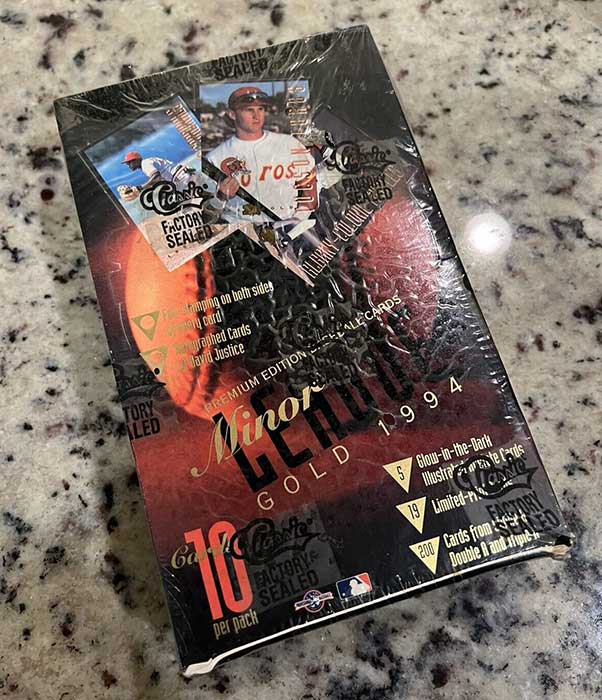 1994 Classic Best Gold – What is it?
Classic got its start in the late 1980's producing cards that went along with a baseball-themed board game. By the early 1990s, they were expanding along with the junk wax era to produce minor league cards, both team sets and pack-based.
1994 Classic Best Gold was intended to be one of its "premium" products in 1994 with Gold Foil, inserts, and some of the most promising players from the minor leagues.
The base set consists of 200 cards. Inserts include #1 Draft Picks Limited Prints, Acetates, and Rookie Express. The design was very 1990s…glossy and a little too loud. The player name font on the front is tough on my eyes (I graduated high school the year this set was released) and I took to sorting the cards backwards, so I could read the backs.
Shop for 1994 Classic Best Gold boxes on eBay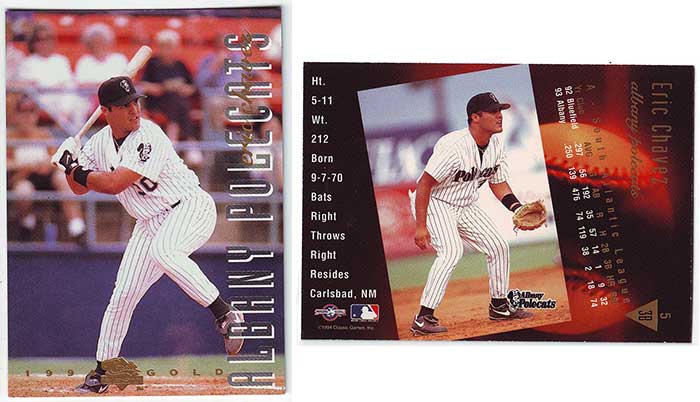 The box I purchased contained 24 packs of 10 cards each. I paid $59.80 delivered for the box, $47.27 plus $8.62 shipping, plus tax.
The key card in the 1994 Classic Best Gold set is the Derek Jeter card. It's an interesting early career Jeter card, although not super high priced, with PSA 10's selling recently in the $70-140 range. PSA has graded 825 total cards from the 1994 Classic Best Gold set. Of those, a shocking 777 (94.2%) are the Derek Jeter card.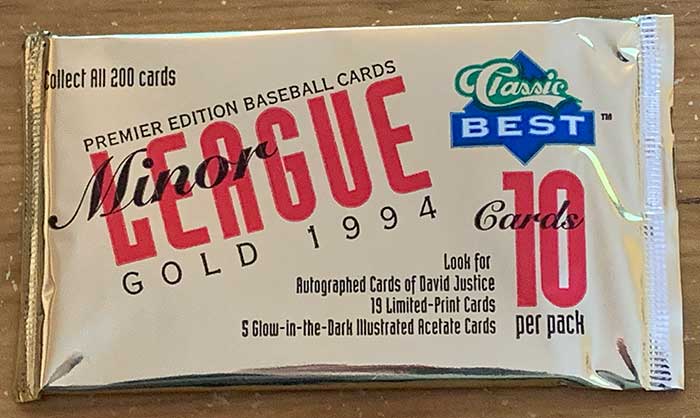 Why did I buy the 1994 Classic Best Gold box?
While the high percentage of all PSA-graded cards that are the Jeter card may suggest this set is a one-trick pony, there are actually a couple of other base cards I would be interested in. Specifically, the cards of Hall of Fame candidates Scott Rolen (PSA Pop 14) and Billy Wagner (PSA Pop 0) would be fun pulls for me.
So, a shot at the Jeter, Rolen, and Wagner, are the main draws here for me. Beyond that, it's really about busting packs, sorting some cards, seeing some major leaguers back before they'd "made it," and being reminded of all the former top prospects who turned out to be busts.
Shop for 1994 Classic Best Gold boxes on eBay
1994 Classic Best Gold break results
So, how'd the break go?
There were no serial-numbered RayWave Gold Etch refractors, but that's to be expected since nothing of the sort existed in 1994.
I did pull three of the Derek Jeter card, which is pretty exciting. At least one looks gradable, so it'll go into the grading pile.
Check out prices for 1994 Classic Best Gold Derek Jeter rookie cards on eBay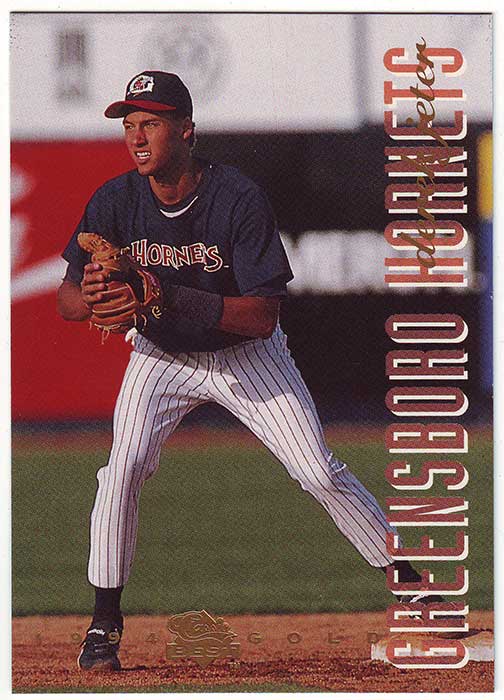 Sadly, I did not pull either a Rolen or a Wagner base card, which is a bit surprising. Those low-pop mid-90s gems would have been cool PSA subs, very much in line with how I tend to roll with my PSA submissions.
I did pull a #1 Draft Picks Limited Prints insert of Billy Wagner. These are cool-looking cards, and this one looks gradable. When I submit it to PSA, it'll be the only one of its kind. Yup, right now it's a PSA pop 0.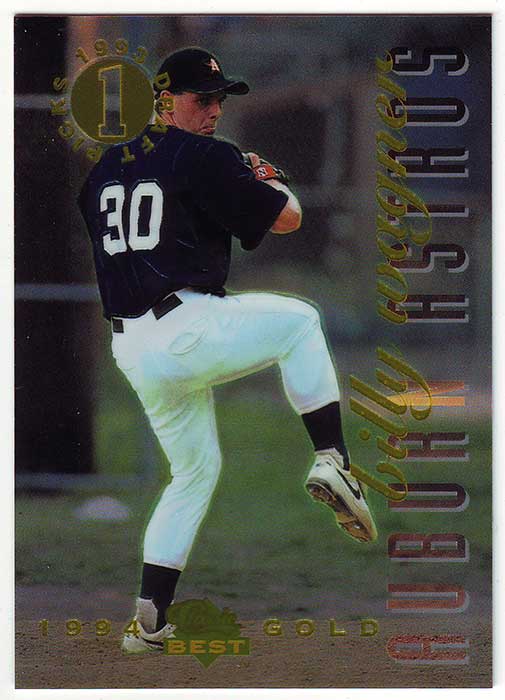 There were two other #1 Draft Picks Limited Prints, although I don't think anyone is getting excited about Jamey Wright or John "Way Back" Wasdin.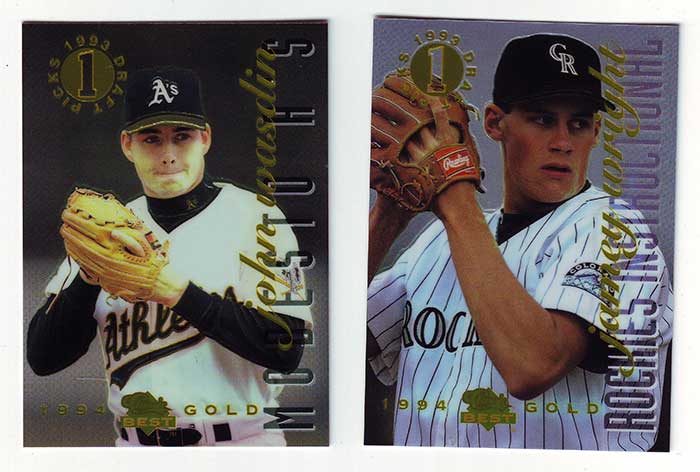 Beyond that? Not a whole lot to report. It's amazing to see so many cards of prospects who were big at the time and then flamed out. Brien Taylor? Ouch. Former Red Sox prospect Frankie Rodriguez, whose two-way promise pre-dated Ohtani by almost three decades? You broke my heart, man!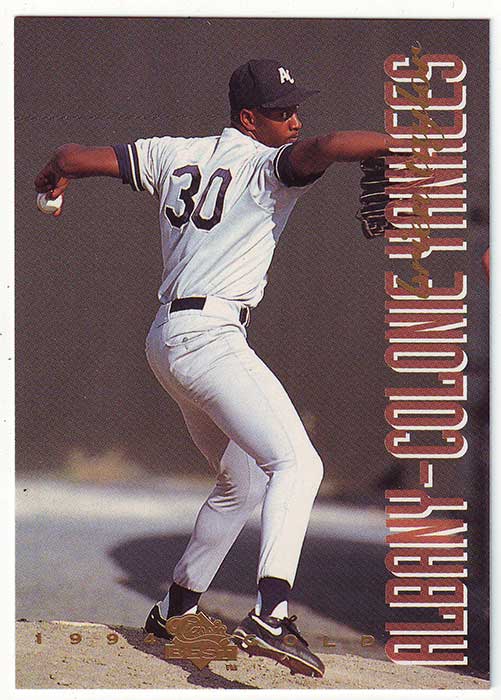 A few post-break notes
One thing that struck me about this box, which held 240 cards (24 packs x 10 cards each) is that the collation was pretty terrible. As mentioned above, the base set is 200 cards, and I pulled three inserts. But I pulled no base Wagner, no base Rolen, and I also noticed I didn't pull a Trot Nixon or Jason Giambi card. Meanwhile, I got three, four, and even five copies of some cards.
In some ways, maybe I shouldn't complain…I did pull three copies of the Jeter. But a bit better mix would have been nice. If you buy a 240-card box for a 200-card base set, the hope is that you get pretty close to a complete set. That's not the case with this box.
I was also very pleased to see the cards were not bricked. That was a concern, as it is when buying any 1990's era glossy cards. The cards being a bricked mess would have made this break a fail for sure.
I was reminded, as I mentioned in the first Breaks of the Past, that prospects will break your heart. The percentage of players in this set of "top prospects" to have solid major league careers is pretty small.
Even for those who had long careers (Nixon, Giambi, Eric Chavez, Derek Lee, etc.), these cards hold no real value. When separating the wheat from the chaff in the prospect world, there's an awful lot of chaff.
Shop for 1994 Classic Best Gold boxes on eBay
Thoughts the value of the 1994 Classic Best Gold break
So, how'd I do, value-wise? For an investment of $60, not bad. The three Jeter cards will cover a pretty good percentage of the cost of the box. I think I'm going to submit the best looking one to PSA. If it comes back a "10", this becomes a big win in the value column. I'd say a "9" means I did well, while an "8" might break even on grading costs and a little more.
I'll also be submitting the Billy Wagner draft pick insert. As far as I can tell, that's a PSA pop 0 and I'm a big fan of Wager and his eventual Hall of Fame chances. If it comes back a 9 or a 10, it has some value. If it's an 8, it's a unique collectible I'd be happy to have in my collection.
I'll probably list a Jeter or two on eBay, and attempt to sell some of the other common cards cheaply via that platform as well. The rest? I guess I better look at The Best Ways To Get Rid Of Old Cards.
The entertainment value of opening the packs and sorting the cards is always something I figure into the overall value equation. If I have two hours of fun with a box, that's like buying a movie ticket. Only at the end, I have cards…and don't get gouged for overpriced popcorn!
So, while getting a gradable Rolen and/or Wagner would have been great, I still consider this a worthwhile break.
Shop for 1994 Classic Best Gold boxes on eBay
Final thoughts on this Break from the Past
Breaking old boxes is a lot of fun. Will I hit something interesting and gradable? What stars of the past will I uncover? Will the walk down memory lane include prospects who broke my heart? The pure entertainment value of it all is a lot of fun.
Card collecting is a hobby, and if you're enjoying it, that's got value.
Shop for 1994 Classic Best Gold boxes on eBay
More Cardlines breaks