Breaking Down The Best Rookie Cards Of Newly Elected Hall Of Famer Scott Rolen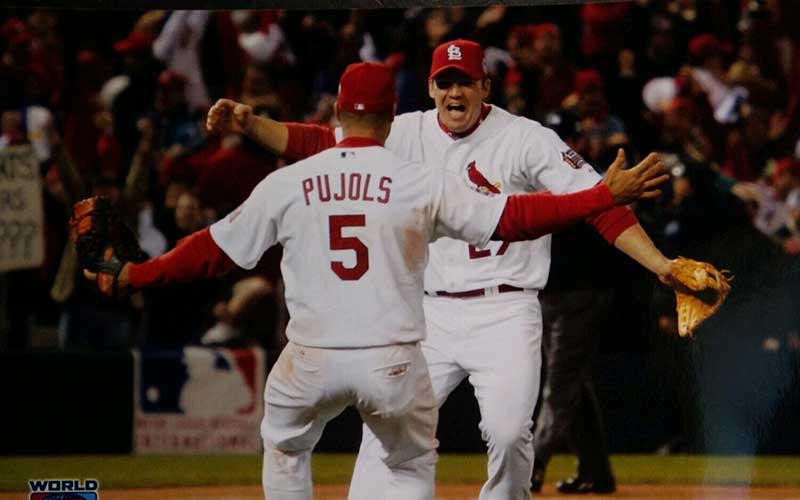 Update: Scott Rolen has been elected to the Baseball Hall of Fame and now was inducted on July 23rd . The post below was written in preparation for his possible induction.
Here at Cardlines, we love Hall of Fame season. We love to talk about the veteran's committee, returning candidates, and new candidates. We love exploring which current hitters and pitchers are sure-thing future Hall of Famers, and which pitchers and position players appear to be on the path.
If you've read coverage of the 2023 Hall of Fame election coverage, you know we're high on Scott Rolen's chances of being elected this year.
But what are Rolen's rookie cards? Which of them are the best? And are they decent investments? Let's explore!
Find prices of Scott Rolen rookie cards on eBay
Who is Scott Rolen?
Scott Rolen made his major league debut in 1996 as a 21 year old. He played seven seasons with the Phillies before moving on to the Cardinals (6 seasons), Blue Jays (2 seasons) and Reds (4 seasons). He retired at 37 in 2012.
Rolen was a 7-time All Star, 8-time Gold Glove winner, and won a Silver Slugger award. He was the 1997 NL Rookie of the Year and won the World Series with the St. Louis Cardinals in 2006. Hit hit .281/.364/.490 over his career with a .855 OPS. He hit 316 home runs and drove in 1,287 runs.
Scott Rolen's 70.1 career WAR ranks 10th all-time among third basemen. The 15 third baseman in the Hall of Fame averaged 68.4 WAR, which puts Rolen well within the conversation for the Hall of Fame. In fact, any time you have a player who will raise the average WAR for their position in the Hall, it's hard to argue against their candidacy.
The knock against Rolen is that he had a number of injuries over the years, so some of his raw career numbers may not scream "Hall of Fame."
Since debuting on the Hall of Fame ballot in 2018, Rolen has seen his vote total rise from 10.2% to 63.2% in 2022. The voting consensus has gone from unsure about his credentials to a general agreement that he belongs.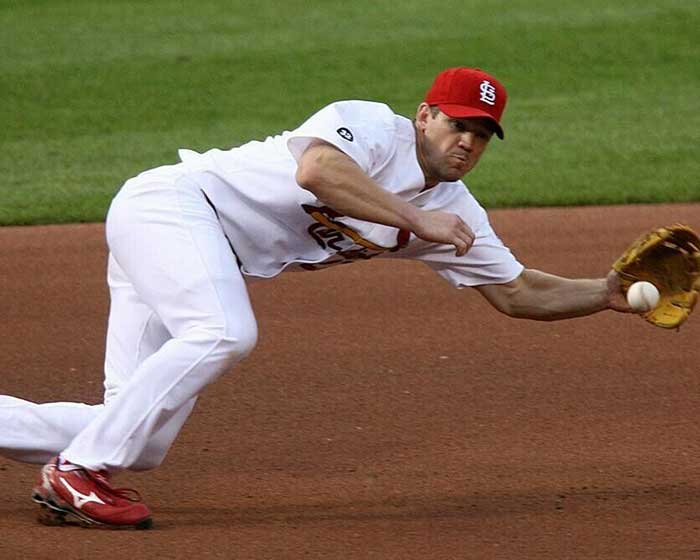 The 2023 Hall of Fame election
If the BBWAA elects anyone in this year's election, I expect it to be Rolen. It's possible they throw a shutout, but I like Rolen's chances since he appeared on 63.2% of ballots in 2022.
He'll need 75% to get elected, which is a sizable jump for one year, granted. But as we wrote about in our Early Preview Of The 2023 Baseball Hall Of Fame Election, over 30% of the total vote count from 2022 is being cleared because of players either being elected to the Hall (David Ortiz) or dropping off the ballot (many of them with PED considerations).
Starting in 2024, things start to get crowded again with a number of great first-time candidates set to appear on the ballot, so Rolen hopefully will take advantage of this window to get elected.
If he doesn't get elected in 2023, I still expect Rolen to make the Hall of Fame eventually, it's just a matter of when.
Find prices of Scott Rolen rookie cards on eBay
Best Scott Rolen Rookie Cards
Scott Rolen's rookie cards appear in 1995, the year before he made his major league debut. These wouldn't be his rookie cards under current rules, both at the time and today they are accepted as his rookie cards.
Both cards are on the shiny side, making them both at least somewhat condition sensitive.
1995 Bowman's Best Blue Scott Rolen
Rolen appears in the 1995 Bowman's Best set, on card #87. For a 1990's rookie card, the total PSA population is downright reasonable, and with less than 200 PSA 10s, cards in that grade sell well in the $475-500 range.
BTW, the "Blue" denotes the color theme of the card. These aren't parallels, but Bowman's Best used Red design elements on veteran cards and Blue design elements on rookie/prospect cards.
Shop for 1995 Bowman's Best Scott Rolen on eBay
1995 Bowman Foil Scott Rolen
Scott Rolen's rookie card in the 1995 Bowman set falls into the Foil subset, making it incredibly condition sensitive. PSA has only graded 651 copies, and only 11 of those are PSA 10s. Even PSA 9s, of which there are 262 (meaning 42% of all graded copies are 8s and below) sell strongly in the $50-80 range.
Shop for 1995 Bowman Foil Scott Rolen rookie cards on eBay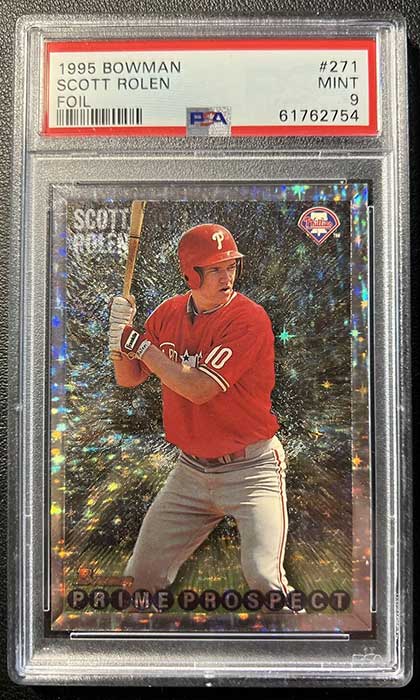 Scott Rolen rookie card value
Here are comps for the most notable Scott Rolen rookie cards.
Refractors and Gold Scott Rolen rookie cards
1995 may be 27 years ago, but some elements associated with ultra-modern cards were evident even back then. Refractors and Gold Foil were already parallels collectors could chase hoping for a bit hit.
1995 Bowman's Best Blue Refractor Scott Rolen
The refractor version of Rolen's Bowman's Best Blue has only been graded 168 times by PSA. Of those, only 4 have been graded PSA 10. Even PSA 9s, when you can find one (pop 48) sell for well over $1,000.
Shop for the 1995 Bowman's Best Blue Refractor Scott Rolen rookie card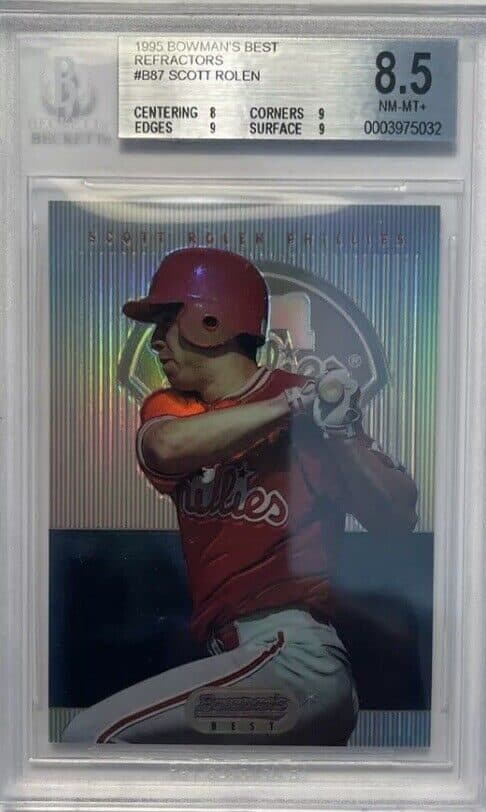 1995 Bowman Gold Foil Scott Rolen
The standard Silver Foil version of the 1995 Bowman Rolen rookie card is rare enough, but the Gold version is even tougher to find. Only 137 copies have been graded by PSA, with only 36 PSA 9s and only six PSA 10s.
Find prices of 1995 Bowman Gold Foil Scott Rolen rookie cards on eBay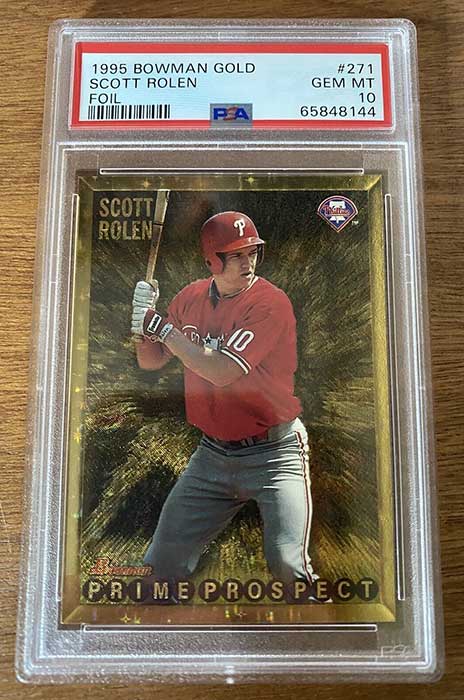 Scott Rolen rookie card value
Here are comps for the most notable Scott Rolen rookie cards.
Scott Rolen Pre-rookie & minor league cards
Rolen appears on a number of pre-rookie, minor league, prospect, and other cards from 1994-1996. That's not unusual for the era. Some of these cards have fairly low PSA populations. Demand isn't high for many of these today, but if Rolen makes the Hall of Fame, that may change.
In 1994, Rolen appears in a Procards and a Classic Spartanburg Phillies team sets. He also appears in the 1994 Classic Best Gold set. He also appears in in the Fleer Excel set, which is considered a 1994-95 set, a rarity for a baseball set. All of these are fairly low PSA pop, and recent comps are hard to come by.
In 1995, Rolen is featured on a number of prospect and minor league cards in addition to his major league rookie cards. This includes cards from Best, SP Prospects (including an autographed version), and Upper Deck minor leagues.
There's also a team issued 1995 Reading Phillies Eastern League Champions set. That one is tough to find, with only 3 PSA graded copies (although I have one at PSA right now, so that number will go up).
Scott Rolen rookie card investment thoughts
Considering 1995 is either the tail end of or just after the junk wax era, depending on who you ask, Rolen's rookie cards provide an interesting contrast to other junk wax era rookie cards.
A combination of lower print runs coming out of the 1994 strike, condition sensitivity, and Rolen's Hall of Fame case kind of sneaking up on people, his cards have low PSA populations and PSA 10s are hard to come by.
It feels unlikely that the current supply will meet demand if Rolen is elected. It's also unlikely that there are a bunch of PSA 10s sitting out there in unopened boxes, as these glossy 1995 offerings are notorious for bricking.
For these reasons, I think that between now and when Hall of Fame really heats up in December, there's an opportunity to buy. If Rolen gets elected, prices will probably spike for a period as all those collectors caught off guard rush to buy his rookie cards. This spike will likely be short-lived, with the cards settling in to a "new normal" price slightly higher than today's prices.
Even the minor league, pre-rookie, and prospect cards from 1994 and 1995 should see a jump in demand, especially since so many of them have low graded populations. If you agree Rolen is Hall of Fame bound, this is likely the time to buy, assuming you can find some of these cards available for sale.
Update: We are already starting to see Rolen's card prices rise in the hours since the announcement of his Hall of Fame election.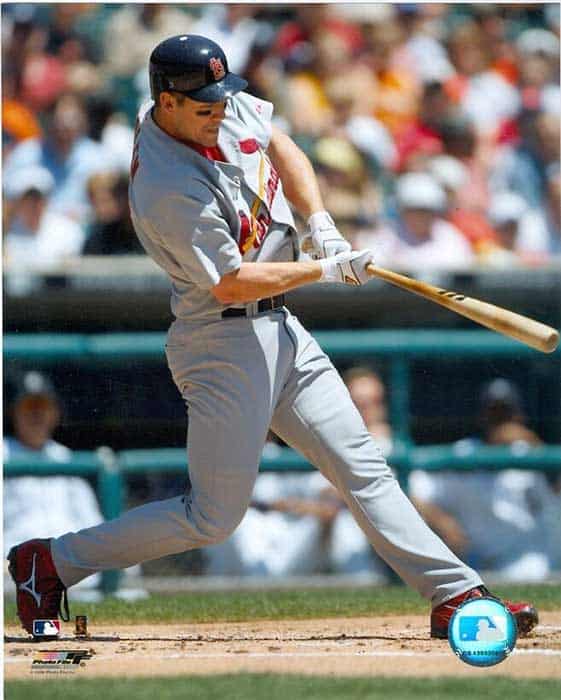 Final thoughts on the best Scott Rolen rookie cards
Scott Rolen is a great example of why the Hall of Fame election process doesn't kick in until five years after a player retires, and why a player can stay on the ballot for up to 10 years after that. Some players' greatness is obvious. Think Derek Jeter, Hank Aaron, or Mickey Mantle.
Others take a little longer for fans, historians, and collectors to appreciate a player's greatness, like here with Scott Rolen.
Scott Rolen was a Phillies icon and is a likely Hall of Famer, either in 2023 or sometime in the future. There's likely a place for one of his rookie or early career cards in your collection, and there's a Rolen card from that time period for every budget.
More Cardlines top baseball card rookie coverage