An Early Preview Of The 2023 Baseball Hall Of Fame Election
Here at Cardlines, we are Baseball Hall of Fame enthusiasts. We like writing about Hall of Fame Voting, The Hall of Fame and PEDs, current hitters and pitchers who are sure-fire Hall of Famers, and other current hitters and pitchers who are on the path to the Hall of Fame.
So, we're excited to dig into the 2023 Hall of Fame election. We'll focus on the BBWAA ballot at first, but look for coverage of the Contemporary Baseball veteran's election when that ballot is released.
So, let's dive into Cardlines Guide to the 2023 Baseball Hall of Fame Election!
The BBWAA Ballot: A refresher
Also, as a reminder, a player becomes eligible for the election to the Hall of Fame 5 years after they retire, and remains eligible for 10 years or until they are named on less than 5% of ballots and fall off the ballot, or 75% of ballots and are elected to the Hall of Fame.
The Hall of Fame voting results are announced in January, and the induction ceremony is in July.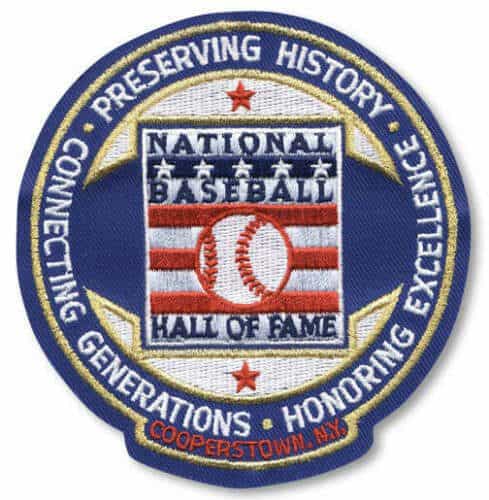 The Hall of Fame bump: Card value & Hall of Fame election
Election into the National Baseball Hall of Fame cements a player's status as one of the greatest players of all time. In most cases, Hall of Famers are the most valuable cards in any vintage set.
So, do a player's cards skyrocket when they are elected to the Hall of Fame? Not generally, although they tend to see a temporary bump around the announcement of the election results and the induction ceremony.
Why is this? Most players who end up in the Hall of Fame have had long, amazing careers and are expected to make the Hall of Fame. Their greatness is already built into their card values. Their election to the hall is a validation of their greatness, not an announcement of it.
There are exceptions to the rule above, and these are typically the surprises. If a player isn't expected to make the Hall of Fame, but does, their card values will often spike as collectors snap up their cards. In cases where the player does not have large number of their rookie card graded, for example, then demand will outstrip supply and prices can soar.
Some of this surge will prove temporary, but even once the card values settle down, they tend to be at higher levels than prior to their election. In many cases, it is the different iterations of the veterans committee that lead to these surprises, not the BBWAA ballot.
Two recent examples of this "HOF Bump" are Lee Smith and Harold Baines. When they were elected, the price of their graded rookie cards spiked significantly.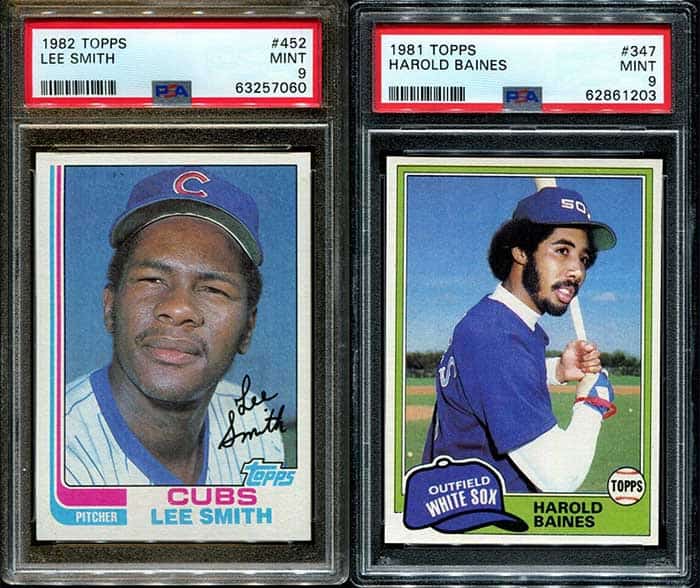 2022 Baseball Hall of Fame's New Hall of Famer
The Baseball Writer's Association of America (BBWAA) elected one player from their ballot, who joined the four players elected by the Golden Era Committee and the two players elected by the Early Baseball Era Committee to form one of the biggest Hall of Fame classes ever.
In his first year of eligibility, David Ortiz appeared on 307 of the 394 ballots cast (77.9%), just passing the 75% required for election.
See our articles on the other six inductees: Jim Kaat, Tony Oliva, Gil Hodges, Minnie Minoso, Buck O'Neil, and Bud Fowler.
The Big Story: Lots of votes of freeing up
The biggest story in terms of the 2023 Hall of Fame election isn't sure-thing first-year candidates, or any particular controversy, or a player on their last year of eligibility. No, this year, the story is the sheer number of votes that have been "freed up" after last year's voting.
What do I mean by that? Well, last year 394 writers cast their ballot for the Hall of Fame. The number in 2023 should be around the name number, give or take a few. Each voter can name a maximum of 10 players on their ballot. Many Hall of Fame enthusiasts believe that there are typically more than 10 players on any given ballot that "belong" in the Hall of Fame. This forces some voters to pick and choose, and not vote for all of the players who they may consider worthy.
So, if the number of voters stays consistent in 2023, 394 voters with a max of 10 votes each means 3,940 "potential" votes. The number will be significantly lower, as many voters choose to vote for fewer than the maximum allowed 10 players. But that's our theoretical max.
We already mentioned that David Ortiz appeared on 307 ballots last year. Since he was elected and inducted, he won't be on the 2023 ballot. In addition, as we explored when we talked about the Hall of Fame and PED's, a shocking number of players fell off the ballot last year who received a significant share of the ballot.
Barry Bonds (260 votes, 66%), Roger Clemens (257, 65.2%), Curt Schilling (231, 58.6%), and Sammy Sosa (73, 18.5%) accounted for a huge number of votes, but they will not appear on the 2023 ballot. Bonds, Clemens, and Sosa are plagued by PED allegations. Schilling's personality has turned off voters.
In addition, 66 votes went to players who received less than 5% of the vote and fall off the ballot (spoiler alert: I think the top two, Joe Nathan and Tim Hudson, belong in the HOF).
So, between Ortiz and the other players mentioned above who have fallen off the ballot, a whopping 1,194 votes were cast for players who won't be on the 2023 ballot. That's over 30% of potential ballots (and a higher percentage of cast ballots) that are now "up for grabs".
What does this mean? It means that players returning to the ballot and newly eligible players may get more votes than they would have if all of the above players were on the ballot.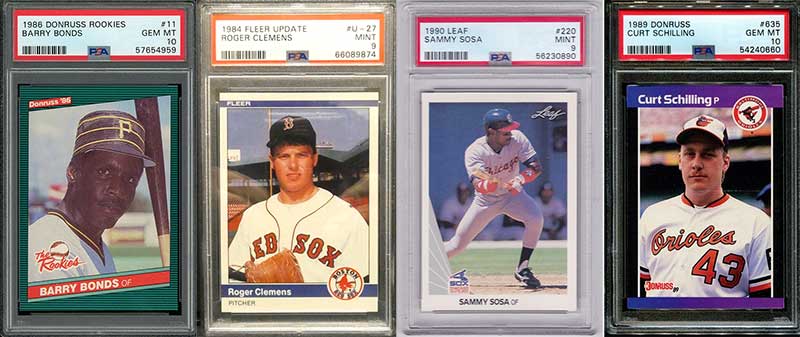 Top returning candidates
A total of 14 former players are expected to return to the 2023 Hall of Fame ballot.
The top 5
The top five returning vote-getters from the 2022 Hall of Fame election that return on the 2023 ballot are:
Scott Rolen: 249 votes, 63.2%
Todd Helton: 205 votes, 52.0%
Billy Wagner: 201 votes, 51.0%
Andruw Jones: 163 votes, 41.1%
Gary Sheffield: 160 votes, 40.6%
Scott Rolen, who has seen his vote total climb from 10.2% in his 2018 ballot debut to 63.2% in 2022, was a third baseman who compiled 70.1 WAR in his career. That WAR total ranks 10th all-time for third basemen, and is above the average WAR for a Hall of Fame inductees at that position (68.4 average).
Find Scott Rolen rookie cards on eBay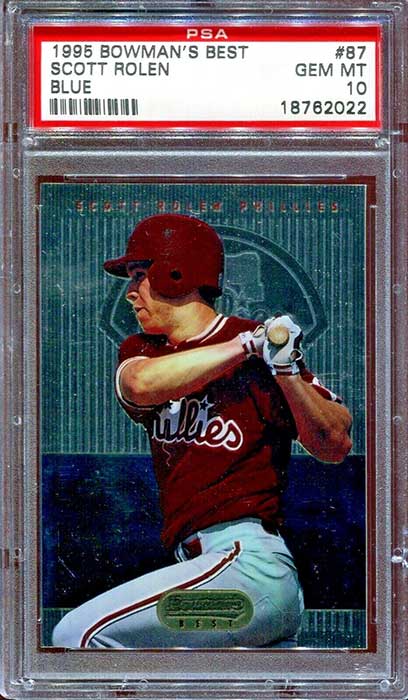 Todd Helton played his entire career for the Colorado Rockies, who play their home games at Coors Field, which some people use to discount Helton's candidacy. Helton debuted on the 2019 ballot with 16.5% of the vote, but that quickly rose to last year's 52%.
Helton was worth 61.8 WAR in his career, which ranks 17th among 1st basemen, and slightly below the average for a Hall of Famer at that position (65.5). That average is skewed upward by the presence of Lou Gehrig (113.6).
Find prices on a large selection of Todd Helton rookie cards on eBay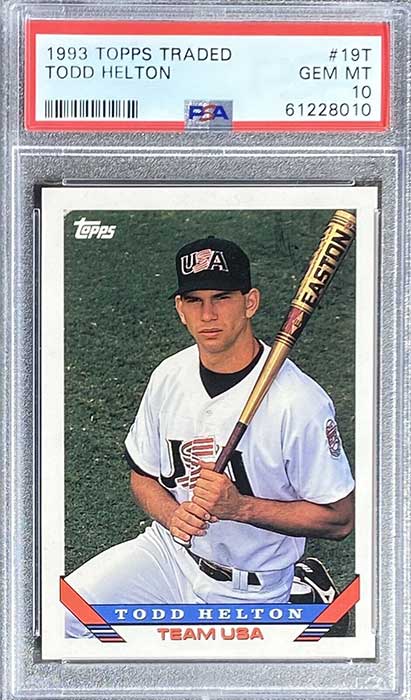 Billy Wagner was a reliever. Wait, come back! Yes, relievers can be in the Hall of Fame. Wagner's 422 saves is 6th all time, and his 27.7 WAR put him close to recent HOF inductees Lee Smith and Trevor Hoffman. If there's room in the Hall of Fame for a modern closer not named Mariano Rivera, there's a good argument to be made that Wagner is the guy.
Find the latest listings of Billy Wagner rookie cards on eBay
Andruw Jones has an arrest for battery on his record, and Gary Sheffield has PED allegations against him. It will be interested to see how voters respond to them this year, with more votes available, will they see a jump? Or will they hold steady or even see a slight decline in their votes?
Gary Sheffield rookie cards on eBay
Andruw Jones rookie cards on eBay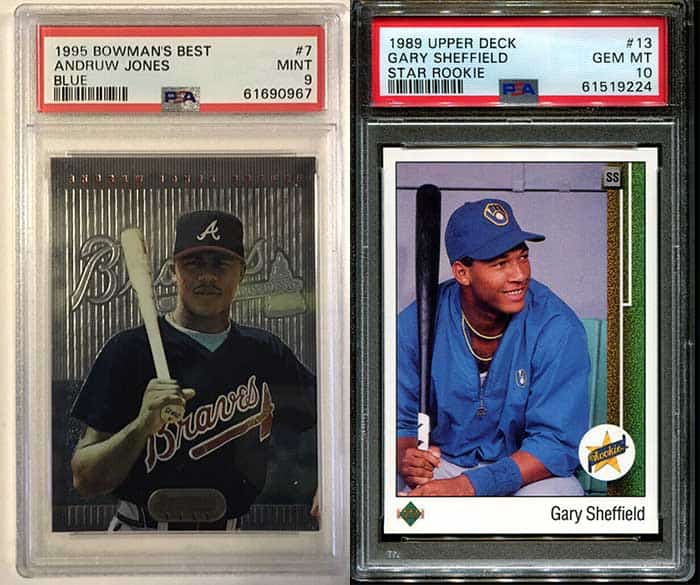 Other returning candidates
Nine other players also return to the ballot, but their vote totals ranged from 5.3% to 34.3% of the vote and are unlikely to make the jump to 75%. Some of these players have a PED cloud over them (Arod, Manny Ramirez, and Andy Pettitte), while Omar Vizquel has had some unpleasant accusations leveled his way.
Want to dig deeper, including a look at the players above rookie cards? Check out our Deep Dive into the Returning Candidates (coming soon).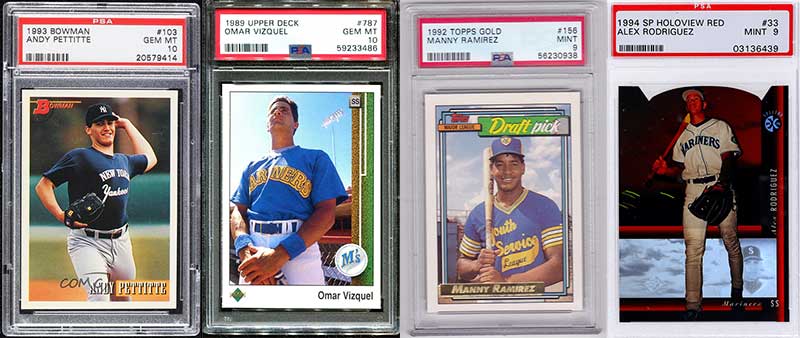 Top new candidates
While the final list of first-year eligible players won't be known until the ballot is announced in November, based on the Hall's criteria, we can make a pretty good guess at most of the names that may appear. The Hall of Fame's site lists eleven players who are likely 2023 first-timers.
One name clearly stands out from that list, although since we talked about Wagner and relievers, I want to give a shout-out to Francisco Rodriquez. He won't get elected this year, or maybe ever, but an argument can be made.
Carlos Beltran is the name that stands out above all others on the list of new candidates. Beltran racked up 70.1 WAR in his career. That ranks 8th among center fielders all time. And while that's a hair below the Hall of Fame average for that position, that average is skewed by icons Willie Mays (156.1), Ty Cobb (151.4), Tris Speaker (134.8), and Mickey Mantle (110.2). Beltran's chances, at least in the short term, will be somewhat crimped by his involvement in the Astros sign-stealing controversy.
Find Carlos Beltran rookie cards on eBay
Want to explore the entire list of players who will be eligible for the first time? Check out our article on First-Time Eligible Players (coming soon).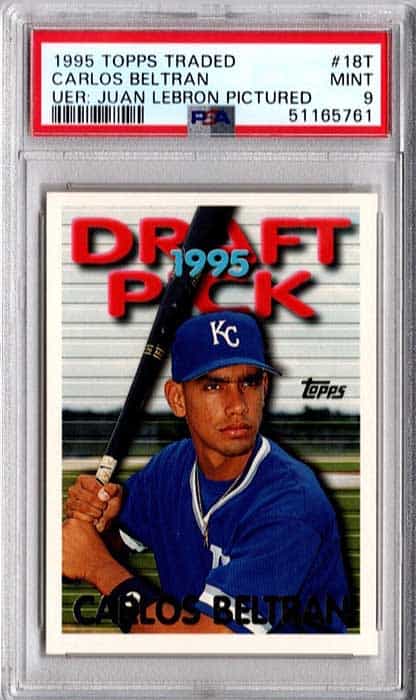 Who will be elected?
It's always difficult to predict exactly what close to 400 writers will do, but based on the returning players and their prior vote totals, the relative thinness of the new candidates and the many new votes, I think we can make a prediction.
I think that this is the year that Scott Rolen crosses the 75% threshold and is elected to the Hall of Fame. Based on the trajectory of his candidacy to date, which has seen him go from a borderline candidate to a consensus frontrunner, I think he makes the 11.8% jump.
I think the next three vote-getters are Helton, Wagner, and Beltran. I'll go with that order. There's a slight chance that Todd Helton also squeaks in, but that may be too big a jump to ask for.
Trends to watch for
How much of a jump we see for Helton and Wagner make will be interesting to see. Will they have a solid move up? If so, it'll set them up well for future elections. Beyond that, how badly writers punish Beltran for the Astros sign-stealing fiasco will be interesting to see.
If he gets 50% of the vote, he'll be on the fast track to future induction. If he appears on less than 30%, the climb is going to take some time, if he ever makes it.
As for the other candidates? I expect that the rest of the first-time candidates are one-and-done (less than 5% of the vote). I also don't see any of the other returning candidates making a big step forward, but we'll have to see if there's a surprise or two in store.
A look ahead to 2024
The 2023 first-year eligible is on the weaker side, with only Carlos Beltran likely to get significant support for the Hall of Fame. Looking ahead to the 2024 first-year class, however, we find a whole different ballgame.
Adrian Beltre and Joe Mauer will certainly make the Hall of Fame, potentially in their first year of eligibility. Also on the ballot is Chase Utley, who likely gets inducted at some point.
There are also a few other names on the list that while they may not be Hall of Famers, will have their advocates.
So, 2023 offers an opportunity for players to take a step forward before the ballot gets some additional big names.
The final word on the 2023 Baseball Hall of Fame election
Being elected to the Baseball Hall of Fame is the ultimate honor a player can receive. It represents the best of the best, and as a collector, those are the kinds of players you're probably interested in acquiring cards of.
The 2023 Hall of Fame election offers fans and collectors an opportunity to own a piece of the next Hall of Famer before they get elected.
Cardlines 2023 Hall of Fame coverage