Looking Back At The Legendary 1999 Pokémon Release
In 1999, the trading card game scene in North America was changed forever with the release of 1999 Pokémon. Since then, Pokémon has been a mainstay in North America and is one of the strongest brands in gaming with the hugely successful Pokémon Video Game as well as the TCG.
As such a household name, it's no surprise that where it all started continues to be important to this very day.
Shop for 1999 Pokemon cards on eBay
1999 Pokémon card basics
The 1999 English Pokémon Set, also known as the Base Set, released on January 9th, 1999. It features generation 1 Pokémon and was the first Pokémon card set to be in English.
Cards in the set are based on the Pokémon Red, Pokémon Blue, and Pokémon Green video games. 6 more sets would be released in the Original Series before the game moved on to the Neo Series.
Shop for 1999 Pokemon cards on eBay
1999 Pokémon release formats
Base set cards could be acquired from booster boxes and booster packs. Three different variations of these boxes and packs were released: first edition, shadowless, and unlimited. Only first-edition products are officially labeled, making it a little bit trickier to identify the other two variants.
1999 Pokémon Booster box
Booster boxes that are not clearly marked as the first edition are either shadowless or unlimited. Shadowless cards were printed after the first edition and with a lower print run than unlimited, making them substantially more valuable than unlimited boxes.
Cards that are shadowless are also distinct since they do not have the drop shadow that most Pokémon cards have. Every booster box includes 36 packs.
Shop for 1999 Pokemon Booster Box on eBay
1st Edition Base Set Booster Box
The first edition booster boxes are distinct due to the 1st Edition symbol stamped onto the box. First-edition cards also have an identical symbol. Similar to the other booster boxes, these boxes have 36 packs.
SAhop for 1999 Pokemon 1st Edition Base Set Booster Box on eBay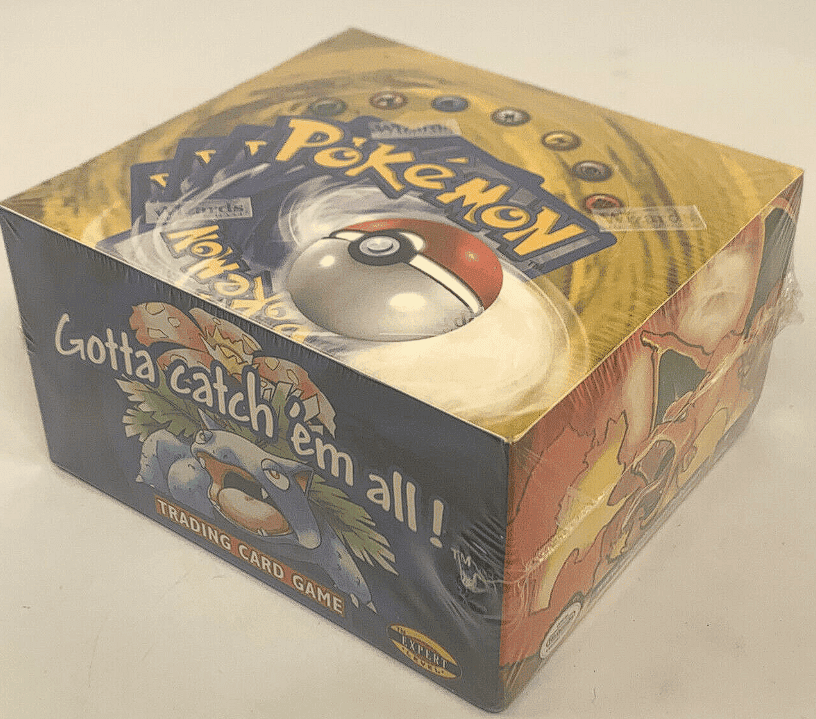 1999 Pokémon Booster Packs
Along with boxes, the base set was released in a pack format. Every pack includes 11 cards. The odds for a holographic card are 1 in 3 packs. Each pack included:
7 Common Cards
3 Uncommon Cards
1 Rare Card
Shop for 1999 Pokemon Booster Packs on eBay
1st Edition Base Set Booster Packs
First edition packs come from the very first print run of the trading card game. They are identical to the other booster packs, however, they feature the first edition symbol on the pack.
Shop for 1999 Pokemon 1st edition Booster Packs on eBay
1999 Pokémon checklist
The base set includes 102 cards, which can be divided into energy, common, uncommon, rare, and rare holo cards.
Energy: 6/102
Common: 32/102
Uncommon: 32/102
Rare: 16/102
Rare Holo: 16/102
Noteworthy 1999 Pokémon cards
While the entire base set is iconic, some cards really separate themselves from the rest either due to nostalgia or simple rarity.
Shop for 1999 Pokemon cards on eBay
1999 Charizard Pokémon Card
As with every Pokémon release, you cannot talk about it without mentioning Charizard. Despite a vocal minority detesting the importance of Charizard and the bias towards him, Charizard cards consistently rank as some of the most valuable Pokémon cards.
Charizard cards from 1999 Pokémon might be the most desirable card for any collector. It has a sweet combination of being rare, nostalgic, and historic as one of the first Charizard cards.
Shop for 1999 Charizard Pokemon Cards on eBay
1999 Blastoise Pokémon card
Blastoise is a fan favorite among Pokémon veterans, especially those who aren't fans of Charizard. This card is noteworthy for many of the same reasons that Charizard is, particularly holographic ones.
Shop for 1999 Blastoise Pokemon cards on eBay
Value of 1999 Pokémon cards
The base set of Pokémon is an absolute gold mine, assuming you already own anything from it. If you own cards in good condition of desirable Pokémon, you're looking at returns in the tens of thousands.
For example, the previously mentioned Charizard card in perfect condition sold for $420,000 in 2022. The value of 1999 Pokémon cards will range from a few bucks for a poor-condition card to thousands for mint-condition pieces.
Value of 1999 Pokémon sealed wax
24 years after being released, unopened packs and boxes can sell for a pretty penny. Not many are left unopened after such a long time, and there's always a chance collectors can pull a desired card like Charizard or Gyarados.
Frequently answered questions
Here are some common questions about the 1999 Pokémon release.
Are all 1999 Pokémon Cards First Edition?
No, not all 1999 Pokémon cards are first edition. First edition means that the cards and wax came from the first print run of the set. They are easily identifiable from the first edition symbol stamped on the card, pack, or box.
What is the 1999 Pokémon Gold Card?
As part of a promotion with Burger King, six solid 23 karat gold Pokémon trading cards were created and sold alongside other cards and toys. Other gold cards exist that are just plastic replicas of the real golden cards.
Shop for 1999 Pokemon Gold Cards on eBay
Final thoughts
1999 Pokémon is one of those sets that is simply legendary in its cultural impact and value decades later. It represents the start of a trading card game that has seen dozens of releases and remains one of the most popular in the world.
If you happen to have any cards or unopened wax from this set, you are sitting on a real-life gold mine.
Further reading
Interested in other Cardlines write-ups about Pokémon? Check out some of these pieces below: