Top 10 Of The Most Valuable Pokémon Error Cards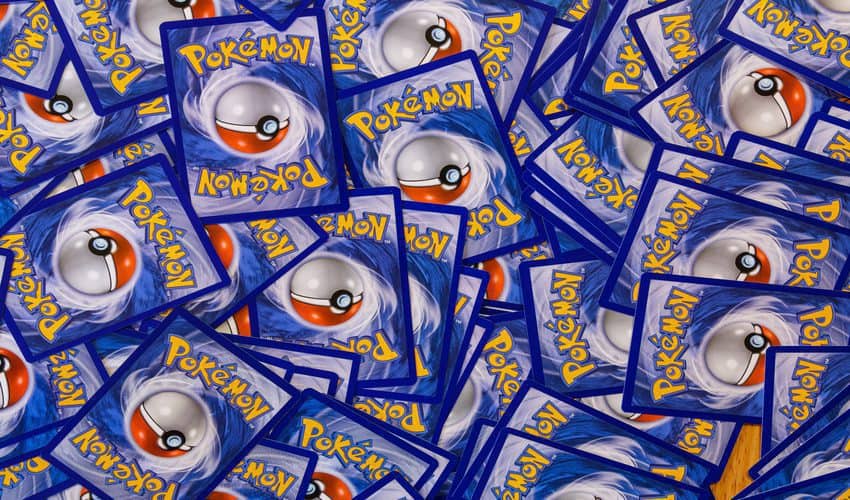 The Pokémon TCG has amassed a print count totaling over 43 billion since it first hit store shelves in 1996.
With an incomprehensibly large print count like that, it's not surprising that so many Pokémon error cards are on the market. These errors range from small ink stains to entire cards being blank, so it goes without saying that not all errors are made equal.
Find Pokemon error cards on eBay
What makes a Pokémon Error Card valuable?
Not every card printed incorrectly is a hidden treasure. It takes a combination of factors for misprinted cards to end up valuable. As you'll see, popular Pokémon dominate the list below. The chance of an error card being valuable increases substantially when it's a well-known monster like Charizard or Pikachu.
Additionally, there are two major distinctions in error cards. Uncorrected errors are typically lower in value since they never stopped printing them. This makes them pretty common and not as appealing to collectors.
On the other hand, corrected errors were fixed and therefore had a shorter print run which leads to higher card values.
Find Pokemon error cards on eBay
Most Valuable Pokémon Card Errors
1. Shadowless Charizard: $420,000
The most valuable Pokémon error card is this PSA 10, first edition, holographic Charizard. Widely recognized as one of the most popular Pokémon, it is not surprising that a rare error card like this is valuable.
The error on this card is called Shadowless, meaning that there is no shadowing on the right side of the art. 3000 cards were printed with this error before it was corrected, but according to PWCC only 121 have a PSA 10 grade.
A typical holographic Charizard card is one of the most popular cards on the market. Combining this popularity with a rare error and a gem-mint grade has led to its tremendous value to collectors.
Check out comps of lower-graded versions of this error card on eBay
2. Blastoise with Magic: The Gathering Back: $216,000
You read that right; a Pokémon card with the back of a Magic: The Gathering card. Wizards of the Coast, the printers of Magic: The Gathering cards, created this card as a test print of English Pokémon cards. Only three of these Frankenstein cards were printed, making them some of the rarest cards in existence.
Besides just being a cool card to have, its historical importance as one of the first English Pokémon definitely contributes to its value.
It is currently listed on Heritage Auctions for $324,000 after selling for $216,000 in 2021.
3. No Holo Dark Dragonite: $8,100
While most cards benefit from being holographic, this card's value comes from the lack of it. It is easy to identify as it is numbered as a holo card (5/82) but it was printed as an uncommon card.
High-graded first edition cards are the big money cards, but lower-graded ones can still go for a few hundred.
View recent comps of the No Holo Dark Dragonite on eBay.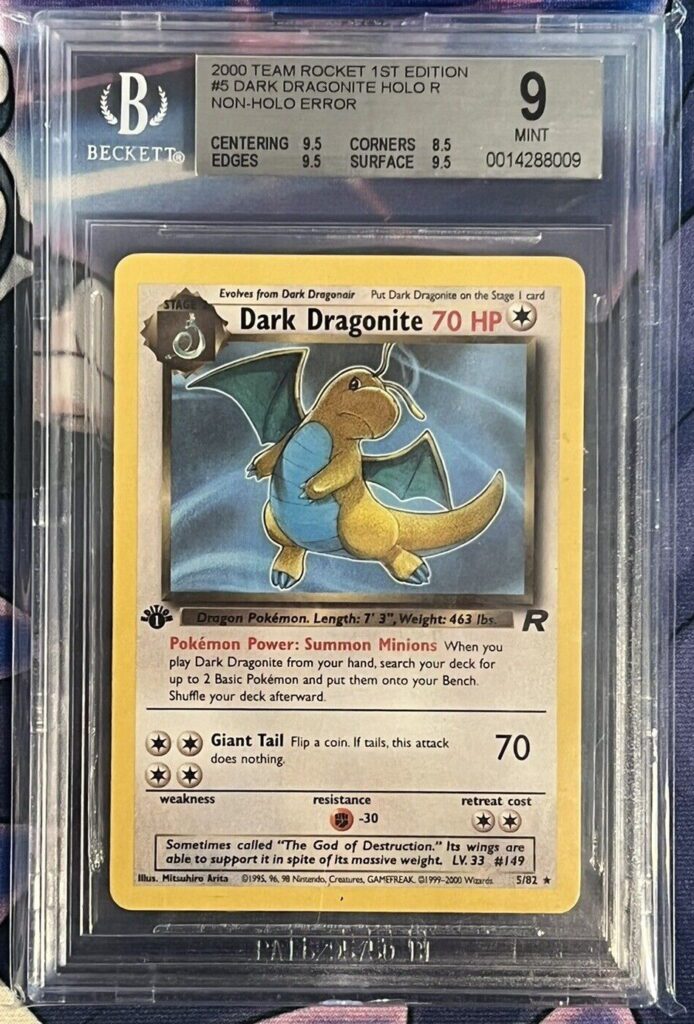 4. Charizard No Rarity: $7,050
Once again, the Charizard name brings up the value of Pokémon error cards quite a bit. This card is a Japanese first edition PSA 8 from before the trading card game became a global phenomenon. The error is a lack of a rarity symbol on the bottom of the card.
Check out comps for 1996 Charizard No Rarity symbol cards on eBay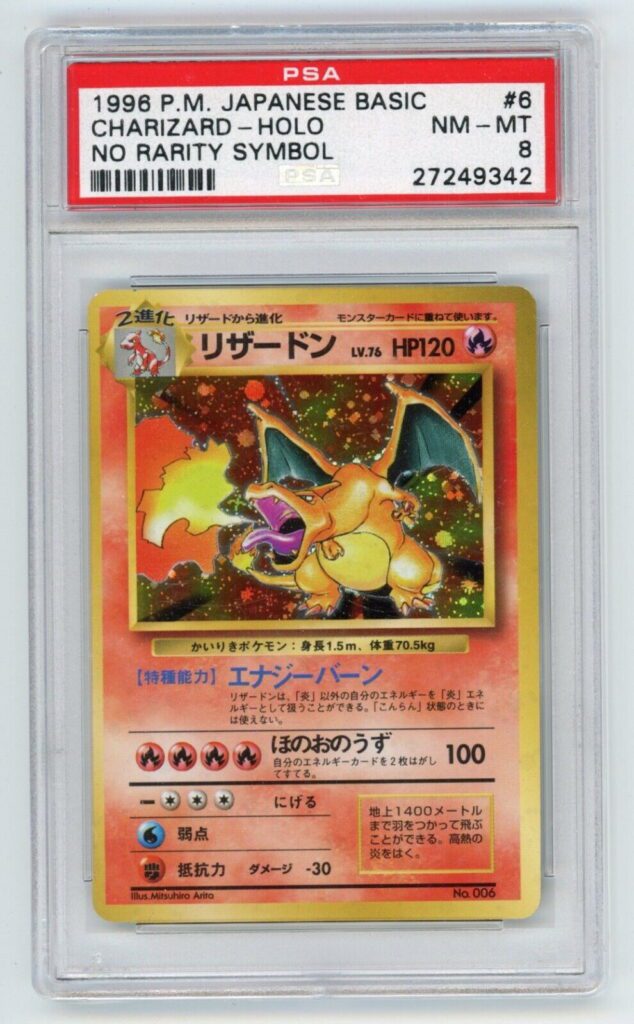 5. Red Cheeks Pikachu: $6,100
When Pokémon cards were first released in English, Wizards of the Coast changed Pikachu's cheeks to a red color.
Later on, they adjusted them to be yellow, making cards with red cheeks rare in the process. Authentic PSA 10 cards can sell for thousands, however, ungraded ones can be found on eBay for just a few dollars.
Check out comps of 1999 Pikachu red cheeks cards on eBay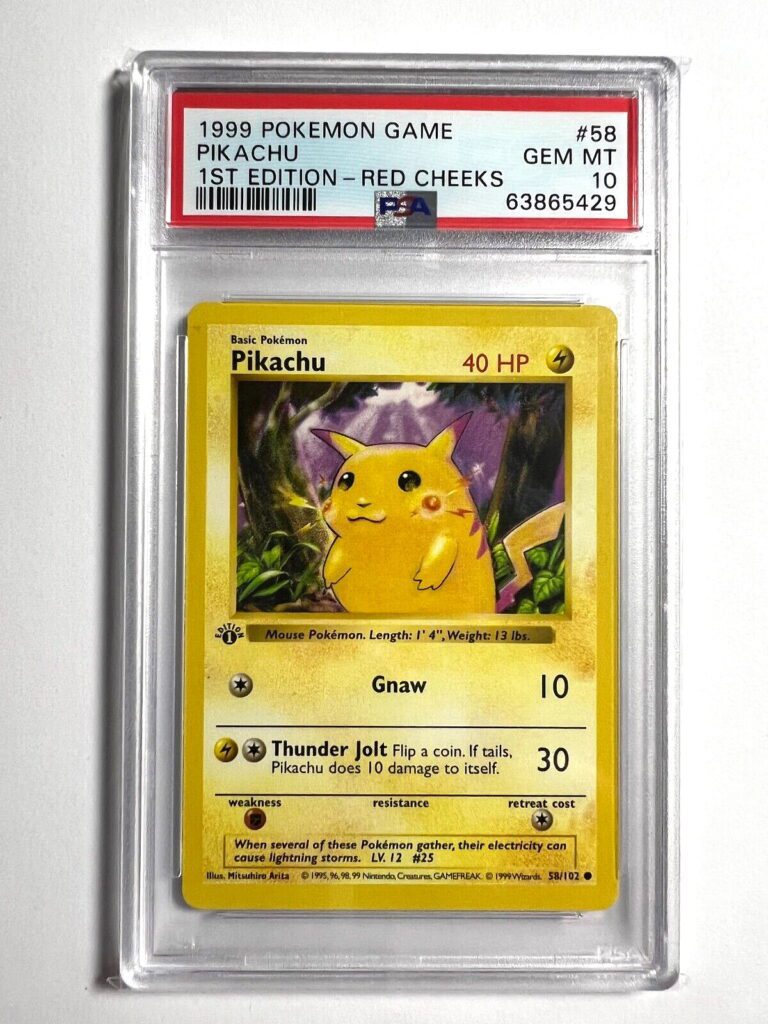 6. Holo-Bleed Charizard: $5,200
The third Charizard card making this list is a PSA 10 holo-bleed from 2007. Holo bleed errors are a result of the holographic effect spreading, or bleeding, into areas that aren't usually holographic. These errors are extremely common, but cards like this getting a perfect grade is rare.
View comps of Holo-Bleed Charizard cards on eBay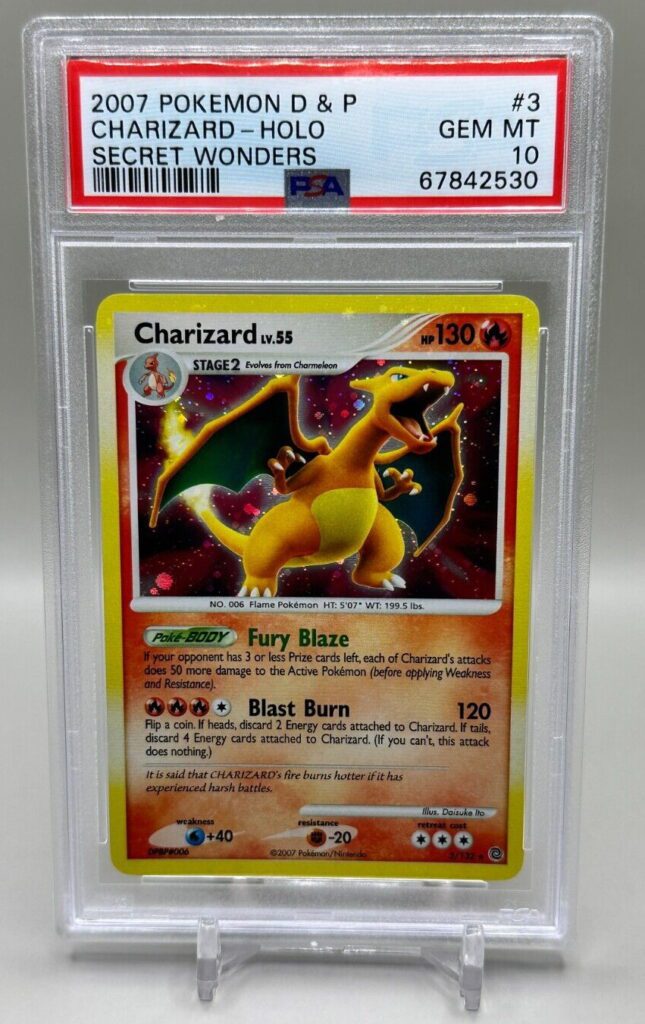 7. No Damage Ninetales: $4,888
It's pretty difficult to play a game of Pokémon without any damage value on your card. That's the exact issue this card suffers from since no damage value was printed. Fortunately, collectors of this error Pokémon card can rest easy knowing it's one of the most valuable error cards.
View comps of Ninetales No Damage cards on eBay
8. Red Dot Error Blastoise: $2,098
One of the least noticeable Pokémon errors is the infamous red dot error in the 1999 set. This error consists of a small red dot appearing above the energy icon on the hydro pump attack. It only appeared on first-edition unlimited prints before being corrected.
View comps of 1999 Pokemon Blastoise red dot error cards on eBay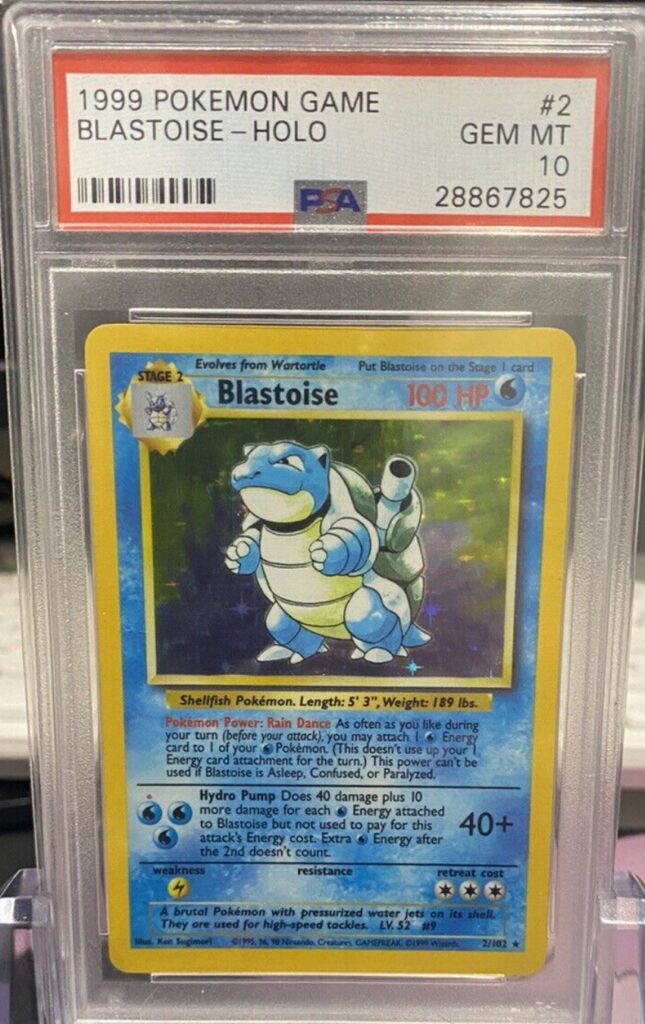 9. Jolteon No Symbol: $1,875
Although plenty of first-edition cards were mistakenly printed without symbols, Jolteon is easily the most valuable. A sizable print run of these came during the second expansion, Jungle. Missing symbol error cards don't have the two symbols by the Pokémon's length and weight.
View comps of Jolteon No Symbol error cards on eBay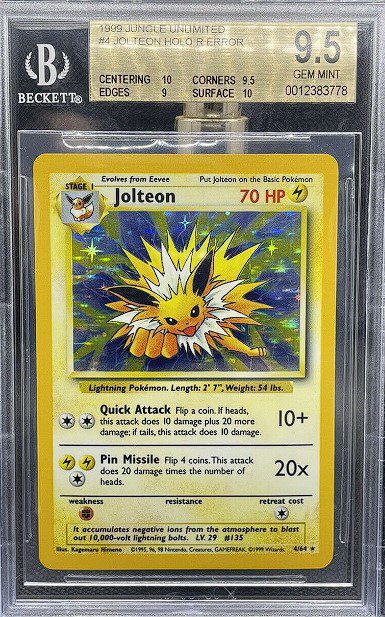 10. No HP Dark Persian: $849
Does having no HP listed make a card immortal or defeated instantly? At some point, TCG enthusiasts would've had to figure it out with this Dark Persian error. This is a simple printing error where the HP was never printed onto the card.
View comps of No HP Dark Persian error cards on eBay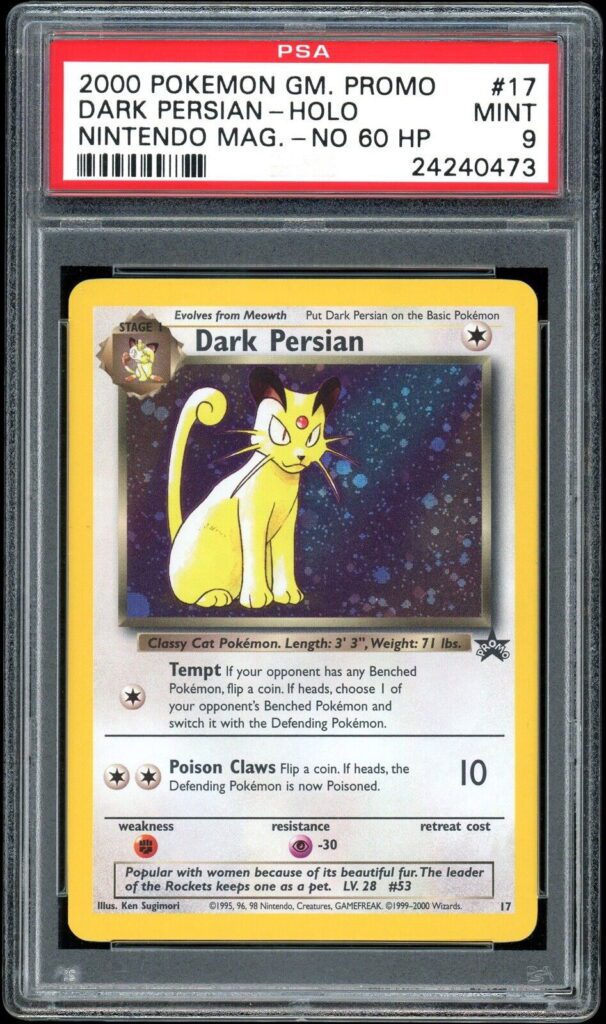 Final thoughts on Pokemon error cards
Any of the above cards would be an excellent piece in any Pokémon collection despite their defects. If you have any Pokémon cards in your house, it might be worth checking them to see if any have errors. Who knows, you just might have a card that would make this top ten list.
Find Pokemon error cards on eBay
Further reading
Passionate about trading card games? Take a peak at some of the write-ups below: