Everything You Need To Know About 2021-22 Panini Noir Basketball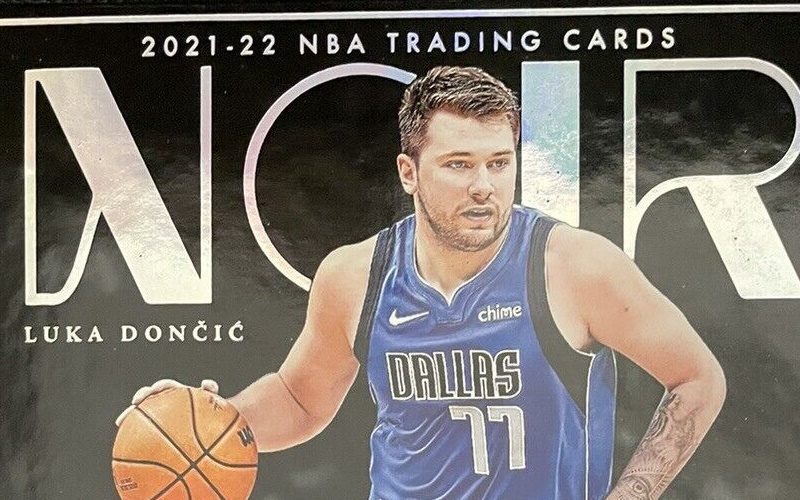 Arguably the sleekest basketball cards on the market are back.
2021-22 Panini Noir Basketball dropped on June 10th with this year's release keeping with the theme of muted colors and on-card autos, putting a cinematic spin on the cards with inserts like "split screen" and "newsreels".
In this article, we'll cover everything you need to know with this year's release, including the low-down on the 21-22 NBA rookies, all the fuss about the price jump, and how to best invest in this product.
Check out the latest prices on 2021-22 Panini Noir Basketball hobby boxes.
History of Panini Noir Basketball
After acquiring the NBA license in 2009, Panini spent a few years expanding its line of high-end NBA releases. Noir Basketball was born a few years later, hitting the shelves in the 14-15 season. While it's not quite as elite as a product like Flawless, it's still one of the more expensive NBA products, and offers a unique and instantly recognizable style.
As you might expect for a product whose name means "black" in French, Noir has relied on darker colors and subtle designs. If you like the flashiness of Prizm, then these might not be the cards for you – Noir uses color sparingly, which allows a colorful jersey to pop against a muted background of grays and blacks.
Just like any other top of the line release, all rookie cards showcase players in their pro uniforms.
Find Panini Noir basketball cards on eBay
What we like about Panini Noir Basketball 2021-22
Noir gives high-end cards a different look.
The hobby is trending flashy. Color blasts and bright pastel designs are becoming increasingly popular. And don't get us wrong – we love them too. But it's refreshing to see a product that can remain popular, while bucking the trends of industry.
If anything, this year's design is even more reserved. Some inserts, like "Newsreel", layer grayed-out pictures of players against black backgrounds.
It should also be noted that 21-22 is a great year to buy NBA, in particular because of the depth of this year's rookies.
While some collectors are mentioning that there isn't a star like Zion or Luka in this class (although Cade Cunningham and Evan Mobley might have something to say about that), the cast of potential all-stars this year is deeper than it's been in a long time.
Cunningham, Mobley, Scottie Barnes, Franz Wagner and Josh Giddey have all secured big roles and found ways to be net-positive players (a tough thing for rookies to do). Jalen Green, Jalen Suggs, and Davion Mitchell have shown flashes of All-NBA talent, and even second-rounders like Herb Jones have worked their way into all-defense conversations.
All that to say, this isn't like the classes we've had the last few years, where missing out on a LaMelo or a Morant means the case is a bust. There's value to be found 10+ rookies deep in this class.
Check ebay for the latest 2021-22 Panini Noir basketball cards
What we don't like about Panini Noir Basketball cards
A few years ago, this box would run you around $500. This year the box is being sold for $3,500.
Now, the rising prices aren't necessarily a bad thing – it shows that the hobby is growing. Even though some might moan about paying more, we should, to a certain extent, hope to see year over year price increases.
It means that there is higher demand for products, which means a more active resale market, and increased value to everything else in your collection.
The problem is when the price jumps outpace the value of the individual cards. There's nothing wrong with a box being priced at a hundred, a thousand, or ten thousand dollars, as long as there is reason to believe that the cards inside could theoretically justify the cost.
A "Luka Doncic #20/49 Spotlight Signatures" from the 20-21 Noir release sold for $2,228 in May. Typically, if you're lucky enough to pull a #/50 Luka auto, you'd expect that you would at least break even on the value of the box.
But in this case, you could pull that card and still lose a thousand dollars, assuming there wasn't anything exceptional in the rest of the box.
So we're not complaining about the fact that prices are going up. But we are cautioning buyers that the value of the individual cards on the resale market might lag behind the wax price that retailers are asking for.
Another thing worth noting is that some buyers have complained that the gold used for the autographs will chip easily. Obviously if you pull an auto you want it to be in the best condition possible, so if you're ripping Noir, be extra careful when opening the pack, and make sure to get them sleeved as fast as possible.
2021-22 Panini Noir Basketball hobby box breakdown
NBA Noir is only sold as a Hobby Box, and was listed at $3,500 during presale, but has since come down in price.
Check out the latest prices on 2021-22 Panini Noir hobby boxes.

Here's what each hobby box will contain:
10 cards per pack,
1 pack per box
10 cards total
And here's what Panini has released about the card breakdown inside:
3 Base or Parallels
3 Memorabilia Cards
4 Autos
Panini Noir 2021-22 Basketball checklist Info
As an unreleased product, we don't know exactly what the checklist of featured players will be. That said, last year's product should give us a decent idea of what will be included.
Base cards
Last year's base set included:
These cards will either be "Association" or "Icon" editions.
Each of those cards were numbered to #99, and had to following parallels:
Holo Silver – #/35
Gold – #/10
Holo Gold – #/5
Platinum – 1/1
The hits
As mentioned above, this box includes 7 hits – 4 autos and 3 memorabilia cards. Some of those hits include:
Metal Frame Statement Edition
Vintage Art
Feature Length
Split Screen
Newsreel
SLAM! Kicks (new)
Each of these will have its own set of parallels. Odds of hitting are not yet available.
How to invest in 2021-22 Panini Noir Basketball
Is NBA Noir a rip or a hold? Here's some numbers on how it's performed over the past 4 years.
Wax
| Year | Price upon release | Average 2022 resale price |
| --- | --- | --- |
| 2017-18 | $500 | N/A (no verifiable 2022 sales) |
| 2018-19 | $550 | $1,499 |
| 2019-20 | $1,300 | $2,777 |
| 2020-21 | $1,500 | $2,550 |
Yes, those are some eye-popping wax resale numbers. It would be easy to look at that chart and see a grab and hold as a surefire way to clear a huge profit.
But there are two glaring problems that are worth taking into consideration before investing in a Noir hobby box:
#1- The percentage return is plummeting every year. Just three years ago, the box's value increased 300%. Last year's box is only up 60%.
#2- All of the 2022 resale prices are significantly lower than the starting price of the 21-22 box. While you might assume that the higher retail price will mean a higher resale price down the line, the truth is, we've never seen this big of a jump in the starting price before. If the wax resale market doesn't adjust to what Panini/ retailers are asking for, there's a decent chance holding this box could lose you some cash.
Buying and holding wax is 9 times out of 10 the safest way to invest in cards, and such is the case for Noir. Still, we don't love it as an investment, due to the high upfront costs, and uncertainty over how people will value it.
Singles
Thinking of investing in ripping Noir and testing the resale waters?
Just don't.
Noir is only worth ripping if you love the product and find value in collecting the cards themselves. While the cards do hold their value quite well year over year, the upfront cost simply won't be worth it.
Like we mentioned above with the Luka auto, you must be insanely lucky just to have a shot at breaking even on this box.
The bottom line of Panini Noir Basketball 2021-22
Noir Basketball won't be shaking things up stylistically with its '21-22 release. Collectors can expect much of the same as previous years; sleek, minimalistic designs that use colors sparingly and rely on cinematic tropes for its inserts.
It's a high-quality product that collectors have loved for years. Still, with an unprecedented bump in retail price, many are concerned about how well the value will hold up.
This is a great purchase if you are a collector who loves beautiful cards, but if you are looking to turn a quick buck as an investor, tread carefully with Noir Basketball.
Other Panini basketball releases