The Most Important Things You Need To Know About 2022-23 Panini Origins Basketball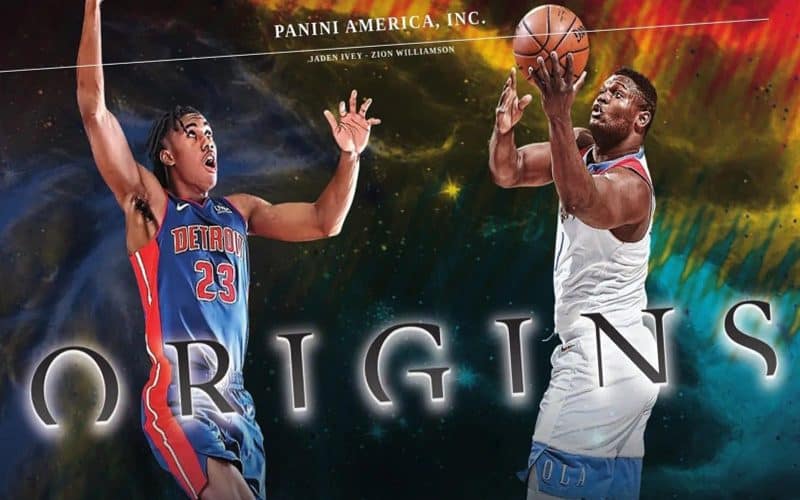 Panini Origins is set to celebrate its fourth year in production with its 2022-23 release, which is scheduled to drop on March 22nd. Hobby Boxes of the release are currently being pre-sold around $400.
With products like Hoops and Donruss behind us, Origins marks the first of a few of the more creative mid-tier springtime releases.
In this article, I'll break down everything you need to know about Origins, including the results of the FOTL auction, how this product fares as an investment, and a few of the best (and most controversial) mock-ups we've seen so far.
Shop for 2022-23 Panini Origins Basketball
About Panini Origins Basketball
Panini Origins will once again be leaning on its formula of two hobby box hits along with an insert and two parallels. One difference in this year's release is that one of the hits is guaranteed to be a rookie auto.
In years past, the two hits were just a random pairings of vet/rookie autos or a relic card. This definitely adds some intrigue to the product.
The exclusive cards in the FOTL box were numbered a little bit lower this year (for example, the rookie autos were numbered to #40 or #8, instead of #49).
This means we might also see the numbered cards in the regular hobby box be a little more exclusive as well, but we'll have to wait for the checklist to know for sure.
A common stylistic choice you get with Origins is the use of in-game images imposed on colorful and airy backgrounds. Sometimes the backgrounds look like space, sometimes it's a sunset, and other times it's just a mix of colors, but it does provide a thematic visual link between most of the cards in the set.
Shop for 2022-23 Panini Origins Basketball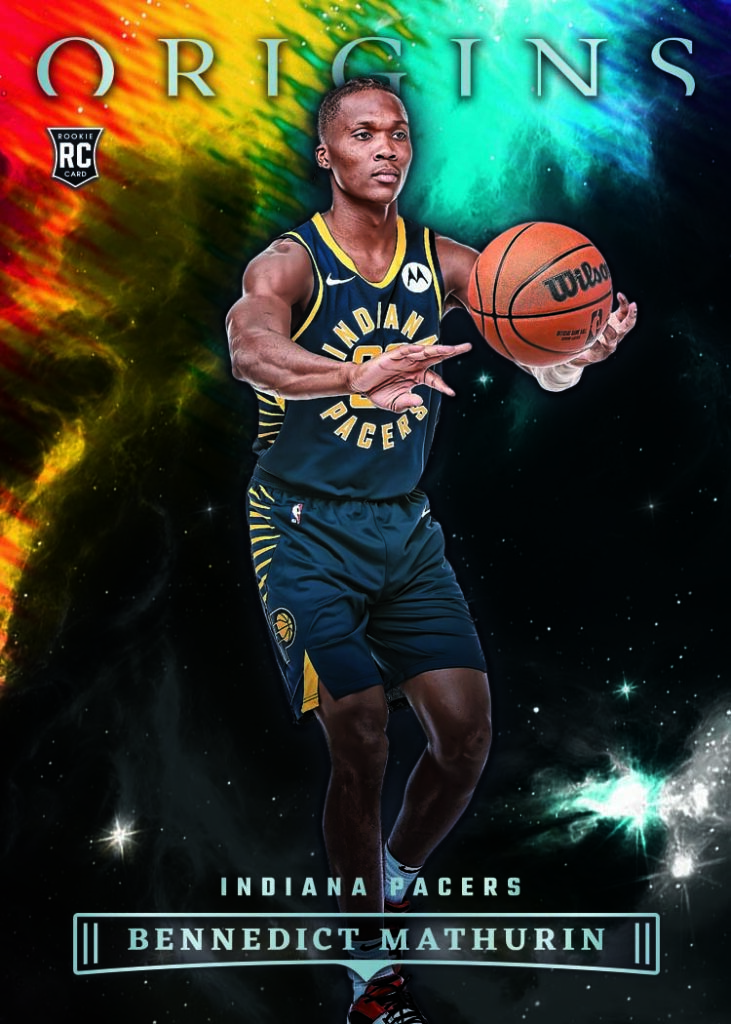 FOTL live auction results
FOTL (first off the line) Origins boxes were auctioned Dutch Auction style on March 14th. Boxes started at $1,000 and the price was continuously lowered every 15 minutes until it sold out or hit its floor ($350).
The results of the auction are a helpful gauge for determining public interest in a product, and how fairly the item is priced.
With recent slumps in the ultra-modern card market, we've seen a few FOTL auctions reach the floor before selling out. So, it was somewhat surprising to see Origins sell out at $485, well above it's floor.
I'm not convinced that this means that the Origins price will hold up in the months after it's release; it could be that the #8 rookie autos were enough to draw some interest to the FOTL boxes, but that the same enthusiasm won't be matched with the regular hobby boxes.
That said, the results are interesting. Perhaps this year's Origins will be more popular than we originally expected.
Shop for 2022-23 Panini Origins Basketball
Best mock-ups of 2022-23 Panini Origins Basketball
Panini has released a few mock-ups of its autos, inserts, and relic cards. Here are a few of the best ones so far:
The On-Card Autos (Elevation and Universal)
Other than the black 1/1 inserts, the on-card autos are the biggest chase in Origins (especially with the guaranteed rookie auto)
Elevation Signatures and Universal Autographs are the two on-card auto offerings in this year's release. Both are solid-looking cards, but stylistically neither really stands out. The Jaden Ivey Elevation card uses a dual-image design, with a shimmering blue background and a yellow border on the right side of the card.
The Universal Auto Luka Doncic card uses a similar outer space background as the base card, and uses a half circle to contain the player image just above the auto.
Tiger Eyes SSP
The next biggest chase in the box will be its SSP: Tiger Eyes.
And stylistically Tiger Eyes is bound to be, well, polarizing.
It's definitely the type of card that will catch your eye, and so far, the internet's response has been mixed. Honestly, this card reminds me of the howling wolves t-shirt fad from a few years ago; so obviously corny that many people will find it endearing. And if you like animals or animal-themed cards, then you should love the Tiger Eyes card.
Outside of the glaring tiger in the background, it's a pretty sleek card with pitch-black ground and a small name plate. One small gripe that I, and others, have had with the card is that the image is positioned horizontally, but the words remained vertical. It's somewhat disorienting, and to me, it takes the visual appeal of the card down a notch.
For those who prefer their SSP cards a bit more reptilian than feline, the H2 boxes will have their own exclusive animal-themed insert called Snake Eyes.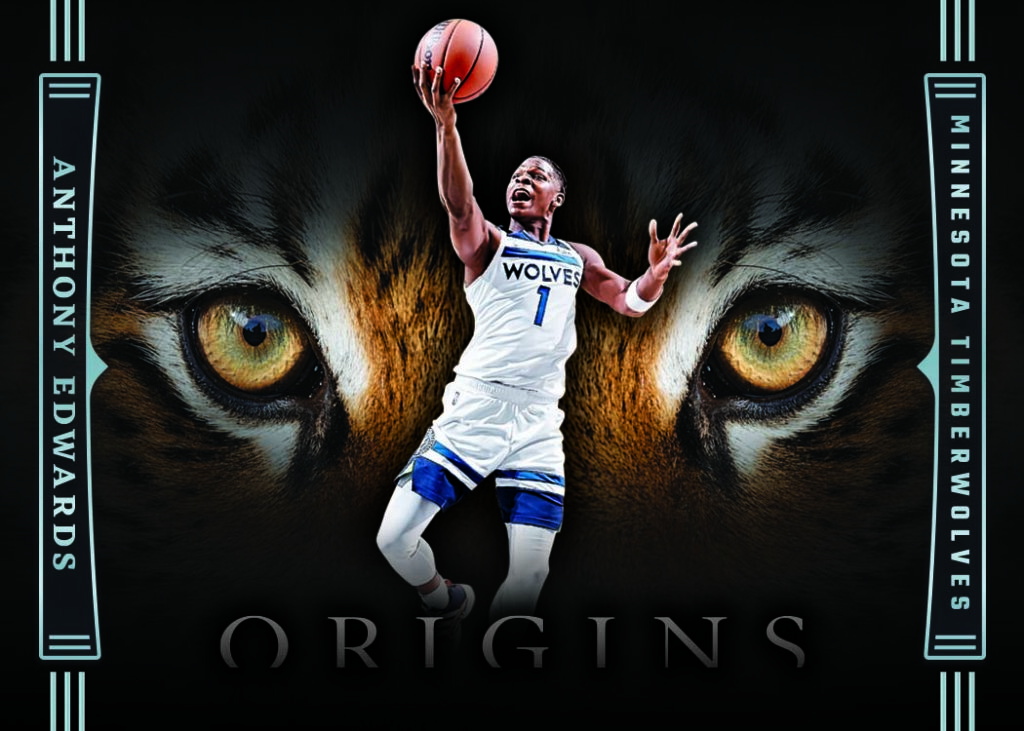 Dawn
Panini hasn't released much info on this card, and we don't know exactly what type of players will be featured. That said, I'm guessing we'll see a rookie-heavy checklist due to the name Dawn, which probably alludes to younger players at the "dawn" of their careers.
This is one of the new inserts that I'm most excited about, primarily because of how promising this Dyson Daniels mock-up looks.
The card feels like a movie poster, with an image of Daniels at the line set against the burning clouds of an auburn sunrise. The words Dawn read like a movie title, and the player and team name look like starring by-lines of its keynote actors.
It's really an epic-looking card, and one that I'm hoping includes a few of my favorite 2022-23 rookies that I have an eye on.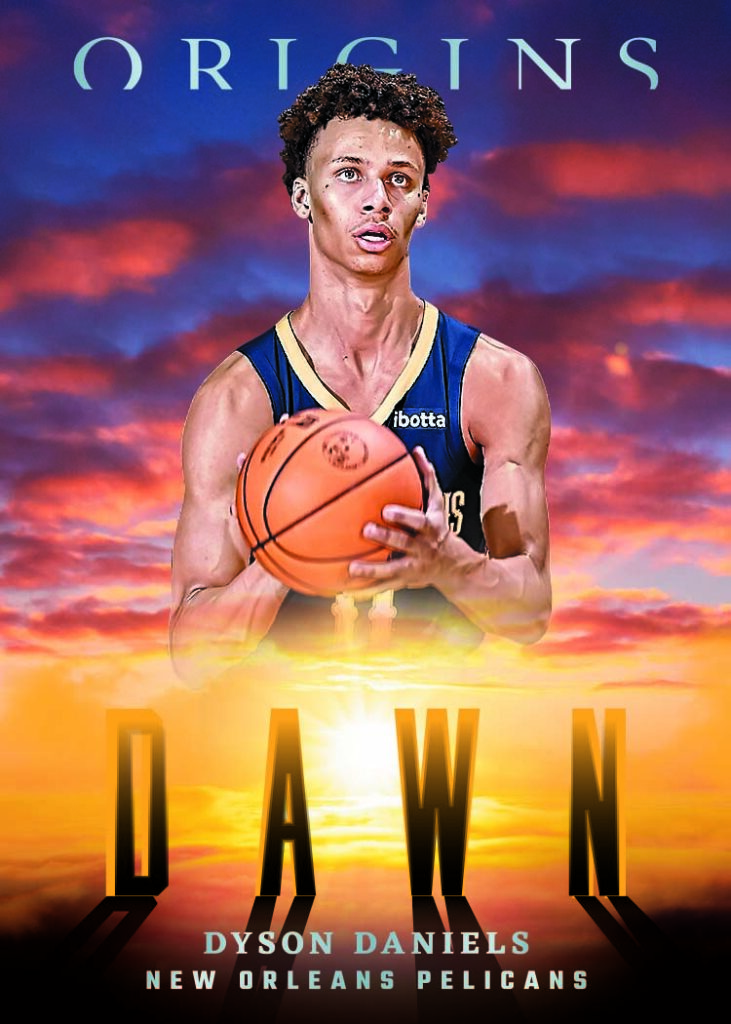 2022-23 Panini Origins Basketball hobby box info
The 2022-23 Origins Basketball hobby box will be released on March 22nd. Retail boxes have been listed at $410.
Here's what each hobby box will contain:
7 cards per pack
1 card per pack
12 boxes in a case
And here's what Panini has released about the card breakdown inside:
1 rookie auto
1 auto/ relic card
1 insert
2 parallels
Shop for 2022-23 Panini Origins Basketball
H2 box breakdown
In addition to the hobby box, Panini will be offering an H2 box.
The H2 box will contain 36 cards (6 cards per pack, 6 packs). Despite having a lot more cards than the hobby box, the cards in the H2 box will not be as valuable as what you can expect in a hobby box. Inside you'll get:
Panini Origins Basketball 2022-23 investing info
Here's a look at how Origins fares as an investment; as a long-term wax hold, as a rip, and as an investment in the singles market.
Wax
Generally speaking, I'd stay away from Origins as a long-term wax hold. It's not a product that you would expect to rise in value significantly over the years; that is, unless you really believe in this year's rookie class. But even then, I'd suggest aiming for a product with a more established reputation than Origins.
The one thing I'll say is that the pre-sale prices aren't really outrageous. Of course, the official retail price of $410 is probably a bit overpriced, but a few eBay auctions have recently sold around between $350-380. That fits squarely in the range that we've seen wax boxes from the last four years selling at ($320-$380 for verified sales in the last month.)
If that number goes down even more and you can get a box in the low $300 range, it wouldn't be a terrible buy. Still, I just don't see crazy long-term upside with a product like this, even if the market as a whole bounces back.
It isn't really a great rip either. We've seen top rookie autos from the last few months going for less than $200, which isn't even half of this year's retail pre-sale price. Really, Origins is only worth buying if you love the product and plan to hold onto the cards. Otherwise, you're likely to lose money.
Shop for 2022-23 Panini Origins Basketball
Singles
The best way to get an idea of how stable a product's singles value is by comparing the value of a specific player in a marque card to some of its competitors in the industry. When doing this type of comparison, I like picking a more established player like LeBron, who didn't really even see much of a change in his value after he broke the all-time NBA scoring record.
That way we can get an idea of how the market is responding to a specific product, not just the noise that might surround a specific player.
Here's how Origins stacks up against a few competitor LeBron cards:
| Card Name | Average Sale Price in Aug '22 | Average Sale Price in March '23 | Percent Difference |
| --- | --- | --- | --- |
| LeBron James #6 2021 Panini Origins (Ungraded) | $15 | $5.87 | -60% |
| LeBron James #91 2021 Panini Prizm (PSA 9) | $13.08 | $10 | -23% |
| LeBron James [Orange Flash Prizm] #100 2021 Panini Select (Ungraded) | $9.41 | $4.63 | -50% |
Obviously, this isn't a perfect comparison, since I needed to use cards that had similar pricing and sales frequency. As a result, I had to include the PSA 9 grading on the Prizm base, and the neon orange parallel for the Select card.
Nevertheless, you can see a 60% decrease in value for the Origins card over the past half year, which is significantly more than the other two cards. Even if this isn't a perfectly even comparison, the 60% loss alone suggests that investing in Origins singles is far from a safe bet.
Bottomline on 2022-23 Panini Origins Basketball
Panini Origins is back, featuring base cards with spacey designs, some animal-themed short prints, and a guaranteed rookie auto in the hobby box. While many retailers have the box listed at $410 for pre-sale, buyers can expect to pay somewhere between $350-380 on eBay.
While the hobby box doesn't have much potential as a money maker (especially if you plan to rip it), it should appeal to collectors who like the design and are looking for a guaranteed rookie auto.
Shop for 2022-23 Panini Origins Basketball
Other recent releases