A Review Of Panini Contenders Basketball 2022-23 And Why Prices Are Dropping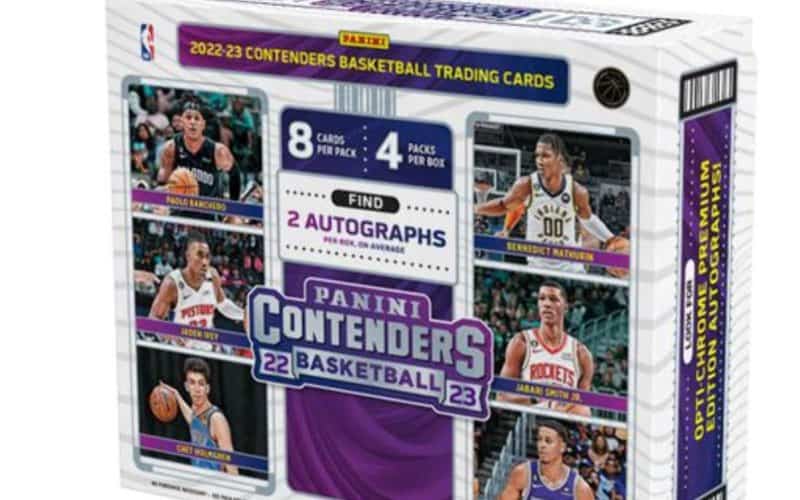 Known for the iconic "Rookie Ticket" card, Panini Contenders is back for the 2022-23 season. The release hit the shelves on April 5th, 2023.
The hobby box is seeing a pretty big shake-up this year, with a reduction both in the cards per pack and packs per box. In this article I'll break down those changes, some new inserts and the investment outlook on this year's product.
Shop for 2022-23 Panini Contenders Basketball boxes on eBay
About Panini 2022-23 Contenders Basketball
The Panini Contenders hobby box was initially being sold for $425, but the first few days on the market have been met with a lukewarm reaction. Most retailers have slashed the price.
That price is on par with a few recent eBay auctions that have ended around $375.
Part of the problem might be a few of the massive reductions we've seen so far in the total number of cards in the hobby box. Historically Contenders has been a bigger product with a lot of cards. While last year's set included 120 cards (10 cards and 12 packs) this year's set only has 32 (8 cards and 4 packs.)
Luckily the number of autos will remain unchanged, averaging 2 per box.
Shop for 2022-23 Panini Contenders Basketball boxes on eBay
History of Contenders and its iconic card: The Rookie Ticket
Contenders first hit the shelves as a football product in 1993 under the parent company "Playoff-Donruss." The release struggled to find a foothold in the industry until 1998 when it debuted its marquee card — the Rookie Ticket.
While the card has seen many different iterations over the years, it's known for using a design that looks like an actual game ticket. Rookie Ticket cards feature a fictional seat, section, and row that accompany a large player image on the opposite side.
Contenders has been a hobby staple in the 25 years since the first release of the Rookie Ticket. It reached its peak mass appeal two years ago when a 2000 Tom Brady RC Playoff TIcket card sold for over 3 million dollars (a hobby record for a football card at the time.)
After Panini acquired Donruss in 2009, they took over the Contenders brand and renamed the product Panini Contenders in 2011.
Every year the Rookie Ticket is among the most valuable rookie cards for debutantes across the 3 major American sports.
Shop for 2022-23 Panini Contenders Basketball boxes on eBay
Best new inserts in 2022-23 Panini Contenders Basketball
Panini released a few mock-ups of inserts from this year's hobby box. Here are a few of the best ones so far:
Rookie Ticket
The Rookie Ticket will, of course, be the big chase from this year's hobby box. It features the iconic "game ticket" design, an on-card auto, and a checklist of this year's most promising rookies.
Panini didn't release any mock-ups of the rookie ticket cards in its pre-release info, but in the days since its release there's been a few for sale on eBay. While most of the cards look pretty standard for Rookie Tickets, one noticeable change from last year's release is the decent portion of horizontal prints.
Numbered parallels will be available as gold (#/10) and gold vinyl (#1) editions.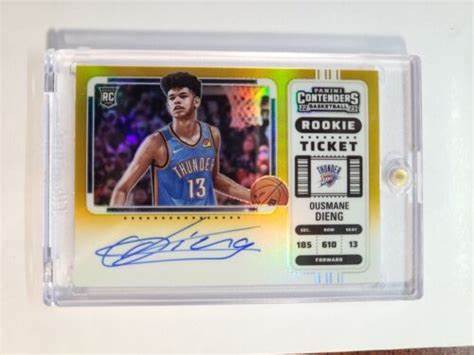 Season Ticket
Many of the other inserts in this box are variations of the "ticket" theme — including Playoff Ticket, Championship Ticket, and Finals Ticket. But for 2022-23, Panini will be debuting its new, hobby-exclusive insert Season Ticket.
It will feature top veterans from around the league and will be featured with some hard-to-find premium variations, such as silver prizms.
This Silver Prizm edition of the Scottie Barnes season ticket looks pretty similar to the Contenders base card, just with the words "Season Ticket" printed across the middle, and the classic Prizm glisten.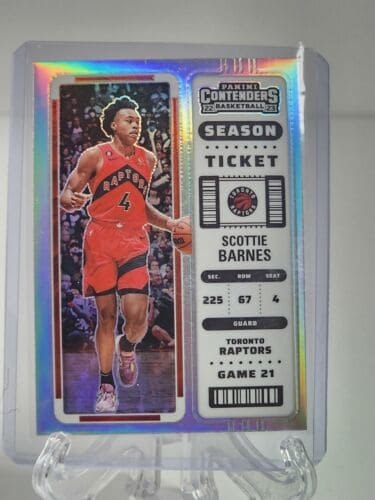 Permit To Dominate
There are a few other inserts available in the hobby box, and my favorite is probably the Permit to Dominate card.
The Jaden Ivey mock-up is a lot different than most of the other cards in this release. There's no "ticket" theme. Instead, the card looks like a driver's license (or, I guess, a learner's permit) with the player's vitals in the bottom left corner, in between two player images.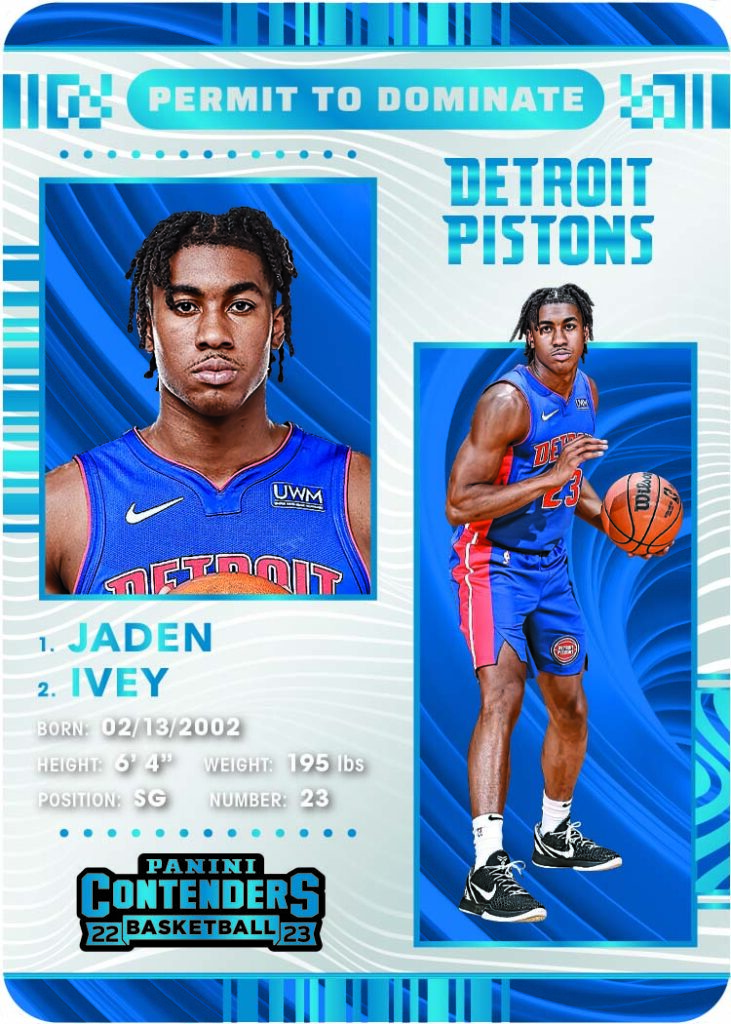 2022-23 Panini Contenders Basketball hobby box info
The 2022-23 Contenders Basketball hobby box was released on April 5th. Retail boxes are currently being sold for around $300.
Here's what each hobby box will contain:
8 cards per pack
4 packs per box
12 boxes in a case
And here's what Panini has released about the card breakdown inside:
2 autos
8 parallels or inserts
Shop for 2022-23 Panini Contenders Basketball boxes on eBay
FOTL box breakdown
The FOTL box was sold in a Dutch Auction on the Panini website starting at $1,000 until it reached its floor of $400.
The box contained the same breakdown of cards and packs but guaranteed that one of the autos was a shimmer auto (#/21 or #/5). It also guaranteed an "Opening Night" parallel (#/25), along with 11 other parallels and inserts (totaling up to 12, which is four more than the normal box.)'
Investing info for Panini Contenders Basketball 2022-23
Interested in investing in Panini Contenders basketball? Here's a rundown on some recent sales data from wax hobby boxes and key singles from previous Contenders releases.
Shop for 2022-23 Panini Contenders Basketball boxes on eBay
Recent wax
The long-term outlook for Contenders '22-'23 hobby box is interesting. On one hand, it has the main thing that collectors are looking for in a high-value hobby box; a coveted rookie card. But while the Rookie Ticket cards can add some value to the Contenders' release, there are questions about just how likely landing a rookie auto are.
Unlike other products, like Panini Origins, there is no guarantee that even one of the autos in a box are a rookie. Panini does not release numbers on what percentage of the autos will be Rookie Tickets, and so far there have been rumblings that rookie autos might be sparser than they've been in past years.
That said, the price of $300 is a pretty great deal, especially compared to how previous boxes have been selling. Sure, those boxes offered more cards, but that's primarily just fluff base cards. The fact that the number of autos remained at 2 is important for this year's product.
Here's a look at how the past few years of Contenders has been selling so far in 2023:
| Product Year | 2023 Average Selling Price (Wax Hobby Box) |
| --- | --- |
| '21-'22 | $370 |
| '20-'21 | $385 |
| '19-'20 | $500 |
Obviously '19-20 is a bit of an outlier in terms of value (Zion and Ja year), but the past two years have hovered in the upper $300s. If you can grab a box for at or under $300, there's a case to be made that it's a good hobby box to hold.
For investors with high-risk tolerance, it's actually not a terrible rip either, as buying at $375 gives you a decent shot at making your money back on the box.
Selling price of marquee singles
So, what exactly does it take to make your money back on this product?
Well, for Contenders that answer is pretty simple – pull a Rookie Ticket of a good-to-great prospect. It doesn't necessarily need to be the #1 pick, nor does it need to be a rare parallel. Those cards can give you back your money or double. But without at least one future all-star rookie auto in your box, you're unlikely to make your money back.
Here are a few sales we've seen on Rookie Ticket cards (from the '20-'21, '21-'22 releases) over the past few days:
| Card | Sale Price |
| --- | --- |
| Desmond Bane Rookie Ticket ('20-'21) | $385 |
| Franz Wagner Rookie Ticket ('21-22) | $385 |
| Jabari Smith Rookie Ticket Gold Parallel #6/10 ('22-23) | $799 |
As you can see, the Bane and Wagner cards just about cover the cost of the box, while the Smith gold parallel (the only Rookie Ticket sold on eBay so far from the '22-'23 release) shows the upper range value you can expect on a big hit.
Final thoughts on the 2022-23 Panini Contenders Basketball release
Contenders Basketball is back, although the hobby box looks a little different this year. The total number of cards has been cut from 120 down to 32. While Panini is doing away with the 2 base parallels, the 8 inserts/parallels and 2 autos we've seen in previous years will still be here. More or less, this year's version will just have a lot less fluff.
While buying any hobby box is risky in the current market, Contenders is one of the few out there you can actually make your money back without needing to hit on an SSP.
The iconic Rookie Ticket cards are immensely popular, and if you pull a top rookie (or better yet one of its rare parallels), you should make back your money (or more) on the box.
Shop for 2022-23 Panini Contenders Basketball boxes on eBay