An Essential Guide To Buying Walgreens Sports Cards
Given the popularity of our Target Sports Card Buying Guide and our Walmart Sports Card Buying Guide, we've decided to roll out another for another popular retail sports card destination: Walgreens.
While Walgreens is not nearly as attractive of a sports card destination as either Target or Walmart, it also has less competition over cards and the potential to occasionally find something really nice.
In this article, we'll go over everything you need to know about buying Walgreens sports cards, including when to buy, how to get the best deal, and more.
Shop for Walgreens exclusive yellow parallel cards on eBay
What can you expect to find with Sports Cards at Walgreens?
When I was first asked about buying sports cards at Walgreens, I'll be honest… I didn't know Walgreens carried cards. Usually, it's where I go to pick up my antibiotics, not rip packs, but I'm always excited to learn about more cards!
With that in mind, I made a voyage to the four nearest Walgreens around me and made this video:
Despite some slim pickings with my first Walgreens experience, fear not! One of the expert-OGs at CardLines had the low-down on Walgreens sports cards and assured me that Walgreens can, in fact, be a great spot for finding cards.
So here's the scoop.
Walgreens has (or perhaps 'had' – the last time was 2021 Series 2) Topps flagship exclusive hanger boxes that have yellow parallels in them that are rarer than golds. The golds are numbered to the year (/2023) while the yellows are not numbered, but the increased scarcity meant many collectors desired them more.
Shop for Walgreens exclusive yellow parallel cards on eBay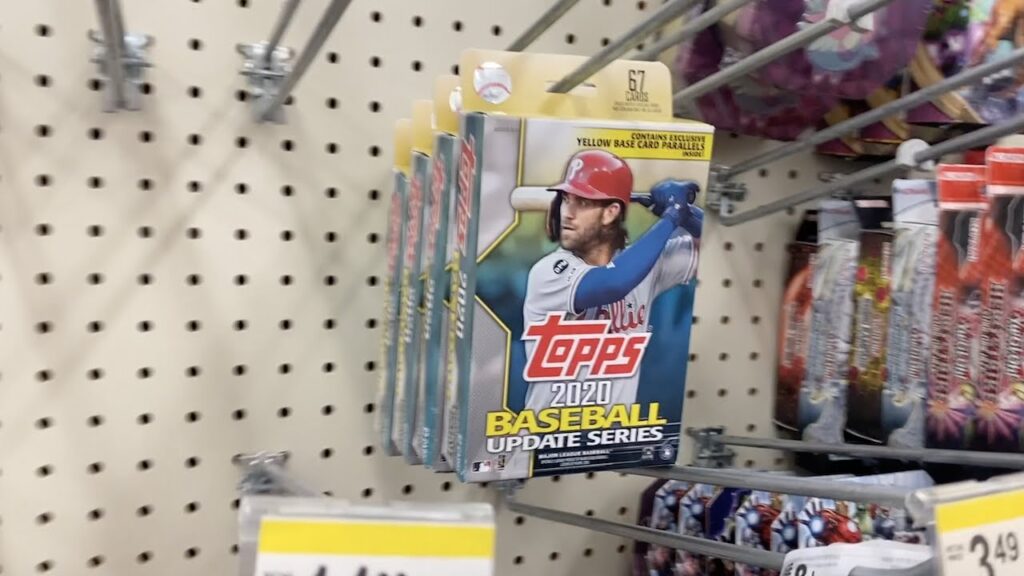 For example, Tatis's US56 2019 Topps Update card has 99 total yellows graded by PSA (only 40 10s) and 328 total golds (119 tens). Having 3x less yellows than golds certainly makes it attractive based on scarcity.
Shop for Walgreens exclusive yellow parallel cards on eBay
Also there's something like 3 or 5 per hanger, so they're easy to get a bunch of if you catch stock, or even catch a restock—more on that later on.
Note that Walgreens also sells regular flagship hanger boxes. Just because it's for sale at Walgreens doesn't mean it necessarily has the yellows. Some of the ones with the yellows say it right on the front, others you have to check the UPC.
Walgreens can also have good repacks. There were some really good Pokemon ones about a year or two ago but there are desirable sports repacks that they offer, too, from time to time. They also sometimes have exclusive Pokemon "mega tins" at Walgreens that have 6 packs instead of 4.
How to get the best deals on Walgreens Sports Cards?
There's no easy "hack" for getting the best deals at Walgreens. That said, something to bear in mind in knowing what to buy. Much like the Topps yellow parallels discussed above, having something you're strategically looking for gives you the best odds of a positive ROI.
If you're making money on Walgreens cards, it's not about flipping as much as buying products to a) either keep sealed and hope they age well or b) boxes you intend to open and sell the hits.
Since these are retail products, the second option is risky, but since the boxes don't cost too much, it can be fun.
Unless you're ripping chasing a low-population Walgreens exclusive, the best bet for making money with Walgreens sports cards is buying brands that prove to have some longevity and holding them to sell sealed in the future.
What does that mean? To help get the ball rolling, here's a guide to Top Football brands to invest in long-term.
Additionally, it's good to know about the repacks. Monitor the chatter about repack releases. If anything good hits the Walgreen shelves, you'll know about it if you check in with YouTube, Twitter, Blowout Cards threads, or your other favorite sports card buzz sources (pro-tip: CardLines has you covered).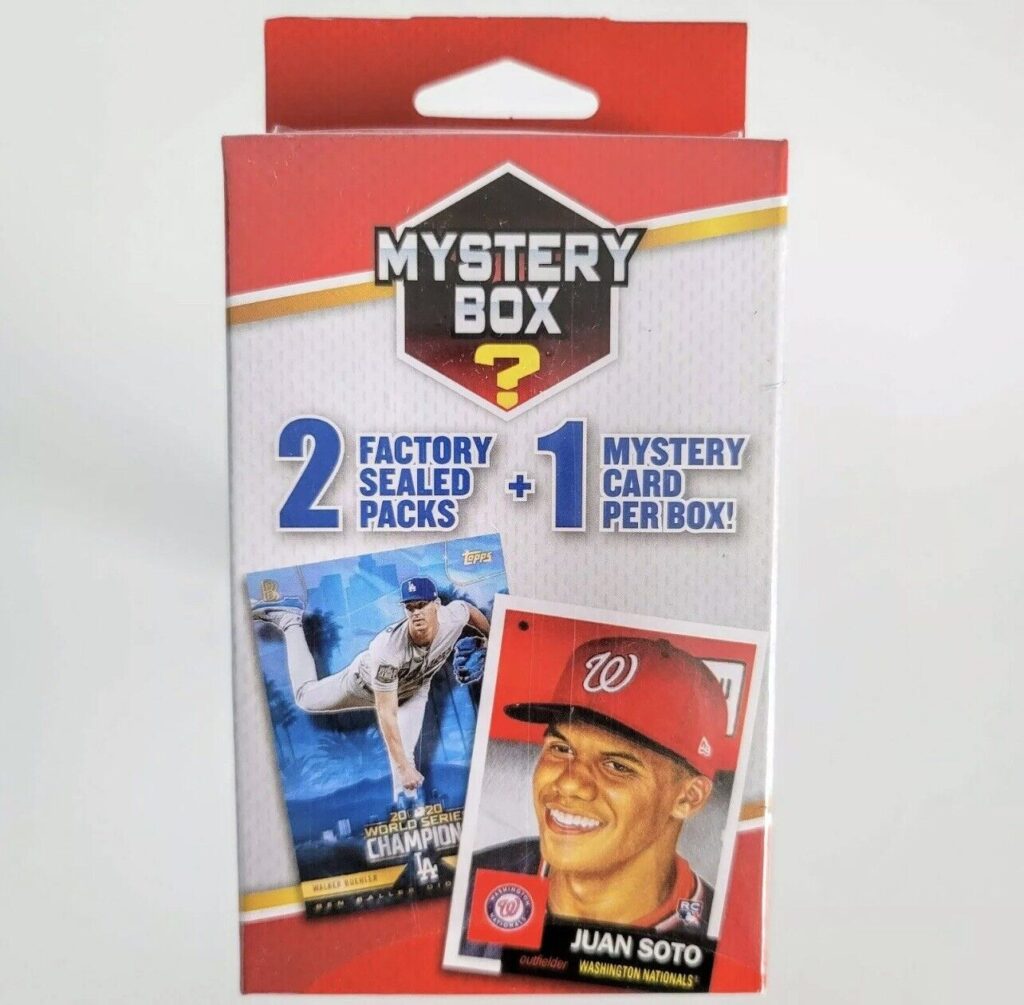 Buying Walgreens Sports Cards online
Unfortunately, you can't buy sports cards very well online at Walgreens. You can look right here, but if you want the best cards, you'll need to get them in-store, and to do that you'll need a good understanding of the restocks.
How to determine the restocks of Walgreens Sports Cards?
If you're wondering how to figure out restock days for Walgreens sports cards, you're not alone. In short, it varies widely, at least when it comes to knowing the right day and time.
Walgreens cards are restocked at different times and days across the country.
So how do you know? Just ask. Seriously, find a manager and ask them. If you're polite (and don't look like you'll fight a man over a box of Optic), they'll be forthcoming with helpful information.
If you want in on a big release, don't be afraid to ask.
And while you can catch a restock, members of the CardLines team have had luck asking Walgreens to just order more and then hold the product until we come to pick it up. This, in particular, was done with the 2021 Topps Series 2 releases mentioned above.
But there's a risk, here. The price stickers you see at Walgreens say "Topps Hanger Box" — they don't specify the release. So when Walgreens does reorders, they'll order more "Topps Hanger Box," but that could be flagship Topps, or it could be Heritage or something else.
So the bad news is that if you ask them to order more hangers, you might end up with a stack of Heritage hangers.
Ready to go hunt sports card releases at Walgreens?
We hope this guide helps you make money on Walgreens sports cards plus secure some of your favorite releases.
What sports cards are you hunting for at Walgreens? Let us know on Twitter @card_lines and be sure to subscribe to our newsletter, which brings investment advice and industry news straight to your inbox twice a week.

Frequently asked questions on Walgreens sports cards
When does Walgreens restock sports cards?
The restock times of Walgreens sports cards vary greatly by location. The best way to find out is to simply ask a Walgreens manager. They will also, occasionally, be able to reorder cards for you.
Does Walgreens sell sports cards?
Yes! You should be able to find sports cards, repacks, and TCG cards at your local Walgreens.
Where are sports cards in Walgreens?
In most Walgreens locations, sports cards are located as part of the toy isle.
Can you return sports cards to Walgreens?
No, you can no longer return sports cards at Walgreens due to abuse from shoppers who would open them, reseal and then return.