What's In Panini Crown Royale Basketball 2022-23?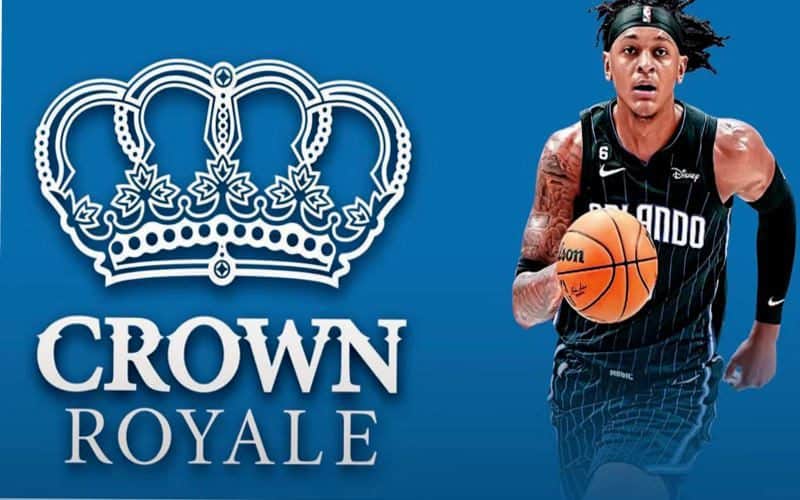 One of basketball's most unique products, Panini Crown Royale, is back for the 2023 season. Crown Royale will once again feature its signature die-cut design, with cards in the shape of crowns.
The expected release date has been pushed back significantly, and a product we once thought would hit the shelves in mid-April is now being projected as a May 17th release.
In this article, I've got everything you need to know about Crown Royale, including a few of the best mock-ups, and investing info, a brief history of this iconic product that reaches back to the 1990s.
Shop for 2022-23 Panini Crown Royale Basketball boxes on eBay
History of Panini Crown Royale Basketball
Crown Royale debuted in 1995 under the parent company Pacific. The first releases featured only Football, Baseball, and Hockey.
The "royalty" theme has been consistent even from the early releases; in fact, Crown Royale cards from the 1990s played into the theme even more. Cards featured the same crown shape at the top, and players' bios were written on scrolls in medieval font.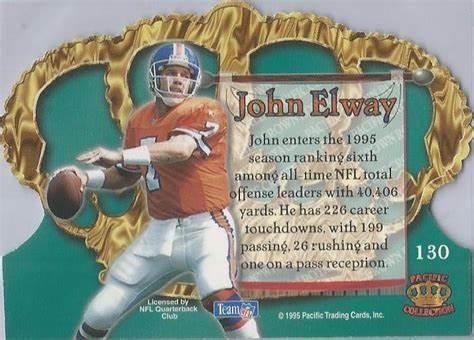 Production of Crown Royale was halted in 2002, and we didn't see anything from the brand until it was acquired by Panini in 2009.
Crown Royale's return featured basketball cards for the first time and was dubbed as a "throw-back to the 90's" type product. The basketball release only saw one season (2009-2010) before going on another hiatus.
In 2017-18 basketball was brought back once again in its modernized form; featuring more autos, shinier inserts, and bigger chases. Over the past 5 years, Crown Royale has cemented itself as a hobby staple.
Shop for 2022-23 Panini Crown Royale Basketball boxes on eBay
About 2022 Crown Royale Basketball
Crown Royale is a smaller product, with each hobby box offering only 8 cards (down from 12 that were in 2019-20.)
The smaller release works well with the unique die-cut design because finding a way to store a bunch of oddly shaped base cards (either in a binder or sleeves) is frustrating for most collectors.
The breakdown of those 8 cards will be very similar to what we've seen in the last 3 releases, with 1 auto, 1 memorabilia card and 2 parallels and inserts. Base cards will be offered in "crystal parallels" with increasingly exclusive colors such as red (#/99), blue (#/49), platinum (#/1) and more.
Shop for 2022-23 Panini Crown Royale Basketball boxes on eBay
Best cards in Panini Crown Royale Basketball 2022-23
Panini has released a few mock-ups from several of the biggest hits inside. Here's the best of what we've seen so far.
Kaboom!
While Absolute is home to the ever-popular Kaboom! card in football and baseball, Crown Royale is where you can find basketball versions. Kaboom! is undeniably the biggest chase of this product and one of the anchors that keeps Crown Royale relevant.
We've written about them extensively on this site, including a full rundown on their history here.
This year's mock-up features Paolo Banchero, dunking against a colorful, wavy background. While it's a clean card that sticks pretty closely to designs it's used in previous years, there has been some pushback from collectors who want to see a little more creativity/variance in the Kaboom! cards from year to year.
Kaboom! Is a case hit, and will feature an even more exclusive gold parallel (seen in the mock-up above.)
Future Kings
Other than the Kaboom! card, rookie auto cards will be the most valuable chase in the product. Future Kings is my favorite of the auto cards that Panini has released so far. As the name suggests, it will feature the league's best rookies.
The mock-up itself shows a unique die-cut shape, with a high-quality in-game image of Ben Mathurin. The auto is big and prominently features in the center of the card, and the faded rainbow background gives it some flair without being over the top.
Last year's product featured a pretty deep checklist (40 players), all of whom were rookies. They were numbered to #49.
Shop for 2022-23 Panini Crown Royale Basketball boxes on eBay
Heirs to the Throne
The memorabilia cards are another big draw to this product, and Heirs to the Throne looks to be one of the best.
Admittedly there isn't much of a conceptual difference between this card and Future Kings — both play on the product's royalty theme and feature "next-up" players. That said, any card whose checklist is mostly rookies is going to be popular.
The Heirs to the Throne card does have a somewhat unique design. The player picture is in a circle cutout and is pretty small. The patch sits just below the player image and is also relatively small.
These memorabilia cards aren't numbered, but last year they came in a prime (#/10) and super-prime (#1) parallels.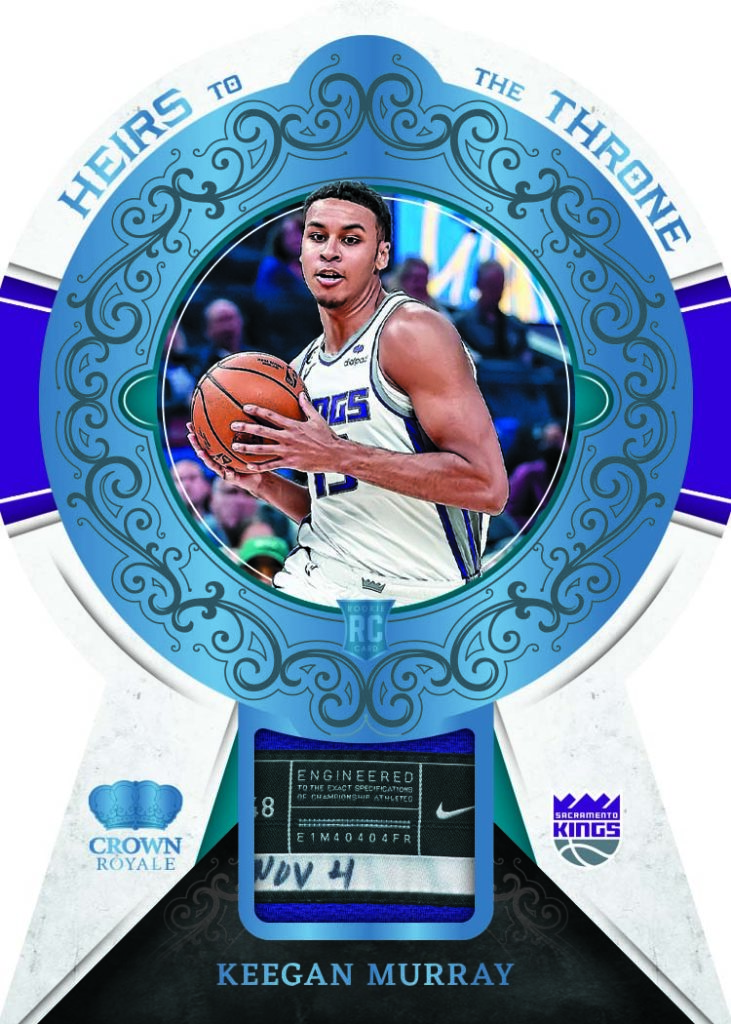 2022-23 Panini Contenders Basketball hobby box info
The 2022-23 Crown Royale hobby box will be released on May 17th. Retail boxes have been listed at $360.
Here's what each hobby box will contain:
8 cards per pack
1 card per pack
16 boxes in a case
And here's what Panini has released about the card breakdown inside:
1 auto
1 memorabilia card
2 inserts or parallels
Shop for 2022-23 Panini Crown Royale Basketball boxes on eBay
2022-23 Crown Royale Basketball investing info
Interested in Crown Royale as an investment? Here's the lowdown on how wax and singles from previous year's releases have been selling so far in 2023, and how this year's product compares.
Shop for 2022-23 Panini Crown Royale Basketball boxes on eBay
Crown Royale Basketball wax
Looking at the past few years, it's tough to pin down exactly what the value of this year's box should be.
The difference between the '20-'21 and '21-22 resale prices is huge. Sure, a lot of mid-tier hobby boxes have seen a dip in value in the past few years, but the drop we saw with last year's product is bigger than most other basketball releases.
Here's a look at this year's average eBay selling price compared to the past two years:
| Product Year | Average Ebay Selling price in 2023 |
| --- | --- |
| '22-23 | $326 |
| '21-22 | $260 |
| '20-21 | $430 |

As you can see, this year is about smack dab in between what the past two years have been selling for. My guess is that this year's price will drop over the next few months, and regress towards the price of the '21-22 product.
Of course, most of that depends on what this rookie class turns into; a few budding superstars can change the value and trajectory of a product any year. But while this year's class has some likely future all-stars such as Paolo Banchero, Jalen Williams, and Benedict Mauthurin, there's nothing that indicates that it'll turn into a surefire megaclass.
Panini Crown Royale singles
If you're going to invest in Crown Royale cards on the resale singles market, Kaboom! is your best choice. As I mentioned before, it's by far the most popular card in a Crown Royale box, meaning it's your best bet to hold its value, and most likely to attract a number of interested buyers.
Here's how some Kaboom cards from last year's product have been selling in the past few weeks:
| Kaboom! card | Recent Selling Price (as of 4/28/23) |
| --- | --- |
| Cade Cunningham # 21 | $2,765 |
| James Harden #45 | $485 |
| Trae Young #9 | $373 |
| Jalen Suggs #24 | $610 |

It's worth mentioning that these are case hits, so pulling one is unlikely (1 in 16), and ripping a box with the hopes of pulling and flipping a Kaboom! card is basically just a lottery ticket.
But if you are looking to invest in a young player, especially a rookie you think has the potential to break out in the next few years, buying their Kaboom! card as a single is a smart investment that could make you some money if your prediction bears out.
Bottomline of 2022-23 Panini Crown Royale Basketball
Crown Royale is back, and they haven't messed much with the formula we've seen in the past few years. Hobby boxes will have 1 auto and 1 memorabilia card, with the prospect of an elusive Kaboom! looming as a case hit.
For those looking to turn a profit, ripping Crown Royale or buying and holding it at its current selling price probably aren't the safest bets. Nevertheless, Crown Royale is a great product for those who are looking for something different and like its uniquely shaped die-cut cards.
Shop for 2022-23 Panini Crown Royale Basketball boxes on eBay