Evan Mathis Openly Admits To Trimming Cards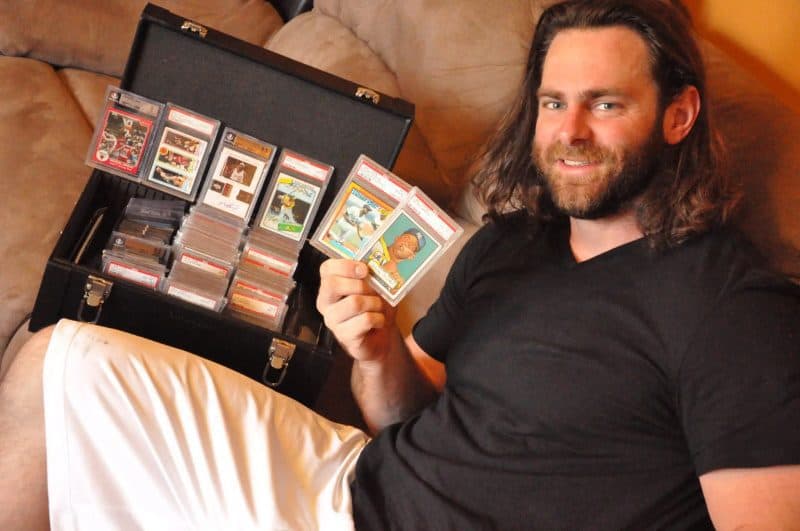 Former NFL player Evan Mathis has long been involved in the hobby. Since 2019, there has been a good deal of talk linking the offensive guard to card trimming on an industrial scale. But for a few years, not much happened on that front.
But now Mathis has now emerged as an advocate for trimming and altering cards. Evan Mathis Openly Admits To Trimming Cards as he posted a TikTok detailing how to perform card trimming. Yup, what used to be done behind closed doors and whispered about is now out in the open.
This may be a turning point for the hobby. If collectors and influencers just shrug their shoulders, trimming may now be embraced as an acceptable (perhaps even admired) aspect of card collecting.
Who is Evan Mathis?
Evan Mathis was an offensive guard best remembered for his time with the Philadelphia Eagles and the Denver Broncos. He won Super Bowl 50 with the latter in 2016 and earned two Pro Bowl selections with the former in 2013 and 2014.
Evan also had a strong college career with Alabama, helping the Crimson Tide to lead their conference in rushing yards in 2004. While selected relatively low in the 3rd round of the 2005 NFL Draft, he proved an outstanding, and occasionally elite, offensive guard.
Mathis first made headlines for his involvement with the hobby in 2018. The retired player sold a Mickey Mantle 1952 Topps card for $2.88 million that year. The card involved was a PSA 9 sold off through Heritage Auctions.
At the time, Evan said, "Just that image of the young Mickey Mantle, over the years, it's been a centerpiece of the hobby. I guess it's kind of like the Mona Lisa of the sports card world."
The Mathis card collection is so impressive that several write-ups of his role in the hobby appear in sports cards and general media. For example, Beckett reported that his collection included a PSA 10 1990 Topps Frank Thomas NNOF and a PSA 8 1932 Caramel Babe Ruth.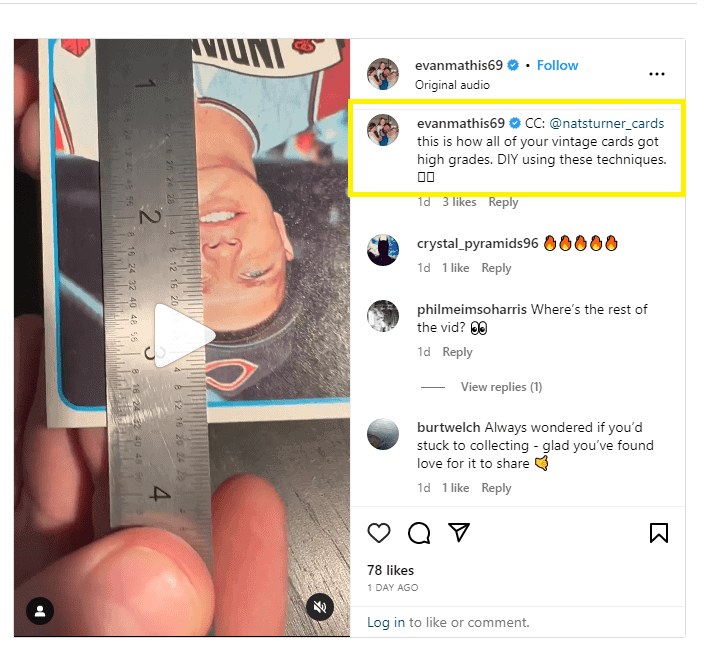 Evan Mathis openly admits to trimming cards on TikTok
What is in the video? Well, you can watch for yourselves and make your judgments.
The video starts with Mathis telling us what supplies you need to trim your vintage cards effectively. Next, he demonstrated on a beautiful 1965 Topps Gary Bell vintage card. Mathis explained that the card was off-center and, therefore, "removing the top will center it, as well as get rid of some soft corners."
The clip shows viewers how to do the following:
Remove dirt and restore shine to card edges.
Restore frayed or removed gloss to the card.
Compress frayed edges to make the card flat and uniform.
Trim cards to remove weak edges and center a card without making the cut too clean, to maintain a vintage feel.
Clean up the "fuzz" surrounding the edges of the card.
Keep the front, back, and all sides of the card uniformly fresh and clean looking.
One painfully clear thing from this clip is that Mathis knows precisely what he is doing. Elements in the hobby have been suspected of his involvement in trimming at least since 2019. And this clip shows that he has put those years to "good use" and become a master of the craft.
Even worse, Evan is very good at explaining the ins and outs of card trimming. So there is no doubt that some enterprising individuals will see this and want to try it for themselves. Meanwhile, those with some experience in card trimming may pick up some valuable hints. In other words, this is a really well-made tutorial, which is not a good thing.
A little jab at his critics
Mathis even taunted his foes on the Blowout Forums, who have held him accountable for card trimming for years. After pruning the Gary Bell card, he held the trimmings and said, "A moment of silence on Blowout Forums for these pieces of cardboard."
Ok, now you are just rubbing everyone's face in it. The teasing of the sleuths on Blowout continued in the comments section. Mathis wrote to one user, "Can you get the guys on Blowout to unblock me? The threads are so good!"
The tutorial finishes with a before and after juxtaposition worthy of Weight Watchers. Mathis says, "The left is before, the right is after. I think the right looks much better. I am very proud of this haircut."
Links to PWCC
This was not the first time Evan Mathis was linked to card trimming. However, it is undoubtedly the most blatant and shameless. At least so far.
If you are a loyal Cardline reader (and you better be!), you should already be familiar with PWCC and the suspicions surrounding that Oregon-based company. Back in 2021, we covered a scam that a company was running to sell trimmed cards while presenting them as PSA-authenticated items. Later that year, we revealed their part in extensive shill bidding on items in their possession.
If so, PWCC is generally an unwholesome actor. One of the main concerns is that they knowingly buy trimmed cards and intentionally cover that fact through various mechanisms.
These alleged scams involved buying from a roster of skilled card trimmers. It has long been suspected that Evan Mathis is one of the unscrupulous individuals involved.
That time Evan Mathis left a review on a card trimmer
Suspicions of Evan's involvement in card trimming began to circulate in 2017. The reason? The former pro-bowler left a review for an eBay account from which he had purchased an Ingento GT Paper Trimmer 18″ Model for $19.
It was a pretty fantastic thing to do, considering that this is the kind of thing a collector and reseller should probably keep their trimming-related purchases on the down low.
A well-researched thread on Reddit showed that after purchasing said card trimmer, the player had resold cards in altered condition. Particularly notable was the alteration of the beautiful 1971 Topps Thurman Munson All-Star rookie card, which had clearly had its damaged corners trimmed.
The card had previously been submitted to PSA and received a 6 grade. However, after the trimming, the resubmitted item got a 7.5.
At the time, Mathis defended himself by writing the following post on Reddit: "If someone posts about me anonymously on the internet and makes a bunch of claims, that's really no invitation for me to have a reasonable conversation. So I'd rather just let it be and have fun with it instead of whining, hiding, or defending."
At the time, many observers believed that it was only a matter of time before Mathis faced charges. One Blowout Forum post from 2019 stated, "Something tells me the FBI investigation is about to get a lot larger. Better lawyer up, Evan." But ultimately, nothing happened.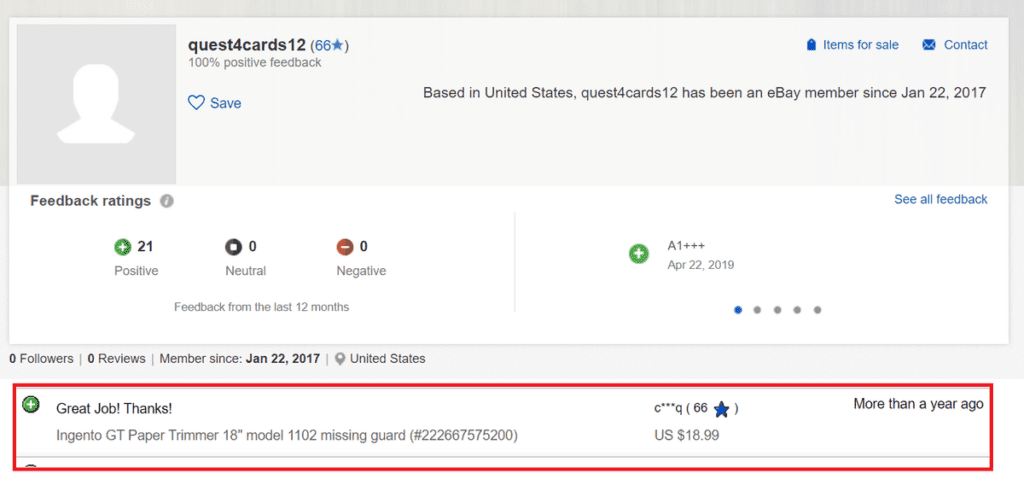 What cards has Evan Mathis believe to have been trimmed
The biggest and most famous cards Mathis has sold over the years were purchased already graded. Namely, the 1952 Topps Mickey Mantle and the Frank Thomas NNOF PSA 10.
However, many cards Mathis has allegedly sold were bought raw or were re-slabbed. As a result, astute observers have noted significant differences in the appearance of these cards pre and post-Mathis.
How do we know that these cards went through Mathis? As one of the Blowout Forums detectives, known as 3124508 on COMC, discovered, they were shipped to an eBay account with Evan's home address on file. That is pretty strong evidence for the alleged tampering if you ask me.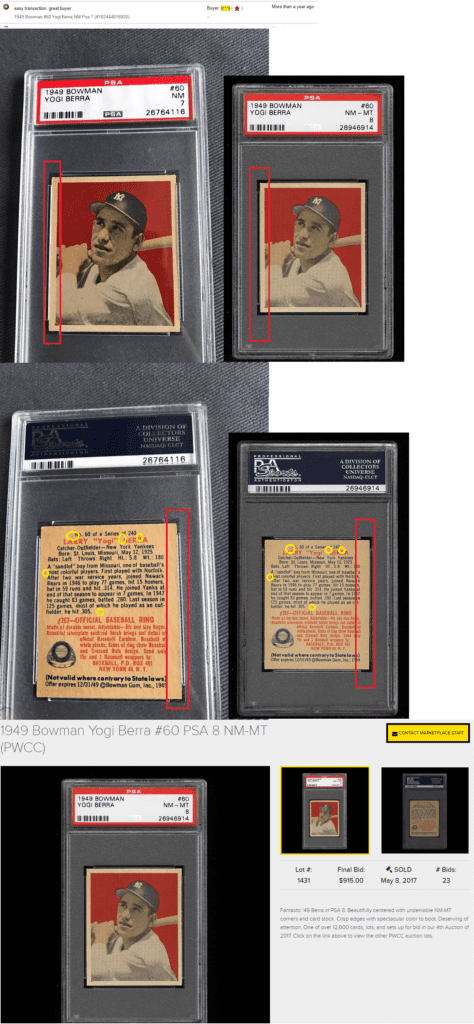 A list of cards strongly suspected to have been altered by Evan Mathis includes:
1971 Topps Turman Munson, All-Star Rookie #5 – improved from a PSA 6 to a PSA 7.5.
1949 Bowman Yogi Berra #60 – improved from a PSA 7 to a PSA 8.
1965 Topps RBI Leaders #5 – improved from a PSA 8 to a PSA 9.
1965 Topps Cardinals Rookies (Steve Carlton) #477 – improved from a PSA 8.5 to a PSA 9.
1986 Fleer Michael Jordan #57 – improved from a PSA 7 to a PSA 9.
2017 Panini Court Kings Josh Hart Auto #JOH – from somewhat damaged looking raw card to clean looking PSA 10.
1933 Goudey Babe Ruth – from PSA Altered to PSA 4.
1969 Topps Reggie Jackson Rookie Card #260 – from PSA Altered to PSA 6.
1995 Skybox E-XL Michael Jordan Natural Born Thrillers Insert #1 – from BGS 9 to PSA 10.
2000 Upper Deck Legends Wayne Gretzky Epic Signatures Auto #WH – from a somewhat damaged-looking raw card to a clean-looking PSA 10.
2014 Stadium Club Mookie Betts Autographs #MBE – from somewhat damaged-looking raw card to clean-looking PSA 10.
1997 Skybox Z-Force Michael Jordan Rave Reviews #6 – from somewhat damaged looking raw card to clean looking PSA 10.
1996 Ultra Michael Jordan Platinum Medallion #P280 – from somewhat damaged-looking raw card to clean-looking PSA 10.
1996 Ultra Allen Iverson Platinum Medallion #P82 – from BGS 8 to PSA 10.
1996 Ultra Allen Iverson Platinum Medallion #P82 – from BGS 9 to PSA 10.
1972 Topps Red Sox Rookies (Carlton Fisk) #79 – from PSA 9 to PSA 10.
1957 Topps Roberto Clemente #76 – from PSA 5 to PSA 5. Hey, it doesn't ALWAYS work.
1969 Topps Johnny Bench All-Star Rookie #95 – from PSA 8 to PSA 10.
1967 Topps Mets Rookies (Tom Seaver) #581 – from PSA 8 to PSA 10.
1966 Topps Willie Mays #1 – from PSA 7 to PSA 8.
1966 Philadelphia Gayle Sayers #38 – from PSA 8 to PSA 8. Yup, didn't work this time either.
1969 Tom Seaver #480 – from PSA 7.5 to PSA 8.5.
1967 Topps Harmon Killebrew #460 – from PSA 8 to PSA 9.
We should note that although there is no chance Evan Mathis altered the high-value cards he bought from the Dimitri Young collection, there are persistent rumors that they have also been trimmed.

Other scandals and issues Evan Mathis has been involved in
We have established that Mathis has a long history of alleged involvement in card trimming. But that isn't the only form of problematic behavior the former NFL star has been accused of.
In 2013, while still an active player for the Philadelphia Eagles, Mathis posted a picture of himself urinating on a sign at the Washington, DC, IRS headquarters. The photo the player uploaded to Instagram included the well-thought-out caption "audit this."
According to Federal law, defiling government property is against the law. The relevant section of Federal Law 1666 – Destruction of Government Property: "When property damage does not exceed $100, the offense is a misdemeanor punishable by a fine of up to $100,000, one-year imprisonment, or both."
If so, the post on TikTok was not the first time Mathis has posted what could be interpreted as evidence of breaking the law on social media. But he has never been held accountable.
Why does it matter that Evan Mathis openingly admits to trimming cards?
There are a lot of bad apples in the hobby, and the actions of Evan Mathis reflect practices that are all too common. However, this is trimming on the most monumental scale imaginable. Mathis has been involved in some of the hobby's most significant vintage card sales. The cards he has sold, allegedly tampered with, have been sold for millions of dollars.
Of course, the most famous item to pass through his hands was that PSA 9 1952 Topps Mickey Mantle, which sold for $5,200,000. The video immediately exacerbated long-standing doubts surrounding that card and other high-value items passed through Evan Mathis's hands.
Another individual long suspected of trimming cards, Jason Koontz, commented on the TikTok video. He wrote, "know we know how he got the 1952 Topps Mickey Mantle PSA 9!" To which Mathis replied, "Don't forget the Frank Thomas NNOF 10."
LOL, guys. Hilarious. Though not funny, we should note that this is a joke rather than an admission of guilt. Mathis purchased that item, a 1990 Topps Frank Thomas card with no name on the front, as a PSA 10. The former football player bought it off retired baseball player Dimitri Young in 2012 for $24,244. One hell of a deal.
Mathis clearly enjoyed the attention that his tutorial had garnered throughout the hobby. He asked followers, "Y'all let me know what you want to learn next. For example, we can do wax and gum stain removal, sheet cutting, or crease removal."
The former football star clearly has supporters for his approach, and some are pretty vocal. One user commented, "I swear they are making a big deal out of nothing … Making imaginary rules for how people should collect their cards." Mathis basked in the support and answered, "They worship cardboard gods."
The involvement of PSA
Cards are trimmed so that they can get better grades. More often than not, these altered cards are sent to PSA in the hope that higher grades will increase the profit from card sales.
According to hobby standards, trimmed cards should not be graded since the grade would be considered inauthentic. According to the PSA website: "PSA will not grade cards that bear evidence of trimming, re-coloring, restoration, or any other forms of tampering, or are of questionable authenticity."
However, many trimmed cards are known to have gone through PSA and received excellent grades. Indeed, many of the cards Evan Mathis allegedly altered went through that grading process. When suspicions over the actions of Mathis, PWCC, and other actors believed to have been involved in card trimming, PSA stated that it was aware of the allegations and was looking into them.
Here is the complete statement by PSA President Steve Sloan back in 2019:
PSA is aware of recent hobby message board activity and is conducting its investigation into the matter.
PSA processes more than two million cards each year and will not let isolated acts from a few dishonest actors deter consumer confidence in our brand. We will act against anyone who violates PSA's Terms & Conditions by knowingly submitting altered cards for authentication and grading. While our actions will be conducted privately, please know that the impact will be felt by those attempting to mislead collectors for personal profit.
As with any financial transaction, contact the seller to request a refund if you are unsatisfied with your purchase. In addition, you may send the card to PSA for review under our Financial Guarantee of Grade and Authenticity if the seller is unknown.
Does PSA care about card trimming?
PSA is well-versed in combating fraud and has addressed these issues professionally and directly for nearly thirty years. After all these years, our hobby is stronger than ever. Rest assured that PSA will not let the actions of a few have any lingering impact on the hobby or the PSA brand."
Needless to say, the problem has not been fixed. In fact, it only seems to have been exacerbated in recent years. So much so trimmers are no longer keeping their actions secret. The comments to the TikTok were instructive of this element. One user commented confidently, "The thing is, PSA won't grade it right. It would come back trimmed."
To which Mathis answered flippantly, "Because I posted a video of it?"
However, we are comforted that PSA has reportedly banned Evan Mathis from submitting cards for grading. When one user suggested that Mathis had been forbidden from grading due to this video, the newly minted card-altering guru replied, "They banned me years ago. I've been on 42 group subs under 42 pseudonyms ever since."
So, it looks like PSA is doing the minimum. However, it certainly isn't having the desired effect.
No matter how you look at it, PSA is a severe part of the problem. One Blowout Forums user cut to the quick of the matter: "It's ironic and perverse that the very thing that is meant to prevent and penalize card altering actually facilitates and rewards it. A lot of the value grading companies offer is in legitimizing altered cards. The more valuable a graded card is, the more likely it's been altered. A very high number of vintage-graded cards are no doubt altered. They were manufactured using more basic and simple technology compared to modern methods. They were cut less precisely and varied more in size and shape. They have surfaces that are much easier to alter."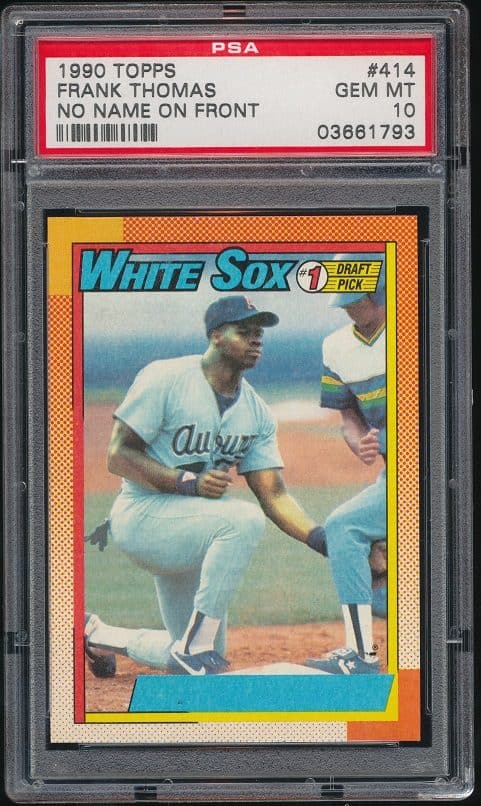 Will anyone care that Evan Mathis openly admits to trimming cards?
At first glance, this seems like a bombshell. A player of the importance of Evan Mathis openly shows how he trims cards. It makes you wonder what percentage of the vintage cards on the market, especially those with high grades, have been tampered with. Therefore, it not only casts doubt on the specific items that went through Evan's hands. It casts a shadow over the entire business of vintage cards.
However, there is a reason Mathis has been so open with his trimming skills. Everyone in the hobby knows what he is doing. The former football star wrote in his comments: "If you buy graded cards, you probably have plenty of trimmed cards. Accept it or quit collecting graded cards."
So how does Evan justify what he is doing? He wrote, "This hobby would barely exist without card doctors. They are one of the most critical parts of the entire ecosystem."
Aside from some watchdogs like the folks at Blowout Forums and Ryan Tedards at Sports Card Radio, no one seems to care. There are a lot of powerful parties with an interest in ignoring this issue.
The owners of the cards don't want to pay attention because it will lower the value of their collections. PSA hopes the problem will disappear because they are either being fooled or complicit. All the auction houses and sale platforms will lose massive commissions if they acknowledge how many of the cards they sell are trimmed.
The final word on Evan Mathis card trimming
The reaction to this scandal is absolutely pivotal. That is why the lack of urgency in the hobby on this issue is genuinely distressing. If there is a collective yawn, many people will look at the TikTok Mathis posted as a fountain of valuable tips and tricks.
Card trimming will become even more ubiquitous than it already is. Only an open outcry, moving beyond the usual suspects, will force the actors involved to take responsibility. However, I won't be holding my breath based on previous reactions. It's almost like people in this hobby enjoy being scammed.
Other hobby controversies