Does 2022-23 Panini Prizm Basketball Live Up To The Hype? [Checklist Added]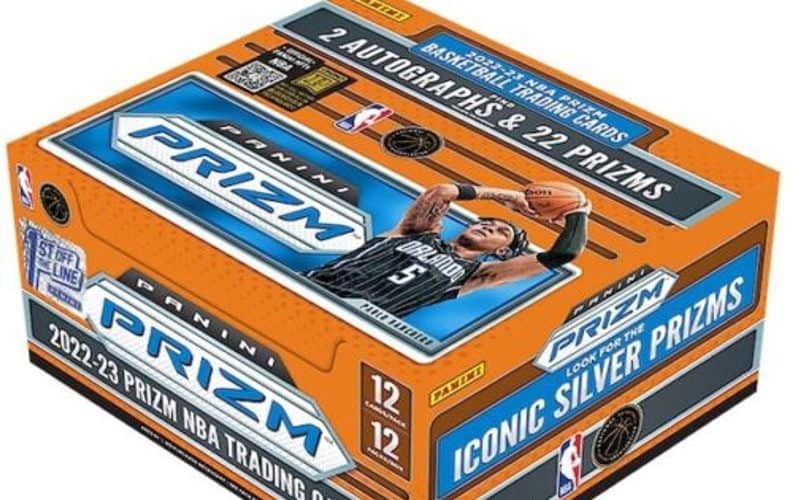 2022-23 Panini Prizm Basketball is here, just in time for the end of the regular season! Ok, fine. Let's go along with the narrative: the Panini Prizm Basketball line is ready to drop as we enter the playoffs.
And we are somewhat belatedly here for it. But how does it compare to the previous year's releases? Does it retain the magic we all know and love? The 2022-23 Panini Prizm Basketball review has the answers you seek.
Shop for 2022-23 Panini Prizm Basketball boxes on eBay
2022-23 Panini Prizm Basketball release date
The 2022-23 Panini Prizm Basketball hobby box drops on April 12, 2023. The next date set in stone is the Fast Break Edition Box, which is set for release on April 28, 2023. Of course, Panini Prizm Basketball is a retail-heavy release.
READ: 2023-24 Panini Prizm Basketball review
Indeed, it is one of those that used to cause grown men to camp out in Target for entire days. So we can expect blasters, retail packs, cellos, and all of those goodies. Most likely, those will pop up in a retail store near you around mid-May.
If this seems late to you, I feel you, my long-suffering friend. Ideally, we would like these basic sets to come out early in the season. But thank your lucky stars; it is coming now. Because last year this dropped on July 8, 2022. Right in the middle of the NBA Finals series.
Shop for 2022-23 Panini Prizm Basketball boxes on eBay
A history of Panini Prizm Basketball
The story of the Panini Prizm Basketball line is quite well known. Panini America purchased exclusive rights to the NBA in 2009. One of their main challenges was finding an adequate replacement for the dominantly popular Topps Chrome Basketball releases.
They had become phenomenally popular with the release of iconic rookies like those featuring Kobe Bryant and LeBron James.
In 2012-13 Panini released the first Panini Prizm Basketball box. In retrospect, Panini did a masterful job filling the significant hole left by Topps Chrome. Prizm was familiar to fans of Topps Chrome, as it was printed on similarly shiny chrome material.
But the designs had a somewhat different emphasis. Topps Chrome cards have a unified background color, which is usually hazy. The picture of the player stands in stark relief from the dark background. You can still see that design in Topps Chrome Baseball releases.
Shop for 2022-23 Panini Prizm Basketball boxes on eBay
However, Panini Prizm emphasizes the background and the borders, which are metallic and distinct rather than hazy. The players' portraits are more organically part of the design rather than standing out from the rest of the card.
Of course, everyone has their preference. I am definitely a Topps Chrome guy. But Prizm gave fans a sense of continuity without getting a cheap knockoff. And you can't argue with the results.
Prizm cards are the industry standard and the leading rookie for most basketball players from 2012-13 onward. Today, it is the major release we all wait for during the basketball (and football) season.
Panini Prizm Basketball formats
2022-23 Panini Prizm Basketball will have a plethora of retail releases after the hobby boxes drop. But unfortunately, we do not have a complete list yet. We only have the specs for the hobby boxes and the Fast Break releases.
But have no fear! We will use last year's stuff as the baseline. It should be reasonably similar. Panini has been known to cut corners and remove some of its formats as the end of their football and basketball contracts grow near. However, Panini Prizm Basketball is a central product, and we doubt they will do so.
Shop for 2022-23 Panini Prizm Basketball boxes on eBay
Hobby Box
12 cards per pack.
12 packs per box.
12 per case
Look for an average of 2 autographs, 22 Prizms, and 10 inserts per box.
A box presells for $799.
A case presells for $9,549.
Fastbreak Box
9 cards per pack.
10 packs per box.
20 boxes per case.
Look for 1 autograph, 12 Prizms, 6 inserts, and 1 Rookie Variation per box on average.
A box presells for $345.
A case presells for $6749.
1st Off the Line Box
Autographs – 2
Inserts – 10
FOTL-Exclusive Parallels – 2
Additional Prizms Parallels – 22
A box sells for around $1,200.
Hanger Box
20 cards per box
4 cracked ice inserts
Blaster Box
4 cards per pack
6 packs per box
1 blaster exclusive rookie memorabilia card
Mega Box
4 cards per pack
10 Packs Per Box
1 autograph, on average
Cello
15 cards per cello pack.
(1) 12-card pack and (1) 3-card Red/White/Blue Prizm pack
TMall Box
6 cards per box
1 exclusive base or rookie prizm red and yellow numbered to 49 or less.
2022-23 Panini Prizm Basketball pros
The price is a lot better than expected. Last year the release price point was around $850. This year, some predicted that to go up, but you can pre-order the hobby boxes for $750.
Now, if you are over a certain age, you may be thinking, I remember when I could get boxes at the Piggly Wiggly for a nickel. Or something. But we have to be realistic. The damage could have been a lot worse for a box of Panini Prizm Basketball.
The previews show Panini picking some fantastic images for the cards. The one non-rookie card everyone most looks forward to pulling is the Steph Curry champion series signature. It has a pic of the all-time great with the NBA trophy with his patented "sleeping motion" celebration. The inclusion of this pic is an inspired choice.
Shop for 2022-23 Panini Prizm Basketball boxes on eBay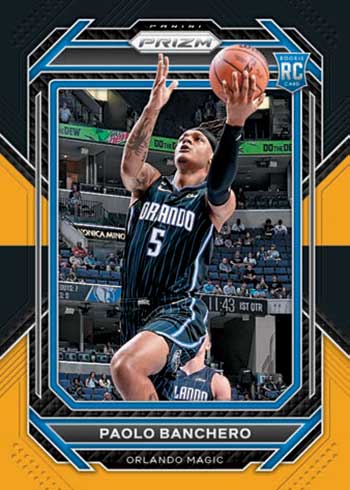 2022-23 Panini Prizm Basketball cons
The design is uninspiring. There is nothing particularly wrong with it. But it looks like the most typical Prizm-style design ever.
One user on Blowout Forums remarked: "If you actually look at the mockups for this product, you'd see they're the blandest designs yet, with the usual tackiness of ultra-modern Panini cards. At some point, these products will lose their appeal to end consumers. All that will be left are the few addicts who literally can't help but throw money away."
I wasn't sure whether to include the release date in the pros or the cons. After all, it is significantly earlier than it was last year. But ultimately, this is far too late for a flagship release.
On the other hand, if Topps can get their basketball and football releases early in the season, as they do with their flagship baseball stuff, it will be a big win. That will allow Fanatics to get football and basketball fans in their corner early.
An increasingly problematic part of Prizm is the dearth of solid inserts. Panini has a lot of strong inserts if you tally them up. The trouble is, they have so many products that the good inserts are spread thin.
It sometimes looks like Panini saves its best inserts for other releases because Prizm sells with no extra effort. Even worse, this year, some of the best inserts are missing.
Shop for 2022-23 Panini Prizm Basketball boxes on eBay
2022-23 Panini Prizm Basketball checklist
Panini has yet to release the complete checklist, though we are just days away from the release. Hopefully, they will have all the major rookies involved.
The selection is essential since the Panini Prizm rookies almost always have more value than their equivalents in other retail brands. Last year the base set had 330 cards, and we can expect the same number in 2022-23 Panini Prizm Basketball.
There is always a wide array of parallels in Panini Prizm. That is the point of the release, after all. But we don't have the exact specs for the prizm parallels just yet. But we do have the parallels for the Fast Break Prizms, and that should give us some idea:
Blue (/150)
Red (/100)
Purple (/75)
Pink (/50)
Bronze (/20)
Neon Green (/5)
Shop for 2022-23 Panini Prizm Basketball boxes on eBay
The best of 2022-23 Panini Prizm Basketball inserts
As we have already mentioned, the inserts in 2022-23 Panini Prizm Basketball are not the greatest. Some old favorites are gone, and the new additions are less than inspiring.
In addition, there are probably some inserts in this release we are not yet aware of. But we are happy to see that some of our absolute favorites are returning this year. Here is a summary of some of the standout inserts.
Shop for 2022-23 Panini Prizm Basketball boxes on eBay
Fireworks
What do Fireworks look like? Imagine what you think a Prizm insert called Fireworks looks like. Now open your eyes, and you are correct! It looks like any other Prizm card, with a bunch of fireworks in the background! Cool stuff.
The more common cards are worth nothing. But if you get a rare numbered card of a big rookie or star, it can be worth a few hundred dollars.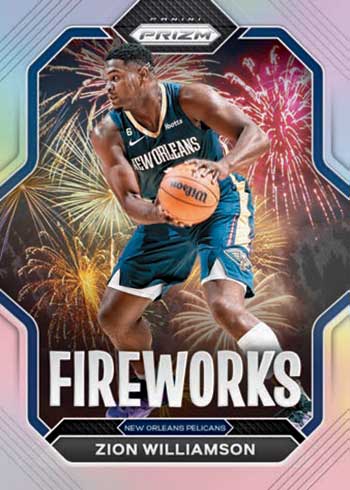 Prizmatic
These are fantastic inserts. What I love about Prizmatic is that they don't look like the other cards in the set. First of all, they are horizontal, which sets them apart. And they have Prizm-type shapes and designs across the card, with no borders.
Like the Fireworks card, you need a really low-numbered one of a big name to make some money. Even then, it's hundreds and not thousands.
Widescreen
The typical Prizm design has little breathing room for the players since the borders are pretty significant. Widescreen turns that on its head and places the player in a vast space. The name implies a large TV screen, but luckily Panini did not go that route.
After all, TV screen design is legit one of the oldest and most hackneyed in the hobby. Like the other Panini Prizm Basketball inserts, you need to really land a great one to make any money.
Luck of the Lottery
These new inserts show the NBA draft picks from 2022 in their draft day get-up. The design is nothing unique. But if you are into photos of guys with loud suits and mismatched caps from their new basketball teams, this is the insert for you.
Most of these will have low value. But a really low-numbered star rookie parallel should do great on eBay.
Panini Prizm Basketball 2022-23 autos
Prizm is mainly based on desirable parallels. Therefore, the signatures are sometimes seen as an afterthought in this product. But to Panini's credit, they include a relatively wide variety of autos nonetheless. Of course, the autos are stickers and, therefore, not the best on the market.
But regardless, there is usually a pretty good selection in Panini Prizm Basketball. This time they include Signatures, Rookie Signatures, Sensational Signatures, and Fast Break-exclusive Fast Break Signatures. O
f course, Rookie Signatures comprise the autos of first-year players. But the others are expected to have a wide array of rookies, veterans, and retired legends.
Shop for 2022-23 Panini Prizm Basketball boxes on eBay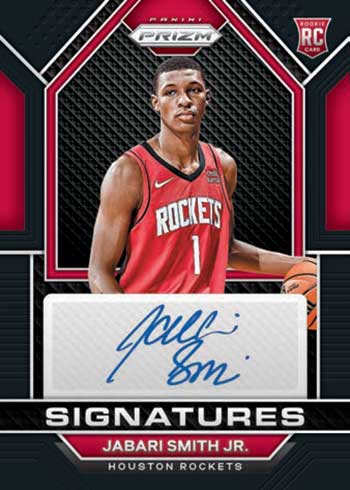 2022-23 Panini Prizm Basketball value
The 2022-23 Panini Prizm Basketball boxes cost slightly less this year. And in general, the boxes have a lower resale price than they used to due to the softening of the market over the last few months.
This means that the product's calculus may have changed since last year. We said the release was a great hold, flip, or rip at that time. But, of course, ripping is always the riskiest strategy. So did that change this year? Let's crunch the numbers.
Shop for 2022-23 Panini Prizm Basketball boxes on eBay
Wax
Did the slackening of prices also hit Panini Prizm Basketball? Let's compare the costs from last year to this year.
Most of the boxes have lost a significant amount of value. Anywhere between 15-30%. It reminds me of the immortal words of Kenny Rogers, "you got to know when to hold 'em. Know when to fold them." For many boxes, 2021 and 2022 was the time to fold 'em.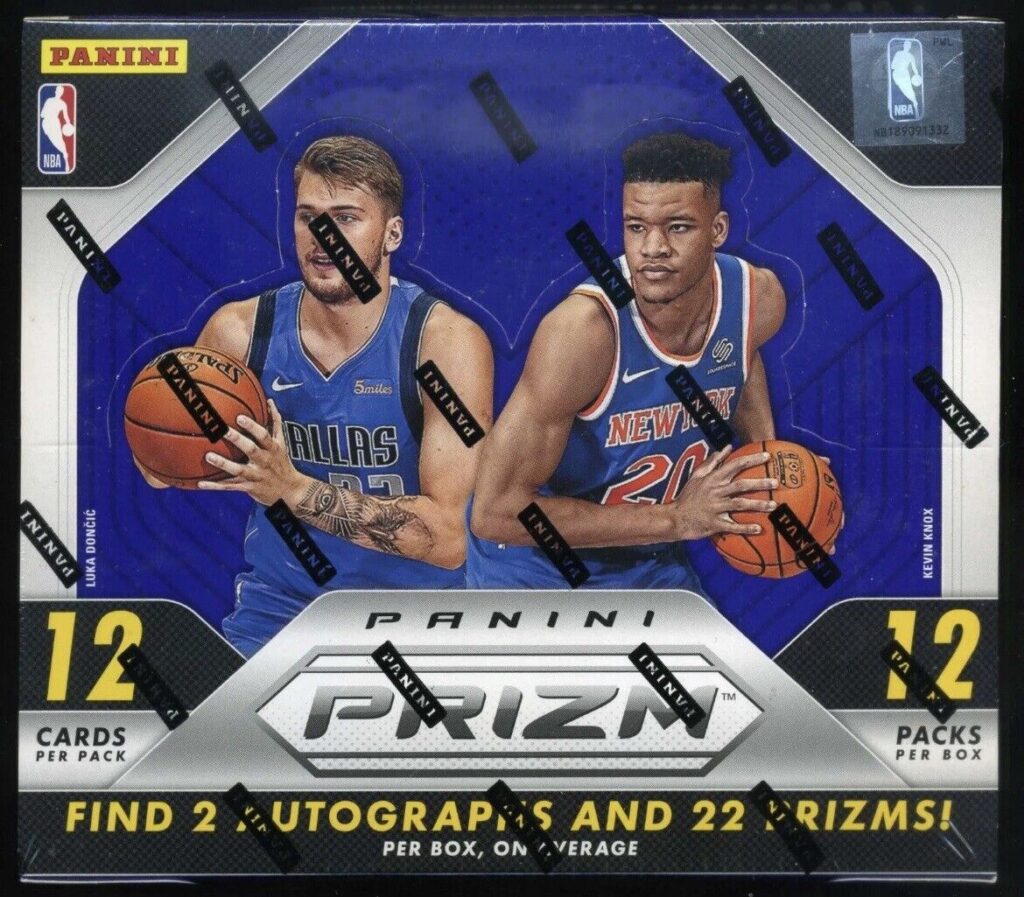 But there are a couple of things to note. First, none of the boxes crashed. People still want their Panini Prizm Basketball and are willing to pay $1,000 or more per box. Second, there is a notable outlier in the 2018-19 box. That is significant. It shows that it isn't as much an across-the-board devaluation as it is differentiation. We know more about the rookie classes now, and people are willing to pay more for a particularly strong rookie class. Finally, every box is going for more than the current buy-in. Therefore, your chances of losing money by stashing this product away for a few years are small.
Singles
What about the best singles in this product? Are the bigger hits worth ripping for? First, let's take a look at some hits from past boxes of Panini Prizm Basketball.
| Card | Value |
| --- | --- |
| 2018 Panini Prizm Choice Tiger Stripe Shai Gilgeous-Alexander Rookie (PSA 10) | $30,000 |
| 2019-20 Prizm Black Gold 5/5 Giannis Antetokounmpo (PSA 10) | $13,500 |
| 2019 Panini Prizm FB Neon Green /5 Zion Williamson Rookie (PSA 10) | $8,000 |
| 2021-2022 Panini Prizm Stephen Curry Gold Prizm /10 (PSA 10) | $5,300 |
Look, ripping is almost always a loser's game. So your chances of recouping the investment in the box are never particularly big. But Panini Prizm Basketball offers you a far better opportunity of doing that than most products. The reason is that an extensive range of cards can win you back the investment and then some.
The $30,000 SGA card at the top of this list is an outlier in the sense that it is the most expensive Panini Prizm Basketball card sold on eBay in the last few months.
But there are many cards over the $20,000 mark. Far more than you would expect for a non-high-end product. And there are cards at every conceivable price point down. The value is strong for any low-numbered star card. You can't say that about most releases.
The final word on 2022-23 Panini Prizm Basketball
The state of Panini Prizm Basketball is a bit different than usual. The boxes are not selling for quite as much. But they are still strong. And so are the singles. That changes the calculus somewhat.
Holding on to boxes is still probably the best play. The overall prices have gone down. But they didn't crash. And an excellent rookie class can even go up in value, even when the market is weak.
However, ripping seems more tempting than it did in the last few years. Especially when considering the vast array of solid cards that resell at high prices.
There is a more active and healthy market for Panini Prizm Basketball than just about any other product. Having said that, the final calculus is the same as it always was. Panini Prizm Basketball is a strong brand whether you want to rip or hold.
Shop for 2022-23 Panini Prizm Basketball boxes on eBay
2022-23 Panini Prizm Basketball checklist
For a full searchable checklist of 2022-23 Panini Prizm Basketball, please see the chart below:
| wdt_ID | Set | Player | Team | Position | Card number | Number of Cards |
| --- | --- | --- | --- | --- | --- | --- |
| 1 | Base | Robert Williams III | Boston Celtics | C | 1 | |
| 2 | Base | Jaylen Brown | Boston Celtics | F | 2 | |
| 3 | Base | Marcus Smart | Boston Celtics | G | 3 | |
| 4 | Base | Al Horford | Boston Celtics | C | 4 | |
| 5 | Base | Kyrie Irving | Dallas Mavericks | G | 5 | |
| 6 | Base | Malcolm Brogdon | Boston Celtics | G | 6 | |
| 7 | Base | Julius Randle | New York Knicks | F | 7 | |
| 8 | Base | Evan Fournier | New York Knicks | G | 8 | |
| 9 | Base | Obi Toppin | New York Knicks | F | 9 | |
| 10 | Base | Kevin Durant | Brooklyn Nets | F | 10 | |
| 11 | Base | Jalen Brunson | New York Knicks | G | 11 | |
| 12 | Base | Derrick White | Boston Celtics | G | 12 | |
| 13 | Base | Ben Simmons | Brooklyn Nets | G | 13 | |
| 14 | Base | RJ Barrett | New York Knicks | F | 14 | |
| 15 | Base | Quentin Grimes | New York Knicks | G | 15 | |
| 16 | Base | Cam Reddish | New York Knicks | F | 16 | |
| 17 | Base | Jayson Tatum | Boston Celtics | F | 17 | |
| 18 | Base | Patty Mills | Brooklyn Nets | G | 18 | |
| 19 | Base | Seth Curry | Brooklyn Nets | G | 19 | |
| 20 | Base | Cameron Thomas | Brooklyn Nets | G | 20 | |
| 21 | Base | Tyrese Maxey | Philadelphia 76ers | G | 21 | |
| 22 | Base | OG Anunoby | Toronto Raptors | F | 22 | |
| 23 | Base | Jeff Green | Denver Nuggets | F | 23 | |
| 24 | Base | Georges Niang | Philadelphia 76ers | F | 24 | |
| 25 | Base | Scottie Barnes | Toronto Raptors | G | 25 | |
| 26 | Base | Fred VanVleet | Toronto Raptors | G | 26 | |
| 27 | Base | Bones Hyland | Denver Nuggets | G | 27 | |
| 28 | Base | Michael Porter Jr. | Denver Nuggets | F | 28 | |
| 29 | Base | Pascal Siakam | Toronto Raptors | F | 29 | |
| 30 | Base | Chris Boucher | Toronto Raptors | F | 30 | |
| 31 | Base | Tobias Harris | Philadelphia 76ers | F | 31 | |
| 32 | Base | Jamal Murray | Denver Nuggets | G | 32 | |
| 33 | Base | Kentavious Caldwell-Pope | Denver Nuggets | G | 33 | |
| 34 | Base | Joel Embiid | Philadelphia 76ers | C | 34 | |
| 35 | Base | James Harden | Philadelphia 76ers | G | 35 | |
| 36 | Base | De'Anthony Melton | Philadelphia 76ers | G | 36 | |
| 37 | Base | Precious Achiuwa | Toronto Raptors | F | 37 | |
| 38 | Base | Gary Trent | Toronto Raptors | F | 38 | |
| 39 | Base | Nikola Jokic | Denver Nuggets | C | 39 | |
| 40 | Base | Bruce Brown | Denver Nuggets | G | 40 | |
| 41 | Base | Aaron Gordon | Denver Nuggets | F | 41 | |
| 42 | Base | P.J. Tucker | Philadelphia 76ers | F | 42 | |
| 43 | Base | D'Angelo Russell | Minnesota Timberwolves | G | 43 | |
| 44 | Base | Bojan Bogdanovic | Detroit Pistons | F | 44 | |
| 45 | Base | Mike Conley | Utah Jazz | G | 45 | |
| 46 | Base | Anfernee Simons | Portland Trail Blazers | G | 46 | |
| 47 | Base | Rudy Gay | Utah Jazz | F | 47 | |
| 48 | Base | Josh Hart | Portland Trail Blazers | G | 48 | |
| 49 | Base | Drew Eubanks | Portland Trail Blazers | F | 49 | |
| 50 | Base | Gary Payton II | Portland Trail Blazers | G | 50 | |
| 51 | Base | Darius Bazley | Oklahoma City Thunder | F | 51 | |
| 52 | Base | Aleksej Pokusevski | Oklahoma City Thunder | C | 52 | |
| 53 | Base | Jaden McDaniels | Minnesota Timberwolves | F | 53 | |
| 54 | Base | Jordan Clarkson | Utah Jazz | G | 54 | |
| 55 | Base | Luguentz Dort | Oklahoma City Thunder | G | 55 | |
| 56 | Base | Anthony Edwards | Minnesota Timberwolves | G | 56 | |
| 57 | Base | Austin Rivers | Minnesota Timberwolves | G | 57 | |
| 58 | Base | Jerami Grant | Portland Trail Blazers | F | 58 | |
| 59 | Base | Talen Horton-Tucker | Utah Jazz | G | 59 | |
| 60 | Base | Malik Beasley | Utah Jazz | G | 60 | |
| 61 | Base | Josh Giddey | Oklahoma City Thunder | G | 61 | |
| 62 | Base | Damian Lillard | Portland Trail Blazers | G | 62 | |
| 63 | Base | Jusuf Nurkic | Portland Trail Blazers | C | 63 | |
| 64 | Base | Shai Gilgeous-Alexander | Oklahoma City Thunder | G | 64 | |
| 65 | Base | Aaron Wiggins | Oklahoma City Thunder | G | 65 | |
| 66 | Base | Donovan Mitchell | Cleveland Cavaliers | G | 66 | |
| 67 | Base | Rudy Gobert | Minnesota Timberwolves | C | 67 | |
| 68 | Base | Karl-Anthony Towns | Minnesota Timberwolves | C | 68 | |
| 69 | Base | Tre Mann | Oklahoma City Thunder | G | 69 | |
| 70 | Base | Jaylen Nowell | Minnesota Timberwolves | G | 70 | |
| 71 | Base | Coby White | Chicago Bulls | G | 71 | |
| 72 | Base | DeMar DeRozan | Chicago Bulls | G | 72 | |
| 73 | Base | Marvin Bagley III | Detroit Pistons | F | 73 | |
| 74 | Base | Lauri Markkanen | Utah Jazz | F | 74 | |
| 75 | Base | Darius Garland | Cleveland Cavaliers | G | 75 | |
| 76 | Base | Jarrett Allen | Cleveland Cavaliers | C | 76 | |
| 77 | Base | Caris LeVert | Cleveland Cavaliers | G | 77 | |
| 78 | Base | Isaac Okoro | Cleveland Cavaliers | F | 78 | |
| 79 | Base | Ayo Dosunmu | Chicago Bulls | G | 79 | |
| 80 | Base | Nikola Vucevic | Chicago Bulls | C | 80 | |
| 81 | Base | Evan Mobley | Cleveland Cavaliers | F | 81 | |
| 82 | Base | Hamidou Diallo | Detroit Pistons | G | 82 | |
| 83 | Base | Alex Caruso | Chicago Bulls | G | 83 | |
| 84 | Base | Saddiq Bey | Detroit Pistons | F | 84 | |
| 85 | Base | Frank Jackson | Detroit Pistons | G | 85 | |
| 86 | Base | Kemba Walker | New York Knicks | G | 86 | |
| 87 | Base | Collin Sexton | Utah Jazz | G | 87 | |
| 88 | Base | Lonzo Ball | Chicago Bulls | G | 88 | |
| 89 | Base | Cade Cunningham | Detroit Pistons | G | 89 | |
| 90 | Base | Kevin Love | Cleveland Cavaliers | F | 90 | |
| 91 | Base | Alec Burks | Detroit Pistons | G | 91 | |
| 92 | Base | Zach LaVine | Chicago Bulls | G | 92 | |
| 93 | Base | Tyrese Haliburton | Indiana Pacers | G | 93 | |
| 94 | Base | Brook Lopez | Milwaukee Bucks | C | 94 | |
| 95 | Base | Buddy Hield | Indiana Pacers | G | 95 | |
| 96 | Base | Giannis Antetokounmpo | Milwaukee Bucks | F | 96 | |
| 97 | Base | Pat Connaughton | Milwaukee Bucks | G | 97 | |
| 98 | Base | Grayson Allen | Milwaukee Bucks | G | 98 | |
| 99 | Base | Chris Duarte | Indiana Pacers | G | 99 | |
| 100 | Base | James Wiseman | Golden State Warriors | C | 100 | |
| | Set | Player | Team | Position | Card number | Number of Cards |