Everything You Need To Know About 2022 Panini Prizm World Cup Qatar Soccer [Updated w/checklist]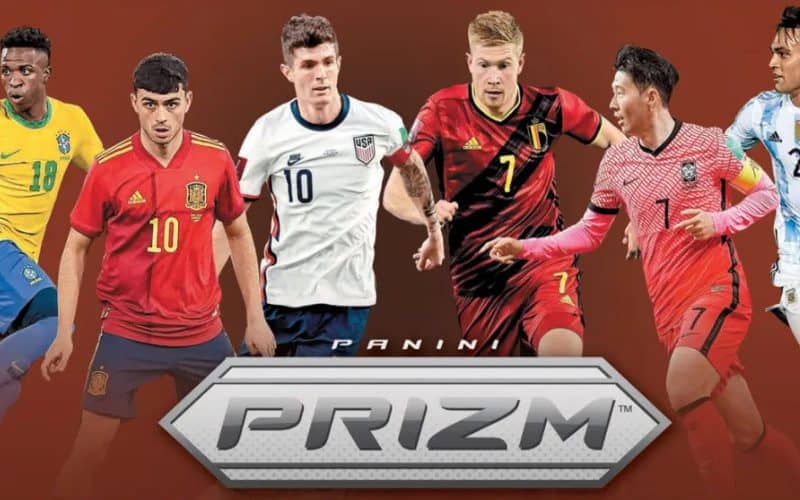 It isn't the usual season for it, but this year, the World Cup is coming in November. Panini is preparing to launch its keynote trading card release for the biggest competition in the world.
So, without further ado, here is the 2022 Panini Prizm World Cup Qatar Soccer review.
Shop for 2022 Panini Prizm World Cup Qatar hobby boxes on eBay
Panini World Cup cards
Panini built its reputation and extensive (now fading) hold on the sports card industry through its World Cup products. The 1970 World Cup sticker collection was a massive global sensation, and their subsequent similar releases have dominated the market. But as soccer collectors know, Americans aren't big fans of the sticker format.
Instead, they vastly prefer traditional cards reminiscent of the classic baseball cards. So, in recent years, the preferences of hobbyists stateside have moved from paper cards to shiny chrome.
When the Italian company founded Panini America in 2009, it made it its mission to tailor its products to the local market. Therefore, it is no surprise that they began to market soccer cards to the biggest hobby market in the world.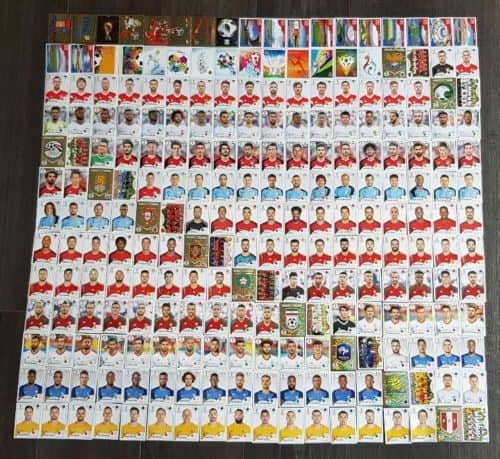 Panini Prizm World Cup 2022 Qatar Soccer release date
The 2022 Panini Prizm World Cup Quarter hobby box is set for release on November 2, 2022. The next verified release is the 2022 Panini Prizm World Cup Soccer Breakaway Box, which is currently scheduled for November 11th.
The timing is pretty good, with the tournament kicking off in Qatar that month on November 20th. So, Panini is strongly motivated to put the product out on time. Or at least to avoid a significant delay.
Shop for 2022 Panini Prizm World Cup Qatar hobby boxes on eBay
History Of Panini Prizm World Cup Soccer
The Panini World Cup Prizm is the result of the marriage of the traditional soccer orientation of the company and its Americanized ambitions. It first appeared on shelves in time for the 2014 World Cup in Brazil. It was reprised in 2018 and will be released for the 2022 iteration set to be held in Qatar in November.
The release was an immediate hit. So much so that we assume the executives were kicking themselves for not releasing it in 2010. But, of course, Prizm only came into its own in 2012 as a conscious attempt by Panini America to replace Topps Chrome as the top basketball card.
It turned out to be a bigger hit than they could ever imagine. Since the beginning, Prizm has brushed off all of its rivals and set the trends in the card market.
The Prizm effect has not passed over soccer. Although certainly lagging behind football and basketball in popularity (although not necessarily in value), several Prizm soccer products have emerged since 2012.
The English Premier League Prizm release has led the way as the most common and sought-out regular soccer Prizm product. But international soccer fans prefer the World Cup and Euro releases that appear every four years.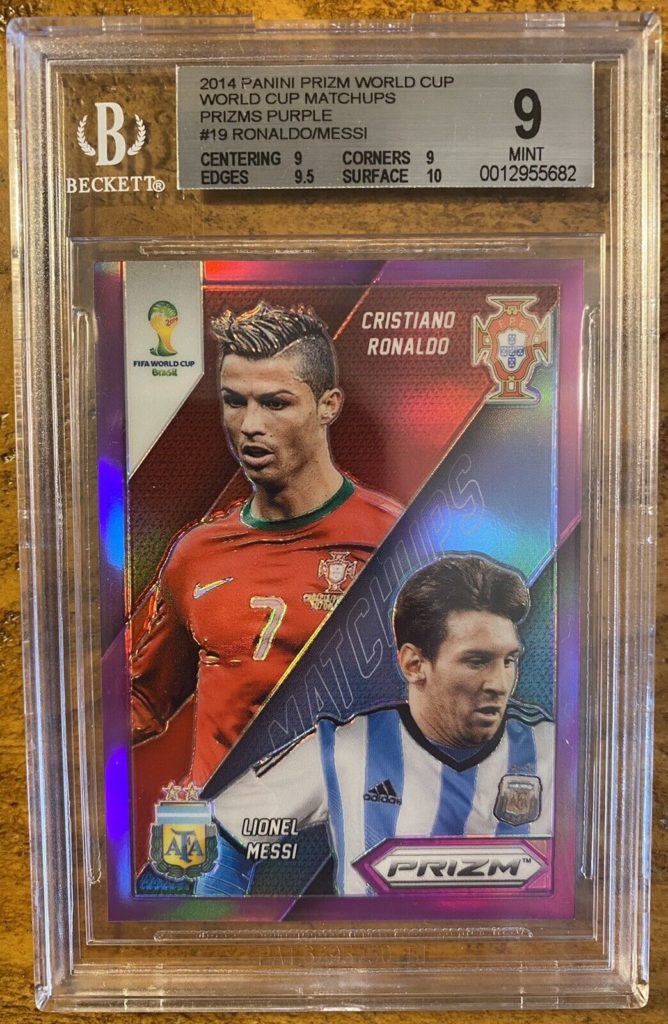 A note on World Cup Cards versus stickers
In the United States, Panini focuses on marketing its Prizm cards for the World Cup. However, in most countries, the main World Cup product it promotes continues to be the traditional sticker set.
You can get that as well, off eBay and from foreign outlets. Remember to buy an album to fill if you go the sticker route.
The 2022 Qatar – Not your typical World Cup
The upcoming World Cup is a weird one. Traditionally, the global competition is contested in the summer. However, the ungodly Middle Eastern heat has made that profoundly inadvisable. Soccer players are incredible athletes, but they are humans. Dehydration is a serious concern.
Therefore, in an unprecedented step, the tournament will be held in November and December. That means instead of having the World Cup in the offseason, they will stop the European soccer season in the middle to fly the best players to Qatar.
There are other problems with this iteration as well. First, there are reports of rampant human rights abuses in preparation for the tournament. Then, if that is not enough, there are also well-founded allegations that Qatar engaged in bribery to secure the hosting rights to the biggest soccer tournament in the world.
All of this is enough to leave a bitter taste in the mouth of fans everywhere.
Shop for 2022 Panini Prizm World Cup Qatar hobby boxes on eBay
Why does the controversy matter?
From a collector's perspective, the question becomes, will this taint the World Cup? There is a previous example of a highly problematic World Cup. The 1978 competition was held in Argentina, ruled by a military junta (basically a bunch of dictator generals) who killed many political dissidents. The Argentine government used the competition as propaganda to make matters worse.
There were other problems too. The government organized fans to harass rival teams. Most notably, the Netherlands before the final, which the locals handily won. The officials apparently helped Argentina reach the final with allegations of corruption, particularly regarding a match with France.
Peru also is believed to allow Argentina to get the 6-0 margin they needed to qualify from the early rounds. In another game, Germany and Austria allegedly agreed to maintain the 0-0 score both required to qualify. In short, it was an awful tournament for the game.
Infamous World Cup Tournaments And Card Value
As a result, the 1978 World Cup has been infamous ever since. But did that influence the value of collectibles? Only one way to find out. Let's see how the 1978 World Cup Panini sticker collection fares compared to others.
Back in those days, there were no Prizm cards. So, we can best reach the completed sticker album prices. Here we go:
| | |
| --- | --- |
| Complete Set of 1974 World Cup stickers | $1,250 |
| Complete Set of 1978 World Cup stickers | $558 |
| Complete Set of 1982 World Cup stickers | $372 |
| Complete Set of 1986 World Cup stickers | $251 |
You can see a massive fall in value from 1974 to 1978, giving the appearance that the tainted World Cup decreased in value. However, the value continues to fall as the tournaments get more recent. So, I doubt it is the Argentine junta altering the deal.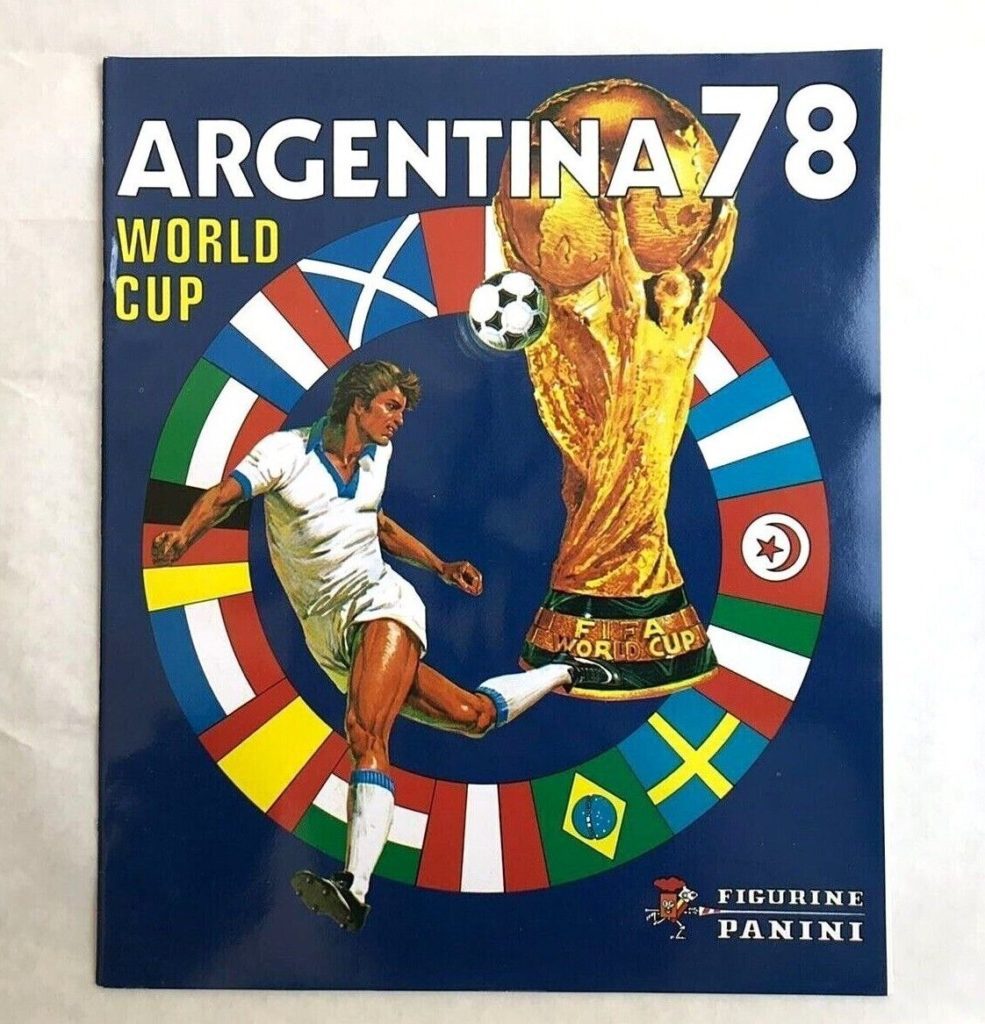 I don't think any scandal or human rights issues will stop soccer fans from watching the World Cup. Similarly, I doubt collectors will skip a Prizm set for that reason.
2022 Panini Prizm World Cup Qatar Soccer release formats
It is hard to say what formats we expect from the 2022 Panini Prizm World Cup Qatar Soccer. So naturally, the hobby box will be the first to drop and will be the release's focus. However, in previous years we have seen various retail hit the shelves.
Let's start with the verified hobby box release and then look at potential retail boxes that may drop later.
Hobby Box
12 cards per pack.
12 packs per box.
Look for 1 autograph, 4 numbered parallels, 2 Silvers, 6 other parallels, 10 inserts, and 2 Silver inserts per box on average.
Preselling for $899
Note: the big news for this release is the guaranteed autos. In previous years, Panini charged a fortune for these boxes. Yet, they did not include a guaranteed auto. This year, they fixed that problem, making the release far more attractive.
Shop for 2022 Panini Prizm World Cup Qatar hobby boxes on eBay
Breakaway Box
9 cards per pack.
10 packs per box.
Look for 2 Breakaway-Exclusive Prizms, 2 numbered parallels, 1 Silver Insert, 1 Base Prizms Silver, and 14 other inserts per box on average.
The price is so far unknown.
Here are some retail releases from previous years that may have a reprise for the 2022 World Cup.
Cello Fat Pack Box
12 packs
15 cards per pack
Hanger Box
4 hobby packs per box.
6 cards per pack.
Panini Prizm World Cup Qatar 2022 Soccer review of the checklist
Unfortunately, we do have not yet all the information on the checklist. We will update the article when it becomes available.
The base set has 300 cards, including players from every one of the 32 international sides to grace the competition. A quick calculation shows that the average team will have 9.75 cards in the set. That means many starters will not be included/
Of course, the cards will not be distributed equitably. You can expect quite a few more English players than, say, Tunisian players. But it's certainly enough to include all the most notable stars and exciting rookies.
As with any Prizm set, the colorful parallels are the entire point. The following parallels will be available:
Silver Prizms – (two per box)
Hyper Prizms
Ice Prizms
Pink Prizms
Red Prizms – /399
Blue Prizms – /299
Purple Prizms – /199
Red Mojo Prizms – /99
Blue Mojo Prizms – /75
Purple Mojo Prizms – /49
Orange Prizms – /25
Maroon Prizms – /22
Gold Prizms – /10
Green Prizms – /5
Black Prizms – 1/1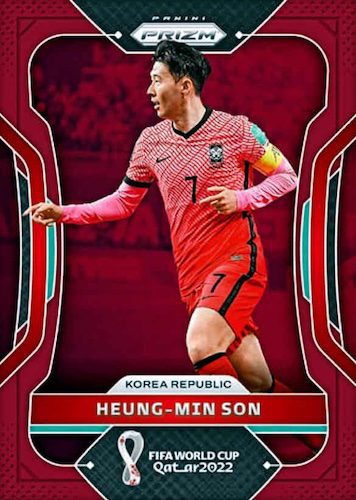 Inserts
Once again, we only have a partial list of inserts available. But Panini has released info and pictures of a few of the most notable ones. So, here is some info:
2022 Panini World Cup Prizm Autos
As mentioned, the 2022 World Cup Prizm release has guaranteed autos in the hobby boxes. You can expect most of them to be part of the veteran Signatures insert line.
They will come in the following parallels:
Silver Prizms (/199 or less)
Gold Prizms (/10 or less)
Black Prizms (1/1)
Dual Signatures
Perhaps the most exciting opportunity is to draw a double signature. These will include two signatures from two major stars linked in some way. They may also pair veteran players with current ones.
National Landmarks
World Cup Prizm has its version of the Kaboom! and Downtown cards. The National Landmarks inserts are pretty straightforward. It will include the biggest stars from various countries, with a landmark associated with their homeland in the background. You know, like Kylian Mbappé with the Eiffel Tower behind him. That kind of thing.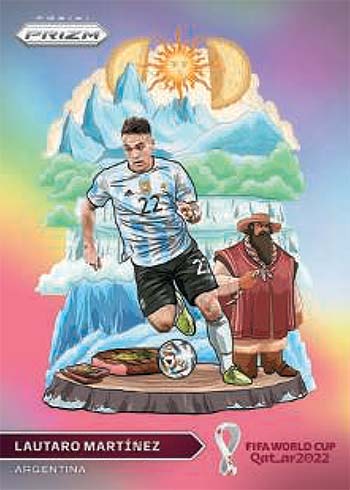 New Era
Panini has selected 40 young stars they believe will be difference-makers in Qatar. The New Era inserts feature them in a fetching design, including the national team badge. They will come in the following parallels:
Silver Prizms
Orange Prizms – #/25
Gold Prizms – #/10
Green Prizms – #/5
Black Prizms – 1/1
You can expect cool inserts, including a new Manga series and Color Wheel. It looks like Panini hit the inserts out of the park with this one. But you will await more info to be sure.
2022 Prizm World Cup Qatar Soccer review of value
The World Cup Prizm release has been around for almost a decade. However, it only comes out once every four years. So, this is only the third iteration of the product. That means we have a reasonably limited frame for comparison. But let's make the most of it.
Wax
The release of Hobby Box-oriented is a natural place to start. So, have the boxes retained their value over the years?
If the $800 for the box seems a little steep, you can see why Panini charges that much. The older boxes have aged beautifully. And it's easy to understand how this happened. It's a relatively rare release, covering the most prestigious soccer event (maybe the most prestigious period).
Therefore, buying this box seems risk-free. You are also likely to make a good profit.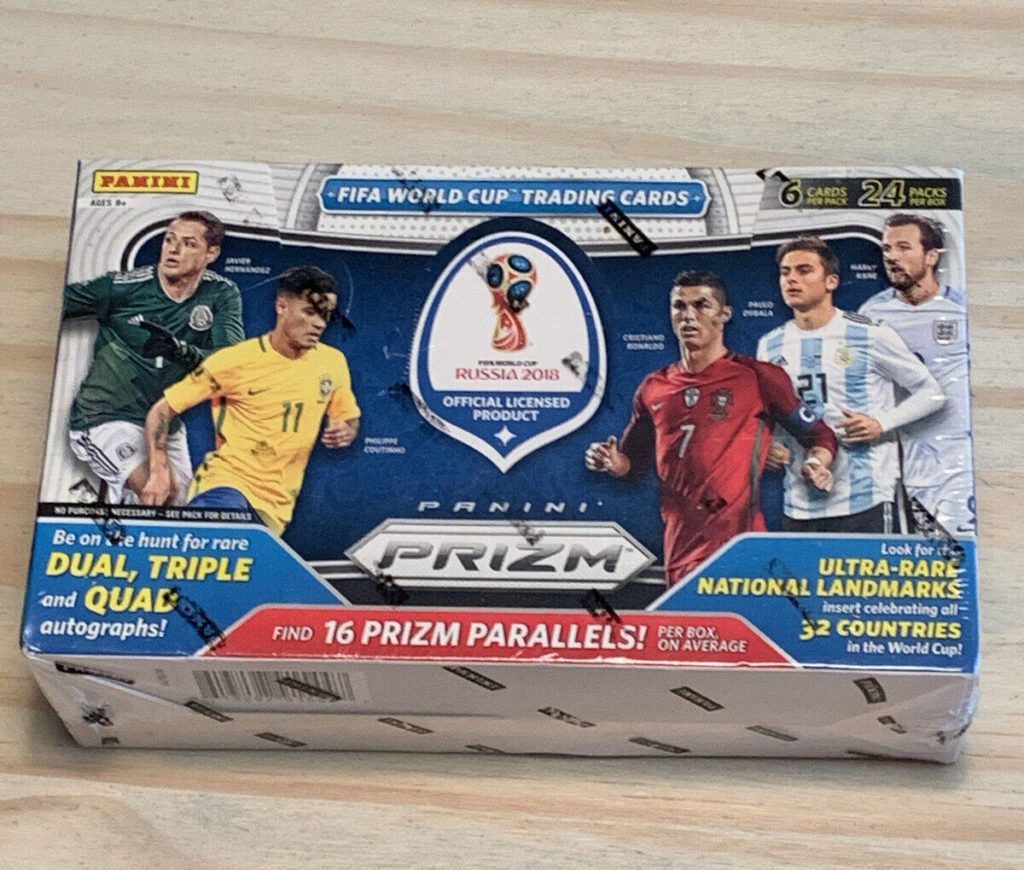 However, it may not be as big as the 2014 and 2018 haul. After all, there are far more people into soccer cards. So Panini is likely churning out more boxes, and many people will keep them. Especially after reading this article!
Singles
The prices for wax are reasonable. But what about the contents? Are the boxes worth ripping? The cards inside would have to be SPECTACULAR at those prices to justify a rip.
Here are some strong PSA 10 I found on eBay.
The strongest cards are not garnering prices that justify ripping the boxes. After all, your chances of hitting a Messi auto are not high. And nothing else is covering the cost of the box. So, this is definitely hold and do not dare open situation.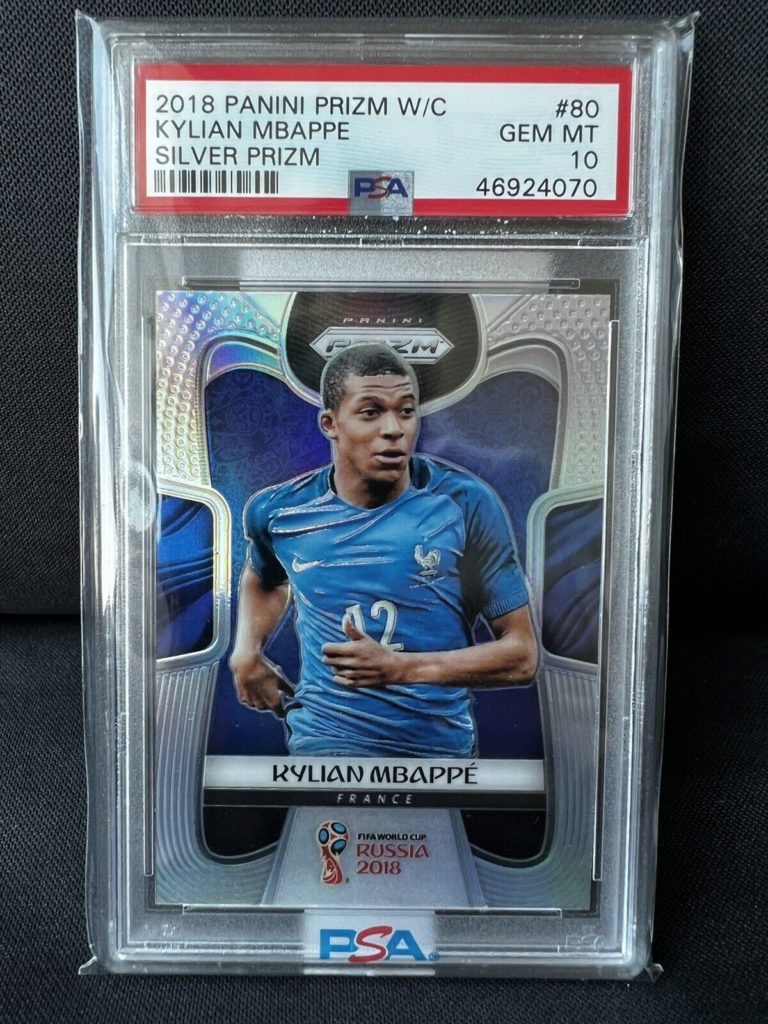 It's pretty stunning that a massive auto like the Argentine four-way, including Maradona, got less than $2,000. Sure, it's an on-card auto. But its Diego Armando Maradona!
A note on World Cup rookies
An accomplished player rarely has their first card in a World Cup series. So technically, rookies are rare in these big tournament releases. However, when a player makes their debut at the tournament, it is still technically a World Cup rookie card.
So, therefore, Mbappe 2018 is a rookie, even though he has earlier stickers.
How are 2022 World Cup rookies doing through the Group stage?
Bottomline Of The 2022 Panini Prizm World Cup Qatar Soccer Review
Panini and Topps have saturated the market with soccer cards. It seems that the American market isn't entirely equipped to deal with the large amounts of products the companies are dumping in their laps. However, the Prizm World Cup release is a winner. The market has been crystal clear in that regard.
The World Cup is the highlight of soccer fandom. So it is hard to miss when releasing cards for the event. And Panini has had significant experience handling World Cup products since 1970. Therefore, collectors trust them.
In addition, the Prizm brand seems particularly well suited to the biggest competition in the world. With all this in mind, it's no surprise that these boxes hold substantial value. They are a buy and a firm hold.
Shop for 2022 Panini Prizm World Cup Qatar hobby boxes on eBay
Full 2022 Panini Prizm World Cup Qatar Soccer checklist
2022 World Cup Prizm Soccer
| wdt_ID | Set | Player | Team | POSITION | Card Number | Number of cards |
| --- | --- | --- | --- | --- | --- | --- |
| 1 | Base | Angel Di Maria | Argentina | M | 1 | |
| 2 | Base | Emiliano Martinez | Argentina | G | 2 | |
| 3 | Base | Gonzalo Montiel | Argentina | D | 3 | |
| 4 | Base | Julian Alvarez | Argentina | F | 4 | |
| 5 | Base | Lautaro Martinez | Argentina | F | 5 | |
| 6 | Base | Leandro Paredes | Argentina | M | 6 | |
| 7 | Base | Lionel Messi | Argentina | F | 7 | |
| 8 | Base | Lucas Martinez Quarta | Argentina | D | 8 | |
| 9 | Base | Nahuel Molina | Argentina | D | 9 | |
| 10 | Base | Nicolas Gonzalez | Argentina | F | 10 | |
| 11 | Base | Nicolas Otamendi | Argentina | D | 11 | |
| 12 | Base | Rodrigo de Paul | Argentina | M | 12 | |
| 13 | Base | Albert Sambi Lokonga | Belgium | M | 13 | |
| 14 | Base | Arthur Theate | Belgium | D | 14 | |
| 15 | Base | Charles De Ketelaere | Belgium | M | 15 | |
| 16 | Base | Eden Hazard | Belgium | F | 16 | |
| 17 | Base | Jan Vertonghen | Belgium | D | 17 | |
| 18 | Base | Jeremy Doku | Belgium | F | 18 | |
| 19 | Base | Kevin De Bruyne | Belgium | M | 19 | |
| 20 | Base | Romelu Lukaku | Belgium | F | 20 | |
| 21 | Base | Thibaut Courtois | Belgium | G | 21 | |
| 22 | Base | Thorgan Hazard | Belgium | F | 22 | |
| 23 | Base | Timothy Castagne | Belgium | D | 23 | |
| 24 | Base | Youri Tielemans | Belgium | M | 24 | |
| 25 | Base | Alisson | Brazil | G | 25 | |
| 26 | Base | Antony | Brazil | F | 26 | |
| 27 | Base | Bruno Guimaraes | Brazil | M | 27 | |
| 28 | Base | Casemiro | Brazil | M | 28 | |
| 29 | Base | Gabriel Martinelli | Brazil | M | 29 | |
| 30 | Base | Lucas Paqueta | Brazil | M | 30 | |
| 31 | Base | Marquinhos | Brazil | D | 31 | |
| 32 | Base | Neymar Jr | Brazil | F | 32 | |
| 33 | Base | Philippe Coutinho | Brazil | M | 33 | |
| 34 | Base | Richarlison | Brazil | F | 34 | |
| 35 | Base | Thiago Silva | Brazil | D | 35 | |
| 36 | Base | Vinicius Jr. | Brazil | F | 36 | |
| 37 | Base | Andre Onana | Cameroon | G | 37 | |
| 38 | Base | Andre-Frank Zambo Anguissa | Cameroon | M | 38 | |
| 39 | Base | Collins Fai | Cameroon | D | 39 | |
| 40 | Base | Eric Maxim Choupo-Moting | Cameroon | F | 40 | |
| 41 | Base | Karl Toko Ekambi | Cameroon | F | 41 | |
| 42 | Base | Martin Hongla | Cameroon | M | 42 | |
| 43 | Base | Michael Ngadeu | Cameroon | D | 43 | |
| 44 | Base | Vincent Aboubakar | Cameroon | F | 44 | |
| 45 | Base | Alistair Johnston | Canada | D | 45 | |
| 46 | Base | Alphonso Davies | Canada | D | 46 | |
| 47 | Base | Cyle Larin | Canada | F | 47 | |
| 48 | Base | Ike Ugbo | Canada | F | 48 | |
| 49 | Base | Jonathan David | Canada | F | 49 | |
| 50 | Base | Jonathan Osorio | Canada | M | 50 | |
| 51 | Base | Mark-Anthony Kaye | Canada | M | 51 | |
| 52 | Base | Milan Borjan | Canada | G | 52 | |
| 53 | Base | Stephen Eustaquio | Canada | M | 53 | |
| 54 | Base | Tajon Buchanan | Canada | M | 54 | |
| 55 | Base | Borna Sosa | Croatia | D | 55 | |
| 56 | Base | Dominik Livakovic | Croatia | G | 56 | |
| 57 | Base | Ivan Perisic | Croatia | M | 57 | |
| 58 | Base | Josip Stanisic | Croatia | D | 58 | |
| 59 | Base | Josko Gvardiol | Croatia | D | 59 | |
| 60 | Base | Lovro Majer | Croatia | M | 60 | |
| 61 | Base | Luka Modric | Croatia | M | 61 | |
| 62 | Base | Luka Sucic | Croatia | M | 62 | |
| 63 | Base | Marcelo Brozovic | Croatia | M | 63 | |
| 64 | Base | Mario Pasalic | Croatia | M | 64 | |
| 65 | Base | Mateo Kovacic | Croatia | M | 65 | |
| 66 | Base | Andreas Skov Olsen | Denmark | F | 66 | |
| 67 | Base | Christian Eriksen | Denmark | M | 67 | |
| 68 | Base | Jesper Lindstrom | Denmark | M | 68 | |
| 69 | Base | Joachim Andersen | Denmark | D | 69 | |
| 70 | Base | Joakim Maehle | Denmark | D | 70 | |
| 71 | Base | Kasper Dolberg | Denmark | F | 71 | |
| 72 | Base | Kasper Schmeichel | Denmark | G | 72 | |
| 73 | Base | Mikkel Damsgaard | Denmark | M | 73 | |
| 74 | Base | Mohamed Daramy | Denmark | M | 74 | |
| 75 | Base | Pierre Emile Hojbjerg | Denmark | M | 75 | |
| 76 | Base | Yussuf Poulsen | Denmark | F | 76 | |
| 77 | Base | Enner Valencia | Ecuador | F | 77 | |
| 78 | Base | Felix Torres | Ecuador | D | 78 | |
| 79 | Base | Gonzalo Plata | Ecuador | M | 79 | |
| 80 | Base | Jeremy Sarmiento | Ecuador | M | 80 | |
| 81 | Base | Moises Caicedo | Ecuador | M | 81 | |
| 82 | Base | Pervis Estupinan | Ecuador | D | 82 | |
| 83 | Base | Piero Hincapie | Ecuador | D | 83 | |
| 84 | Base | Bukayo Saka | England | F | 84 | |
| 85 | Base | Declan Rice | England | M | 85 | |
| 86 | Base | Harry Kane | England | F | 86 | |
| 87 | Base | Jack Grealish | England | M | 87 | |
| 88 | Base | John Stones | England | D | 88 | |
| 89 | Base | Jordan Pickford | England | G | 89 | |
| 90 | Base | Jude Bellingham | England | M | 90 | |
| 91 | Base | Kyle Walker | England | D | 91 | |
| 92 | Base | Mason Mount | England | M | 92 | |
| 93 | Base | Phil Foden | England | M | 93 | |
| 94 | Base | Raheem Sterling | England | F | 94 | |
| 95 | Base | Adrien Rabiot | France | M | 95 | |
| 96 | Base | Antoine Griezmann | France | F | 96 | |
| 97 | Base | Aurelien Tchouameni | France | M | 97 | |
| 98 | Base | Hugo Lloris | France | G | 98 | |
| 99 | Base | Karim Benzema | France | F | 99 | |
| 100 | Base | Kingsley Coman | France | F | 100 | |
| | | | | | Card Number | |