In Search Of The Best Babe Ruth Baseball Cards For Every Budget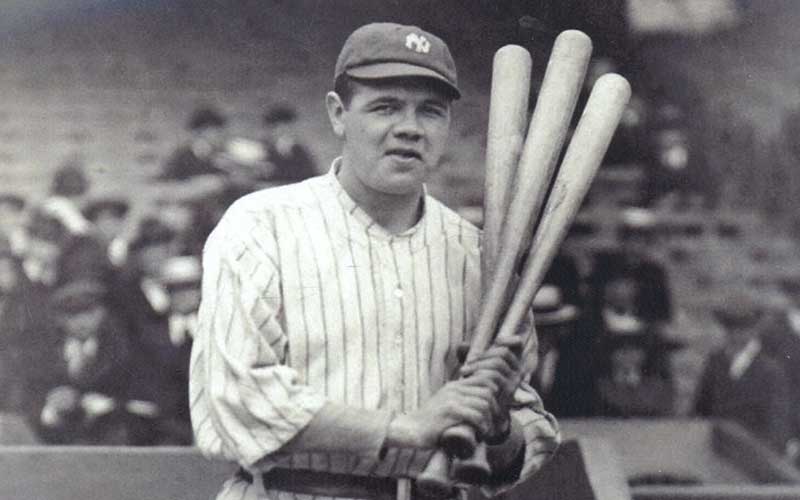 Babe Ruth is the most iconic player in baseball history, perhaps in all of sports. His dominance of the game and bigger-than-life personality have kept him a popular target for collectors since his first card appearance 108 years ago.
But what are some popular Ruth cards? And what are some more affordable post-career options for those who aren't millionaires?
Shop for Babe Ruth baseball cards on eBay
Who was Babe Ruth?
Babe Ruth is one of the best and most famous baseball players of all time, perhaps the most famous athlete of all time. Every list of the best players ever has Ruth in the top 3, often in the top spot. While some players could be in the argument for best, none were ever better than their peers by as big a margin as Ruth. His 206 career OPS+ is the highest ever, and he once hit more home runs in a season than some teams. Think about that for a minute.
Ruth's career line is downright staggering: .342/.474/.690 with an OPS of 1.164 and OPS+ of 206. Those slugging, OPS, and OPS+ marks are the best of all time. For context, in 2022 Aaron Judge had a slugging percentage of .686. Ruth's slugging percentage for his CAREER was four points higher than that.
Ruth held the career record of 714 home runs for 34 years, and added 2,214 RBI. In his career, Ruth was worth a staggering 183.1 WAR. That mark is also the highest of all time, and for context, if you divide that number in half (91.5) you get a first-ballot Hall of Famer.
Speaking of Ruth and the Hall of Fame, he was part of the very first Hall of Fame class in 1936.
Ruth was also a "bigger than life" personality that was perfect for the roaring '20s era when he was in his prime.
Shop for Babe Ruth baseball cards on eBay
How much is a Babe Ruth baseball card worth?
According to the Baseball Card Database (TCDB), Ruth has appeared on 13,593 different cards over the years, the vast majority from after his playing career. In fact, in 2022 Ruth has appeared on 466 cards, which is more than the approximately 250 he appeared on during his entire playing career.
For many of the cards listed in his article, especially those produced during Ruth's playing career, PSA populations are very small and skew strongly to cards in rougher shape.
Despite this, these aren't cards you pop on eBay and pick up…you often have to wait for them to come up at auction. When they do come on the market, they sell for sometimes astronomical prices.
Shop for Babe Ruth baseball cards on eBay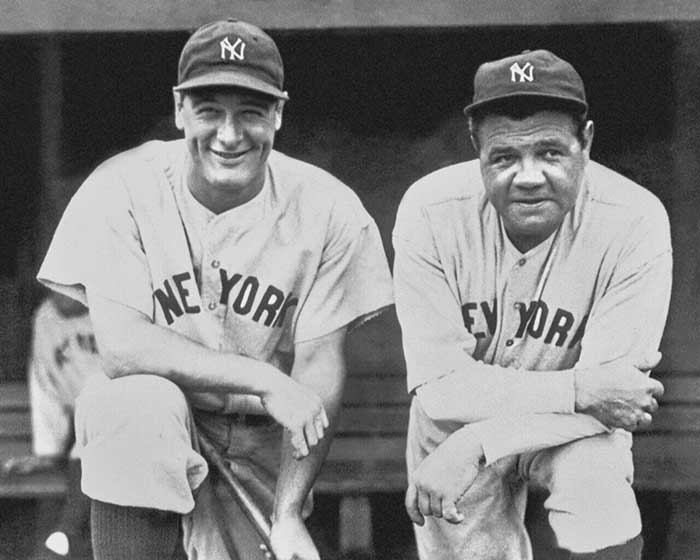 Early Babe Ruth baseball cards (pre-rookies)
That's right, while pre-rookies may feel like an ultra-modern, or at least modern phenomenon, here we are. Before debuting with the Boston Red Sox in the American League late in 1914, Ruth was pitching for the minor league Baltimore team.
The Baltimore News produced these cards of Ruth. They were produced with both red and blue borders. Feels like a modern parallel, right?
These are very rare and as expected, very expensive. An SGC 3 copy sold for $6 million in 2021.
| Card | Total PSA Pop | Highest PSA Pop | Recent Sale Price |
| --- | --- | --- | --- |
| 1914 Baltimore News Baltimore Orioles / Terrapins Babe Ruth Red | 3 | PSA 4 = 1 | SGC 3 = $6 million |
| 1914 Baltimore News Baltimore Orioles / Terrapins Babe Ruth Blue | NA | NA | NA |
Early career Babe Ruth baseball cards
Early in Ruth's career, baseball cards weren't like they are today. You didn't pre-order a hobby box. Cards were produced to sell something else, first tobacco, and later candy and eventually gum. Not a lot of people thought to save them, and even fewer cared about their condition.
That makes cards of that era difficult to find and expensive to acquire. As you can imagine, cards featuring Ruth are among the most desirable and expensive.
If you're looking for cards in this category, my advice is to educate yourself in what you're buying including recent comps. I also highly recommend buying graded. Although TCGs aren't perfect at detecting fakes, trimming, and other alternations, having another set of eyes in addition to yours is important when spending this type of scratch.
The 1917 E135 Collins-McCarthy set is a tough pre-1920 set that was printed on thin stock, making it a tough find, and it's priced accordingly.
Cards were used to help promote the sweet treat of caramel in the early 1920s, including the 1921 American Caramel and 1922 E120 American Caramel. Even in PSA 1 condition, these are going to cost in the neighborhood of a good used car.
Shop for American Caramel Babe Ruth cards on eBay
I include the 1923-24 Exhibits W461 on this list just to show just how rare some of these cards are. With a PSA pop of only 5, there are no recent sales to share. Honestly, I couldn't even find an image on the web of this card to share in this article. "Can't find it on the internet rare" should be a global measure of rarity, if it's not already.
Late-career Babe ruth cards
By the 1930s, Ruth was in his late 30s but still putting up monster numbers. He also had reached "living legend" status on and off the field.
In 1933, the Goudey Gum Company became the first company to package baseball cards with bubble gum, and they went heavy on Ruth, with four Ruth cards in the 240-card set.
The 1933 Goudey set remains one of the most iconic sets in the hobby. The beautifully painted renditions of players make it one of the best-looking sets you'll see.
Even in PSA 1 condition various Ruth cares in the set sell strongly in the $5,000-10,000 range. In better grades than that, the price goes up significantly.
There are a number of lesser-known Ruth cards from the 30s worth exploring, but the Goudey cards are some of the most sought-after in the hobby.
Shop 1933 Goudey Babe Ruth baseball cards on eBay
More affordable post-career Babe Ruth baseball cards
Ruth's retirement did not stop his appearance on baseball cards. In fact, he appeared on far more cards after his playing days than before.
| Card | Total PSA Pop | Highest PSA Pop | Recent Sale Price |
| --- | --- | --- | --- |
| 1933 Goudey Babe Ruth #53 | 1,145 | PSA 1 = 255 | PSA 1 = $6,000-7,000 |
| 1933 Goudey Babe Ruth #144 | 1,584 | PSA 1 = 309 | PSA 1 = $5,500 -8,500 |
| 1933 Goudey Babe Ruth #149 | 1,147 | PSA 1 = 200 | PSA 1 = $7,000 |
| 1933 Goudey Babe Ruth #181 | 1,262 | PSA 1 = 221 | PSA 1 = $5,500-6,500 |
Vintage post-career Babe Ruth cards
Some of these cards are now vintage themselves and can be hard to find in good condition. Below are a few of our favorite examples.
The 1948 Leaf Babe Ruth card was produced the year of Ruth's death. It's a classic card in a classic vintage post-war set. Even in low grades, it's a strong seller and commands good prices. A PSA 3 will fetch about $4,500.
Shop for 1948 Leaf Babe Ruth cards on eBay
The 1952 Look 'n See set (read more about it) has a design much like the iconic 1952 Topps baseball set, but it's a non-sports set. Ruth's status in the public consciousness is exhibited by the fact that he's the only athlete in the 135-card set.
PSA 6 copies of the Ruth (of which only 125 copies exist), sell in the $600-1,000 range.
Shop for 1952 Look 'N See Babe Ruth cards on eBay
1973 Topps flagship featured two Babe Ruth cards of note. Card #1 in the set is titled "All-Time Home Run Leaders" and features Ruth, Hank Aaron, and Willie Mays. The next year, Aaron would break Ruth's career home record, re-ordering the leaderboard.
The second card, #474, features Ruth as the All-Time RBI Leader. Despite being a lower population card than card #1, it sells for significantly less. In the days before card storage supplies, the first (and last) card tended to take a beating and harder to find in top condition today.
1976 Topps flagship features Ruth in the All-Time All-Stars subset. While more affordable than some earlier Ruth cards, its low population in higher grades still makes it a valuable and sought-after card.
Shop for 1973 Topps and 1976 Topps Babe Ruth cards on eBay
Modern post-career Babe Ruth baseball cards
The cards above represent a few older post-career Ruth cards that still sell for solid coin, especially graded.
Another type of Ruth card that will have some value are ultra-modern, including parallels. Parallels are the reason that there are more Ruth cards produced most every year than during his playing career. Some of these are very affordable, but some of the rarer ones can garner high prices and be in high demand.
And then there are the low-cost, mass-produced Ruth cards. There are an awful lot of these that can be had for a dollar or two. They're not rare. They're not valuable. But they're baseball cards of Babe Ruth, so there's still something fun about them.
Shop for Babe Ruth baseball cards on eBay
Babe Ruth signed baseball card
Since Babe Ruth died in 1948, there are not many Babe Ruth signed baseball cards in existence. However, modern cards with cut autographs are still being made. Ruth has appeared on a number of 1/1 cut signature cards in recent years. These are typically epically difficult pulls, and end up listed for big dollars.
A recent example is a 2022 Topps Luminaries 1/1 Cut Signature sold recently for $17,600.
Shop for Babe Ruth cut signature cards on ebay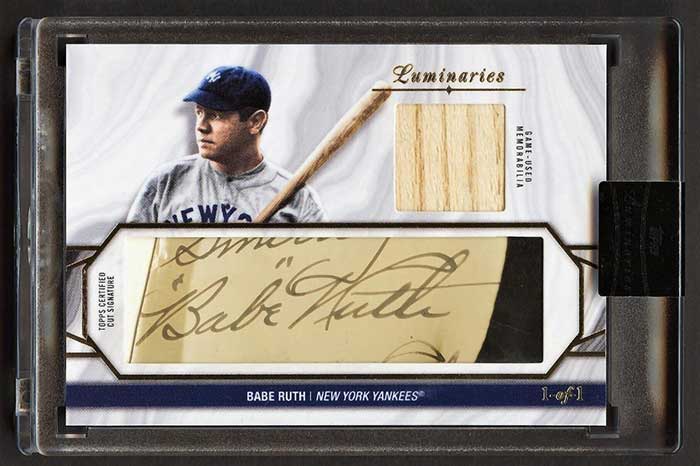 Final thoughts on the best Babe Ruth baseball cars
Babe Ruth cards from his playing days are rare, expensive…and awesome. They are the blue-chip stocks of the card-collecting world, likely to continue to see high demand and continue to sell for record prices.
Not a high roller? Join the club! There are a number of post-career Ruth cards that keep the awesome without the massive price tag.
With over 13,500 Ruth cards produced over the last 100+ years, there's a Ruth card for every taste and budget.
Shop for Babe Ruth baseball cards on eBay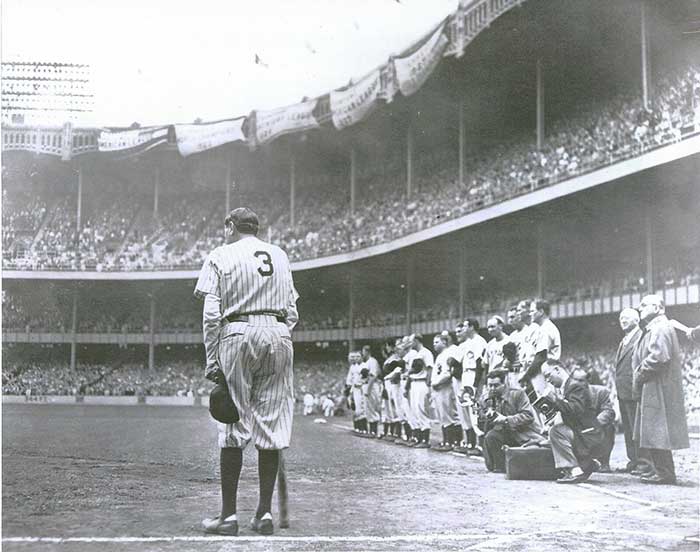 More Cardlines coverage of baseball icons