Where Should You Grade Your Sports Cards? Comparing PSA, BGS, And SGC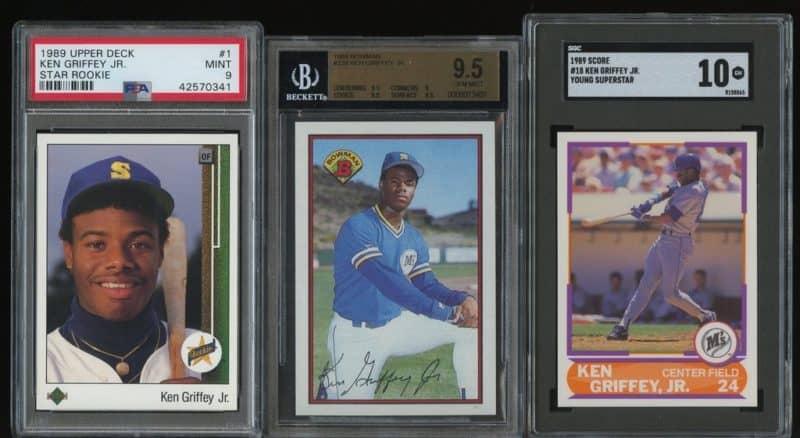 UPDATE: This article was updated on 11/20/23 to reflect most up-to-date pricing and value information.

The landscape of sports card grading has changed a lot over the past two or three years, with new grading companies popping up — including a Derek Jeter-owned service — and everybody fighting for a piece of the sports and TCG grading card industry.
One thing that hasn't changed?
There are still only three companies that I'd recommend exploring as viable grading options: PSA, BGS, and SGC.
In today's article, we'll look at the current pricing of each company in addition to the impact their grades make on the value of the card, kind of like what I did with PSA in this article about whether you should buy PSA 9s or 10s.
Intro to grading sports cards
Should you grade your sports cards?
The short answer is "yes." It not only preserves them, but it can significantly boost their value if you score a good grade. We also have written about which cards should you grade, so be sure to give that article a read if you're trying to decide what to submit.
I'd also go as far as to argue you should buy raw and get them graded (in fact, I have made that argument before with some quantifiable supporting evidence.)
If you have cards to grade and are looking at grading them, here's everything you need to know.
Background of the major sports card grading companies
We've written about all the grading companies before at length so there's no need to beat a dead horse, but here's a very short overview of what you can expect from each.
PSA
The Professional Sports Authenticator is an industry-leading grading company. Their red and white graded slabs have become synonymous with grading, and a PSA 10 is as good as it gets with a sports card grade.
The downside of working with PSA is high prices and a very slow turnaround time… full of missed deadlines.
Check out PSA 10 cards on eBay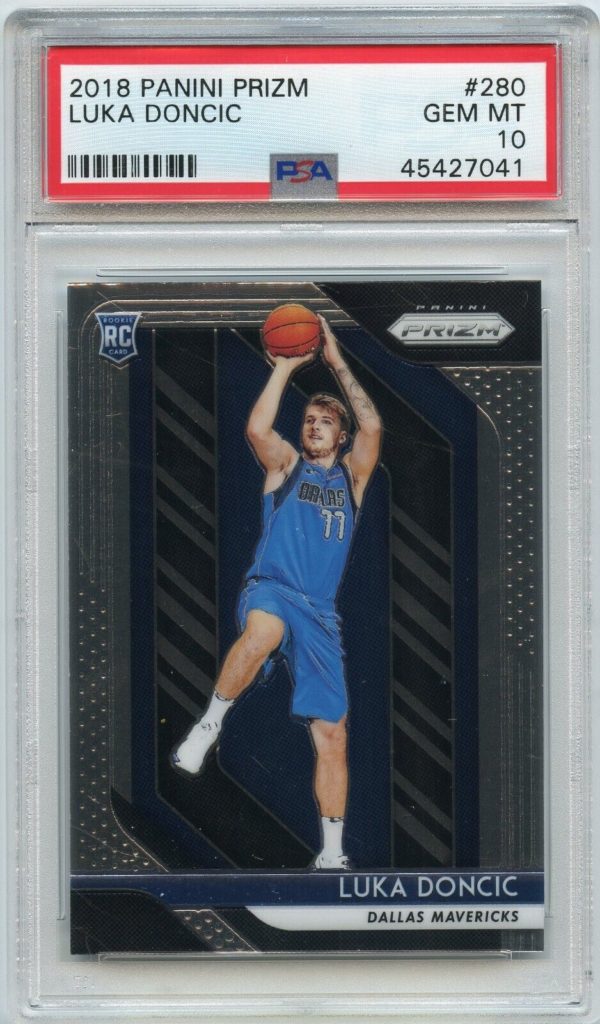 BGS
Beckett Grading Services has a lot more bells and whistles than PSA: they offer color-coded tags for the cards based on their grade (gold is a 9.5 or 10, for example), they award subscores so you can see exactly how your cards faired in their four subcategories, and they have a "Black Label" offering for the rare perfect card that scores a 10 in all categories.
The tougher grading and attractive slabs hold their own with PSA, but still Beckett is the step-brother.
Look for cards graded BGS 9.5 or 10 on eBay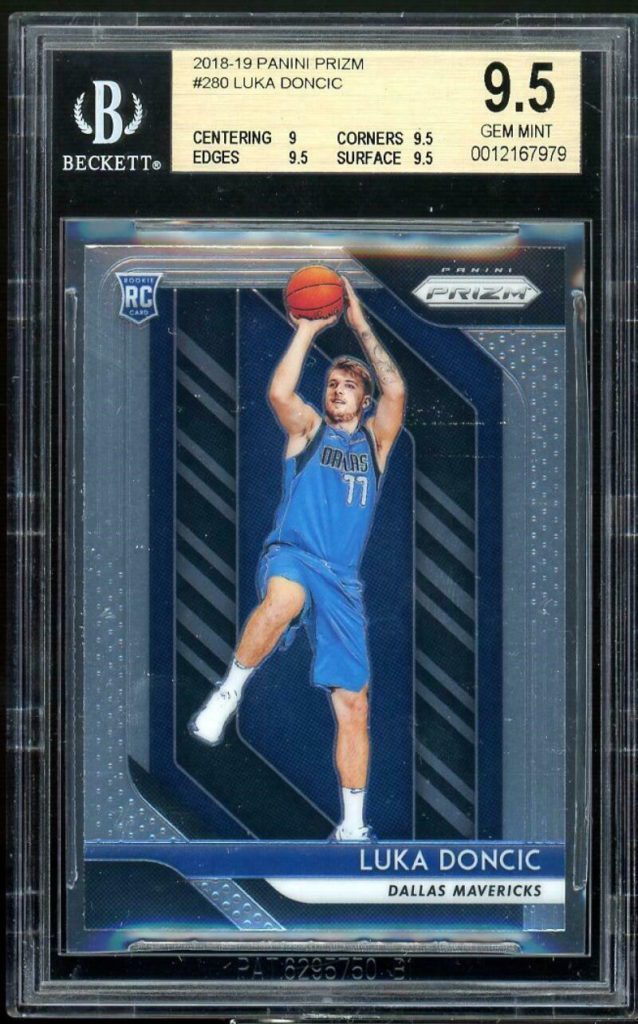 SGC
SGC is the low-cost alternative with decent turnaround times, but with over two decades of experience in the industry, the company has also been around long enough to be seen as a viable alternative.
You can read our full review of SGC grading right here. The slabs look less attractive and a bit cheaper than the PSA or BGS alternatives, but they still demand respect.
Check for pricing on cards graded SGC 10 on eBay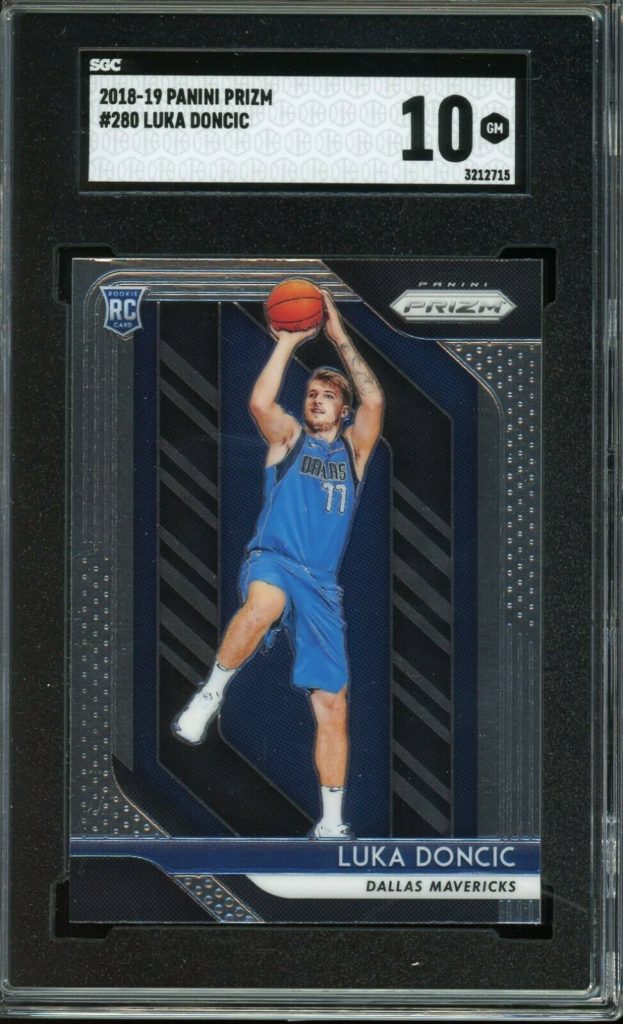 PSA vs BGS vs SGC – Turnaround times and pricing
If you're looking to grade with any of these three companies, here's the price you can expect to pay and the turnaround times. All of these are updated as of August 2022.
PSA
Walk-through: 3 days, $600/card (value less than $9,999)
Super Express: 3 days, $300/card (value less than $4,999)
Express: 14 days, $150/card (value less than $2,499)
Regular: 10 days, $75/card (value less than $1,499)
Value Plus: 65 days, $40/card (value less than $499)
Value: 65 days, $25/card (value less than $499)
Value Bulk: 65 days, $19/card (value less than $499)
Compared to this time last year, both prices and estimated times have dropped. That said, the "Walk Through" is still a three-day estimate. Long walk.
Check for updated PSA turnarounds and pricing right here.
BGS:
Premium submissions: 2-5 Business Days, $140/card
Express submissions: 10 Business Days, $100/card
Standard submissions: 10-20 Business Days, $40/card
Base submissions: 60+ Business Days, $22/card
Collector's Special Submissions: 60+ Business Days, $18/card (10 card min. with max value of $400/card)
While BGS's prices have dropped as much as 50% since a year ago, the expected turnaround times have actually gotten marginally longer.
SGC:
(Based on declared value)
<$1,500: $15 for 5-10 days; $40 for 1-2 days
<$3,500: $85 for 5-10 days; $125 for 1-2 days
<$7,500: $250 for 1-2 days
<$20,000: $500 for 1-2 days
<$50,000: $1,000 for 1-2 days
<$100,000: $2,000 for 1-2 days
>$100,000: $3,750 for 1-2 days
Note: SGC's turnaround times have the least amount of backlog complaints of any of the big three grading companies. They are pretty timely in returns.
Check on SGC's prices and turnaround times here.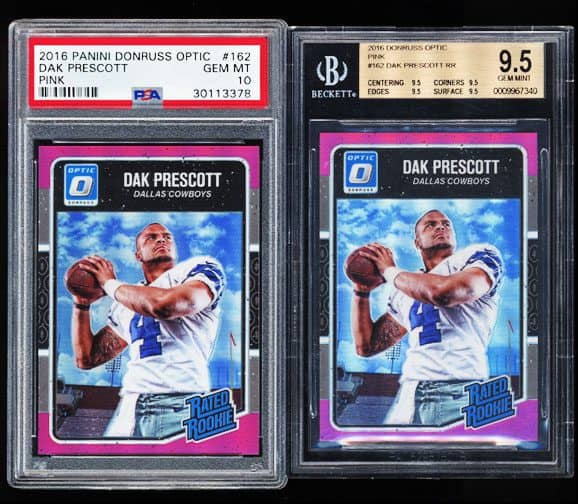 PSA vs BGS vs SGC – comparing the value of the three best card grading services
It's impossible to say which grading company you should grade with based on submission prices alone. Instead, we must also calculate the effect that a grade has on the resale price.
To do this, the easiest way to use a card with a very high graded population, the Luka Doncic base Prizm rookie. Let's look at how this card resells as a 9, 9.5, and 10 (on August 8.29).
Note: These numbers are the average of the last three selling prices. We also assumed these were graded using the low-cost option at all three companies.
| Company | Graded 9 | Graded 9.5 | Graded 10 | Average Prices | Low-Cost Grading Price |
| --- | --- | --- | --- | --- | --- |
| PSA | $100 | N/A | $250 | $175 | $19 |
| BGS | $101 | $130 | $1000 | $410 | $18 |
| SGC | $80 | $110 | $200 | $257 | $15 |
One surprise was that the BGS 9 held its own against a PSA 9 not only with this card, but two other cards I checked after making the discovery (Tatum and Zion Prizm base rookies). This has actually flipped since I wrote about the two grading companies a year ago.
It's also worth noting that the BGS 10, while much rarer than a PSA 10, also demands a big resell value. A BGS 10 was about 4x as valuable as a PSA 10.  Submitting to BGS has a higher ceiling than PSA (not to mention the elusive Black Label 10, too).
Finally, SGC was weak comparatively across the board – especially at 9.5 in comparison with BGS. That said, the vintage community loves SGC, so if you're grading vintage, SGC should score a few extra points there. Otherwise, while all the companies cost about the same to grade at the lower level tier, the only reason you should grade with SGC is to save time, based on these numbers. If you're in a pinch, SGC can grade and return in less than a month. No chance of that with PSA (at the value tiers, at least).
Compare prices of top grades on eBay:
View PSA 10 prices
View SGC 10 prices
View BGS 9.5 and 10 prices

Conclusion: What is the best card grading service 2022?
The tide might be turning when it comes to grading companies. Yes, in complete fairness, this article just sampled a high-population card that grades at the low price option with all three companies, but there's no arguing with the numbers: BGS is the best bang for your buck.

While BGS costs $5 more than PSA at the low-price grading option, the potential of a BGS 10 raises the ceiling, and the fact that a BGS 9 is outselling a PSA 9 is a major milestone in cards.

If I'm submitting cards worth less than $500, I'm sending every single one of them to BGS.
What do you think? We'd love to hear your best grading stories on Twitter @card_lines, and be sure to keep up with all the big industry trends in our newsletter.
Shop or view PSA 10 cards on eBay