Ten Awesome Cards Of Hall Of Fame Flamethrower Nolan Ryan
Nolan Ryan is one of the most famous pitchers in baseball history. While he's an all-time great, his uniqueness made him more popular among collectors than just about any other pitcher in history.
But who is Nolan Ryan? What are some of his best cards? And how about his rookie card?
Shop for Nolan Ryan baseball cards on eBay
Who is Nolan Ryan?
Nolan Ryan is one of the most celebrated and talented pitchers in baseball history. He is also one of the most unique. Ryan pitched for a record 27 major league seasons. There are lots of numbers to help put Ryan's career in context (and we'll hit on some of them in a second), but to me there are three that define him as good as any.
Nolan Ryan struck out more batters (5,714) than any other pitcher in major league history (by over 800). He also walked more batters (2,795) than any other pitcher in major league history (by over 950). Ryan also allowed the fewest hits per 9 innings pitched of any pitcher in history (6.6 H/9).
So, Ryan was a hard thrower who struck out a lot of hitters, was wild, and didn't allow many hits. He was one of the more "uncomfortable" at bats for hitters in major league history.
The other number that sets Nolan Ryan apart? That would be "7". "The Ryan Express" threw a record seven no-hitters in his career. The next most would be the four that Sandy Koufax threw in his career. And those weren't a fluke. Ryan is also tied for the most one-hitters in history with Bob Feller (12), and the most two-hitters thrown with 18 (tied with Walter Johnson).
During his record-setting career, Ryan was an All-Star eight times. He won two ERA titles and led his league in strikeouts 11 times (including seasons of over 300 K's six times). Despite playing for a number of mediocre teams, he won over 300 careers in his career. He finished his career 324-292 with an ERA of 3.19 (112 ERA+). He holds the single-season record for most strikeouts by a pitcher in a season with 383.
Nolan Ryan's career total of 83.6 WAR, which ranks 20th all-time among starting pitchers. Ryan was elected to the Baseball Hall of Fame in 1999, his first year of eligibility, with 98.8% of the vote.
Shop for Nolan Ryan baseball cards on eBay
Nolan Ryan: Legend
While other pitching peers may have been more dominant in terms of wins and losses, ERA, Cy Young Awards, and the like, few rivaled Ryan for his ability to put hitters off balance. Also, few captured the imagination of fans and collectors more than Ryan.
At an age when most pitchers are off playing golf, Ryan spent his 40s leading the league in strikeouts four times and seeing his celebrity rising to a new level.
He appeared in TV commercials, brawled with a player 40 years his junior, gained fame for his toughness after pitching after getting his face bloodied by a comebacker, and generally speaking was one of the baseball players people had heard of if they didn't know anything about baseball.
The above does no justice to Nolan Ryan. An entire book can be written about Nolan Ryan. In fact, many have been. Don't have time for a whole book? This MLB.com article has some great highlights.
Shop for Nolan Ryan baseball cards on eBay
Nolan Ryan baseball cards
According to the Trading Card Database (TCDB.com), Nolan Ryan has appeared on 19,741 since making his debut. That includes a good number during his record 27 seasons as an active player, and many more in the years that followed.
Obviously, with so many cards, this article won't be an exhaustive list of Ryan's cards. It won't even be list of his most expensive cards. Instead, we'll look at a few key cards, and a few cards that track his moves across the different teams on which he played.
Shop for Nolan Ryan baseball cards on eBay
The Nolan Ryan rookie card
Nolan Ryan's rookie card is one of the most iconic cards of the 1960s. It is one of the most sought-after cards in the hobby and has been popular for decades.
The card is in the 1968 Topps set, and is card number 177 in the set. Ryan shares the rookie card with fellow New York Mets pitching prospect Jerry Koosman. Of course, Koosman was no slouch himself, winning 222 games in his career and pitching to a 3.36 ERA with over 2,500 strikeouts across 19 major league seasons.
While the PSA population of this card is approaching 15,000 graded copies, it remains an in-demand card and is priced accordingly. Recent sales of PSA 7 versions have been in the $2,800-3,300 range.
In a PSA 9 slab? Those will set you back in the neighborhood of $100,000.
Looking for something even tougher? Check out the O-Pee-Chee, Milton Bradley, or 1968 Topps Venezuelan versions.
Shop for Nolan Ryan rookie cards on eBay
1969 Topps: The second-year card
Ryan's second card, and his first solo card, shows a baby-faced 22-year-old Ryan. Located in the 6th series (of 7) in the 1969 Topps release, these can be tough to find centered.
PSA has graded close to 8,000 copies of the card, with 867 of those in a PSA 8 slab. A PSA 8 has been selling for between $1,900 and $2,300 of late. PSA has only graded 123 PSA 9's and two PSA 10's.
Shop for Nolan Ryan 1969 Topps cards on eBay.
1971 Topps: The Tough Black-Border Beauty
The classic black borders of 1971 Topps make for a great-looking card, but they're incredibly condition sensitive. How sensitive? PSA has graded over 326,000 cards from the set, and there are less than 250 PSA 10s.
The 1971 Topps Nolan Ryan has been graded 5,749 times by PSA, with no PSA 10's and only 31 PSA 9's. Even in a PSA 8, it sells strongly for between $1,675 and $2,650.
The black borders are so tough, but the card is a vintage classic with an action shot of Ryan on the mound. Is anyone else craving a Royal Crown?
Shop for Nolan Ryan 1971 Topps cards on eBay.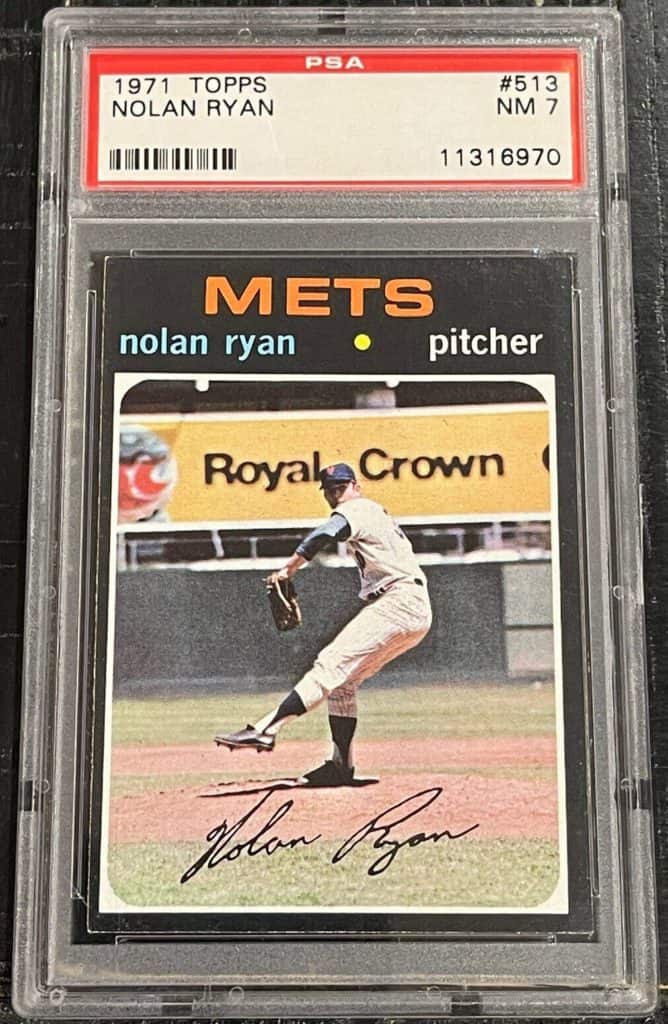 Psychedelic 1972 Topps: California Dreaming
1972 Topps is probably one of the most recognizable designs in the history of baseball cards. Love it or hate it, it's of its time like no other set before or since. 1972 Topps also marks Ryan's first appearance on cardboard as a member of the California Angels.
While 1972 Topps are easier to find in PSA 8 slabs than earlier cards on this list, they still sell for between $375-600 in that condition.
Shop for Nolan Ryan 1972 Topps cards on eBay.
1974 Topps: Single Season K Record
I'm calling out the 1974 Topps Nolan Ryan card for a couple of reasons. It's a beautiful vintage design that is the inspiration for the 2023 Topps Heritage set. It also is the year after Ryan broke the all-time single-season strikeout record. If you have a 1974 Topps Nolan Ryan, you can flip it over and see the "383" right there on the back.
A PSA 8 copy will set you back between $175-225. The last PSA 9 to sell went for $1,650. There are 227 PSA 9's and only PSA 7's out there.
Shop for 1974 Topps Nolan Ryan cards on eBay
1975 Topps Mini: Good thing, small package
If 1972 Topps isn't the most recognizable vintage Topps design, then 1975 Topps probably takes the crown. And 1975 Topps Mini is a unique set in its regard, as a test issue that was not repeated. The cards are the same as the base Topps set, but smaller.
The Nolan Ryan card is number 500 in the set, is the most graded card in the set with 1,568 copies slabbed by PSA. One of the 339 PSA 8's will cost you between $400-550. There are only 37 PSA 9's, and no PSA 10's.
Ryan also of course appears on the base 1975 Topps #500, another excellent choice for a mid-70's Ryan to add to your collection.
Shop for 1975 Topps mini Nolan Ryan cards on eBay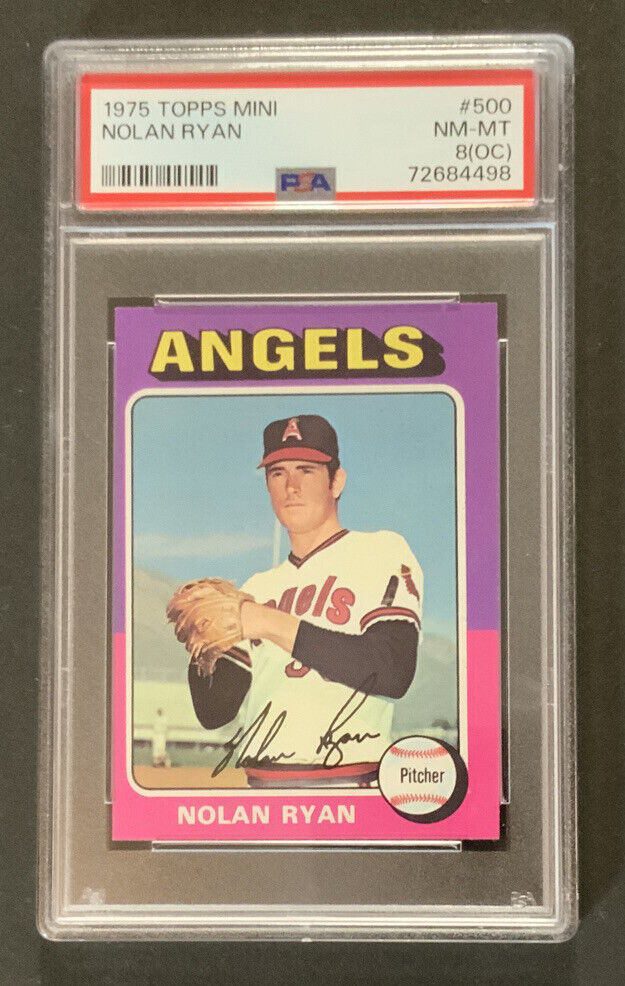 1981 Topps: Houston, we have a legend
In late 1979, Nolan Ryan signed a free agent contract with the Houston Astros that made him the first professional athlete to make over $1 million a year. The deal was for 4 years and $4.5 million.
Ryan didn't appear on a regular issue card in the Astros uniform until 1981 (his 1980 Topps Burger King card did feature him as a member of the Astros).
With over 5,000 copies graded by PSA, with close to 1,000 of those in PSA 9 slabs, these feel like a bit more modern of an offering. Yet it's over 40 years old. In a PSA 9 slab, these sell for between $160 and $200. There are even 41 PSA 10s out there.
Ryan also appeared in the 1981 O-Pee-Chee (both regular and gray back), as well as in the Topps Coca Cola set. And of course, 1981 saw the debut of Fleer and Donruss as Topps competitors, ushering in a new era in collecting, just as Ryan's contract ushered in a new era in free agency.
Shop for 1981 Topps Nolan Ryan cards on eBay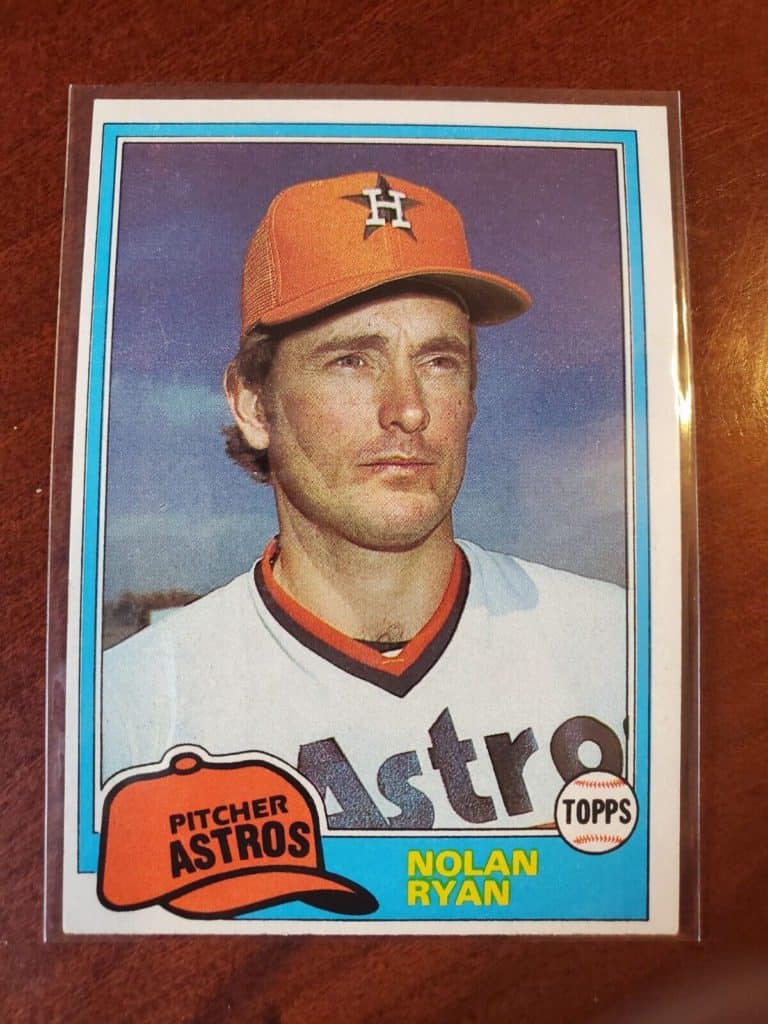 1989 Upper Deck: Ryan, Texas Ranger
Ryan next changed teams prior to the 1989 season, heading north from Houston to Arlington to sign with the Rangers. Much as 1981 was a major transition year for the hobby, so was 1989 with the explosion on the scene of Upper Deck.
The cards were unlike anything seen before with premium photography, pure white stock, holograms, and foil packaging with an unheard price tag of $1 per pack.
Nolan Ryan appeared in the main series as a member of the Astros. The card is notable not because it's particularly rare or valuable, but because of the amazing 3-exposure picture on the card front, showing Ryan's pitching motion. In a PSA 10 slab, the card can be had for $60-80. In a PSA 9, they sell for less than $20.
In the High-Numbered series, Ryan appears as a member of the Rangers. Again, the card is not rare or expensive, but again the top-notch Upper Deck photography team made things special. Ryan is shown throwing a football, a warm-up and training approach made popular by Tom House, a long-time pitching coach.
Fans enjoyed the card both then and that enjoyment continues to this day. In a PSA 10 slab, the card sells for between $80 and $100.
1989 was the heart of the junk wax era, so Ryan has plenty of cards in 1989, from the major manufacturers, plus a number of oddballs, unlicensed, the like. Lots of choices, and with the exception of perhaps the Topps Tiffany offerings, quite affordable.
Shop for 1989 Upper Deck Nolan Ryan cards on eBay
1994 Topps: final active career card
Nolan Ryan pitched his final game on September 22, 1993. He was 46 years old and in his record 27th season. What isn't often remembered is that it was not age or ineffectiveness that finally knocked Ryan off the mound.
Ryan tore a ligament in his elbow in that game. He likely would have retired at the end of the season anyway, but it's an interesting side note to history that it was a CEI that eventually finally got Ryan off the mound.
In 1994, Topps produced one final card of Ryan during his playing days, with his full career line. With a surprisingly low population, this one is actually surprisingly valuable with recent sales in the $500-600 price range.
Looking for a bigger challenge? Look for the Topps Gold or Topps Spanish version.
Shop for 1994 Topps Nolan Ryan cards on eBay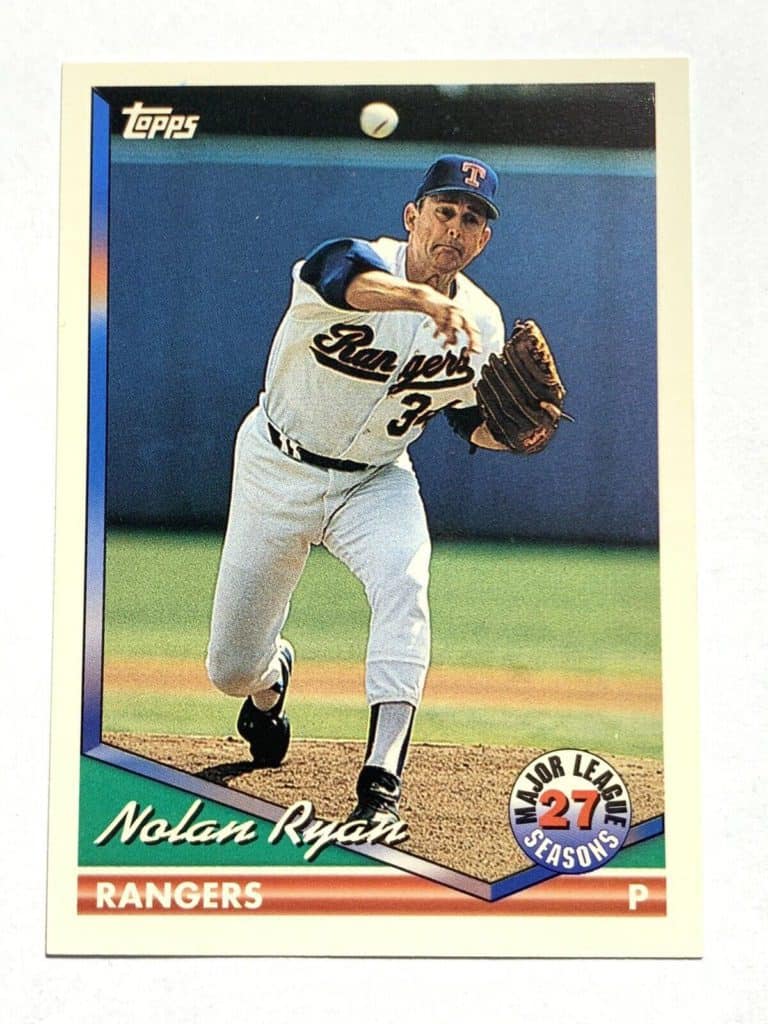 2022 Topps Archives Fan Favorites Autograph
I picked this card because it isn't a super low-pop autograph, it's fairly representative of an ultra-modern Ryan-certified auto, and because, well, it's a nice-looking card. Either raw for graded, this one has sold for between $200-260 of late.
Shop for 2022 Topps Archives Fan Favorites Nolan Ryan auto on eBay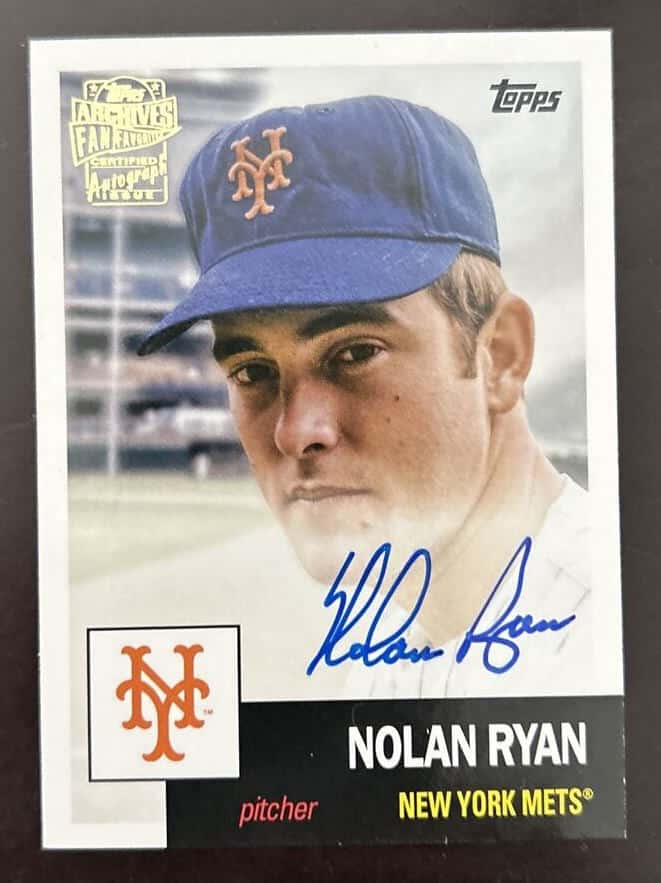 Ryan autographs are far from rare (he's been signing them since the 1960s), but they're always in demand. For a tougher pull, look for lower-population certified autos… there are plenty of /25, /10, /5, and of course, 1/1's out there.
| Card | Total PSA Pop | Recent Sale Pop | Recent Sale Price |
| --- | --- | --- | --- |
| 1968 Topps Mets Rookie Stars #177 | 14,854 | PSA 7 = 1,659 | PSA 7 = $2,800-3,300 |
| 1969 Topps Nolan Ryan #533 | 7,970 | PSA 8 = 867 | PSA 8 = $1,900-2,300 |
| 1971 Topps Nolan Ryan #513 | 5,749 | PSA 8 = 589 | PSA 8 = $1,675-$2,650 |
| 1972 Topps Nolan Ryan #595 | 6,095 | PSA 8 = 1,250 | PSA 8 = $375-600 |
| 1974 Topps Nolan Ryan #20 | 5,947 | PSA 8 = 1,635 | PSA 8 = $175-225 |
| 1975 Topps Mini Nolan Ryan #500 | 1,568 | PSA 8 = 339 | PSA 8 = $400-550 |
| 1981 Topps Nolan Ryan #240 | 5,172 | PSA 9 = 957 | PSA 9 = $160-200 |
| 1989 Upper Deck Nolan Ryan #145 | 2,022 | PSA 10 = 659 | PSA 10 = $60-80 |
| 1989 Upper Deck Nolan Ryan #774 | 1,605 | PSA 10 = 568 | PSA 10 = $80-100 |
| 1994 Topps Nolan Ryan #34 | 685 | PSA 10 = 136 | PSA 10 = $500-600 |
| 2022 Topps Archives Fan Favorites Autograph Nolan Ryan | NA | NA | RAW = $200-225 |
Nolan Ryan League Leader cards
Here at Cardlines, we love vintage Topps league leader cards, and think you should too.
As you might expect for the all-time career leader in strikeouts, Ryan has appeared on a number league leader cards during his career. We'll highlight five of our favorites here, but keep in mind this list isn't exhaustive.
In 1973, Topps combined Nolan Ryan with NL strikeout leader Steve Carlton on card #67, "1972 Strikeout Leaders". For those keeping track at home, that's 9,850 career strikeouts on one card.
In 1974, Ryan again appeared on the Strikeout Leaders card, #207. This time, he was partnered with another Hall of Famer, Tom Seaver.
The 1975 Topps Strikeout Leaders card again paired Ryan with Carlton. In 1977, it was Ryan and Seaver again. It's hard to emphasize just how good those three pitchers were. By career WAR, they totaled 81.3 (Ryan), 90.2 (Carlton) and 109.9 (Seaver).
In 1978, Ryan was paired with knuckleballer Phil Niekro on the Strikeout Leaders card. Niekro's game was a lot different than that of flamethrowers Ryan, Carlton, and Seaver, but Niekro racked up the wins and the strikeouts.
Shop for Nolan Ryan League Leader cards on eBay
All of these cards feature two Hall of Famers each, and all can be had in a PSA 8 slab for less than $100 each, much less in most cases. If you're a fan of Ryan and his fellow 1970's Hall of Fame starters, these are great additions to your collection.
| Card | Total PSA Pop | Recent Sale Pop | Recent Sale Price |
| --- | --- | --- | --- |
| 1973 Topps Strikeout Leaders #67 | 1,711 | PSA 8 = 552 | PSA 8 = $50-100 |
| 1974 Topps Strikeout Leaders #207 | 1,534 | PSA 8 = 586 | PSA 8 = $40-100 |
| 1975 Topps Strikeout Leaders #312 | 1,961 | PSA 8 = 924 | PSA 8 = $35-60 |
| 1977 Topps Strikeout Leaders #6 | 1,248 | PSA 8 = 457 | PSA 8 = $55-80 |
| 1978 Topps Strikeout Leaders #206 | 2,004 | PSA 8 = 724 | PSA 8 = $20-30 |
Why You Should Love Vintage Topps Baseball "League Leader" Cards
Final thoughts on the top 10 Nolan Ryan baseball cards
Nolan Ryan remains one of the most unique, most dominant, most respected, and most collected pitchers in major league history. His long career spanned eras, which means there's a Ryan card for every budget and every taste.
What's your favorite Nolan Ryan card? Let us know at card_lines on Twitter.
More Cardlines top baseball card rookie coverage