Is It Too Late To Buy Evan Mobley Rookie Cards?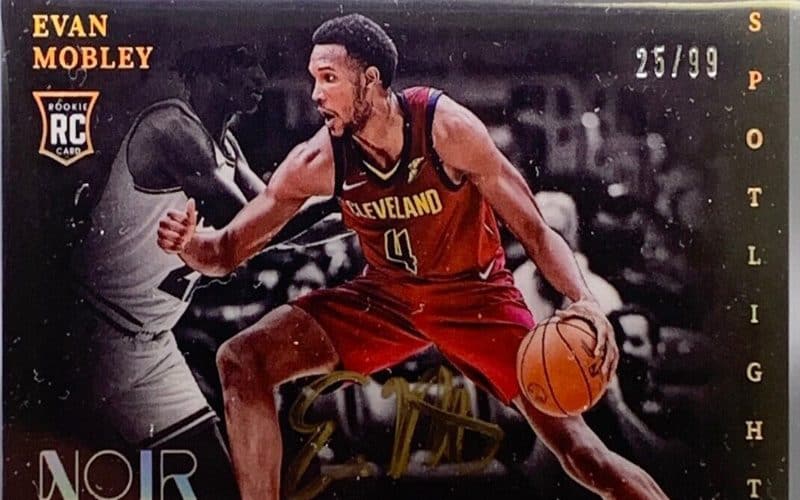 Evan Mobley is off to an incredible start to his NBA career, narrowly missing winning 2021-22 NBA Rookie Of the Year to Scott Barnes.
He is one of the most promising young players in the NBA right now, and with the NBA being one of if not the hottest sport on the market, Mobley is one of the most sought-after players in the entire hobby.
Shop for Evan Mobley rookie cards on eBay
Who is Evan Mobley?
Evan Mobley is a second-year player who was the 3rd overall pick of the 2022 NBA draft. He was selected by the Cleveland Cavaliers and he has already had an immediate impact on the team. Mobley has an extremely rare and sought-after skillset that sets him apart from almost every other big man in the league.
Before his time on the Cavaliers in the NBA, Mobley was a star for the USC Trojans. In only one season with the Tojans, Mobley proved himself as one of the most impressive prospects in all of college basketball.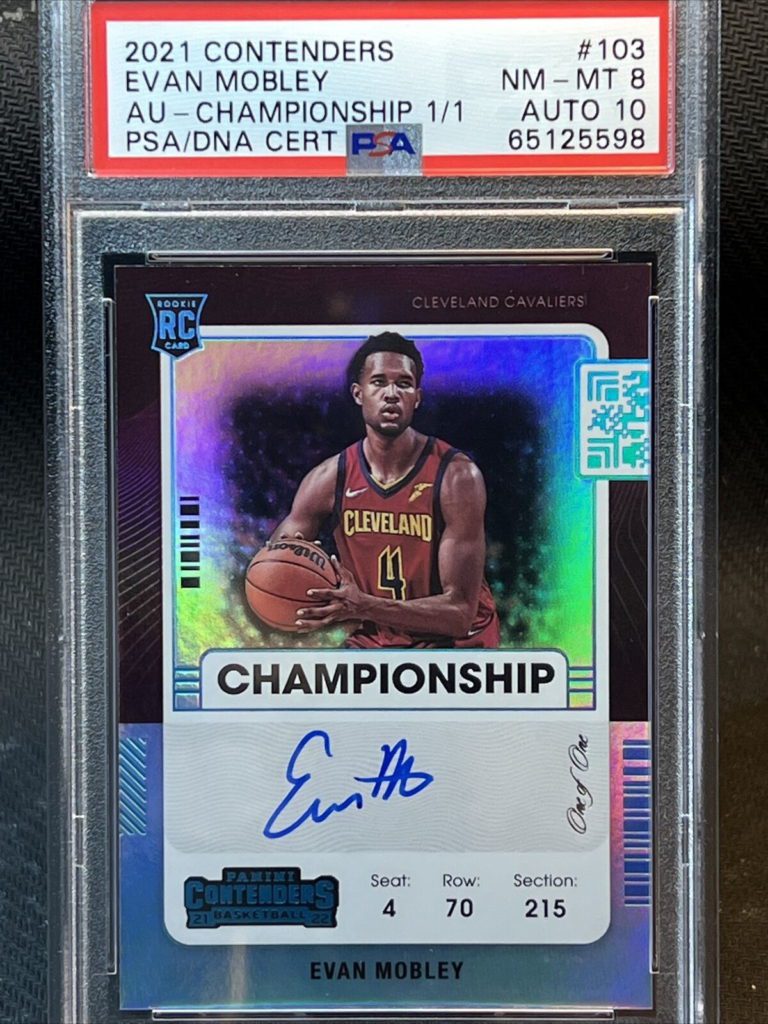 How was he rated as a prospect?
Mobley was one of the top prospects in his draft class. Although he fell behind players such as Cade Cunningham and Jalen Green, scouts were still extremely high on him as a prospect. Some compared Mobley to Chris Bosh on offense and Anthony Davis on defense.
While it is almost impossible for a rookie to fill those enormous shoes, Mobley is on the right path to being one of the most elite big men in the league. A scouting report for Mobley coming into last year's draft from NBADraft.Net had Mobley listed as the second-best prospect in the draft and rated him as a 100/120.
Coming into the draft, many believed that Mobley was an elite two-way game along with being an incredible athlete for his height. The only two things that some were skeptical about with Mobley before he entered the league were his strength and his ability to be a leader.
While it is true that Mobley could gain from putting on a little more muscle and being a more stereotypical leader, he is still arguably the most complete player from last year's rookie class. 
Shop for Evan Mobley rookie cards on eBay
Evan Mobley's NBA career so far
Mobley finished the tail end of his rookie season strong, capping off what has been an incredible way to start his career thus far. He finished runner up in the Rookie of the Year award, has established himself as a core piece of the Cleveland Cavalier's future, and has helped elevate the Cavs from one of the worst in the entire league to fighting for a playoff spot in only one season.
During his first season, he averaged 15 points, 8.3 rebounds, 2.5 assists, and 1.7 blocks per game. These are spectacular numbers for a rookie and they likely will only continue to increase as the years go by and Mobley becomes more experienced and continues to play a bigger role for Cleveland.
There are only a couple of weak spots in Mobley's game illustrated thus far. The first is his shooting splits. One of the major draws of Mobley as a prospect was his ability to stretch the floor with his shooting ability. It is clear that Mobley still has not become accustomed to the NBA three-point line.
While he did not thrive from three in college, he still shot 30% from beyond the arc during his time at USC, however, that number has dropped to 25.9% since he entered the league.
Along with this, he has struggled from the free-throw line as well, just as he did in college. He went from shooting 69.4% from the free throw line in college to 67.7& from the charity stripe since entering the league.
The only other area in which Mobley needs to improve before he can meet the expectations that were set for him before coming into the league is to cut down on the turnovers. Mobley is a rare player as he is a big man that can handle the ball.
However, with him being new to the league, he has not been through an NBA workout regime for too long. If he is able to continue to bulk up, it will be much easier for him to absorb contact while in the post or while handling the ball without turning the ball over.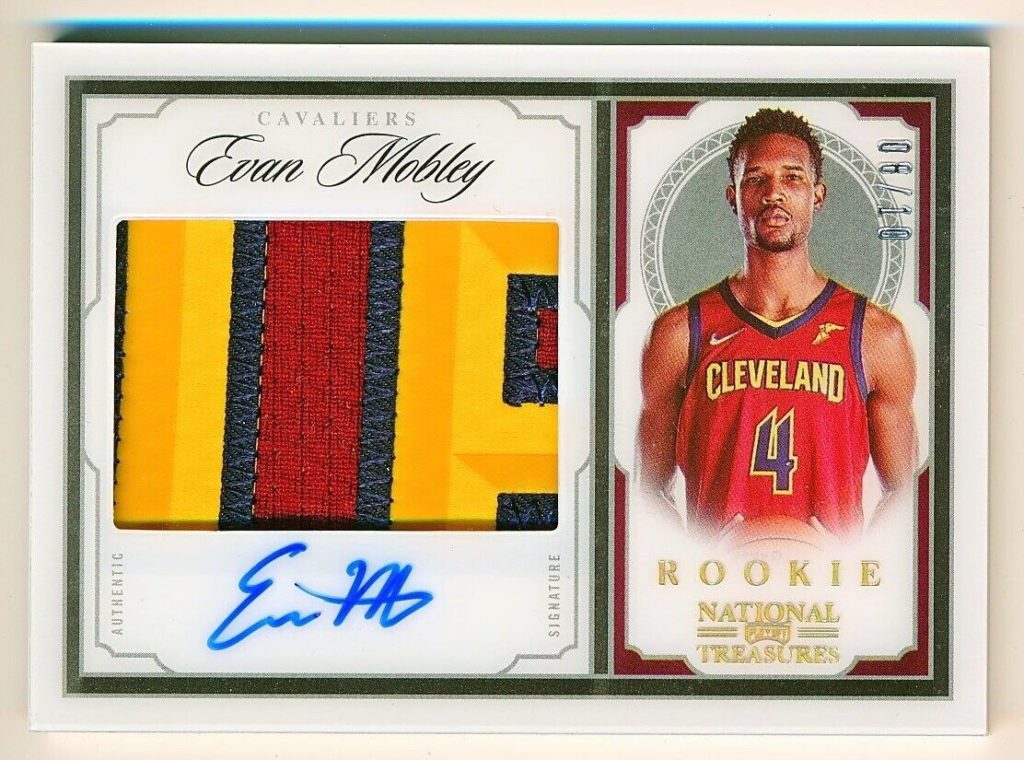 How likely is he to become a superstar?
Evan Mobley is on a very good path to becoming a superstar in this league. However, it will be especially difficult for him to reach superstardom for two major reasons. The first being that he is a big man, and the second being that he plays in a small market like Cleveland.
Proportionately in the NBA, a majority of the superstars in the league are made up of guards and wing players like LeBron James, Stephen Curry, and Giannias Antetokounmpo. Although it is not impossible for a big man to become a superstar as we have seen with Nikola Jokic and Joel Embiid, it is much rarer.
With Mobley beginning his career in Cleveland, there will not be as many eyes on him as there would have been if he were drafted to a team in a New York or Los Angeles market. While players like Ja Morant have proven that it is possible to become a huge name without being in a big market, it makes things a bit tougher.
As long as Mobley can stay healthy and continue to work on some of the weak points in his game, there is no reason why he should not be a superstar. The sky's the limit for him and at this point, I would predict that his floor is a Jaren Jackson Jr. type of player.
Shop for Evan Mobley rookie cards on eBay
The top 3 Evan Mobley rookie cards with prices and population
The following cards are the most sought after Even Mobley rookie cards (with print runs of at least /49) over the last 3 months:
Is Evan Mobley worth investing in at current market value?
Evan Mobley is rightfully priced as one of the top players on the market right now. Due to the potential that he has shown up to this point along with the talent he already has, Mobley is a player worth collecting.
While it would be much nicer to pull an Evan Mobley rookie than having to pay the large price tag that is associated with a high-quality Mobley card, it would not be a bad idea at all if you have the budget for it to pick up a nice card or two of his.
He is the real deal and barring any injuries will continue to develop into one of the best and most versatile big men in the league.
Final thoughts on Evan Mobley rookie cards
Evan Mobley has established himself as one of the best prospects in his draft class during his time at USC. He was then selected third overall by the Cleveland Cavaliers. Since he joined Cleveland, he has proven himself as the most talented rookie in his class and is well on his way to being named the rookie of the year for this season.
The sky's the limit for Mobley and he has already worked his way into being an essential part of the Cavaliers future plans. There could be an incredible one-two punch of Darius Garland and Evan Mobley for years to come in Cleveland.
Although he is costing a pretty penny on the market right now, I would recommend purchasing a nice Mobley card if your budget allows it.