The Best Rookie Cards And Early Career Cards Of Hall of Fame Flamethrower Randy Johnson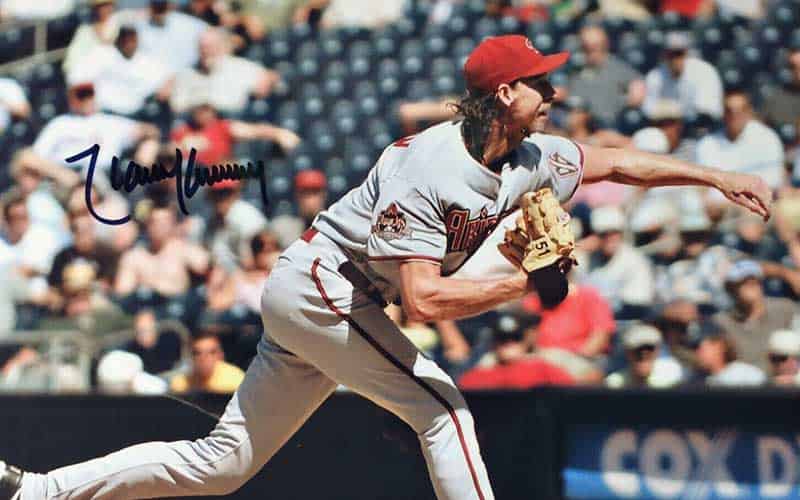 Randy Johnson was one of the most intimidating and dominant pitchers of all time. He won over 300 games in his illustrious career, the second-most career strikeouts of any pitcher, ever and one of the best pitchers to get their career started in the 1980s.
But who was Randy Johnson? What are his rookie cards? And which are the very best of his rookie and early career cards for collectors to chase?
Shop for Randy Johnson rookie cards on eBay
Who is Randy Johnson?
Pitcher Randy Johnson appeared in parts of 22 years in the major leagues for six teams, mostly with the Seattle Mariners and Arizona Diamondbacks. If you were going to build from scratch a pitcher, you might just end up with Randy Johnson.
At 6'10", Johnson was one of the tallest pitchers in history. Throw in a high 90's fastball, shaggy locks, a menacing stare, and just enough wildness to make a hitter feel less than comfortable, and you have a recipe for success on the mound.
Johnson won five Cy Young Awards in his career, including four in a row. He finished 2nd in the voting three other times. He made 10 All Star teams, four ERA titles, and led his league in strikeouts 9 times.
For his career, Johnson was 303-166 with a 3.29 ERA, good for a 135 ERA+. His 4,875 career strikeouts are second all-time to only Nolan Ryan.
For his career, Johnson was worth 101.1 WAR, good for 10th all-time among starting pitchers. He was ranked 24th on ESPN's Top 100 players list.
Johnson's large size and intimidating image have led to some of the most amusing moments in the history of the game. John Kruk had a very memorable at bat against Johnson in the 1993 All Star Game. In a Spring Training game in 2001, a bird made the fatal mistake of swooping in front of the plate just as Johnson released a pitch.
Shop for Randy Johnson rookie cards on eBay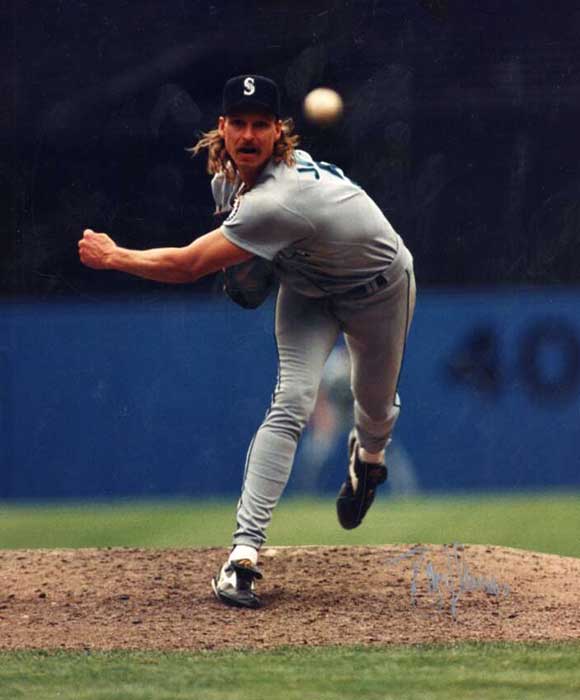 Randy Johnson baseball card overview
With his first card appearances in the late 1980s, Randy Johnson made his debut during the peak of the junk wax era. This means that in most cases, we'll be looking at massive PSA populations and very reasonable purchase prices. While this limits the upside in many cases, we'll look for opportunities that may exist.
Johnson's rookie cards appear in 1989 base products. Johnson was traded from the Montreal Expos to the Seattle Mariners in late May of 1989, meaning he appears in traded/update sets in his new uniform, as well.
Johnson also appeared on pre-rookie minor league cards from 1986 to 1989. We'll explore those as well.
Randy Johnson Upper Deck rookie card – The best Big Unit rookie
In 1989, Upper Deck shook up the baseball collecting world with the release of their inaugural release. With crisp white stock, sharp photography, and holograms, it revolutionized the card industry.
While the Ken Griffey Jr. rookie card gets a lot of attention from that set, the 1989 Upper Deck Randy Johnson rookie card is arguably the second most desirable in the set. The rookie cards Craig Biggio and John Smoltz round out the Hall of Fame rookie cards in the set.
Despite having the largest PSA population of any of the cards we're exploring today, the Upper Deck card also fetches the highest price in PSA 10 condition, with recent sales in the $80-90 range.
Shop for 1989 Upper Deck Randy Johnson rookie cards on eBay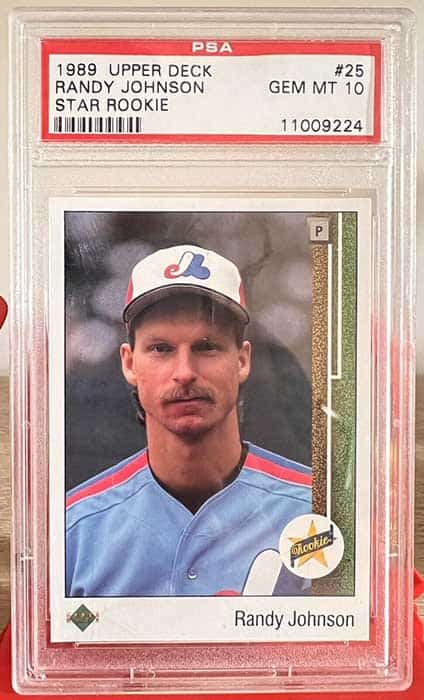 The 1989 Fleer Randy Johnson Marlboro Ad card
When originally released, Johnson's 1989 Fleer rookie card had a Marlboro cigarette sign plainly visible behind him on the scoreboard. Whether out of concern for children or concerns about offering Marlboro free advertising, Fleer set about to fix the issue.
Much as with the infamous Billy Ripken error from the same set, their attempts to remedy the issue were multiple and less than successful.
Several variations currently exist, and several sub-variations, depending on what internet forum you look at. PSA recognizes several different variations, although they also graded over 5,700 copies with no variation called out. The most common variation is the Ad Completely Blacked Out, which you could call the "corrected" version.
A bit rarer and more valuable is the Ad Partially Obscured variation, which is somewhere in between the correct and error card. Recent sales have been all over the map for a PSA 10, from a low of $60 all the way up to $500.
The Ad on Scoreboard variation is the "error" version, with the Marlboro logo clearly visible. It is among the lower population versions and also the most valuable. That being said, PSA has also graded 3 copies as Red Tinted Marlboro Ad on Scoreboard.
With a card that rare, there are no recent comps, but keep your eyes out for raw copies if you're sorting through 1989 Fleer cards. Looking for a big more difficult chase? 1989 Fleer Glossy has the same variations, with lower PSA populations and higher values.
Shop for 1989 Fleer Randy Johnson Marlboro Ad rookie card on eBay
Other Randy Johnson rookie cards
Randy Johnson appeared in all of the base sets in 1989. All have fairly high populations in terms of PSA slabs.
Interestingly, the 1989 Score Randy Johnson is the lowest population rookie card, although the high percentage of PSA 10's makes it the most inexpensive card in that condition.
The 1989 Topps Randy Johnson is the second most expensive of his base rookie cards, selling in the $60-70 range for a PSA 10. Meanwhile, the 1989 Donruss Randy Johnson sits somewhere in the middle, in terms of population and value.
Randy Johnson rookie card value
The Randy Johnson Update/Traded rookie cards
Randy Johnson also appears in the end-of-the-year boxed sets for all four major brands in 1989. This includes the 1989 Donruss Rookies as a member of the Expos and in the 1989 Fleer Update, 1989 Score Rookies & Traded, and 1989 Topps Traded sets on his new team, the Seattle Mariners.
These cards are lower population than the base cards but also command lower prices. If you're a Randy Johnson fan, these are a great way to add rookie-year Johnson cards to your collection for not a lot of dollars. A careful shopper could likely add all four in PSA 10 slabs for $100 or less.
Shop for Randy Johnson 1989 Updated and Traded rookie cards
Randy Johnson Tiffany rookie cards
Looking for something a bit lower pop and higher value? Topps Tiffany may be the answer you're looking for.
The 1989 Topps Tiffany card has a total PSA population of under 1,000, with just over 100 PSA 10's. When one comes available, those PSA 10's will sell for $2,000 and up.
The 1989 Topps Traded Tiffany has a slightly higher total PSA population, but fewer PSA 10's. It sells well, when it comes up, for over $1,000.
Shop for 1989 Topps Tiffany Randy Johnson rookie cards on eBay
Randy Johnson pre-rookie cards
Prior to his 1989 rookie cards, Johnson appeared on a number of minor league cards. These present a fun, lower population, and in some cases valuable addition to your Randy Johnson collection.
Randy Johnson's very first professional card was in the 1986 ProCards West Palm Beach Expos team set. These have a fairly low PSA population, and in PSA 10 condition sell for $1,200-1,500.
Johnson appeared in five more minor league sets in 1987 and 1988. Some of these cards are low population and either sell for solid prices in PSA 10, or are so rare that no comps are available. Others are not necessarily high population cards, but sell for far more reasonable prices.
Regardless of which minor league Randy Johnson card you choose, they offer lower population numbers than any other Randy Johnson early career cards, other than the Topps Tiffany cards. They also have a coolness factor that can't be ignored.
Shop for Randy Johnson minor league cards on eBay
Investing in Randy Johnson rookie cards
Randy Johnson is retired and was elected to the Hall of Fame in his very first year of eligibility. Also, his rookie cards were produced in the heart of the junk wax era, so they're more than plentiful in raw condition, and their PSA populations are generally on the higher side.
The above typically don't make a great recipe for investment upside. I'd recommend not letting this stop you from buying Randy Johnson cards. He is one of the greatest pitchers in recent history, and adding him to your collection can bring enjoyment to your card-collecting hobby.
But are there Johnson cards with upside? On the high end, I'd say the Tiffany cards are likely to continue to be strong sellers, and with their limited production numbers and lower PSA populations, don't suffer from the same "glut effect" that the other cards do.
In the same vein, the minor league cards also have lower populations (both PSA and production) and may have some upside. In addition, the 1989 Upper Deck card continues to sell well despite a very high PSA population, and the 1989 Fleer variations have their own niche in the hobby, with a number of collectors looking to acquire a full run.
Shop for Randy Johnson rookie cards on eBay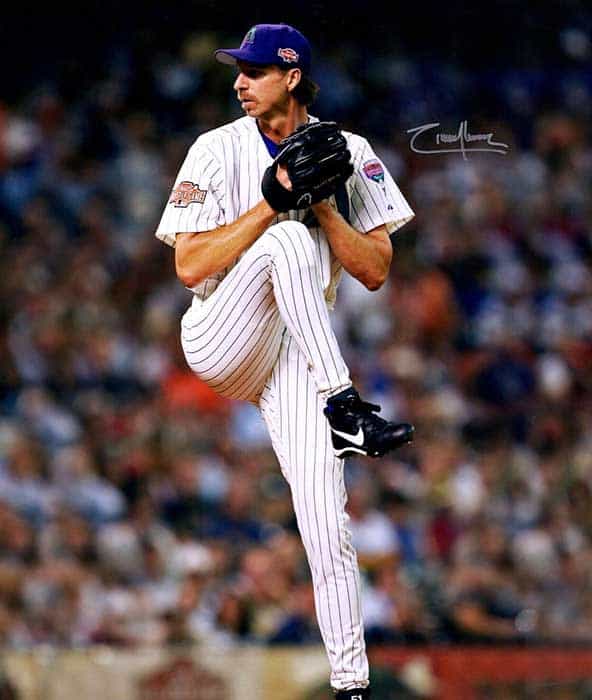 Final thoughts on the best Randy Johnson rookie cards
Randy Johnson was one of the greatest starting pitchers of his era, or any era for that matter. His rookie and early career cards provide an interesting mix of interesting rarities to chase along with a lot of affordable and high population cards that while perhaps not the best investment, are affordable additions to any collection.
Whatever your collecting focus or hobby budget, there is likely a rookie card or early career Randy Johnson card for you!
Shop for Randy Johnson rookie cards on eBay
More Cardlines top baseball card rookie coverage