Everything You Need To Know About The Frank Thomas No Name on Front Error Card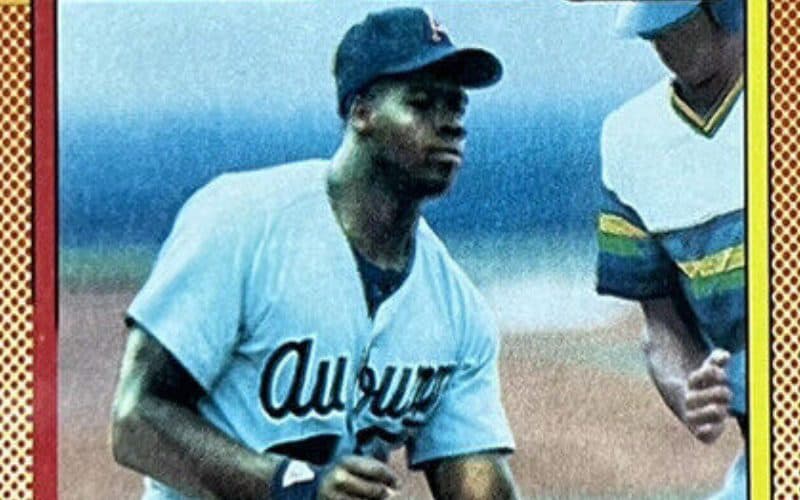 The junk wax era was the "Wild Wild West" for trading cards. Aptly named, it was a period where cards were massively overproduced.
Companies rushed to put out as many sets as possible, and as expected, the quality of trading cards took a hit! While most of the cards produced during this period are literal junk, they gave us a couple of notable cards.
These cards hold considerable value even to this day. Usually, it's a rookie card from one of the greats like Upper Deck Ken Griffey Jr. rookie card. Or it's an error card with an interesting story, like Bill Ripken's Fuck Face card.
However, this card has a little of both. An error card from two-time American League Most Valuable player and five-time All-Star player – Frank Thomas, aptly nicknamed "The Big Hurt."
This article shall review one of the most valuable error cards from the junk wax era, how it occurred, its value, and how to spot fakes.
Shop for Frank Thomas NNOF cards on eBay
History of Frank Thomas No Name on Front card
Frank Thomas had an average season three years before he was named the AL's Most Valuable Player by a unanimous vote. He was barely a top-50 prospect and received 0 votes for the Rookie of the Year honors.
His Topps rookie card mirrors the season he just had and wasn't supposed to be anything spectacular. While some players are pictured in immaculate poses or batting, Thomas is pictured kneeling unremarkably in his Auburn uniform.
While most of his 1990 Topps cards had his name written in front, his name was missing on a select few copies. The fittingly named "No Name on Front" cards mirror the regular cards but with a huge blue blank space where Frank Thomas's name should be.
Unlike most error cards that instantly get noticed and corrected, it took a few years before people even acknowledged the No Name On Front cards. While this is mainly due to just how few cards had this error, it's no coincidence that Beckett only recognized the error card after Frank Thomas was named MVP in 1993.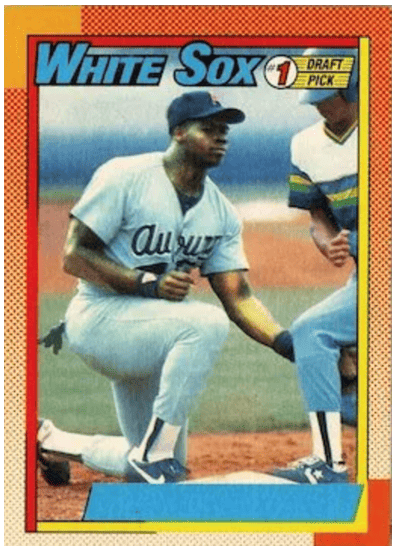 Once Beckett recognized the error card, it was instantly regarded as a rare gem and commanded impressive sums even in 1993. This was for two reasons;
Frank Thomas had just won the MVP
The card was ultra-rare.
Experts speculate that no more than 400 No Name on Front cards were printed. As always, people wanted to know what happened. Did Topps print a small quantity of Frank Thomas cards without his name in front? Was it a printing error? Why was it limited to so little amount?
Shop for Frank Thomas NNOF cards on eBay
How Frank Thomas error card happened
There have been several explanations for how the Frank Thomas error card came to be. Everything from Topps knowingly not printing his name to a printing error to denying the cards exist. We shall cover a few of the most famous attempts to explain this occurrence.
Topps – and why it's not plausible
As with error cards, Topps was immediately fingered for deliberately printing a few cards without his name on them. This accusation is not without substance, as we've seen card producers try to build hype around sets by creating "error" cards.
A famous example is the 1990 Upper Deck #54 Ben McDonald card. However, this explanation has been debunked with facts that are hard to argue against.
While Frank Thomas went on to be one of the greatest players ever to play the game, he was far from being a top player in 1990.
He wasn't a top prospect, and if deliberate, Topps could have gone with a higher-placed star. Additionally, the number of No Name on Front cards is too small to have been intentional. Usually, when companies deliberately create an error card, it's for high-ranking players, and a fair number of cards are printed.
This isn't the case with the Frank Thomas No Name on Front cards which rules out this line of thought. Additionally, Frank Thomas isn't the only player whose 1990 Topps card was missing black ink.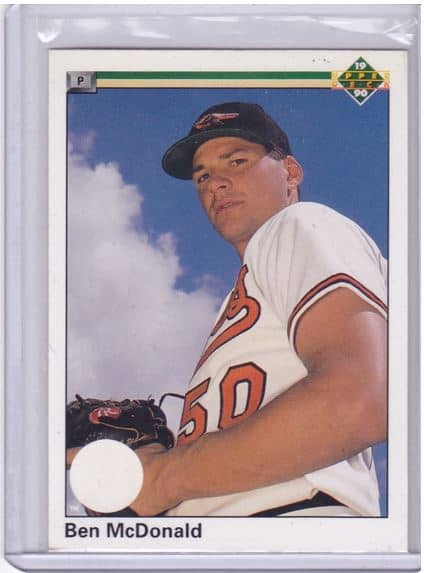 Printer Error, BigHurtOf, and Collectors Universe
Ruling out a deliberate move from Topps leaves just one possible explanation – the NNOF card was created by a printer error. Mistakes during the printing process were commonplace in the 90s. This was because Topps made Baseball cards through offset lithography.
This process transfers the ink from a printing plate to a rubber blanket to the printing medium. To achieve a full-colored card, you had to pass the cards through 4 separate printing processes with color-specific plates. From cyan to magenta to yellow and then black to finish the printing process. These inks are combined in proportions to create a complete color image.
Shop for Frank Thomas NNOF cards on eBay
BigHurtOf website
The combined nature of the printing solution and the human factor involved in this process increased the likelihood of errors. Indeed, several players from the Topps 1990 set are missing black ink. Ross Clark, an advanced collector, and hobby researcher, owns the website BigHurtOf.com.
BigHurtOf.com has a section dedicated to explaining the Frank Thomas NNOF cards. It summarizes hundreds of research hours by the Collectors Universe community. This is an excerpt from the website;
"To fully explore the likely causalities of the 1990 Topps Blackless Errors, one must accept a few precepts; first, the errors are very limited, comprising a mere fraction of a percentage of total production; second, the cause of the error was inconspicuous, easily slipping through quality controls of the time; third, no "intermediate" errors showing a gradual loss of afixment of black ink have ever been isolated; finally, the resulting error is amorphous, with no logical boundaries and random placement.
Acceptance of these precepts creates the possibility that the errors had the potential to go undiscovered until some point after pack-out and product release; though the possibility exists that press operators were knowing of the production issue, corrected it, but failed to destroy the damaged sheet runs."
After months of research, looking at the uncut sheet, and gathering more blackless cards from the 1990 Topps set, they came to a conclusion. There were only three real possibilities for the error;
Damaged Black Printing Plate
Dirty Black Printing Plate
Dirty Rubber Blanket
Damaged black printing plate
The process of printing using printing plates allows two scenarios that might have caused the blackless error on the NNOF card. Something impeded the black photonegative from appropriately etching to the metal or polyether plate.
Either the negative itself was damaged, or there was a chemical residue on the plate. Another possibility is that the plate was exposed to light during etching which caused a chemical reaction that affected a portion of the plate.
While these are possible scenarios, the likelihood of it being responsible for the NNOF card is minute. If this had happened, it would have affected more cards than the few NNOF cards printed. Additionally, an error on a large lot would have gotten isolated by the pressman once spotted.
Dirty Black Printing Plate
A printing error is likely to occur when there's residue on the printing plate. This can be a bother as any attempt to clean such residue would make the plate useless.
However, while a dirty black printing plate can lead to printing errors, experts have determined that it didn't cause the NNOF card. This is because a dirty printing place would cause an increase in ink adherence rather than a total lack of ink.
Dirty Rubber Blanket
The offset lithography printing method required the pressman to clean all production equipment regularly. Cleaning ink required the use of industrial solvents rather than just water. These solvents work by either repelling or attracting the ink from the surface of this equipment. The theory is that the orange sheet of cards became dirty during the print run and required cleaning.
The pressman would have used a cleaning solvent to clean this dirt and didn't properly wash it away. This solvent impeded the black ink from adhering to the surface of the blanket, leaving a blank area. This theory is the most generally accepted as the pattern on the uncut sheet supports it.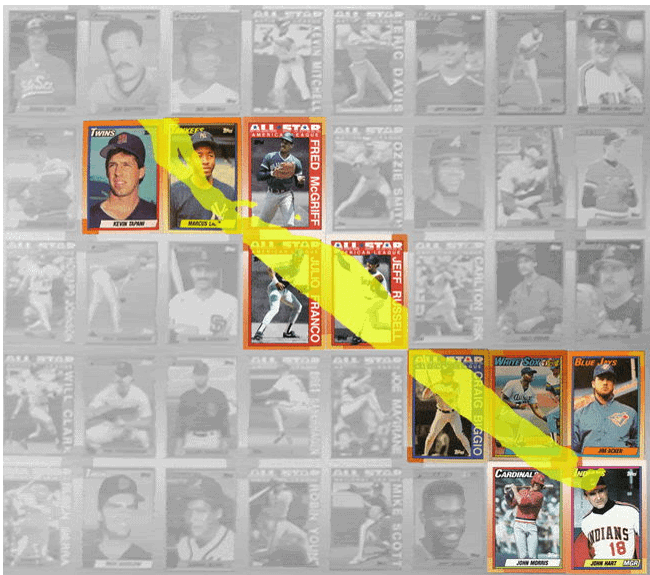 This amorphous pattern appears as a swipe across the sheet and shows all the cards affected by the blacklessness. Additionally, there is evidence that the rubber blanket became dirty during printing. This can be seen in various Frank Thomas 1990 Topps cards missing black inks in several key areas.
Coincidentally, the focus area of these missing spots of black inks is where Frank's name is written. The leading theory is that the pressman noticed these missing spots of ink, stopped the press, and carefully inspected the surface of the rubber blanket. He saw some residue and cleaned the slate using a chemical solvent but forgot to clean the solvent from the blanket properly.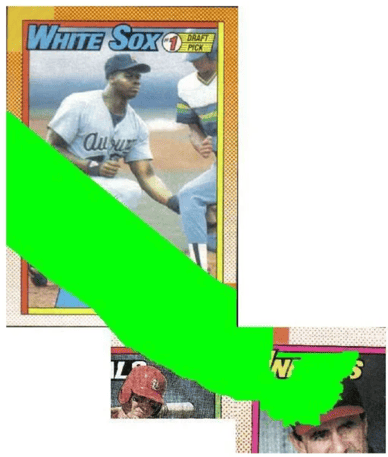 While industry experts all agree that this is the most likely reason for the NNOF card, there are many ways a printing error of this nature could occur in the 90s. Whatever the reason, it gave us a special card worthy of the career The Big Hurt went on to have.
How many Frank Thomas No Name error cards are there?
There's no way to know how many Frank Thomas NNOF cards were printed, as this is a unique error. However, from the population report from PSA and BGS, experts agree that the number of Frank Thomas 1900 Topps No Name on Front card is below 400.
Last year, there was a BGS and PSA population of 77 and 207 graded NNOF cards, respectively. This is compared to over 14,500 graded Frank Thomas Name on Front cards. Experts estimate that there are less than 400 NNOF cards, with the extra number accounting for non-graded cards or cards sitting in unopened wax boxes.
Shop for Frank Thomas NNOF cards on eBay
Frank Thomas error card No Name On Front value
Once officially recognized in a 1993 issue of Beckett Monthly, prices for the NNOF cards began soaring from their original listing price of $5. This got even more expensive as people realized how few cards they were. However, while the value of the NNOF cards increased, it was still within the range of the average investor until 2011.
He was inducted into the National Baseball Hall of Fame a few years before. Today, the Frank Thomas NNOF card is a 5-figure card for collectors with considerable bankrolls. A PSA 10 is valued at $30,000, and even PSA 6 easily sells for over $5,000.
Shop for Frank Thomas NNOF cards on eBay
How to spot fake Frank Thomas NNOF cards
The ever-rising price tag of the NNOF card compared to its original cards without the error has inspired thousands of counterfeits and fakes. Sometimes, the seller recolored the card to cover the name, while a few were photocopies with the name blurred out.
In December 2018, a counterfeit Frank Thomas NNOF found its way to BSG and slipped through their checks with a PSA 8 grade. This prompted even more scrutiny for investors looking to buy a Frank Thomas NNOF card. Here are a few pointers to avoid spending huge figures on a fake card.
The authentic Frank Thomas NNOF card has a black dot in the empty name box.
Authentic cards do not have the "Topps" name on the front of the card.
While some counterfeits might have the black dot, you can know it's a fake by the presence of the "Topps" name.
Real cards lack a huge chunk of the black lines around the empty name box that should contain his name.
Real cards are also missing a large portion of black lines within the inner yellow border.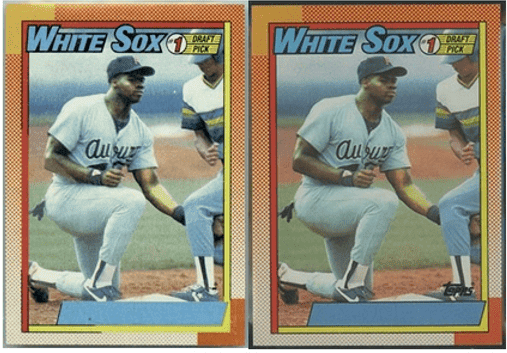 The Frank Thomas NNOF cards sell for over $10k for a PSA 8, while cards with the name go for less than $100 in similar conditions. This value gap has ensured there's no shortage of fake Frank Thomas NNOF cards looking to fool the unsuspecting buyer. Be on the lookout to ensure you are not scammed into purchasing a FAKE card.
Frank Thomas No Name error card final thoughts
While the limited supply and unique circumstances surrounding the Frank Thomas NNOF error card have contributed to making it a famous card, Frank Thomas's career has made this card a rare gem with fantastic value for collectors.
He retired as one of the game's greatest hitters and a two-time AL MVP! He retired with 521 home runs, 2,468 hits, 1,704 RBI, a .301 batting average, and one of the most well-known error cards in Topps history.
We'll end this article with a shout-out to the beautiful community at Collectors Universe that put together the history of this card piece by piece. You can follow their incredible journey to get to the end of this fascinating mystery here.
Shop for Frank Thomas NNOF cards on eBay
Other notable error cards