Full Guide To The CCG-PWCC Grading Partnership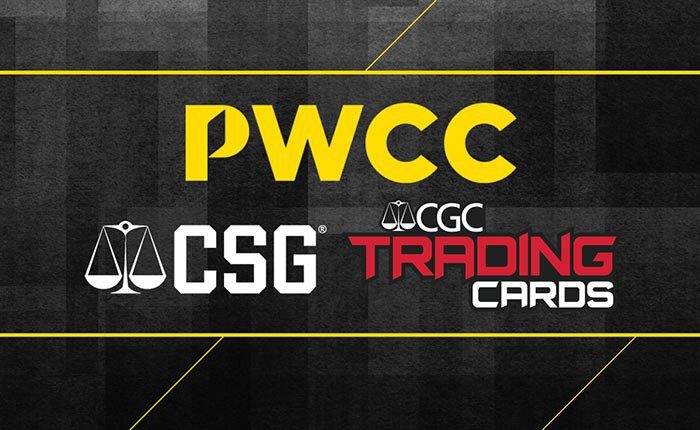 PSA and eBay have launched high-stakes campaigns to dominate the hobby, leaving much of the competition in the dust. The two are increasingly looking like monopolies in their respective niches. However, you cannot expect their rivals to crawl up and die. CSG and PWCC have announced a partnership in an effort to survive in an increasingly competitive marketplace. It was worth taking notice of the opportunities the CCG-PWCC Grading Partnership provides for collectors.
What Does This Partnership Offer Collectors?
The bottom line is simple. You can now pay 20$ for a card to have it graded and posted on PWCC for auction. In addition, the two companies promise a two-week turnover for the process.
Jesse Craig, Director of Business Development at PWCC Marketplace, said, "this offering is now the fastest and easiest pathway for customers looking to grade the vast majority of raw trading cards currently in circulation. The partnership removes the major hurdles associated with grading and selling raw trading cards. You submit your raw cards once to PWCC, and we take it from there."
How Do I Submit Cards For CCG grading Through PWCC?
Follow the same submission process through the PWCC website. Select the option to submit to CCG for grading. You must have a registered PWCC account to participate in this offer.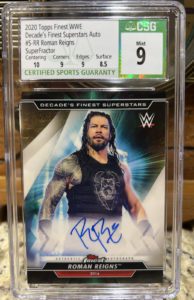 Look for CSG graded cards on eBay.
How The CCG-PWCC Grading Partnership Works
The service works through PWCC rather than CSG. Indeed, PWCC advertises the service as terms they have negotiated for preferential treatment for their customers.
Here are the terms as published on the PWCC website:
Flat fee. Only $20 per card regardless of value, genre, or category. The program currently includes only 2.5 x 3.5 sized cards. The $20 fee includes shipping costs from PWCC to CCG and back to PWCC for sale in the Weekly Sunday Auction.
No upfront costs. After your CCG encapsulated card sells in PWCC's Weekly Sunday Auction, we will deduct the $20 fixed grading cost from your proceeds.
10-day guarantee. CCG will grade cards within 10 days of receiving them.
Unlimited submissions. Submit unlimited cards. PWCC recommends you submit cards with at least a $100 value to ensure you maximize your profits. For example, if you submit a card that sells for $20, you will net $0 since you will pay $20 for the CCG grading process.
No paperwork. Forget the forms. PWCC will handle the entire process with CCG. You will only need to follow the submission process on PWCC's website.
CCG to PWCC Weekly. CCG will send your cards directly to PWCC. PWCC will queue them for an upcoming Weekly Sunday Auction when they arrive. It is that simple.
Are Cards Submitted To The CCG-PWCC Grading Partnership Available For Vaulting?
Curiously enough, they are not. The deal only applies to cards that are made available for immediate auction on PWCC. The cards must be made available through PWCC's Weekly Sunday Auction when CCG returns them to PWCC.
What Cards Can You Submit To The CCG-PWCC Grading Partnership?
The vast majority of raw cards can be submitted through this program. If you have non-sports cards, they will be submitted to CGC. That company specializes in Pokémon, Magic: The Gathering, and other related cards.
Meanwhile, for sports cards, they will send your items to CSG.
Items That Do Not Qualify For The CCG-PWCC Grading Partnership
It is also worth noting that you cannot submit cards through this program for cross grading. The cards must be raw. So, if you want to send in a graded card, break it out of its slab first.
Pokémon – Cardass
Pokémon – Funskool
Marvel (except for those issued by Weiss)
Super Dragon Ball Heroes
Non-English Yu-Gi-Oh! Cards
Items deemed too fragile to encapsulate
Cards artistically altered to make them appear to be a better card type
Fantasy, unlicensed or homemade cards
Square Cut cards from the Wizards of the Coast era without provenance
Square Corner Digimon cards
Counterfeit or Replica cards
Are Cards Submitted To CSG Through PWCC Ensured?
Yes. PWCC guarantees it will "insure your cards for their estimated market value." In addition, once the cards have PWCC, you can change the amount on your user dashboard.
PWCC insurance is provided by Arthur J. Gallagher & Co. That is the same company that insures the priceless items at the Baseball Hall of Fame. The sports card insurance provided protects against theft, fire, water, and all other losses.
Is The CCG-PWCC Grading Partnership A Good Deal?
20$ for grading and putting cards up for auction is generally an excellent deal. However, the deal suffers from the drawbacks associated with the two companies involved. Let's look at the two companies to understand better what we are talking about.
PWCC
PWCC is a problematic actor in the hobby. There is really no other way to put it. You can read our coverage of their shill bidding scandal and their tendency to sell cards that they know have been altered.
As a result of these scandals, eBay removed PWCC from its website. Soon after, the Oregon-based company announced the launch of its own sales platform.
At first, users reported that they were getting weak prices for the items posted. However, the platform's popularity has increased, and prices have become more competitive. At this point, the PWCC marketplace has enjoyed some success and appears to be here for the long haul.
However, it sits at an awkward spot. On the one hand, it does not have anything like the number of items available on eBay. But, on the other hand, fewer people are buying, and therefore sales will often be lower than on eBay.
On the other, PWCC does not enjoy the cache of Goldin or Heritage for high ticket items. Therefore, you are unlikely to want to sell your truly high-end cards there.
Raw to graded to auction… made easier. 💯

PWCC is proud to announce a new partnership with @CSGCards and @cgccards – The fastest and easiest path to grade and sell any raw card! pic.twitter.com/uBmUu1tTOQ

— PWCC (@PWCCmarketplace) April 28, 2022
CCG
The company has a reputable parent owner known in the collector business. They also have a strong record of providing quick and reliable turnover.
CCG is also not pushovers in the grades that they provide. While not quite as tough on grades as SGC, they can be hard-asses on certain things. In particular, users have noted that they penalize surface problems more harshly than other companies.
The major problem with this company is its extremely low resale values. As a result, people simply do not trust the company or take it seriously, whether justified or not.
Lets look at a few examples:
| | | |
| --- | --- | --- |
| Card | CCG 10 | PSA 10 |
| 2018 Bowman Mike Trout | $10 | $40 |
| 2020 Chronicles Draft Picks Joe Burrow | $45 | $100 |
| 2020-21 Hoops #223 LaMelo Ball | $6.50 | $56 |
Bottomline Of The Full Guide To The CCG-PWCC Grading Partnership 
20$ per card for grading and auction sale sounds like a good deal. But it may not be for many of your cards. Remember, the cards you submit in this program take two hits in value. First, they are being graded by a company outside the big three. Then, they are placed for sale in a far smaller marketplace than eBay.
However, that doesn't mean this isn't a helpful service. Indeed, it may serve as a great avenue to grade and sell cards that are not worth the price of entry for PSA or BGS. Just make sure you have realistic expectations of your return on investment. Many of the CCG-graded cards are worth less than $20 and will lose you money.