The Ultimate Guide To Michael Jordan Baseball Cards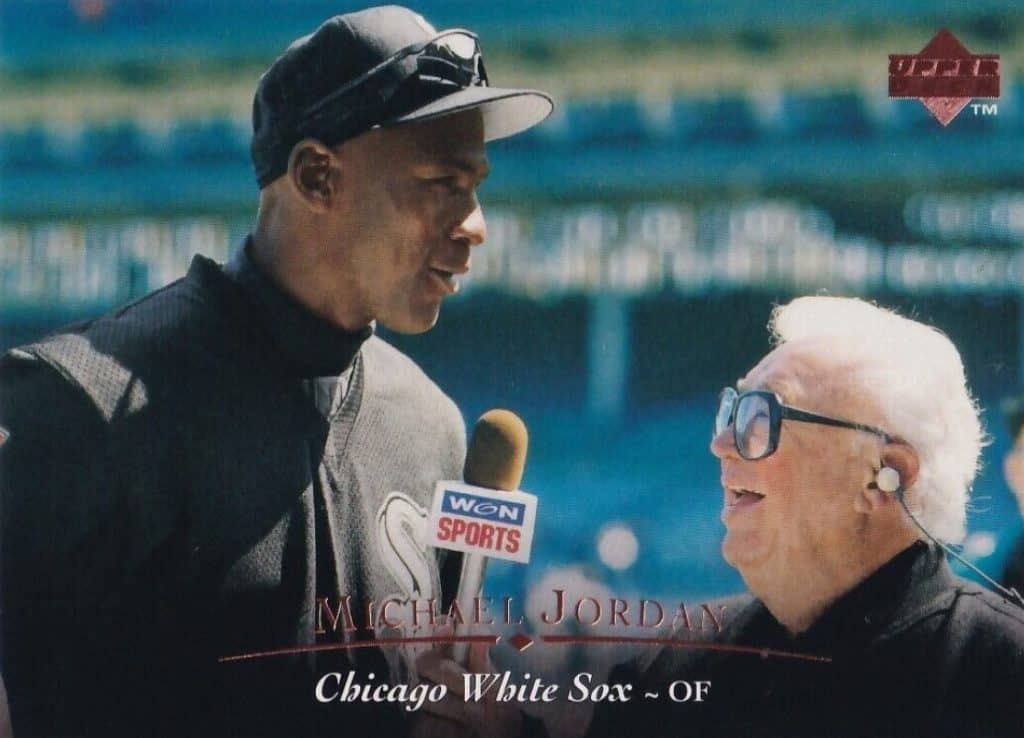 Michael Jordan is arguably the greatest basketball player of all time. Yet, in one of the most surprising twists in any sports career, he retired from his primary sport to pursue professional baseball.
The attempt was unsuccessful. Today, that episode seems like a strange little curiosity in Jordan's legendary career.
Little is left from that period in his career. But one clear testament that it actually happened is the Michael Jordan baseball cards.
But what cards does he have, and what is their relative value? We have all the answers in our Michael Jordan Baseball Cards Guide.
Shop for Michael Jordan baseball cards on eBay.
Michael Jordan's brief and strange basketball interlude
On July 23, 1993, James Raymond Jordan Sr. passed away. Michael Jordan's father played incredibly significant roles in the legendary Bulls players' lives.
Yet, the basketball star seemed lost in the immediate aftermath. Having achieved everything possible in the NBA, he looked for meaning elsewhere.
Baseball was significant to James Jordan and was the topic of many conversations between father and son. That relationship and tragic death were at the core of Jordan's unusual decision to change sports at the peak of his career.
Shop for Michael Jordan baseball cards on eBay.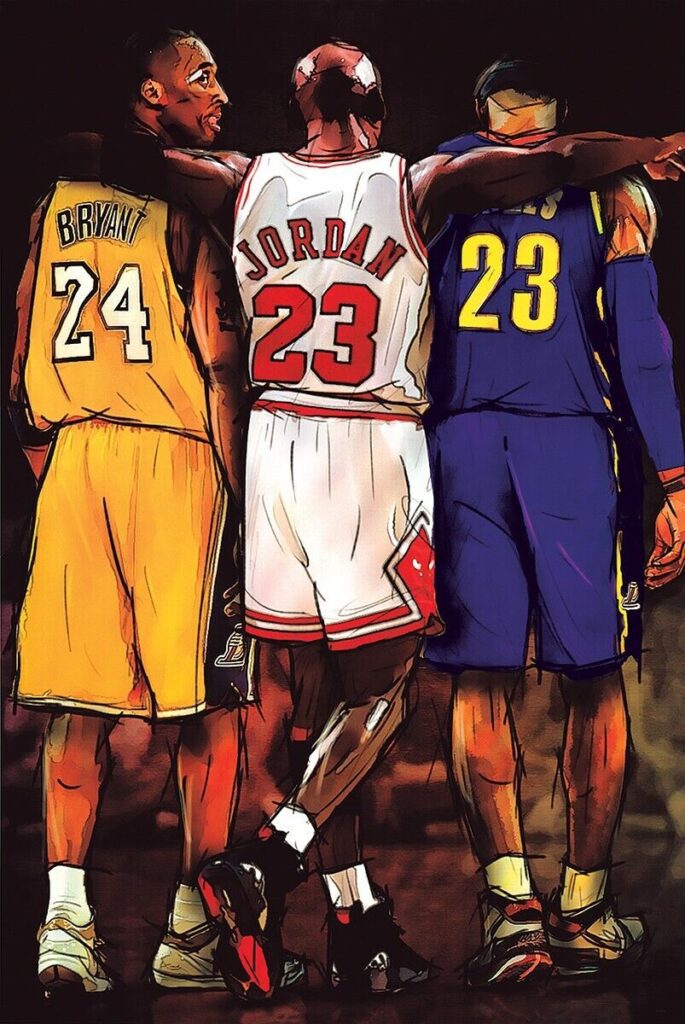 But more than anything else, Jordan had lost the joy of playing basketball. All the media hype and pressure had taken the fun out of it. His share in the game had become an industry.
So, he left to seek out that fun elsewhere. By all accounts, he found it. And it allowed Jordan to return to the NBA recharged and ready to pulverize the opposition.
Was Michael Jordan any good at baseball?
The short answer is yes. Considering Jordan was returning to baseball at age 31 after not playing for many years, he made a good go at the sport. After all, baseball is an entirely different game, utilizing a separate set of muscles and a unique skill set.
His batting average for the Birmingham Barons was .202. Which sounds unimpressive but he did plenty else. He drove in 51 RBIs, showing he had the temperament to drive in runs. Jordan also stole 30 bases despite having trouble getting on the floor.
Had he stuck to it, the player may have made the majors in some capacity. And if he had chosen baseball instead of basketball at a young age, he may have been a star.
One of the great baseball coaches of his generation, Terry Francona, coached Jordan for the Barons. Francona said about Jordan's baseball era: "He respected the game. I love the guy. And I don't love the guy just in the press. I love the guy. I respect him. I appreciate how he handled everything."
Of course, we are glad Michael chose and returned to basketball. But personally, I'm equally happy that he took a deserved break and tried his hand at another sport.
It certainly reminded him not to take his god-given hoop brilliance for granted. On the diamond, he was a human. But on the court, he transcended mortality.
Shop for Michael Jordan baseball cards on eBay.
Why are there Michael Jordan rookie baseball cards?
Jordan's decision to shift sports was one of his life's most interesting and mysterious facets. It was a reminder of both the greatness of Jordan and the inherent humanity of even the most outstanding athletes.
As a result, Michael Jordan baseball cards are a massive business in the hobby. His 1986 Fleer "rookie" card (his third year) is rivaled only by the 1951 Topps Mickey Mantle as the most iconic card of all. But because of their historical significance, Air Jordan's baseball cards also have an enduring niche.
For their part, the card companies pumped out a large variety of baseball cards for the guy. It's doubtful any minor leaguer with one of service has ever had his face plastered on so much cardboard.
Manufacturers knew that they had one of the biggest attractions minor league baseball had ever known in Jordan.
With such a large variety of cards, where does one start collecting? That is what our Michael Jordan Baseball Cards guide is all about, separating the gems from the odd (no, the Michael Jordan rated rookie baseball card is not an official card).
We ranked the best of his national pastime cards and provide you with all the necessary value info to start your collection. Don't thank us. We are just patriots doing our duty.
Shop for Michael Jordan baseball cards on eBay.
10) 1995 Upper Deck Michael Jordan #200
Many MJ fans are fond of this card because it shows a particularly warm moment. Admittedly, Jordan isn't known for being personally inviting. But the 1995 Upper Deck card captures an intimate interview exchange involving Jordan and Harry Caray.
The interviewer was a legend in Chicago, doing the play-by-play for the White Sox from 1971 to 1981 and then moving crosstown to Wrigley Field.
Fun fact: Caray popularized singing "take me out to the ball game" during the 7th-inning stretch. So, for understandable reasons, this card is a beloved gem for windy city dwellers of all ages.
The massive smile on both of these individuals' faces and Caray's even bigger glasses are a real selling point here. Credit goes to Upper Deck for using an unconventional photograph for Jordan's 1995 base card.
This item gained importance in 1998 when Caray tragically passed away after a massive heart attack.
Shop for the 1995 Upper Deck Michael Jordan baseball card on eBay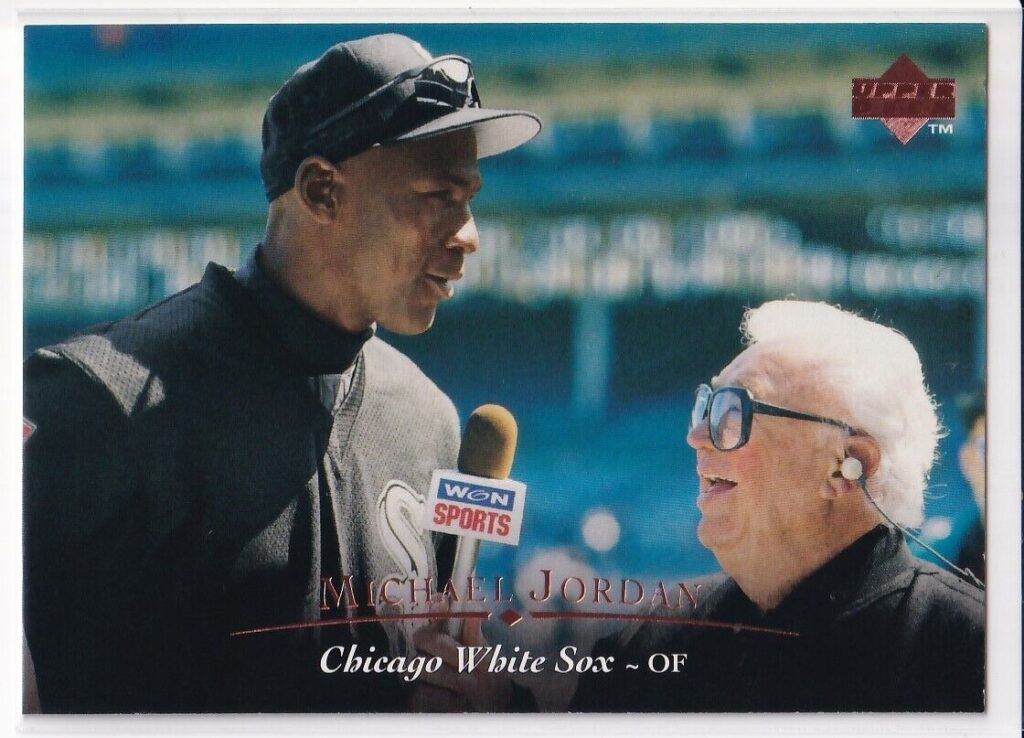 Because of its sentimental value, this base card commands decent value. The latest PSA 10 sale was for $500. A regular Electric Diamond PSA 10 variation is valued at about the same amount.
The price of 9s varies quite a bit, ranging from $30-60. There is also a lower-pop Electric Diamond Gold version, but no PSA 10 of that item has ever been sold. The last 9 to sell went for almost $200.
9) 1994 Upper Deck Next Generation Michael Jordan #8 – Electric Diamond
One of the funniest things about some of these Jordan cards is their designation as prospect cards. "Next Generation" is a typical rookie-type insert. But it isn't usually used in connection with 31-year-old players like our boy.
Of course, this was no premium insert. It's the kind of card that you kind of roll your eyes when you pull. But it has aged really well. The picture and design are fantastic and have a gothic Batman vibe.
And what is that smaller picture of Jordan in the middle of the right side? Why it's a Jordan hologram. Including these was just one of the features that made those early Upper Deck products unforgettable.
Note that this card comes in both a regular version and an Electric Diamond variation. That may sound like an exciting name for a parallel, but the only difference is that there is a logo with those words emblazoned on the bottom of the card.
Shop for the 1994 Upper Deck Next Generation Michael Jordan baseball card on eBay.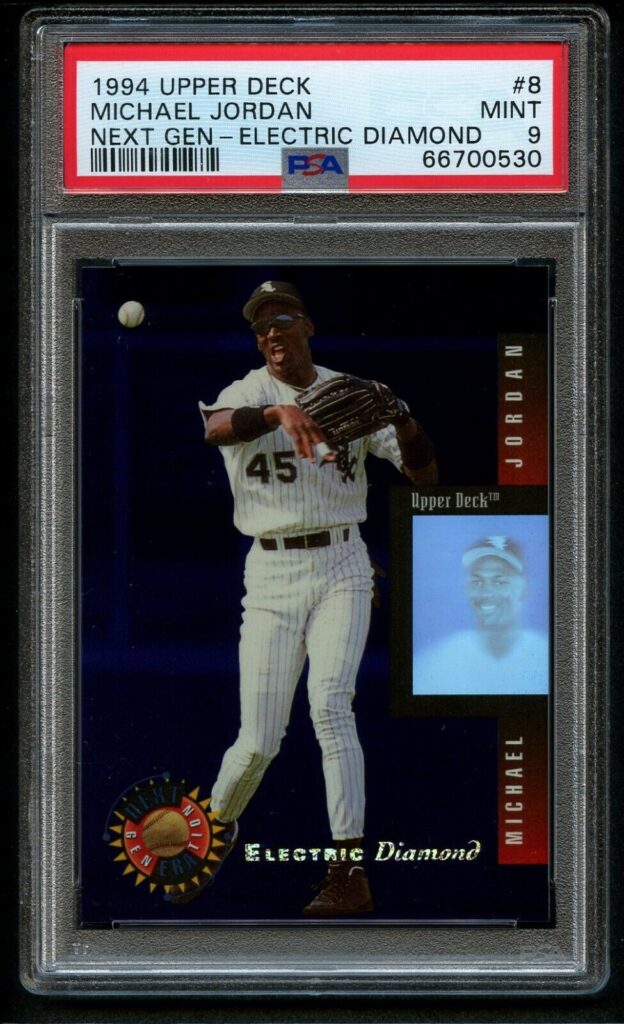 The value of these cards is all over the place. Some PSA 10s of the Next Generation Michael Jordan #8 have gone for $1,000, and others for half that. However, it has been two years since a PSA 10 has been available.
That is not surprising since there are only 18 in circulation. The 9s are far more common and went for $121 in the last recorded sale.
8) 1994 Ted Williams Dan Gardiner Collection Michael Jordan #DG-1
If you look at the classic Topps releases of the 1950s, the artwork is utterly inspired. But unfortunately, many of the picture cards from the junk wax era are very clumsy. This Jordan is no exception, looking like the final project of someone finishing their painting for a beginner's class. So, the Mona Lisa, it ain't.
We like this card anyway because it's unique. And the painting, while crude, does capture that cocky Jordan smile. But, for me, the MJ handwritten on the batting gloves is what really brings the card home. Check out the set; some of the others are also very charming. And it's named after the "Splendid Splinter"!
Shop for 1994 Ted Williams Dan Gardiner Collection Michael Jordan card on eBay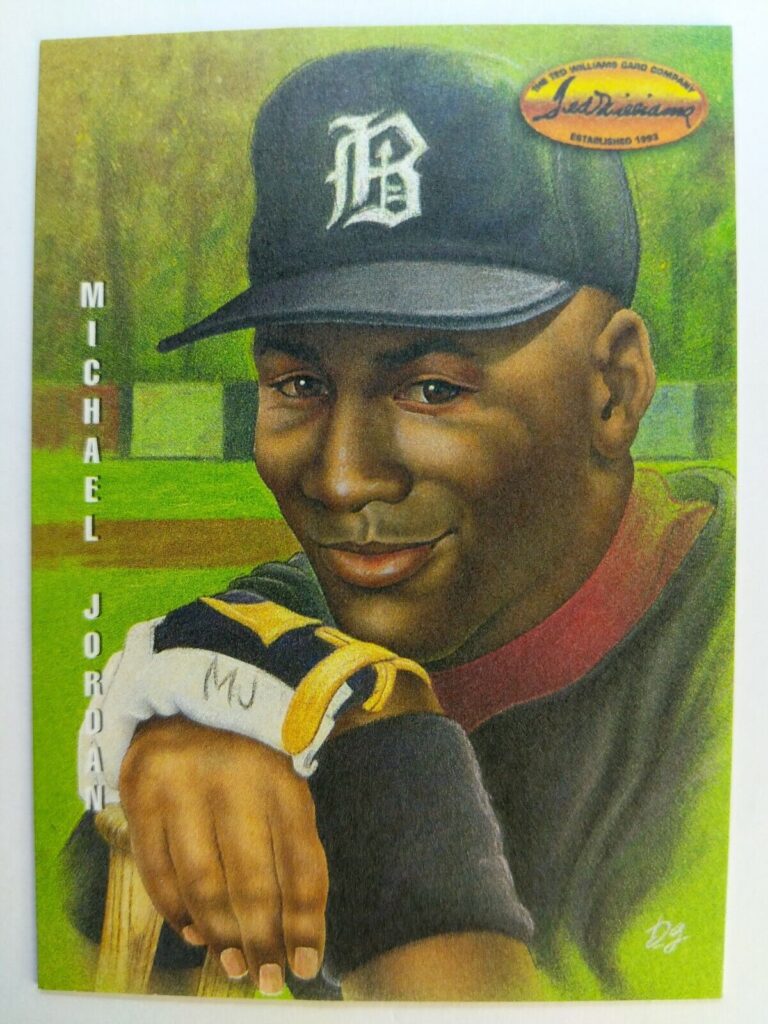 The truth is unless you have a PSA 10, this card is barely worth the price of grading. So, this is more of a completist or illustrated card enthusiast item than an investment. However, there aren't too many PSA 10s around. The last recorded sale was for $300.
7) 1994 Sports Illustrated for Kids Series II #270
As we have discussed on Cardlines previously, Sports Illustrated for Kids cards has an enduring appeal. There is something campy about these offerings that pops.
And the perforated separation style means that PSA 10s are tough to come by. The secret? Just keep the entire sheet intact. But of course, no kid in 1994 was thinking about it.
As luck would have it, one of these dropped during Jordan's baseball escapade. Nevertheless, the card is outstanding for a few reasons. The shot of Jordan trying to field a ball with his tongue out ties into his basketball career.
Opposing defenders always knew they were in trouble when he stuck that thing out of his mouth. It meant you were in for a world of hurt and humiliation.
Meanwhile, the outstandingly ugly zebra borders to the picture, surrounded by a clashing blue-colored framing, are hideously beautiful. The Sports Illustrated for Kids completes the card, which does, indeed, look like a child designed it.
Shop for 1994 Sports Illustrated for Kids Michael Jordan baseball card on eBay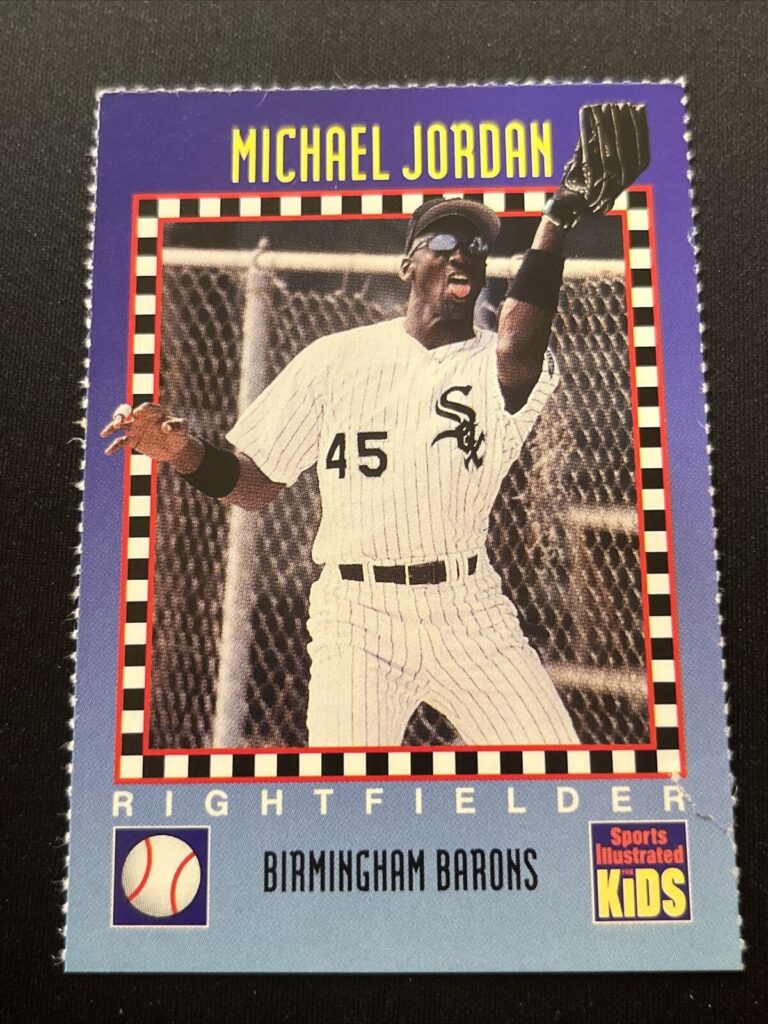 Because of the difficulty of maintaining a perforated card in PSA 10 condition, there are only 5 out in the wild. Only one has ever been sold. The price was $235, which is irrelevant since it was 2010.
That was a simpler time when people didn't appreciate the finer things in life. A 9 sold more recently for $142.50.
6) 1994 Collector's Choice Michael Jordan RC #661
We love the Jordan baseball story. At least, I assume you do, or why are you here? But he is a basketball player, so we care about his baseball cards. In this beauty, number 23 (45 in baseball) appears to be mimicking shooting motion.
That creates a loving link between the two sports. It is the type of synergy that collectors are likely to appreciate.
The card also has that classic Upper Deck, photo-first aesthetic. It looks a lot like some of the current Stadium Club cards. In other words, the design is modern for the 1990s and has a timeless look. Overall, an excellent card on every level.
Shop for a 1994 Collector's Choice Michael Jordan card on eBay.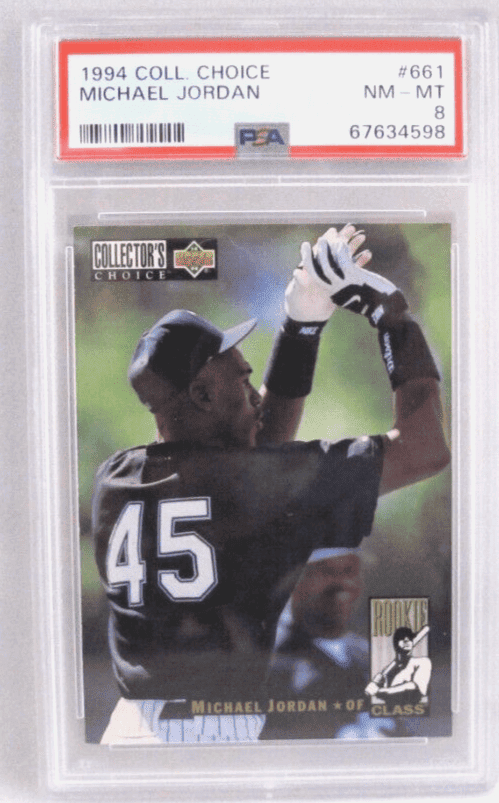 In my opinion, these cards are not worth as much as they should be. A PSA 10 recently went for $175. Meanwhile, a PSA 9 is worth $44. The sheer beauty and significance of these cards should see them go up over time.
5) 1994 Upper Deck Minor League #MJ23 – Gold Version
We are truly fortunate that so many of these cards are Upper Deck. You see, early 90s cards from the California company excelled at action-packed and evocative photography.
What is so great about the shot here? The best way I can describe it is that MJ is breaking the sound barrier in an F-16, and his face is about to melt off. A commendable achievement in the field of sports photography.
The card comes in two variations: gold and silver. The gold, as in the natural order of things, is significantly more valuable. Both versions are technically short prints, but the junk wax idea of a short print is a bit more expansive than it is today. The gold has a mere 15,000 copies.
So, not a genuine SP. Meanwhile, the card looks exactly like the base items on the checklist. The only thing differentiating it is the unique MJ identifier on the back.
Shop for 1994 Upper Deck Minor League Michael Jordan baseball cards on eBay.
Although many versions of this card were printed at the time, very few of them have been graded. Therefore, populations are surprisingly low. There are only 180 graded copies of the gold card, with a mere seven achieving the coveted gem mint status.
The only sale of a PSA was for $2,550 back in April 2021. Although 9s aren't all that common either, with only 39 in circulation, they go for a fraction of that price at $147.77.
A PSA 10 of the silver variation is far more reasonably priced, with the latest sale totaling $280.
4) 1994 SP Holoview FX Michael Jordan #16 – Red Die Cut
Though not part of the 1994 SP base set, the company did include him among its Holoview inserts. Indeed, it had two of his cards in there. A blue version and the more exciting red die-cut variety. Aside from the color and cut, the logo is also different on the top right of the card.
The red version is rarer, and there is something very ultra-modern about the card. It almost looks like it could come out of a box of select.
The photo is flawless. It is about as good a picture as you can get off an outfielder going for a ball within reach. When completed by the distinctive features of Michael Jordan, it is even more striking.
However, the darkness of the tint does take away from what could have been a perfect visual representation of Jordan's baseball career.
Shop for 1994 SP Holoview FX Michael Jordan baseball card on eBay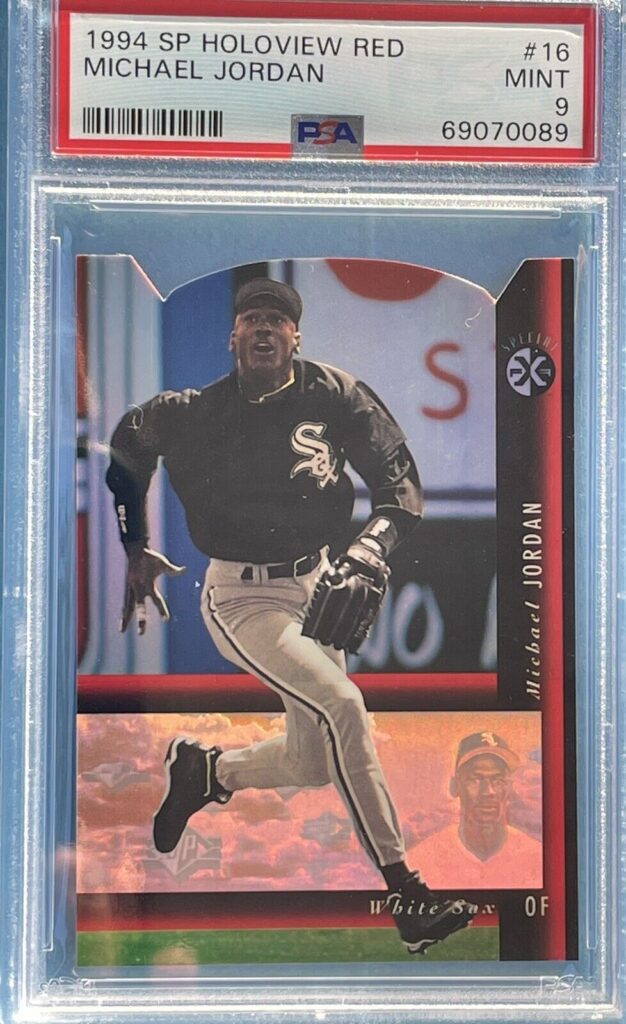 Usually, when there is a Jordan card in a series, it has the highest population. People love them. But in the case of the blue card, the Alex Rodriguez card has 252 graded copies, to MJ's 193. The latest price for a PSA 10 of the blue version was $500. Meanwhile, people have picked up a PSA 9 for as little as $51.
A-Rod has Jordan beaten again in terms of pop count for the red die-cut version. But still, the prices for the Jordan one are solid. The highest sale on record was $6,400 in 2021. But transactions vary wildly, and the latest one went for $2,827.
3) 2001 SP Top Prospects Game Used Bats Michael Jordan Autograph #A-MJ /45
Memorabilia cards weren't much of a thing back in Jordan's heyday. So, no MJ RPA's are sitting around waiting to be graded. Sad but true. The closest thing we have on the baseball side is this beauty of a card.
And calling this series "top prospects" when Michael had long retired from baseball is particularly amusing. This card is very rare with only 45 or so in existence. That makes it one of the best Jordan baseball cards available.
It also has the added advantage of being far more attractive than its auto-only counterpart. With its baseball bat color, and bad photograph, the memorabilia only one is just plain ugly.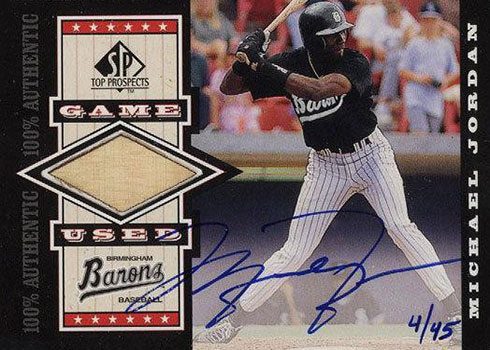 These cards are rare and highly valuable. An authenticated version went for $8,000 on Goldin Auctions.
2) 1995 SP Top Prospects Autographs Michael Jordan #14
The SP line was one of the classiest products the 1990s had to offer. This card is no exception, perfectly showcasing the high-end card aesthetic of the time. In particular, the gold and black on the bottom border are peak 1990s designs.
But what really makes this card stand out is the auto. Autographs were very rare in the junk wax era. That is one of the reasons the cards from that period are low in value.
There are few cards printed in low numbers like autos or numbered parallels. Therefore, collectors had to wait long for those first Jordan autographs. Amazingly, this is the first one before any of his signed basketball cards emerged.
This card has a unique and lasting appeal between the design and the earliest auto. Another factor raising the value of the 1995 SP Top Prospects Autographs card is its scarcity. There are probably only 20 or so copies of this beauty.
The card is so rare that sales data for it is scarce. But in 2011, a BGS 9.5 of the card went for $14,000. So I would be surprised if it was worth less than $100,000 today.
1) 1991 Michael Jordan Upper Deck baseball card #SP1
To me, this is the unique card of all. Why? Take a look at the date. Jordan announced his basketball retirement and switched to baseball on October 6, 1993.
This card is just a speculative fun endeavor before he even contemplated (at least according to Jordan) switching. That makes this card, which looks like a legit baseball card, all the more remarkable.
There is a carefree innocence about it, which makes it incredibly appealing. Just look at that playful look on the face of the legend.
Meanwhile, the 1991 Upper Deck design is so emblematic of the junk wax aesthetic that it accentuates the early date of this unique card. An absolute gem.
Shop for the 1991 Upper Deck Michael Jordan baseball card on eBay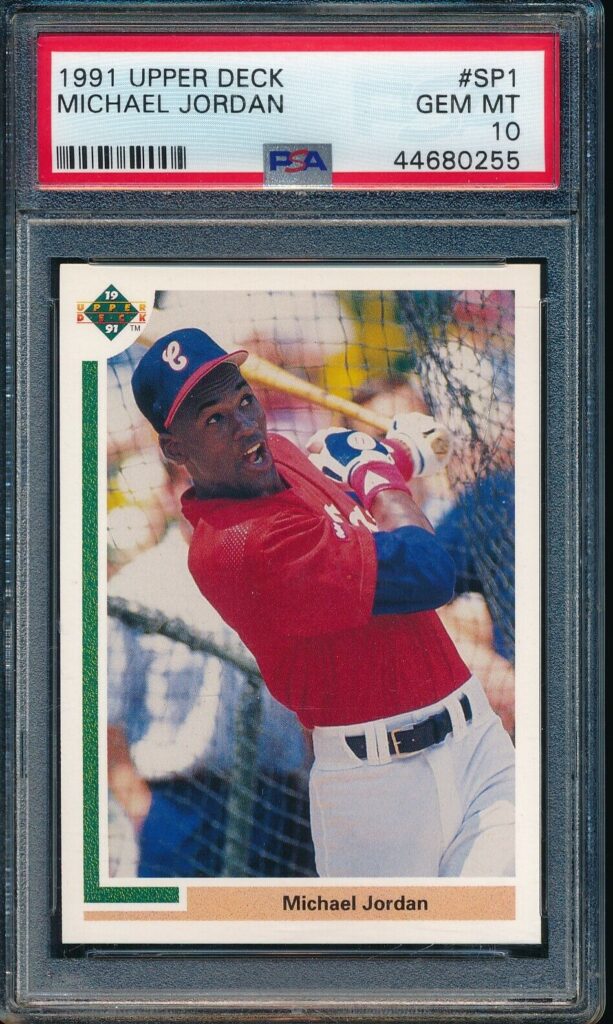 The #SP1 is ostensibly a short-print card. It's right there in the number. But in the overprinted climate of 1991, that doesn't mean much. PSA has 17,853 graded versions of the card on file. So, don't get too excited if you locate one of these puppies. It's not that hard.
Indeed, it is by far the most graded card in the release. The closest second is Chipper Jones, with over 11,000 copies. And the high pop count lowers the overall value.
A PSA 10 goes for a mere $405. But despite the relatively low price, the card has tremendous charm.
The final word on the best Michael Jordan rookie baseball card and other cards
When Lebron James retires, MJ may no longer be considered the basketball GOAT. This is neither the time nor place to get into that argument, but King James has achieved some things that Jordan did not.
Nonetheless, Jordan will remain an icon of the sport forever. We didn't forget about Kareem Abdul-Jabbar, Wilt Chamberlain, or Bill Russell because of Jordan, right? And the weird baseball interlude is probably the most remarkable detour in his legendary career.
Who steps away from being the best player in the world to pursue a completely different sport? Only someone as confident and competitive as Michael Jordan.
He wanted to prove to the world that he could do anything. And while he didn't quite accomplish that, he did capture our imagination with his bravery and fighting spirit.
Since no other athlete is likely to do anything this crazy and heroic anytime soon, the Jordan baseball cards will occupy a place of honor in the hobby for the foreseeable future. And even though there is a significant selection of cards, they all enjoy a considerable bump due to this effect.