The Best Miguel Cabrera Rookie Cards, One Of Only Three 500 HR/3,000 Hit/ .300 Avg Players In Baseball History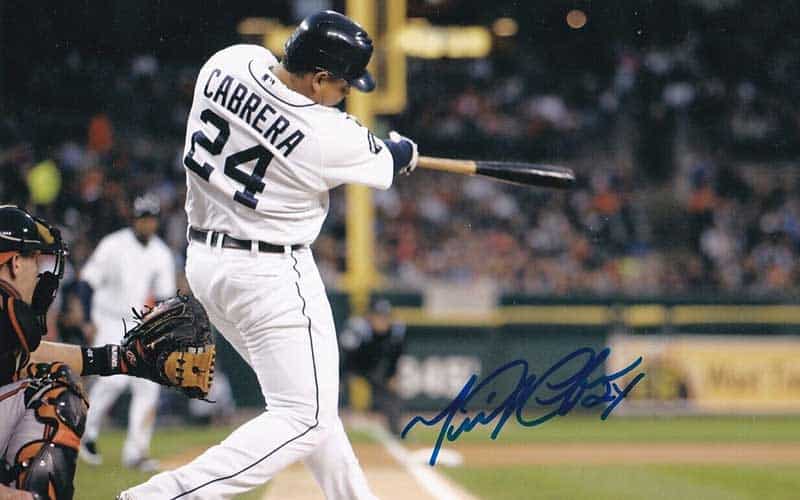 Miguel Cabrera is one of the greatest right handed hitters and first basemen in history. He's nearing the end of a career that will surely see him enshrined in the Hall of Fame.
But what are Cabrera's rookie and early career cards? And which are the best Miguel Cabrera rookie cards?
Shop for Miguel Cabrera rookie cards on eBay
Who is Miguel Cabrera?
Miguel Cabrera will turn 40 around Opening Day, 2023. His career is winding down, with him announcing that 2023 will be his final season. For the last 6 seasons, Cabrera has struggled to a 96 OPS+. But prior to that, Cabrera was as good a right handed hitter as you'll find.
Cabrera won back-to-back MVP awards in 2012 and 2013. In the first of those years, he became the first player to win a Triple Crown since 1967. Cabrera also won four batting titles, seven Silver Slugger awards, and was an All Star twelve times.
For his career, Cabrera put up a .308/.384/.524 line, good for an OPS of .908 and OPS+ of 142. He has 507 career home runs and 3,088 career hits, making him one of only 3 players to surpass both the 500 home run and 3,000 hit milestones with a career average over .300. The others? Inner circle Hall of Famers Hank Aaron and Willie Mays.
Miguel Cabrera was worth 67.7 WAR in his career. This total places him 11th all-time among first basemen. Every one of the first baseman above him on the list is already in the Hall of Fame except for Albert Pujols, who will be there when eligible.
The average WAR of the 24 Hall of Fame first basemen is 65.0, which puts Cabrera well above the Hall of Fame baseline.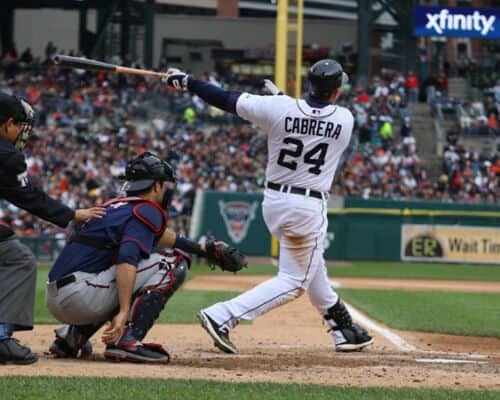 Miguel Cabrera and the Hall of Fame
When we think about the all-time great players at different positions, often our thinking goes to long-ago players in wool uniforms we see in black and white photos. With first basemen, however, we're actually in a bit of a golden age of iconic players at the position.
If you look at the era from the 1980s to today, we see 11 of the top 20 1st basemen by career WAR playing the bulk of their careers.
Albert Pujols is a sure thing future Hall of Famer. Joey Votto and Paul Goldschmidt are likely to join him. Todd Helton is currently on the ballot. Mark McGwire and Rafael Palmeiro would surely be in if not for PED considerations.
Eddie Murray, Frank Thomas, Jim Thome, Fred McGriff, and Jeff Bagwell all played within recent memory and are among the best and most productive ever at their position.
Cabrera will surely be elected to the Hall of Fame 5 years after his retirement. So, if you're a big Cabrera fan, time to start looking at booking your accommodations in Cooperstown, NY for the 2028 induction ceremony.
Shop for Miguel Cabrera rookie cards on eBay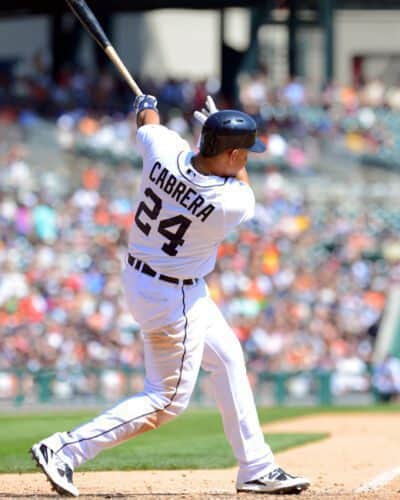 The best Miguel Cabrera rookie cards
Miguel Cabrera makes his first card appearances in 2000 Topps products, specifically 2000 Topps Traded and 2000 Topps Traded Chrome. These products were available only in complete set form.
Shop for Miguel Cabrera rookie cards from 2000 on eBay.
Unsurprisingly, the Chrome version has a lower PSA population and sells for a higher price, but both cards have strong value.
If you only have room in your collection for one Cabrera rookie card, and your hobby budget allows, these are both great choices. In addition, Topps produced a 2000 Topps Traded Autograph. These were inserted one per factory set, making them a tough pull and quite expensive when you can find them.
Shop for the 2000 Topps Traded Miguel Cabrera rookie card auto on eBay
Miguel Cabrera pre-rookie & minor league cards
Because Cabrera had his first Topps card appearance during his minor league debut season, we have the interesting case here that his pre-rookie and minor league cards appear either that year or even AFTER his first major league card.
2000 Royal Rookies Futures contains both a base Cabrera card and the chance at an autograph version. Both are fairly rare, and sell strongly in the $250 range when found. Interestingly, the base version has been graded fewer times than the autograph, and sells for the same to slightly more than the auto in a PSA 10 slab.
Cabrera also appears in several minor league team sets, including 2000 Multi-Ad Utica Blue Sox, 2001 Grandstand Kane County Cougars, 2001 Connies Pizza Kane County Cougars, and 2001 Multi-Ad Midwest League Top Prospects.
The minor league cards are all fairly low PSA population, some very low to the point where comps become difficult.
One of the 17 2001 Grandstand Kane County Cougars cards graded by PSA features in my recent PSA submission. I've actually owned 3 of the 17 cards, and still own two of them.
Shop for Miguel Cabrera rookie cards on eBay
Miguel Cabrera other early career cards
The 2001 Bowman and 2001 Bowman Chrome cards are uncorrected errors and picture Denny Bautista. This may tamp down demand a bit, but both cards are low-population, and reasonably priced when they do come available.
Shop for Miguel Cabrera 2001 Bowman cards on eBay
2001 Bowman Draft Picks & Prospects Futures Game Relics is the first memorabilia card featuring Cabrera. This is again low-pop and a bit hard to find. If you're a fan of relics, this is one to keep an eye out for.
Find a Miguel Cabrera 2001 Bowman Draft Picks card on eBay
2001 Upper Deck Minors Centennial is another minor league offering a low population and therefore some upside. Because his first card appearances pre-date his major league debut by several seasons, Cabrera's 2002 and 2003 Bowman and Bowman Chrome cards (his 3rd and 4th Bowman appearances, respectively) still sell for more than one might expect. They are great additions to round out a Miguel Cabrera collection.
Shop for 2001 Upper Deck Minors Centennial Miguel Cabrera cards on eBay
Miguel Cabrera rookie card investment thoughts
The fact that Miguel Cabrera is a very good baseball player has not escaped many, so his key rookie cards already sell for strong prices. That being said, there are still a few windows of opportunity to buy in on Cabrera if you haven't already.
Miguel Cabrera has announced that 2023 will be his final season in the big leagues. The season will likely become something of a farewell tour. Expect prices to climb somewhat throughout the season with the added attention generating demand.
So, the off-season is probably a good opportunity to buy. If you miss this window, a sweet spot for Hall of Fame candidates like Cabrera is often 2-3 years after they retire, which is also 2-3 years before they appear on the Hall of Fame ballot.
At this point, prices are sometimes often a bit as the player is out of the public sphere. Barring some unfortunate off-field situation, Cabrera is a sure-thing Hall of Famer in his first year of eligibility. At that point, prices will again get a bump, a larger temporary one, but then a smaller persistent one.
Shop for Miguel Cabrera rookie cards on eBay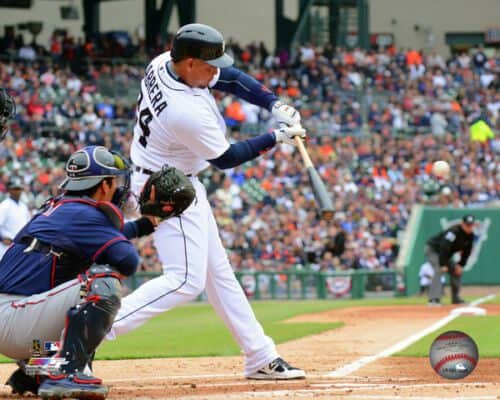 Final thoughts on the best Miguel Cabrera rookie cards
Miguel Cabrera is one of the best to have played the game. If you get a chance to see him play one more time before he hangs up his cleats, either in person or on television, I recommend you take it. Also, it's a good time to assess the state of your Miguel Cabrera collection and see if the time is right to add something new.
Shop for Miguel Cabrera rookie cards on eBay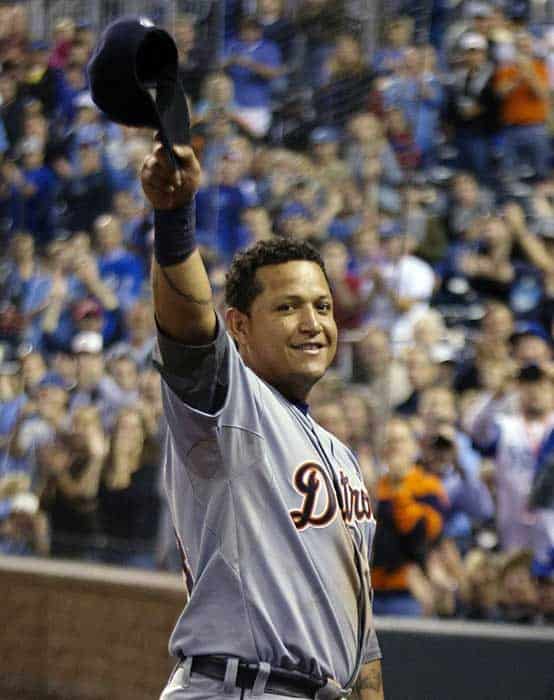 More Cardlines top baseball card rookie coverage