Your All-in-One Guide To Investing In Mike Trout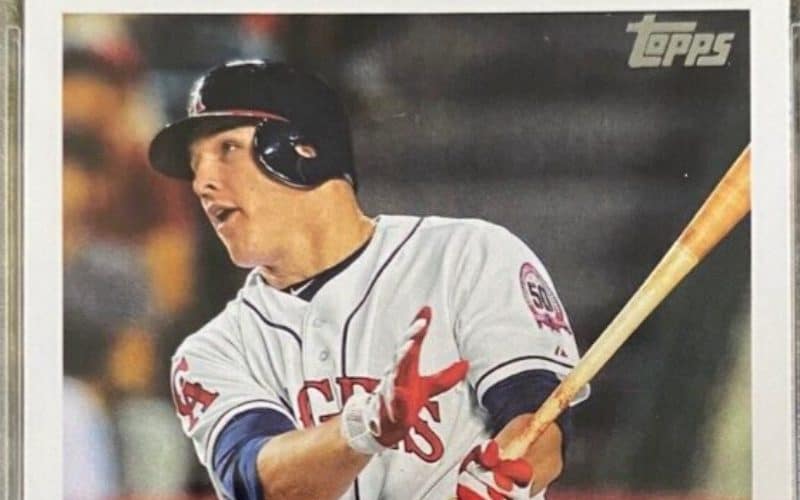 Mike Trout is hands-down the best player in Major League Baseball right now. Even MLB front-office executives agree, they take Trout 9 times out of 10 when asked to choose between him and Mookie Betts to start a franchise with.
Even at the age of 31, Trout is constantly being compared to the greats in baseball. From Mickey Mantle, to Ted Williams, to Ken Griffey Jr., Trout's stats are similar to all of these players when making it through their first 9 seasons and despite some hiccups over the last couple of years, Trout is still on track to be an all-time great, if not the best.
Shop for Mike Trout rookie cards on eBay
Why is Mike Trout so great?
The 2022 season was Trout's 12th year in the big leagues. Here are some notable stats on Trout's greatness so far. 
Through the age of 27, Trout set a record 72.6 Wins Above Replacement (WAR), the statistic that takes a player's entire game and quantifies their performance into how many more wins they're worth versus a replacement-level player.
Through the age of 28, Trout only trailed one player the highest WAR in their first 8 seasons—Ted Williams.
Trout has 3 MVPs and 9 Silver Slugger Awards. In only three years has he finished lower than 5th in MVP voting ( 2021 and 2022) and has placed 2nd in MVP voting in 4 of those 9 years.
In the injury-plagued years of 2021 and 2022, Mike Trout still made the All-Star team. After a career-worse 2021, where he only played in 36 games, he followed that up with a combined 6.6 WAR where he was 8th in MVP voting.
Mike Trout is the blue-chip baseball player to collect. He's the baseball comparative of LeBron James when it comes to investing—every card has value for the man who is widely considered to end up The GOAT of baseball when his career's all said and done.
The two highly Coveted Mike Trout rookie cards
Out of the dozen or so main Mike Trout rookie cards, there are perhaps two that standout from the rest, the 2009 Bowman Chrome Draft Picks and Prospects and the 2011 Topps Update.
2009 Bowman Chrome Draft Picks and Prospects #BDPP89
Mike Trout's first rookie card was a 2009 Bowman Chrome Draft Picks & Prospects. An autographed chrome Trout from this set is perhaps the most highly coveted and most valuable card to get.
Shop for 2009 Bowman Chrome Mike Trout autograph card on eBay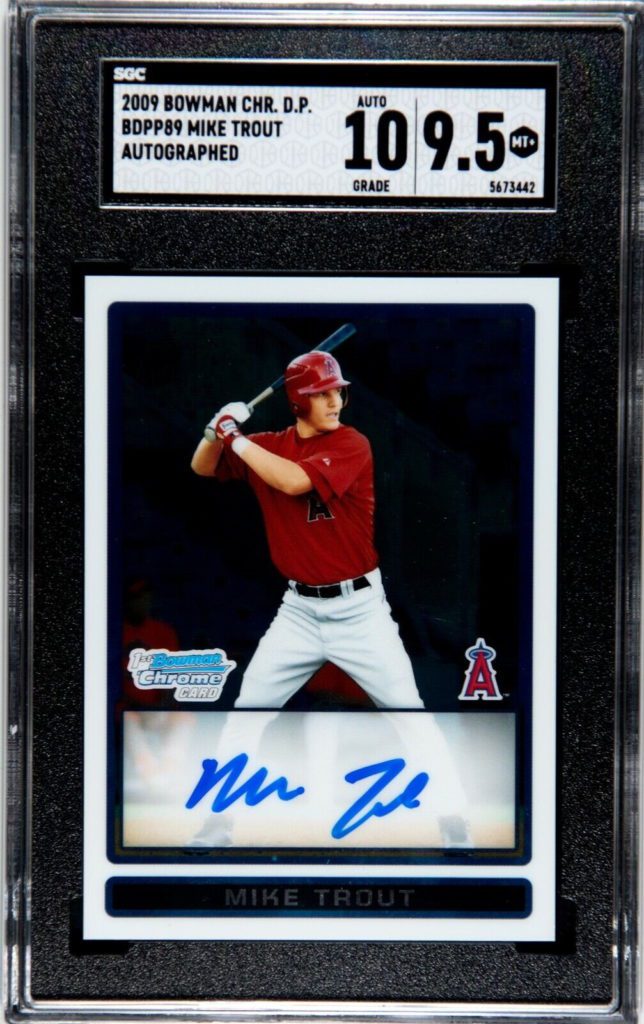 The Trout Superfractor is the famous card Vegas Dave (Dave Oancea) had bought only several years ago for $400,000 and flipped in summer 2020 for $3.9 million.
2011 Topps Update Mike Trout rookie card #175
Most collectors won't be able to get their hands on a Trout from 2009, but one they can get is the 2011 Topps Updates (#US175). This card is the traditional Mike Trout RC. An ungraded card hovers around $600 in a PSA 9 and $1400 in a PSA 10.
Shop for 2011 Topps Update Mike Trout rookie cards on eBay
Other great Mike Trout rookie cards over $250
This Trout rookie card phenomenon is similar to that of a Lebron, as the slew of different basketball sets in the early 2000s led to many different rookies of his existing out there. There are preferred Mike Trout RCs buyers want, but at the end of the day, any RC of Mike Trout is going to hold value.
Here are other notable Trout RCs that are worth significant value—think over $1000 in a PSA 10.
2009 Bowman Sterling auto #BSPMT
In addition to the 2009 Bowman Draft, the Mike Trout 2009 Bowman Sterling is a coveted early autograph card. It may be a sticker auto, but a PSA 9 is still going to set you back over $1,300 while a PSA 10 with a 10 autograph is probably going to cost you over $5,000.
Shop for 2009 Bowman Sterling Mike Trout autograph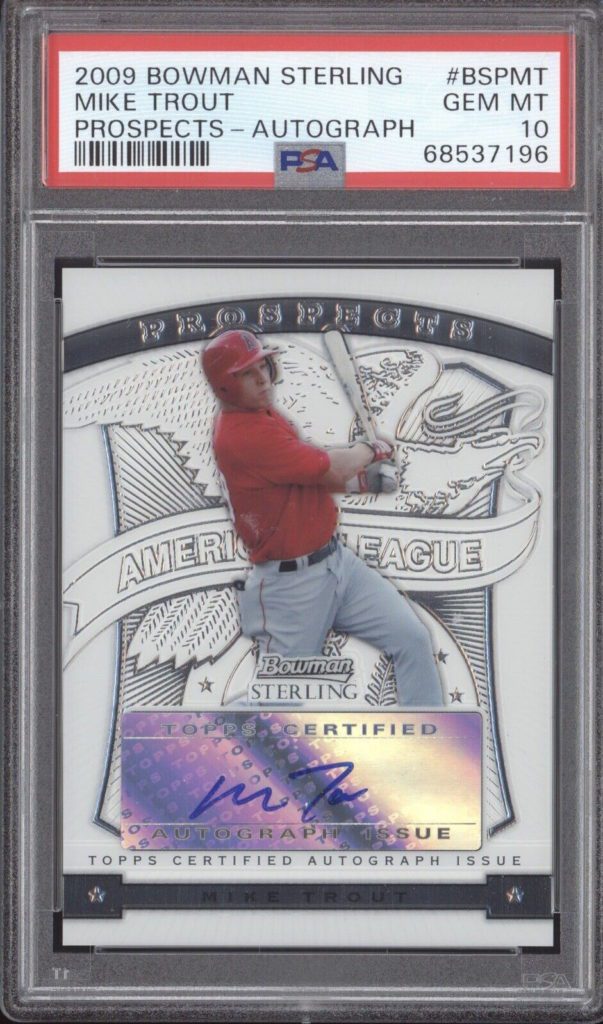 2011 Bowman Chrome #175
Complete with the iconic RC emblem, the 2011 Bowman Chrome is a pretty Mike Trout rookie card, even with the slightly mismatched green accent color. PSA 9 of the card are worth about $300 while PSA 10s are worth about $1400.
Shop for 2011 Bowman Chrome Mike Trout rookie cards on eBay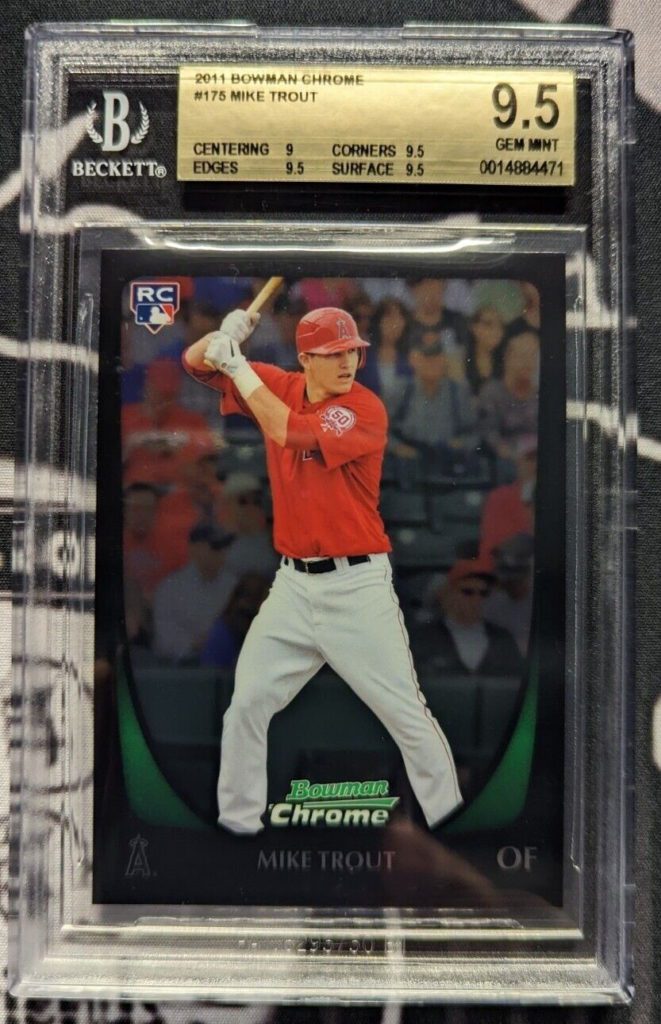 2011 Bowman Chrome #175 ($1000-$2500),
2011 Topps Finest #94
The 2011 Topps Finest Mike Trout rookie card falls under the radar a bit, however, this means you can sometimes a comparatively good deal on it with PSA 9s under $300 and PSA 10s under $1000.
Shop for 2011 Topps Finest Mike Trout rookie cards on eBay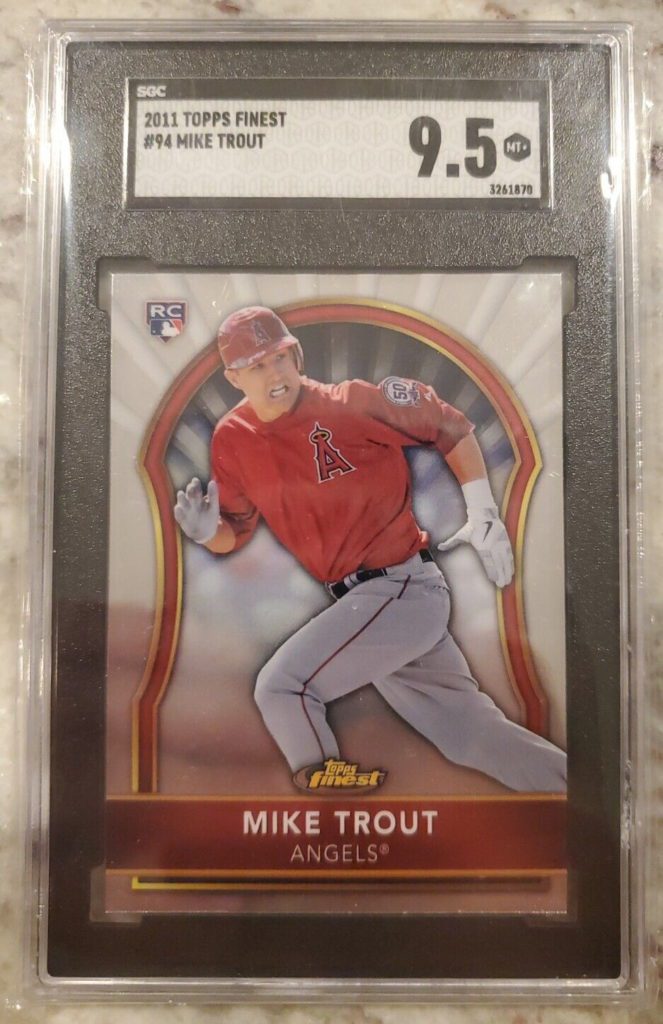 2011 Bowman Draft #101
The other popular Bowman Mike Trout rookie card from 2011 is the 2011 Bowman Draft. Although this card may be slightly more iconic than the Bowman Chrome, it's actually cheaper than its counterpart. You can snag this card for under $1,000 in a PSA 10 and under $300 in a PSA 9.
Shop for 2011 Bowman Draft Mike Trout rookie cards on eBay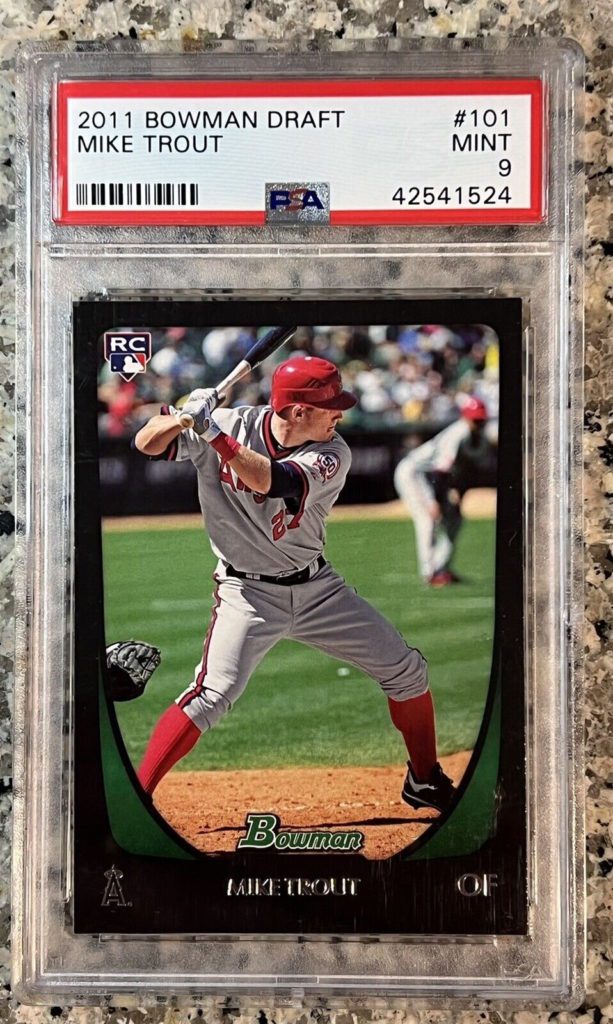 Best Mike Trout rookie cards and 2nd-year cards under $250
It's hard for collectors to pony up hundreds of dollars for a single card. The good news is they can get in on a Trout RC too by focusing on lesser-known sets and 2012 second-year cards.
These second-year cards are sometimes sought-after collectibles because they are the first card in a particular set and carry much less of a premium.
2012 Topps Allen and Ginter Mike Trout #140
While not a true rookie card, the 2012 Topps Allen and Ginter Mike Trout a simple and elegant card. You can find a PSA 9 for a very affordable $30 and a PSA 10 for around $80.
Shop for 2012 Topps Allen and Ginter Mike Trout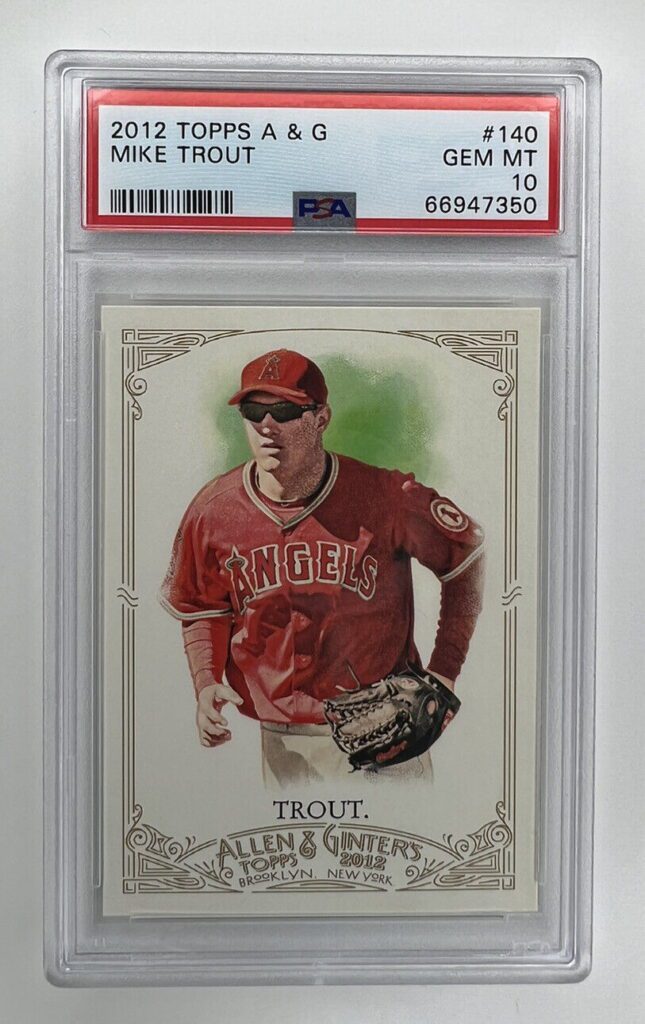 2012 Topps Heritage Mike Trout #207
The 2012 Topps Heritage Mike Trout contains a fresh-faced Trout with the classic 1963 Topps design. But with that design, comes a higher price: $40 raw, around $100 in a PSA 9 and $250 in a PSA 10.
Shop for 2012 Topps Heritage Mike Trout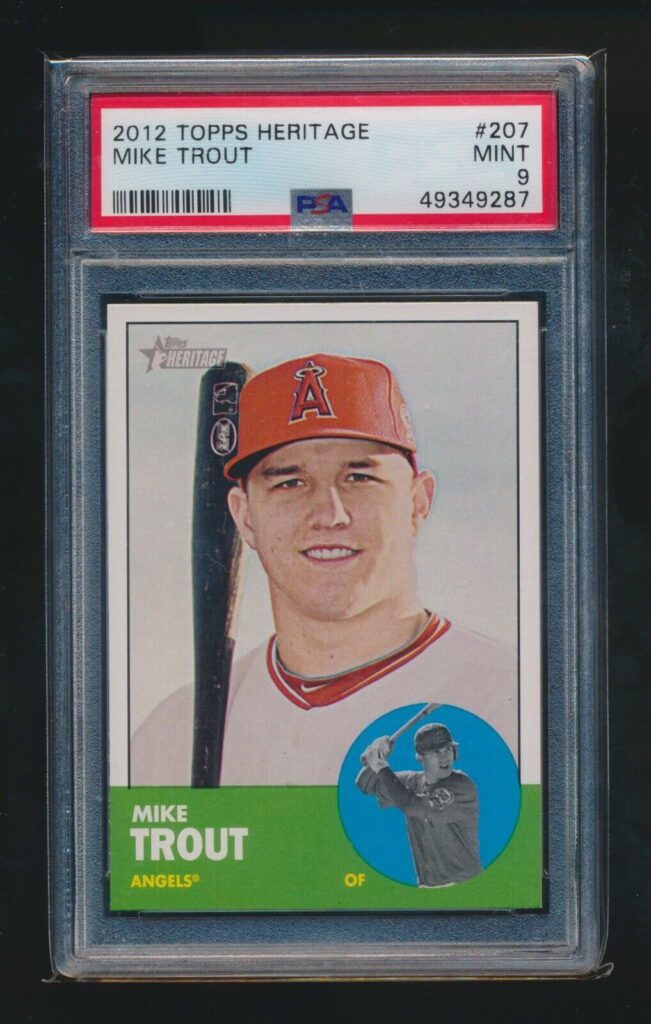 2012 Topps Gypsy Queen #195
Mike Trout's first Gypsy Queen card from 2012 is a striking card visually and for fans of Trout, is essential, especially considering its reasonable $60 price tag in a PSA 10. You can pick up a raw version of this card for under $10.
Shop for 2012 Topps Gypsy Queen Mike Trout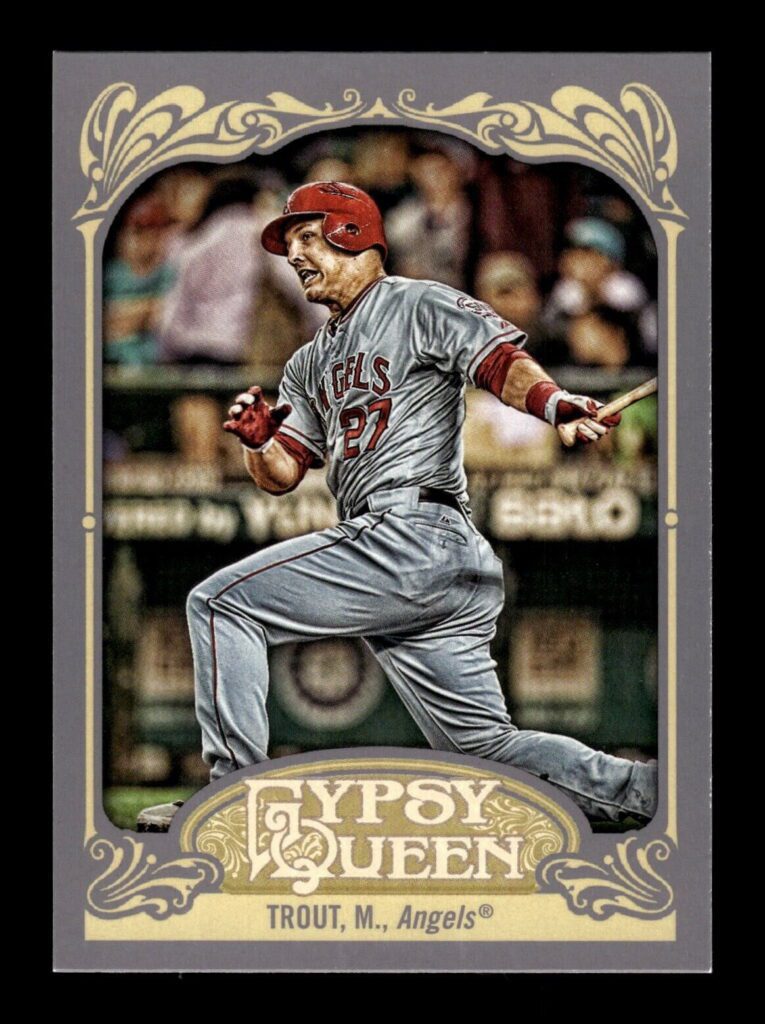 2011 Bowman's Best #BBP9
Despite being a 2011 card, the Mike Trout Bowman's Best card does not contain the "RC" logo, which hurts its value somewhat. While it's one of the cheaper cards from 2011, you will still need to pony up about $300 for the card in a PSA 10.
Shop for 2011 Bowman's Best Mike Trout rookie card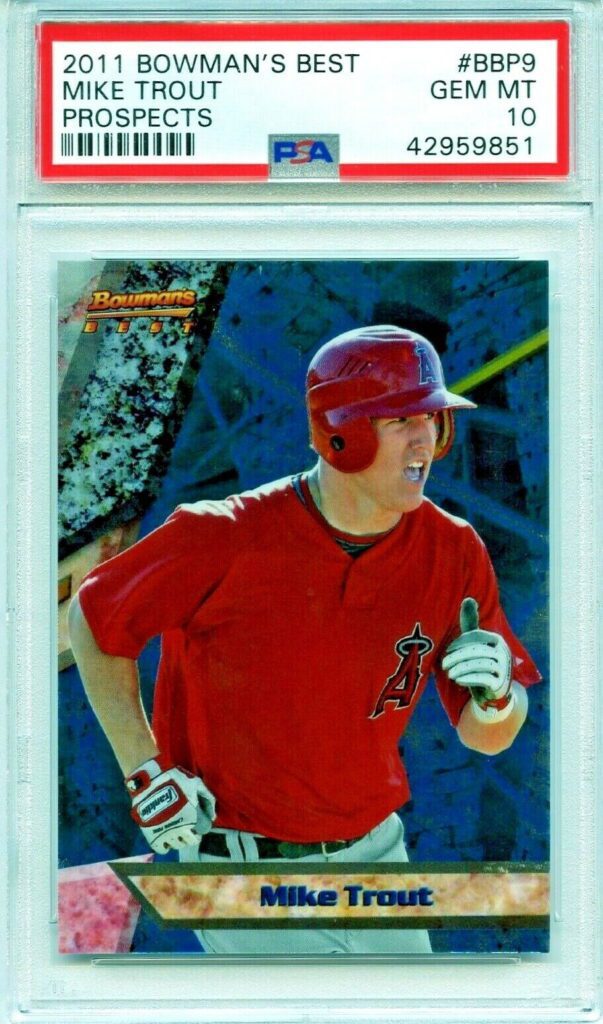 Mike Trout autographed cards
The general takeaway is if you find yourself with a Mike Trout autograph, you've got some serious value. If you have an auto from a lesser-known set you may be looking at around $200, but standard Mike Trout auto for any regular set (Topps, Bowman) you can expect $300+, especially if it is graded.
And if you have a chrome auto or numbered auto, expect the price to go up significantly. Think near $750-$1000.
Shop for Mike Trout autographed baseball cards on eBay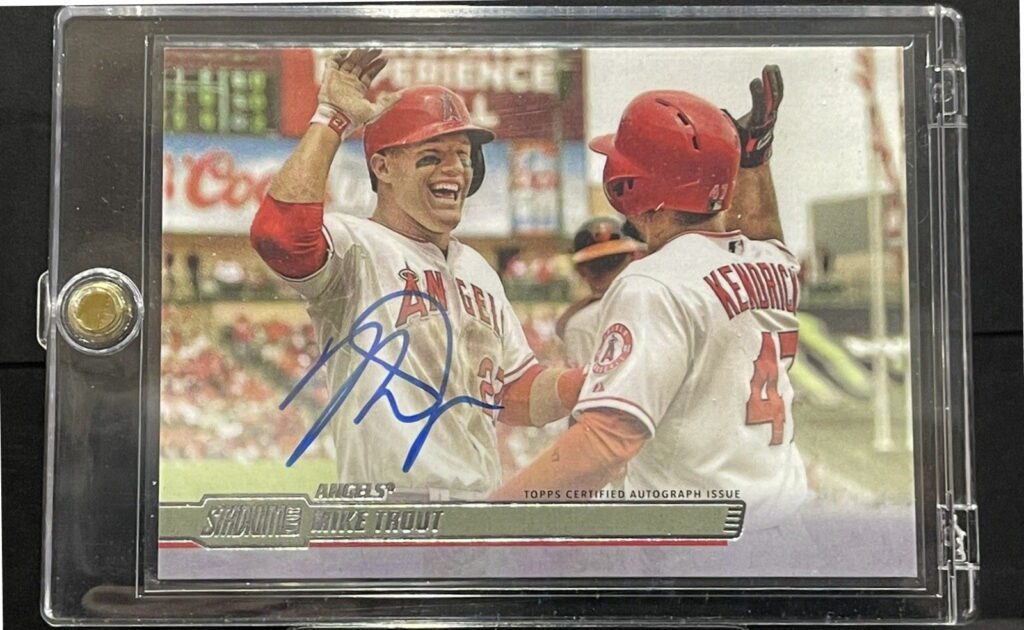 What you should also take note of is the card companies are aware of Trout's value, and they like to not put as many autos of him out there to kind of elevate the grandeur of pulling one.
Mike Trout relics
Relic cards are tricky. Many within the hobby look at relic cards with a little bit of distaste. They're clunky and mostly plain, with the jersey or bat a single color 1 inch by 1 inch.
Shop for Mike Trout relic cards on eBay
What to look for in Mike Trout Relics
Chrome relic
Booklets
Pieces of patch or other equipment pieces (Bat knob, hat, logo, sock)
"Game-used"
It's important to look for your relics to have "game-used." Otherwise, their value will not hold as much weight. A card that says "commemorative patch" can be likened to a facsimile autograph and a card that says "event worn" will indicate the relic was not used in an actual game.
In general, the average game-used Trout relic card typically hits near $25-$50 depending on the set, year, and design of the card. If you go by the list on what to look for, you'll most likely see those relics going for up to, and over, $100.
Later Mike Trout baseball cards
Any Mike Trout base card is worth penny-sleeving, and maybe even toploading.
If you prefer not to spend the money on some of Trout's rookie and 2nd year cards, his 2013 and 2014 Mike Trout Topps cards are also worth a look. There's the 2013 Topps, which features the iconic Rookie Cup, which is a popular favorite with Trout collectors.
And there's also short print 2014 Gatorade Bath Trout that is a fun and rare card to collect.
What to look for in modern Mike Trout baseball
Unique designs collectors buyers have found to like
Expect any base Mike Trout baseball from the main sets like Topps and Bowman to fetch $2-$5 a card. If you are looking specifically from 2012-2015, you might see up to $10-$20. Of course, any numbered, parallel or short print cards are going to fetch premiums based on how rare the cards are.
Recent Mike Trout cards from 2020 that have a lot of demand are Topps Chrome Stadium Club cards of Mike Trout. They're nice finishes with cool designs and some of them include Trout wearing the Angels' black jerseys—a fan-favorite.
Preserve your Mike Trout Cards & do your research
When you come across a Trout, the first action you should do is sleeve it, then research its value.
Two best research methods for your Trout's value
eBay is always the best go-to for seeing real-time value. Filter "Sold Items," "Completed Listings," and sort to "Ended Recently" to get see what people are paying for a specific card in chronological order.
PSA's Population Report & SMR Price Guide. These are detailed reports with analysis and data breakdowns of every card that comes through the doors of PSA.
In regard to the PSA reports, if you search "2014 Mike Trout Gatorade Bath" it will pull up all the cards and their grades that PSA performed on that specific Trout short print.
If there are a low # of 10s compared to 9s and you think you might have a 10, it might be worth submitting to PSA.
What does the future hold for Mike Trout cards?
Baseball's most well-known has only appeared in the playoffs once and his games are rarely on prime time. The combination of the Angels not being out of playoff contention most years and them being on the West Coast leads to many fans never actually watching Trout play in-game.
Trout is now 12 seasons in to his career, but he's only going to get more media coverage as he comes closer to breaking records, assuming injuries don't plague him in his later years. The Angels themselves will continue to be a factor as well in his value. Despite being in the major market of Los Angelos, the Angels recent performance does hamper Trout's card values to a certain extent.
This only means that his cards have more upside even at an already high amount. More media coverage equals more hype and if Trout can continue to bounce back from injuries and the Angels can once again content, Trout's cards will likely keep going up.
As a sure Hall of Famer with many good years ahead of him, it makes sense that Mike Trout's card value will continue to go up.
Shop for Mike Trout rookie cards on eBay