What Are The Best Mark McGwire Rookie And Early Career Cards?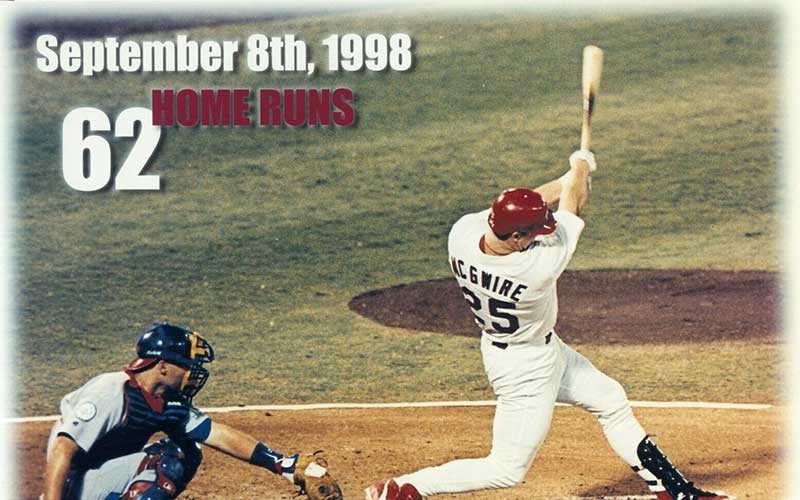 A hulking slugger bursts onto the scene, shattering the rookie home run record. Years later, he captivates fans as he chases, and eventually eclipses, a hallowed home run mark held by Roger Maris.
But we're not here to talk about Aaron Judge. No, in this article we're talking about the OG home-slugging, record-setting, and fan-captivating slugger: Mark McGwire.
Who was Mark McGwire? And what are his best rookie and early career cards? And are they worth chasing?
Shop for Mark McGwire rookie cards on eBay
Who is Mark McGwire?
As exhibited above, Mark McGwire was in some ways the Aaron Judge of his time. He won the 1987 American League Rookie of the Year, setting the record for most home runs by a rookie. He was a 12-time All-Star, won 3 Silver Slugger awards, and a Gold Glove.
McGwire led his league in Home Runs four times in his career, and hit a total of 583 Home Runs in his career. His career line was .263/.394/.588, good for a .982 OPS and an OPS+ of 163.
In 1998, McGwire teamed with Sammy Sosa to launch an assault on Roger Maris' single-season career record. McGwire reached 62 first and ended the year with a new record 70 home runs (Barry Bonds would hit 73 in 2001 to break McGwire's record). 
The chase captivated the country and really helped make baseball bigger than ever after the strike.
Sadly, both McGwire and Sosa have been linked to PED use, which likely helped power their electrifying home run chase. McGwire hit 49 home runs as a rookie but struggled with injuries throughout his 20s that kept him off the field quite a bit.
Through his age-30 season, McGwire at 238 career home runs. In his 30s, he defied the aging curve and hit 345 more. McGwire always had the pop, but it's quite likely that steroids helped McGwire stay on the field to leverage that monster power.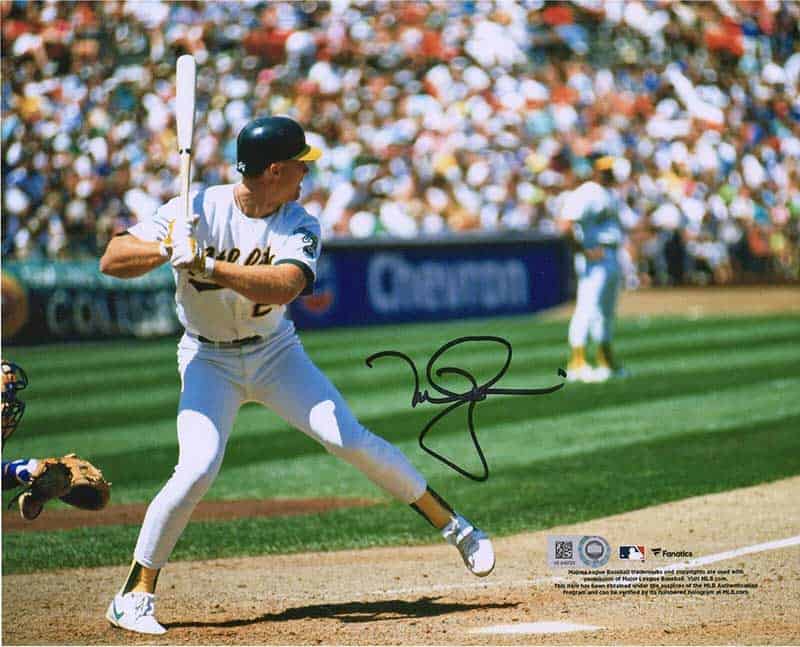 Mark McGwire, PEDs, and the Hall of Fame
If not for the association with PEDs (aka steroids), McGwire would have been a clear Hall of Famer, perhaps even a first-year selection. But as we explored in our article Baseball Hall Of Fame: What Does The Future Hold For The PED Crowd And Their Cards the reality is far more complicated.
I expect that that steroid crowd will eventually make their way to the Hall of Fame, but the last Contemporary Hall of Fame ballot results suggest it may still be a while before this happens.
I expect that the first PED-associated players to be elected will be Barry Bonds and Roger Clemens. McGwire is likely to be part of the second tier selected after those two, perhaps the very next selection.
McGwire's place in baseball history is secure, but recognition in the Hall of Fame remains elusive but should eventually come to pass.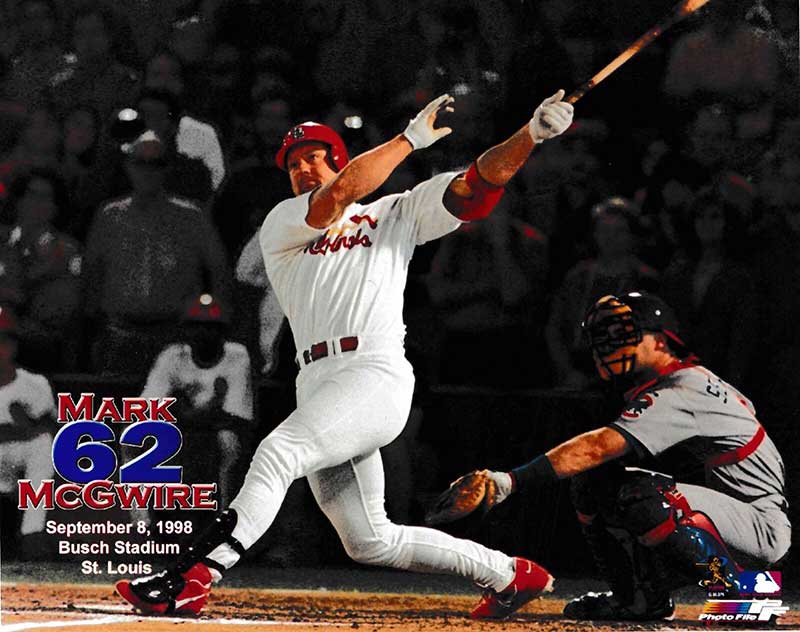 "The" Mark McGwire rookie card
Mark McGwire's sole rookie card appears in the 1985 Topps flagship product. McGwire was taken by the Oakland A's in the 1st round of the 1984 draft and played on the US Olympic baseball team that summer. Because of that Olympic experience, he appears in the 1985 Topps Team USA subset, along with a number of other future major leaguers.
Shop for the 1985 Topps Mark McGwire rookie card on eBay.
While under modern collecting consensus, this type of card wouldn't be allowed or would be considered a pre-rookie card but in the 1980s, it was a rookie card. What can I say, it was a crazy time. The cards came wrapped in wax paper and had gum with them. Not sure what we were thinking!
The 1985 Topps McGwire card has long been popular with collectors. Following McGwire's monster 1987 rookie season, then again after the amazing 1998 home run chase, this was one of the hottest cards in the hobby.
The McGwire rookie card is far from rare, with PSA having slabbed over 58,000 copies. That makes up for 40% of all 1985 Topps cards that PSA has graded (in a set that also includes rookie cards of Roger Clemens and Hall of Famer Kirby Puckett). Shockingly, PSA has only graded 305 copies of the card as PSA 10 – a minuscule one-half of one percent of the total.
Recent sales of the card have been in the $1,700-1,800 range in PSA 10 condition.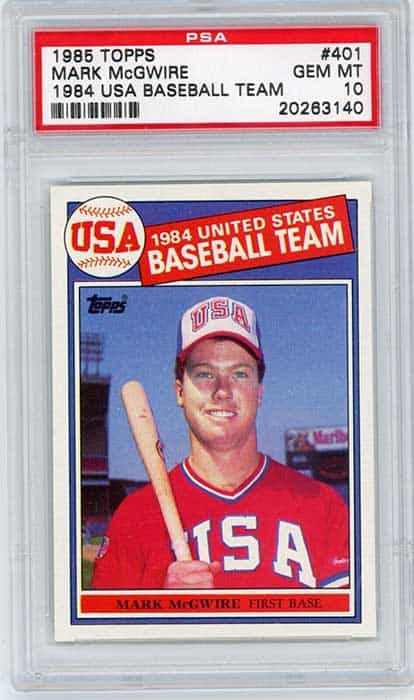 Looking for something even rarer? Topps Tiffany offers a far more limited option. Topps produced only 5,000 copies of this high gloss, premium parallel set. PSA has slabbed 1,726 of the McGwire cards from the set, with a scant 35 PSA 10s. Because of that low pop, comps are hard to come by. PSA 9 copies have been selling in the $450-550 range of late.
Shop for 1985 Topps Tiffany Mark McGwire rookie cards on eBay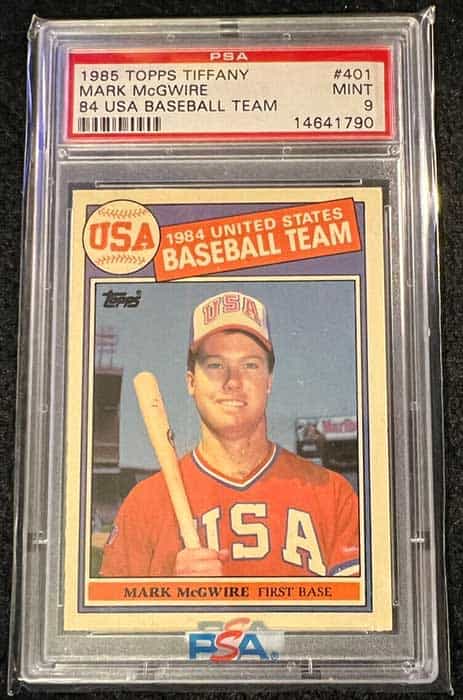 Other early career Mark McGwire cards
McGwire's fast rise, from being drafted in the summer of 1984 to making his major league debut in August of 1986, doesn't leave a lot of time for pre-rookie and minor league cards, but McGwire does appear on a few.
We are often told that if something is too good to be true, it often is. An example of this is the 1982 Anchorage Glacier Pilot Mark McGwire card. McGwire did play for this collegiate summer league team in 1982. No cards were produced, however, until someone created McGwire (and Casey Candaele) cards…in 1989. Despite it all, this card often sells for $100-150 in PSA 9. At any given time you can find copies listed for far more on eBay BIN.
Shop for "1982" Anchorage Glacier Mark McGwire baseball card on eBay
McGwire's first minor league appearance is in the 1985 Chong Modesto A's minor league set. Originally, McGwire's name was misspelled "McGuire", but was later corrected. The corrected version is far more plentiful than the error. If buying this card, it's suggested to buy a graded copy, as it was heavily counterfeited due to McGwire's popularity.
Buy Mark McGwire 1985 Chong Modesto rookie cards on eBay
Even a PSA 10 graded copy of the corrected version is very affordable. While maybe not the best investment, it's a fun card to own inexpensively. The error version sells for more but is still not a bank-breaker in PSA 10.
In 1986, McGwire appeared on two minor league cards, the 1986 Burger King Huntsville Stars team set and the 1986 Jennings Southern League All-Stars. The Burger King card has a far lower PSA pop and is priced accordingly. The Southern League All-Stars card is very affordable, making it an easy "get" for someone interested in growing their McGwire collection.
Shop for 1986 Mark McGwire baseball cards on eBay
Mark McGwire baseball cards from 1987
While not rookie cards, McGwire's 1987 cards were in high demand and remain popular despite some rather high PSA pops in several cases.
McGwire appeared in both the 1987 Donruss base set and the 1987 Donruss Rookies small boxed set. The Donruss Rookies card is far from low pop but is a much lower population than the base Donruss card. McGwire also appears on four cards in the 1987 Donruss Highlights set.
Shop for 1987 Mark McGwire baseball rookie cards on eBay
Fleer didn't have McGwire until the 1987 Fleer Update set towards the end of the year. He also appears in the "premium" 1987 Fleer Glossy set, which has almost the same PSA population as the base set (although it sells at a slight premium).
McGwire also appears in the 1987 Topps set, which is one of McGwire's most cost-effective rookies while rocking those woodgrain borders. The 1987 Topps Tiffany offering, unlike the Fleer Glossy, is a true premium offering and is by far McGwire's most valuable 1987 card.
In addition to these cards, McGwire appears on cards from Classic, Sportflics, Mother's Cookies, and a number of unlicensed offerings (again, the 80s were a crazy time).

Investing in Mark McGwire Cards
There are a few things working against McGwire rookie or early career cards being great investments. One is the fact that people have known McGwire was a very good player…for about the last 35 years. Another is of course the PED connection that is keeping him out of the Hall of Fame. The third is that many of his early cards were produced during the junk wax era and are far from rare.
That being said when McGwire does eventually make the Hall of Fame, I would expect his cards to see a bump in value, at least temporarily, as demand spikes and people scoop up his cards. Much of this bump will dissipate, although prices may settle out slightly above current levels.
If you remember 1998 or 1987 or just appreciate baseball history, McGwire cards are worth adding to your collection as they are reasonably priced and represent one of the icons of the game.  
Shop for Mark McGwire rookie cards on eBay
My personal collecting journey and McGwire
While writing this article, I realized that McGwire's career and my collecting journey have some serious shared milestones.
I started collecting in 1987 when McGwire burst onto the scene and set the rookie home record. His cards were among the hottest in the hobby. While buying 45 cents of 1987 Topps at my local corner store, my friends and I were hoping to pull a McGwire card (or his teammate, Jose Canseco, whom McGwire will not sign cards of).
I graduated high school and started college the year of the 1994 baseball strike, and baseball and baseball cards were an afterthought for the next four years.
I graduated college in 1998, moved into an apartment, and started my career. That summer, McGwire and Sammy Sosa captivated the baseball and collecting world in their assault of Roger Maris' single-season home run record. It brought me back into baseball fandom, including pulling me into internet forums about baseball, which eventually led to a rekindling of my love of the card-collecting hobby.
So, while the PED connection to 1998 does put a damper on it, historically, at the time it was amazing and helped bring me and many others back to baseball and collecting. For this, I'll always be grateful.
Final thoughts on Mark McGwire rookie cards and early career cards
Fun fact: No player who has hit more than 60 home runs in a season is in the Baseball Hall of Fame. Babe Ruth, who once hit 60, was of course in the inaugural Hall of Fame class. Roger Maris, Mark McGwire, Sammy Sosa, and Aaron Judge are not in the Hall (Judge is of course not yet eligible).
If this is to change, I think McGwire is likely the first from this group to eventually make the Hall of Fame. While he is a poster boy for the steroid era, the Hall of Fame ignoring this era, instead of capturing the good, bad, and ugly, is a disservice to baseball's history and its fans.
Shop for Mark McGwire rookie cards on eBay
More Cardlines top baseball card rookie coverage