Can Prizm And Monopoly Produce A Collectable And Fun Release?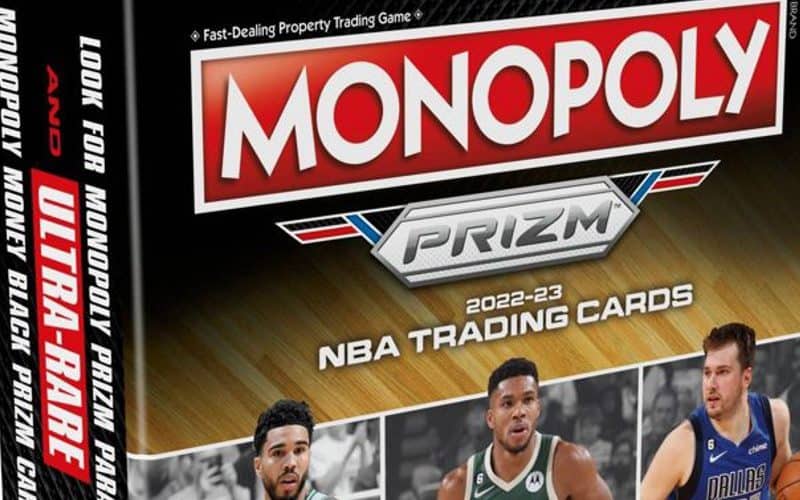 I guess it was just a matter of time. The list of Monopoly editions is basically endless. Perusing the list, there are a few real winners for you. For example, the Bass Fishing Edition, the G.I. Joe Collectors Edition, The Nightmare Before Christmas Edition, and The Dog Artlist Collection Edition.
So why not an NBA Prizm edition? The new game tries to combine elements from the world of card collecting, specifically basketball cards and the classic family pastime. Does it succeed? Read our review on Monopoly Prizm: NBA Edition to find out.
Shop for Monopoly Prizm: NBA Edition on eBay
The history of Monopoly and Prizm
The Monopoly Prizm: NBA Edition game is the meeting of the two brands that made America great. Monopoly is, ironically enough, the product of the Great Depression. The game was first released in 1935 by Parker Brothers.
And even though a third of the country was unemployed, it was somehow a massive hit. But what most people don't know is that it was a ripoff of an earlier 1905 game called the Landlord's Game (which is actually a more accurate title).
In 1991 Hasbro bought the Parker Brothers and took over the rights to the popular game. After that, the more ambitious toy monopoly began releasing endless game variations. Among the many forgotten releases was the 2006 NBA Edition. It is an unremarkable version of the game, which changes the names of the assets to basketball themes: like buying the Western Conference instead of the electric company.
Meanwhile, Panini Prizm Basketball has a much shorter history. The set was first issued for the 2012-13 NBA season as Panini attempted to replace the popular Topps Chrome basketball releases. After a period of adjustment, it took off and has since dominated basketball (and football) cards.
The future for the brand is uncertain since Panini will lose its NBA license in 2025. However, in the meantime, it reigns supreme.
Shop for Monopoly Prizm: NBA Edition on eBay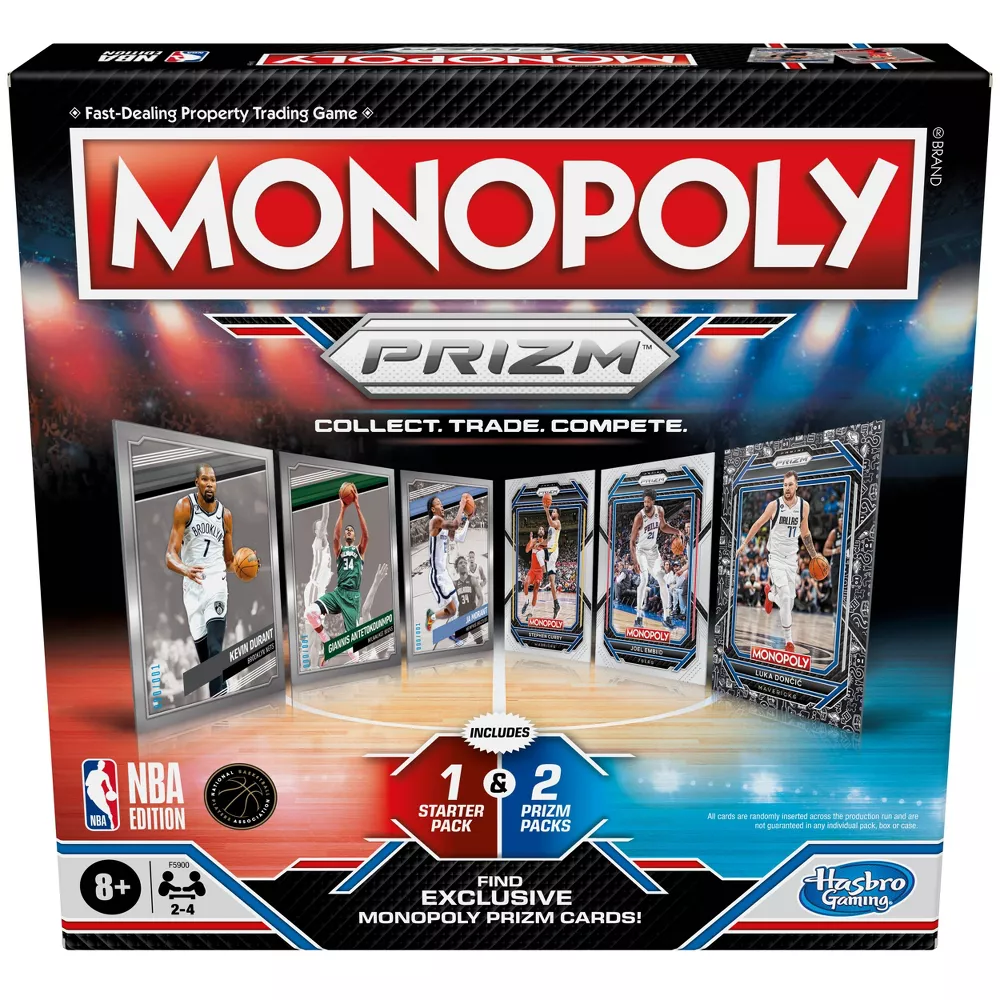 What is Monopoly Prizm: NBA Edition?
The Panini Blog orders us to be excited about this development: " Late last month, Panini America and Hasbro officials sent a buzz reverberating throughout the sports card industry with the announcement of the April-releasing Monopoly Prizm: NBA Edition Board Game.
Two genre icons — the stunning trading card brand and the board game titan — coming together in such a meaningful, massive collaboration simply can't be ignored."
Indeed, Panini and Hasbro assure us that this will integrate the best sides of collecting and gameplay. Adam Biehl, Hasbro Gaming's Senior Vice President, said, "Based on fan insights, we noticed a unique crossover opportunity between individuals who love classic gameplay and card collecting, which ultimately lit the spark to create and bring this innovative trading card element to Monopoly."
Meanwhile, Jason Howarth of Panini America said, "after nearly two years of development and collaboration, we are excited to bring the Monopoly Prizm: NBA game to market."
Shop for Monopoly Prizm: NBA Edition on eBay
How do you play Monopoly Prizm: NBA Edition?
But how does it work in practice? We all know how Monopoly is played. First, you go across the board with your weird thimble or iron and buy up as much property as you can. Then hope the other players land on your hotels and go spectacularly bankrupt.
Hasbro hopes to add to that experience by adding collecting elements into the mix. Players can buy packs of cards with the best player in the NBA for use in the game. When you buy the game, it comes with a 90-card base set.
This game itself includes an eight-card starter deck and two Prizm packs. And you can play the game with these cards alone. It's a standalone release.
However, the Panini-Hasbro cooperation also produces Monopoly Prizm: NBA Booster Boxes to enhance gameplay and create a more interactive collector experience. Or, to make you shell out more cash? It really depends on how you look at it. The booster and original 90-card sets will include the top veterans and the most exciting young rookies.  
Shop for Monopoly Prizm: NBA Edition on eBay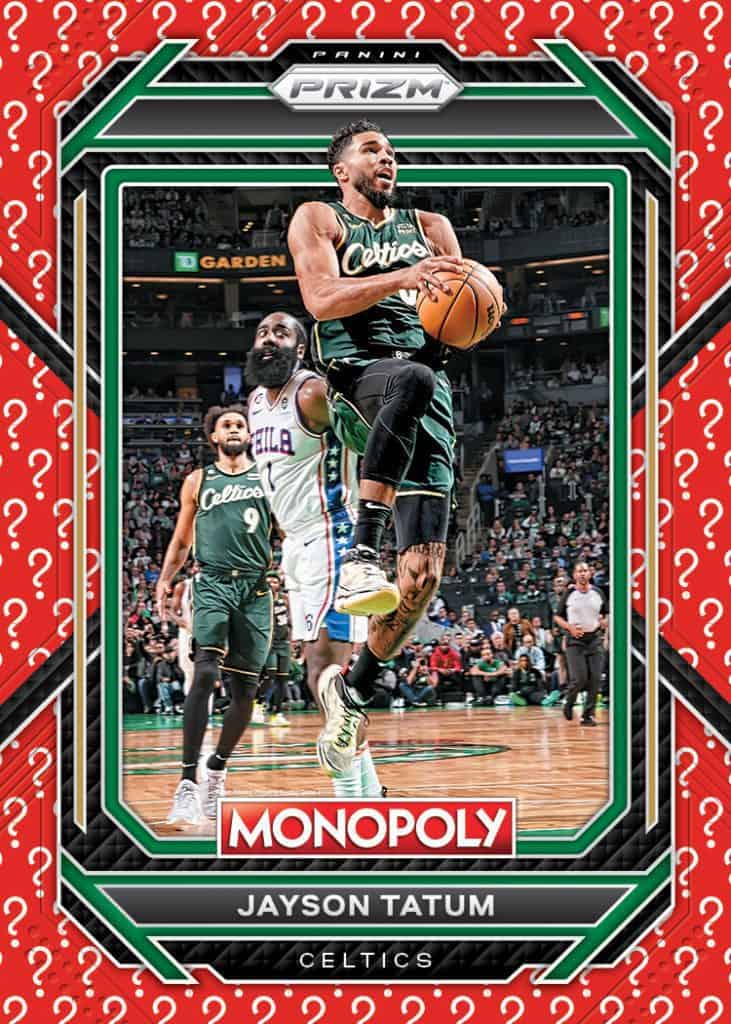 The collecting aspect of Monopoly Prizm: NBA Edition
But this isn't just a game. We are also talking about a card set here. There are 90 cards in the base set, plus several unique cards with extra game properties. So, you may want to collect the cards. It's a fantastic set, after all.
And another thing to consider is that most of these cards will be used in play. Therefore, if the game is a hit, finding versions of the cards that are in good condition may be difficult. So, if you are more into the collecting side than the playing side, you might wish to consider grading the Monopoly Prizm: NBA Edition cards instead of using them.
But, in a best case scenario from a collector's perspective, this game takes off and is reissued often. Then these cards may have value as the first run of Monopoly Prizm: NBA Edition.
The cards are fairly attractive. You may prefer these if you are not a massive fan of the metallic Prizm look (and I am not). They have a warmer and more classic design while keeping the overall Prizm look. But the Monopoly logo is featured prominently. That may be a good or bad thing, depending on whether this edition takes off.
Shop for Monopoly Prizm: NBA Edition on eBay
When is the Monopoly Prizm: NBA Edition release date?
The project was announced at the MINT Collective event in Las Vegas, which took place from late March to early April. We were told the game would be available in Target on April 16, 2023. The booster boxes for the game will be available on the same date.
Do you live on Mars and don't have a Target near you? Have no fear. Other stores will have them in stock sometime in August 2023.
Shop for Monopoly Prizm: NBA Edition on eBay
How do you play Monopoly Prizm: NBA Edition?
In regular Monopoly, every player is a hotshot real estate mogul wannabe. But in Monopoly Prizm: NBA Edition, they play the role of an NBA coach.
At the start of the game, players will draft their squad. So, it will be like, "I take Luka," and then you will be all, "Yeah, but I get Giannis. In your face." Or something like that.
Once you have your team in place, you go on the road. And you don't try to buy properties but rather win games throughout the country on this barnstorming tour. Once you take control of games, you collect bonus points when rivals land on them. Yeah, that part doesn't really make any sense.
You can make trades and acquire players throughout the game to improve your squad. Points are also earned through Playmaker Challenges and All-Star Contests, wherein the winner takes all the points.
When you pass Go, you won't get $200That is for losers. Instead, your players will engage in one-on-one matchups with stars from other teams. The winners collect unique All-Star cards instead of drawing from the old-school "community chest" pile. In the end, the player with the most points wins.
Shop for Monopoly Prizm: NBA Edition on eBay
Monopoly Prizm: NBA Edition contents
When purchasing Monopoly Prizm: NBA Edition, you only need to play the basic game pack. However, as we mentioned, you can also get Monopoly Prizm: NBA Edition iCollect Blasters. Here is what you can expect to find in each.
What can you expect in Monopoly Prizm: NBA Edition Box?
1 starter pack.
8 cards per starter pack.
2 Prizm packs.
4 cards per Prizm pack.
Shop for Monopoly Prizm: NBA Edition on eBay
What can you expect in iCollect Blasters?
6 packs per box.
4 cards per pack.
The iCollect Blasters will deliver an exclusive Free Parking parallel in each box, on average.
Sells on the Target website for $29.99.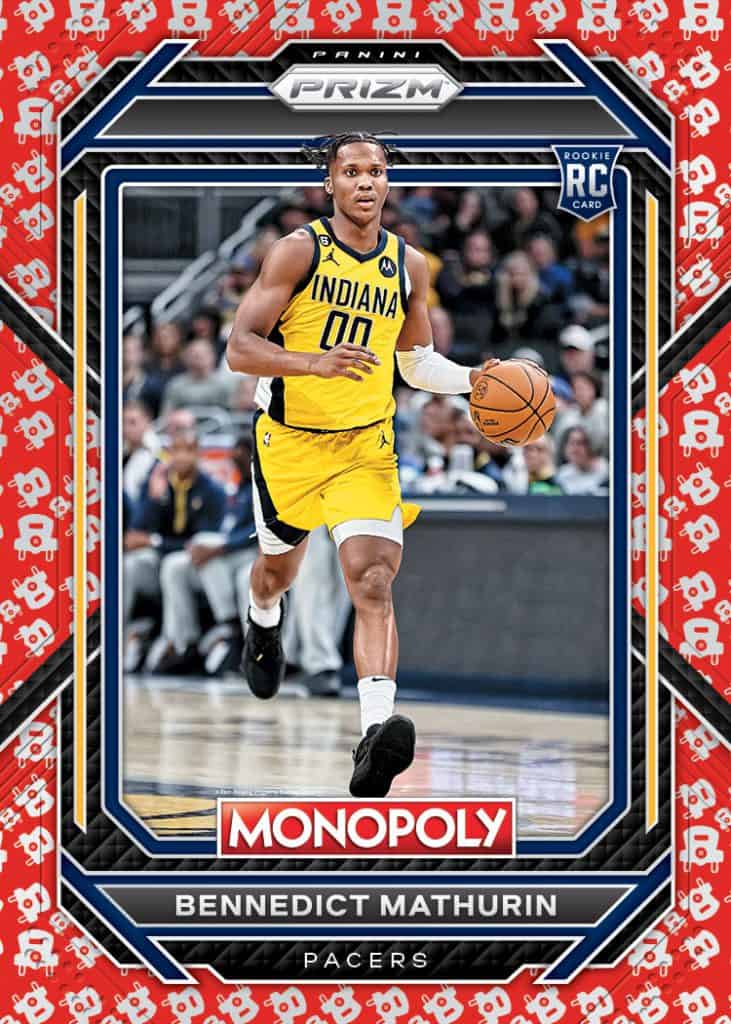 Monopoly Prizm: NBA Edition parallels
There is no point in having cooperation with Prizm if you aren't going to take advantage of their famous parallels. Luckily, Hasbro got the memo and included a wide variety of parallels in the release. But this is a Monopoly release, after all.
Here is the complete list:
The Brown, Light Blue, Pink, Orange, Red, Gold, Green, and Boardwalk Blue Prizms are the same PMS colors as the spaces on the board game.
Money Shimmer features the exact PMS color and numbering as the money in the game itself: Gold (500), Red (100), Purple (50), Green (20), Blue (10), Pink (5), and White (1).
The Tiger Stripe Prizm features Board Walk Blue.
Monopoly Man, Question Mark, Dice, Deal, and Gold Wave Money are all iconic Monopoly images.
The Monopoly Black Parallel is exclusive to the board game.
Free Parking is exclusive to iCollect Blasters.
The Money Black insert is exclusive to Retail Blasters.
The Money White insert is exclusive to iCollect.
Shop for Monopoly Prizm: NBA Edition on eBay
Final thoughts on Monopoly Prizm: NBA Edition
Full disclosure: I love Monopoly, watch NBA games daily, and write about cards for a living. So, this game is designed for people like me. But I'm unsure how well card collecting translates to the Monopoly game. I have played other variations of Monopoly in the past and have often found the way new elements are integrated into the classic game is haphazard and unconvincing.
Therefore, a lot will depend on how well the gameplay runs. The showdowns between players can be fun if the mechanics work. But if it is awkward, no one will bother buying the booster packs or playing the game more than once. Usually, people return to that trusted Monopoly classic in the closet just because it works better.
Shop for Monopoly Prizm: NBA Edition on eBay