The Ultimate Victor Wembanyama Rookie Card Guide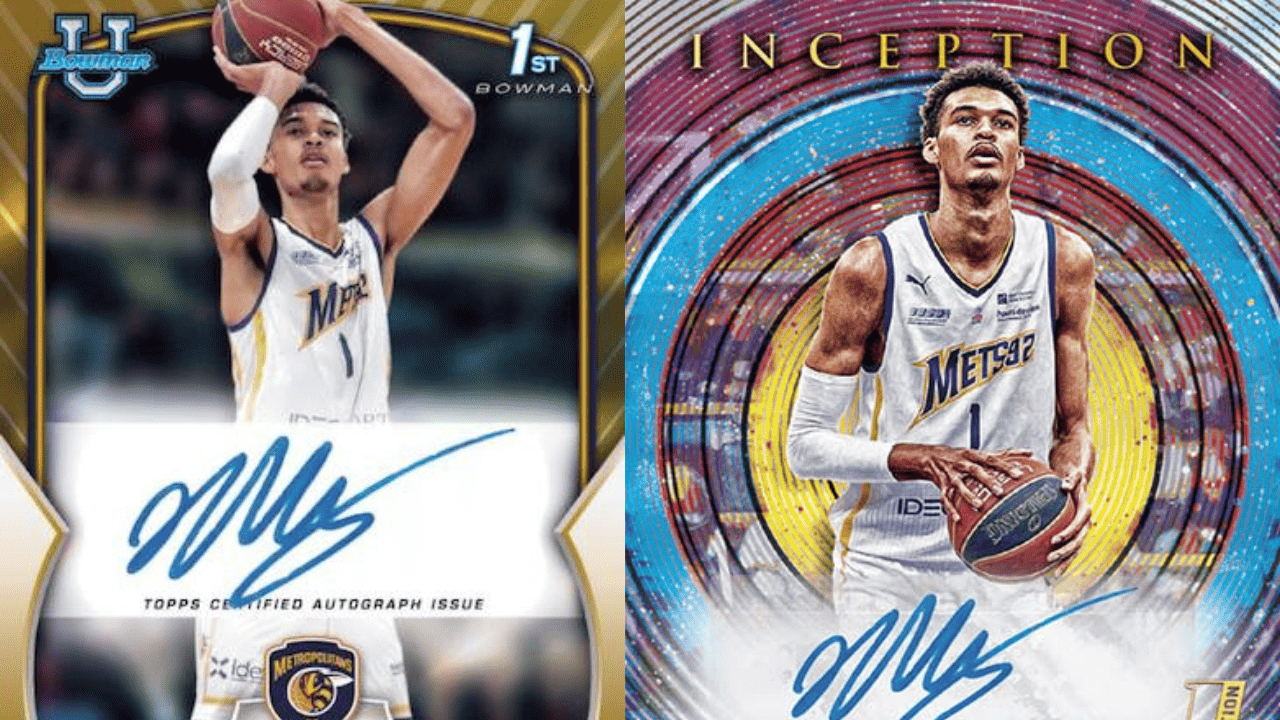 Victor Wembanyama has the potential to change basketball cards, and the NBA, in a way very few players have ever accomplished. He's a special enough talent that we wanted to put together this guide to help guide investors before Wembanyama's rookie cards even release.
How should we invest in Wembanyama RCs? Should you buy sealed boxes or singles? Will people be pitching tents at Target to pick up Prizm once again?
Here's everything you need to know about Victor Wembanyama rookie cards.  
Check out Victor Wembanyama rookie cards on eBay:
Introducing Wemby rookie cards
Victor Wembanyama, or "Wemby," is a French basketball player that is the most highly-touted prospect since LeBron James. Standing at least 7'5" and still growing, he's not only enormous but has enough athleticism, ball skills, and a shooting stroke that make him look more like a video game create-a-player than a real prospect.
At age 19, he's already been making major highlights overseas for several years now, including a recent put-back slam on his own missed three-pointer.
He's the type of talent that could immediately turn the tables for even the most dreadful of franchises, much like LeBron forever changing the fate of Cleveland sports in 2003.
20 years later, Wembanyama could overtake Luka, Giannis, and all the other young stars in collecting hype as soon as he sets foot on an NBA floor, lighting the sports card world on fire yet again.
Jordan made card collecting cool. LeBron made card collecting cool. And Zion, during the pandemic, even had his moment, but now Wemby looks to take it to the next level. Are you ready to invest?
Shop for Victor Wembanyama rookie cards on eBay
Wemby: Fanatics vs. Panini Edition
The single most important thing to understand about Wembanyama rookies is the never-before-seen turbulence between Fanatics (Topps) and Panini.
Fanatics landed Wemby on an exclusive autograph deal, so ZERO Panini products will feature Wemby autographs. Instead, those will be found in Bowman/Topps products, but those won't have the NBA license… so he won't be in his Spurs uniform. So how should you approach this? More on that later in the article.
What is the worst case for Victor Wembanyama basketball cards?
It is hard to imagine a situation where Wemby flops. He's so tall, athletically gifted, and seems level-headed enough that his success is all but guaranteed. The level of success, however, is still up in the air. Will he be like LeBron, pegged "the Chosen One" long before actually setting the NBA scoring record? Perhaps. Or maybe he's just very, very good. Either way, though.
The worst case for Wembanyama is that his unique size and figure aren't built to withstand the NBA. Zion, largely, has disappointed because he can't stay on the floor.
And that's the nightmare scenario for Wemby, too. But if he's on the floor, he'll be amazing.
Shop for Victor Wembanyama rookie cards on eBay
What is the best case for Victor Wembanyama Basketball Cards?
There's a world where Wembanyama is the best basketball player for the next decade or more. Don't get it wrong, he won't be there immediately. But after a season or two, he could become "the guy" who is surprised you see to miss the Finals.

That was LeBron for a decade, and now it's probably a combination of Steph and Giannis. "The Road to the Finals runs through them" – that sort of mindset.
Jokic is a guy like that, too, although he's never been to the Finals upon writing this (but I suspect that changes soon).
Best case, Wemby is every bit of that and more. And if he's a LeBron-level talent, knowing what cards to buy in 2023 could literally change your life or help you retire early.
Shop for Victor Wembanyama rookie cards on eBay

How to Invest in Victor Wembanyama Rookie Cards
One thing is nearly for certain: the market is about to get flooded with Victor Wembanyama.
Topps is already getting in on the action, even without an NBA License. They're releasing the first-ever Wemby rookie auto on June 6, 2023, with the Bowman Chrome University Basketball.
And we're in a unique situation since Fantatics (through Topps, presumably) is taking over cards in the next few years, so it's impossible to predict how the market will react.
Shop for Victor Wembanyama rookie cards on eBay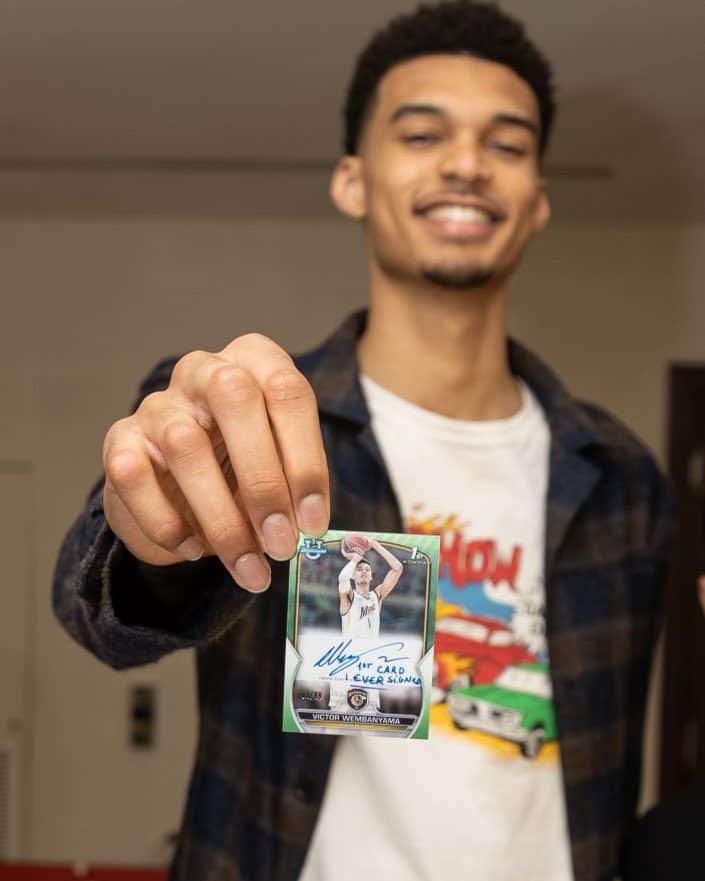 While Prizm will be the hot rookie for Wemby this year, will it also be the best Wemby rookie when Topps Chrome is once again the main basketball set? (Our guess: probably, since LeBron Topps Chrome Rookies are still king).
Nothing is set in stone, but we can still do our best to predict the future. Here are a few investment strategies.
Mistakes to avoid when investing in Victor Wembanyama Rookie Cards
Here are a few ways that you can miss the mark when buying Victor Wembanyama rookie cards.
Shop for Victor Wembanyama rookie cards on eBay
Buying the wrong cards
It's hard to say which cards will be the most valuable: either his autographed Topps cards or NBA-licensed Panini cards. My guess? They're both extremely valuable at some point, but a favorite will energy in 10 years. Buy whichever you're more comfortable with and the one that makes the most sense with your budget.
Buying overpopulated cards
The buzz is going to be real for Wemby cards, but buying base rookie cards is going to be a mistake, even if Wemby becomes the generational talent we think he is.
Cards are being printed at an all-time high right now, so even Prizm rookies won't hold their value like they should if there are 15,000 PSA 10 Wemby rookies a decade from now. Avoid those.
Thinking more is more
Rookie collectors often prioritize having a lot of cards, but remember that you're better off holding fewer cards that are more valuable ones. Just like the cards described in the previous point, investing in quantity leads to buying overprinted ones while investing in quality leads to smaller supplies that will hold value better.
Shop for Victor Wembanyama 2022-23 Bowman Chrome Prospect card on eBay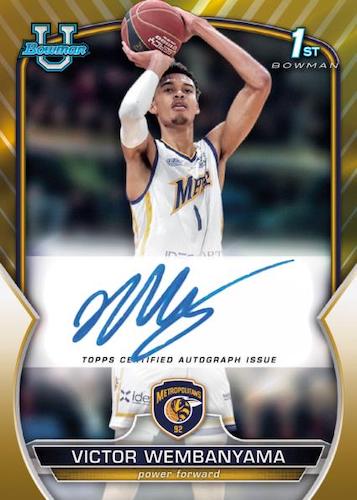 Tips to remember when investing in Victor Wembanyama Rookie Cards
Buy parallels
It's often better to have one numbered parallel rookie card than ten of the base version of the same. Before buying a base card, look at the PSA population report for whatever set you're considering and how the populations line up from star rookies of the past.
Try to find a parallel or SP that carries a fraction of the population of the base. Supply and demand play a major role in long-term value, so always buy something with a limited supply.
Buy autographs
Wembanyama autographs, much like the parallels, will sidestep all the concerns around the overprinted cards. Having an autograph gives them a personal touch and sets a finite limit to how many copies can be created, while Panini can print practically unlimited quantities of standard base and unnumbered cards.
Buy sealed wax
Old horror movies operated on the idea that the human mind can come up with something far scarier than what you'll ever see on screen. In the same way, people imagine best-case scenarios for ripping boxes of cards.
Because of that, sealed boxes are almost always worth more than the actual cards inside, and if you can buy a sealed product of the correct product (more on that soon), it could soar in value in the future thanks to the power of wishful thinking.
Investing in sealed Basketball card boxes for Victor Wembanyama rookies
Ready to start investing in Wembanyama rookies? Buying sealed wax is a safe bet to keep its value over time… if you buy the right product.
What are the best products to buy for Wembanyama collectors? It's hard to say given that we don't know how much Panini will be able to do with his cards, but here's our list of products that should be coming down the pipe this NBA season.
Bowman University Chrome (Autograph potential)
Donruss Optic
Select
National Treasures
Spectra
Any other Bowman/Topps product (Autograph potential)
Donruss
Flawless
Contenders Optic
Absolute Memorabilia
This is an opinioned list, of course, but I based it on a combination of factors including price, newness, print size, and how many rookies it contains ("too many" is a real concern with some products.)
In other words, while I'd much rather have a box of National Treasures than Prizm, there's a "bang for your buck" factor influencing the ratings.
Best Victor Wembanyama rookie cards to buy
Investors have very different types of budgets, and we wanted to cover all of them. Here are our predictions for the cards to buy if you're looking to invest in Victor Wembanyama on any budget.
Shop for Bowman University Inception Victor Wembanyama rookie cards on eBay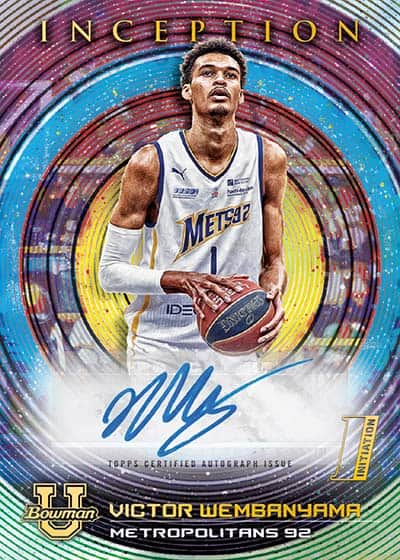 Best affordable Victor Wembanyama rookie cards
Here are the best Victor Wembanyama rookies to buy on a budget. Bonus points if they're a PSA 10 (pro-tip: grade them yourself instead of buying them graded).
Numbered Donruss Parallel
My top pick for a Wembayama rookie would be a numbered Donruss parallel. These are great cards and a top brand – think of it like the LeBron Topps Rookie from 2003. If you can pick up a numbered rookie at a decent price, I'd take that over a base Prizm every day of the week.
Optic Holo
Optic Holos have historically cost less than Silver Prizms while also carrying a lower population. It might not seem like it now, but that's going to matter a lot in ten years' time.
Unnumbered Bowman Autograph
An unnumbered autograph from a set like Prizm, Optic or the like will cost a lot, but could also be worth a lot more in the future.
Best High-End Victor Wembanyama Rookie Cards
Looking to go big? Here are some cards that will cost a lot when they release, but could also be worth more than a new truck if Wemby pans out. Again, bonus points if they grade well at PSA.
Shop for Victor Wembanyama rookie cards on eBay
Numbered Prizm Rookie
A numbered Prizm rookie of Wemby could be worth a small fortune. Numbered Luka rookies from the same set can sell for $50,000 or more if they're numbered low enough, and imagine if Wemby is even better.
Numbered Bowman Rookie Autograph
Contenders is the most iconic rookie autograph. The rookie ticket autograph gets more variations and parallels every year, it seems, but if you can find a nice one that you like, that's an early-retirement sort of card if Wemby hits.
Are you ready to invest in Victor Wembanyama RCs?
Wembymania is nearly upon us, and much like winning a basketball game, you need a strategy going into it. Everybody is going to be excited for these cards, but not everybody is going to be strategic with how they buy them.
Being smarter than collectors now can make you wealthier than those collectors in the future. Are you ready for the challenge? How do you plan on investing in Wemby? Let us know on Twitter @card_lines and be sure to subscribe to our free newsletter right here.
Shop for Victor Wembanyama rookie cards on eBay