An Essential Guide To Buying Walmart Sports Cards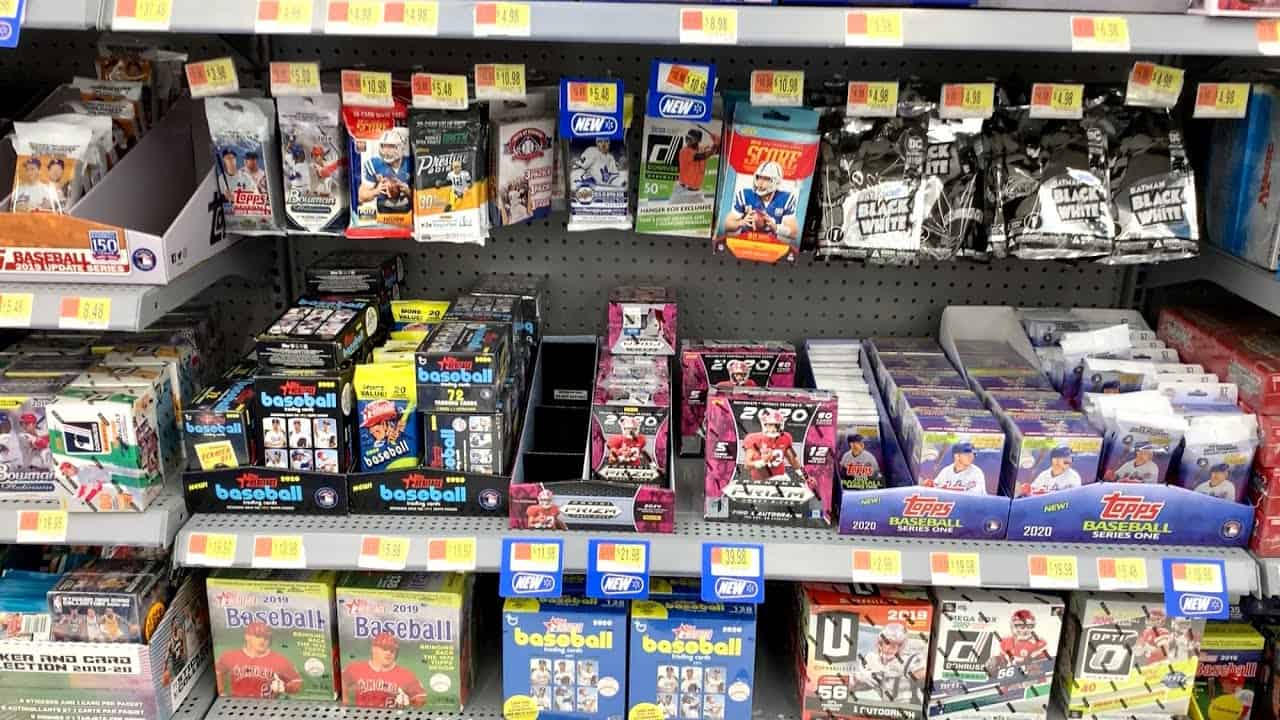 While Walmart doesn't offer something like the Target RedCard, which helps you instantly save 5% on all purchases, there are still some useful need-to-knows to help you get the best long-term value.
In this article, we'll go over everything you need to know about buying Walmart sports cards, including when to buy, how to get the best deal, and how to buy them online. 
Shop Walmart.com for trading cards
What can you expect to find with sports cards at Walmart?
Walmart has perhaps the widest selection of sports cards on the market, only matched by Target.
And, much like Target, Walmart sells so many cards that the major companies, Topps and Panini often work with Walmart to make exclusive cards and crossovers. "Walmart Prizm Mega Boxes," for example, have pink cracked ice Prizms while the same boxes at Target have red ice.
Walmart has a wide selection of TGC cards too, for collectors who are looking for Pokemon, Magic: The Gathering, or other non-sports cards.
Walmart also has a selection of repack boxes, like this. These products have a good mix of packs from previous years, but if you've never bought them before, be cautioned and know that about half the packs are typically so old that they're obsolete (and so stuck together that they might actually be bulletproof).
For example, a box that promises 8 packs of sealed football cards might have a couple of modern Leaf/Sage/Score packs, a 2022 Donruss pack, a 2019 Absolute pack, and then 4 packs of 1992 Upper Deck.
Give this video a watch to see what I mean
Walmart should have all the recent retail releases you're looking for, although typically they come out a couple of weeks after the hobby product (same at Target or anywhere).
Occasionally, for whatever reason, old products that didn't sell will occasionally resurface at Walmart, too (more than Target). I don't know if the supplier misplaces the boxes or how it works, but I found some 2020 Donruss football at my Walmart just last week… and I'm writing this article if February 2023.
How to get the best deals on Walmart Sports Cards?
In the olden days (pre-2020 sports card boom), you could often wait on the brands you wanted to be discounted before scooping them up.
That's right, friends: sports cards didn't sell. I remember picking up quite a bit of 2018-19 Prizm basketball because it sat on the shelf for long enough that it got a rollback, from $19.99 to $14.99. That was pretty common for all brands.
That's not the case now, although we could be headed back in that direction, especially with some of the less-desirable brands. Panini and Topps ramped up the production, and the result might mean lots of cards sitting on the shelf and going stagnant, only to be eventually discounted or scooped up for repacks like those mentioned above
Unfortunately, unlike Target's RedCard, there's no easy "hack" for getting the best deals at Walmart. That said, something to bear in mind in knowing what to buy.
If you're making money on Walmart cards, it's not about flipping as much as buying products to a) either keep sealed and hope they age well or b) boxes you intend to open and sell the hits.
Since these are retail boxes, the second option is risky, but since the boxes don't cost too much, it can be fun.
The best bet for making money with Walmart sports cards is buying brands that prove to have some longevity and holding them to sell sealed in the future. What does that mean? To help get the ball rolling, here's a guide to Top Football brands to invest in long-term.
Additionally, it's good to know what form to buy. Many releases have Hangers, Blasters, Megas, and cello packs and there's not a "one size fits all" answer. Depending on the release, watch breaks and listen to community chatter about the products to determine the best form for a long-term hold. 
Shop Walmart.com for deals on trading cards.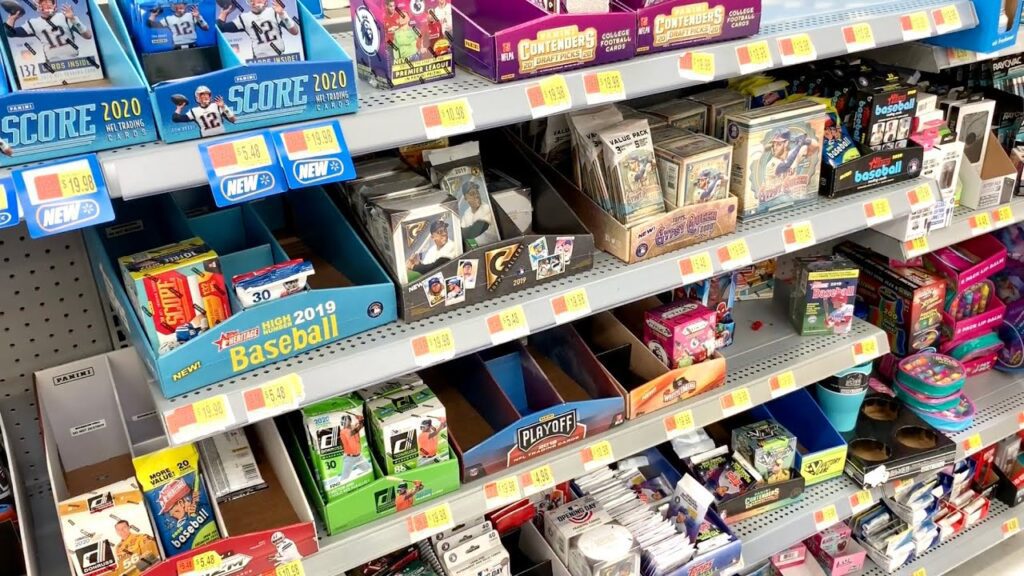 Buying Walmart Sports Cards online
Walmart does not have nearly as nice of a sports card online marketplace as Target, which offers presells and more.
The one advantage you'll find at Walmart, however, is a chance to buy older products that haven't sold yet. The downside? They're priced just like you'll find them anywhere else. An Optic football box that hit the shelf at $30 is now $74.97.
Why? Because Walmart marketplace allows third-party sellers to list products as well, unlike Target, so you're not buying most of these cards from Walmart itself, but rather a third party.
So, yes, it's just like a slightly different version of eBay… just more sealed wax and fewer singles.  Do with that what you will. 
Shop for trading cards at Walmart.com
How to determine the restocks of Walmart Sports Cards?
If you're wondering how to figure out restock days for Walmart sports cards, you're not alone. Unfortunately, though, it varies widely, at least when it comes to knowing the right day and time.
In short, Walmart cards are restocked at different times and days across the country. For me, I know it's restocked most Wednesdays at about 11 AM. But for you? That's probably not the case.
So how do you know? Just ask. Seriously, find a manager and ask them. If you're polite (and don't look like you'll fight a man over a box of Optic), they'll be forthcoming with helpful information.
If you want in on a big release, don't be afraid to ask.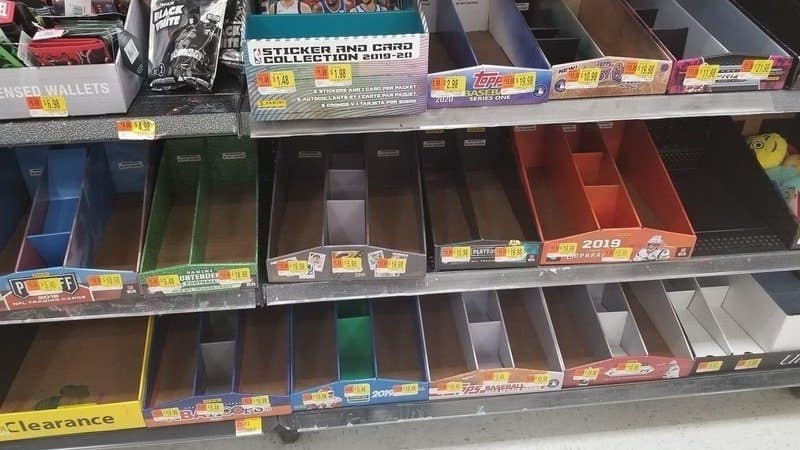 Now you have a guide for sports cards at Walmart
We hope this guide helps you save money on your Walmart sports cards plus secure some of your favorite releases.
What sports cards are you chasing at Walmart? Let us know on Twitter @card_lines and be sure to subscribe to our newsletter, which brings investment advice and industry news straight to your inbox twice a week.
Frequently asked questions on Walmart sports cards
When does Walmart restock sports cards?
The restock times of Walmart sports cards varies greatly by location. The best way to find out is to simply ask a Walmart manager.
Does Walmart sell sports cards?
Yes! And now that interest in cards as waned a bit over the last year, you should have an easier time finding cards than in years past.
Where are sports cards in Walmart?
In most Walmart locations, sports cards are located near the front registers in their own aisle.
Can you return sports cards to Walmart?
No, you can no longer return sports cards at Walmart due to abuse from shoppers who would open them, reseal and then return.
Does Walmart sell trading cards online?