The Top 10 Most Reliable Football Brands To Invest In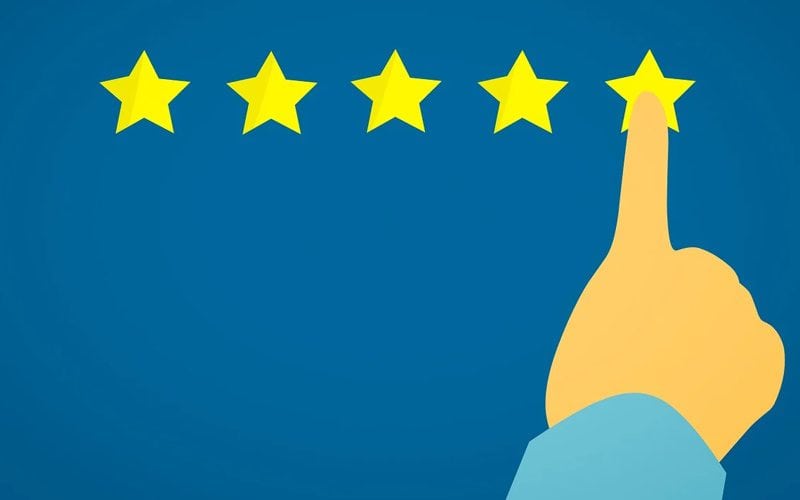 Sports cards are a popular alternative form of investing, but with so many brands, cards and offerings, the world of sports cards can be intimidating to a newcomer – even the biggest of sports fans.

Thankfully, there are a few brands that are head and shoulders better than the rest.
In this post, we'll look at reasons why you should invest in a sealed product, what traits to look for in those brands, what to avoid, and finally, we'll count down the Top 10 brands to invest in.
ALSO READ:
View the top basketball releases to invest in.
View the top baseball releases to invest in.
View the top hockey releases to invest in.
View the top soccer releases to invest in
Advantages of investing in sealed wax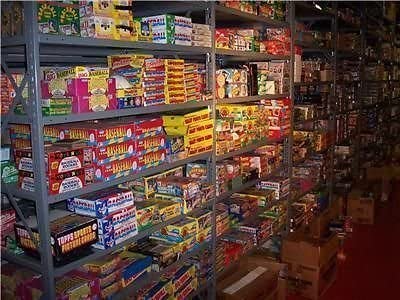 Some cards are sure-fire investments. A Fleer Michael Jordan rookie, for example, is almost a guarantee to continuously gain value over time.
But when investing in modern players – apart from probably the top 5 in their sport – you're running a risk that the investment doesn't pan out the way you hope.
Investing in sealed wax (or, sealed hobby boxes, if you're unfamiliar with the term) is a safer alternative than investing in most singles.
Why?
It's simple: the box you purchase represents an entire rookie class, not just one or two players.
For example, imagine you thought Deandre Ayton was the best prospect from the 2018 class and you bought 10 of his Prizm rookie cards as soon as they were released at $15/each. Today, that $150 investment would be worth about $100.
Or, alternatively, you could have bought a hobby box of Prizm for the same price in 2018 (yes, they really were just $150). Today, that investment would be worth over $3,000 thanks to the superstar power of that draft, including Luka Doncic, Trae Young, Jaren Jackson Jr., and others.
Investing in a hobby box captures value across an entire draft class, significantly mitigating the risk.
And, of course, there's an element of human nature that comes into play: the element of the unknown adds value to the sealed box, too.
A cautionary tale: Why some football brands are particularly risky
Before going too far down the rabbit hole of investing in sealed wax, it's also our due diligence to share a couple of fair warnings.
These warnings are based on the ongoing shifts to the sports card industry that have occurred particularly since Panini lost the NFL and NBA license to Fanatics, which we wrote about here.
This major shift combined with the boom of sports cards during the pandemic led to a couple of big problems: a lot of new brands and a ton of overprinting.
For example, it seems like almost every major brand has a "Draft Picks" version released earlier in the season with the players in their college uniforms. Avoid these as investments. They do not hold their value.
To keep it short and sweet, it's fair to say that Panini is flooding the market with way too many new products and overprinted quantities of all of them because a) they don't have any long-term skin in the game and b) people were buying as much as they could print, at least for a while.
Because of those two factors, many of these boxes will not hold value well at all moving forward. That's why it's incredibly important to buy the right brands for long-term holding.
What makes a football brand worth investing in?
What makes a brand ideal for investing in?
As I assembled the list, I scored on a rubric of three criteria: legacy, entry fee, and appeal.
Legacy is how long the product has been around. Older products have withstood the test of time and are therefore more valuable. New products have a more cloudy few.
Entry fee refers to a current price point. Uber high-end brands have fewer potential buyers, so more affordable brands have an advantage there.
And, finally, appeal is the more general way to think about how big of a "fan base" each brand has. This is also a measurement of "accessibility" or mass appeal, so products with retail versions generally fare well.
With these three traits in mind, let's look at the list.
Top 10 Football Card Brands
10. Chronicles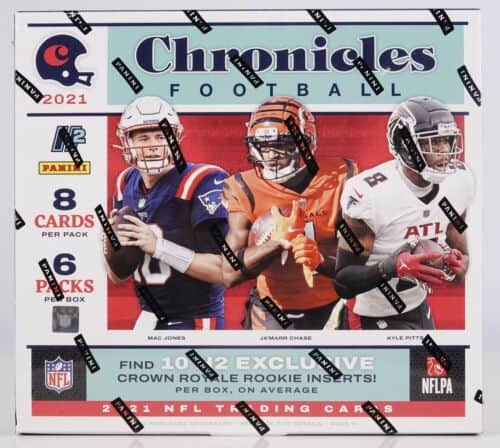 Legacy: 4
Entry: 7
Appeal: 4
Average: 5
I've poked holes in Chronicles frequently on CardLines.com – particularly in the way it floods the market with an excessive amount of rookies of only the top players.
On top of that, the double-digit number of sets under the Chronicles umbrella led to way too many low-numbered cards. Still, to some collectors, Chronicles can be an exciting rip.
Latest releases:

2022 Chronicles Football
2021 Chronicles Football
Buy boxes of Chronicles Football:
Shop on eBay
Shop on Walmart.com
9. Absolute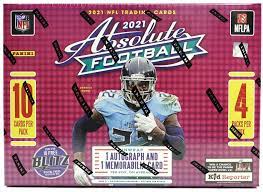 Legacy: 5
Entry: 6
Appeal: 5
Average: 5.3
Absolute has some of the prettiest memorabilia and autographed cards, but it's also a brand that has a lot more attractive alternatives at the price point it demands.
It's a paper product priced like the more popular optichrome brands, and coupled with a weak retail offering, it's only an attractive investment to a faction of collectors.
Latest release:

2022 Absolute Football
2021 Absolute Football
Shop for boxes of Absolute Football boxes:
Shop on eBay
Shop at Walmart.com
8. Mosaic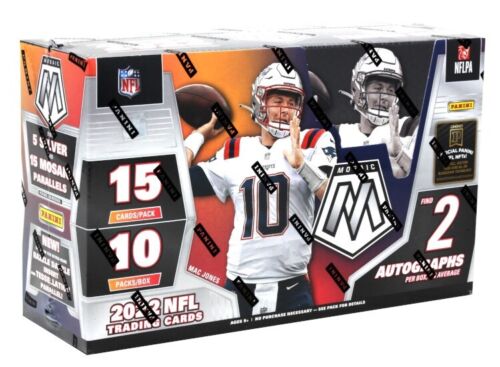 Legacy: 5
Entry: 7
Appeal: 5
Average: 5.6
Mosaic is the new kid on the block for Optichrome, and when Panini transitions into Fanatics, it's probably going to fall to the wayside. It will forever be remembered as a fun, small step-child of the big three chrome brands.
Perhaps the biggest problem with Mosaic is that it's priced similarly to the more attractive chromium offerings.
Latest release:
2023 Football Mosaic
2022 Football Mosaic
Shop for boxes of Football Mosaic:
Shop on eBay
Shop at Walmart.com
7. Flawless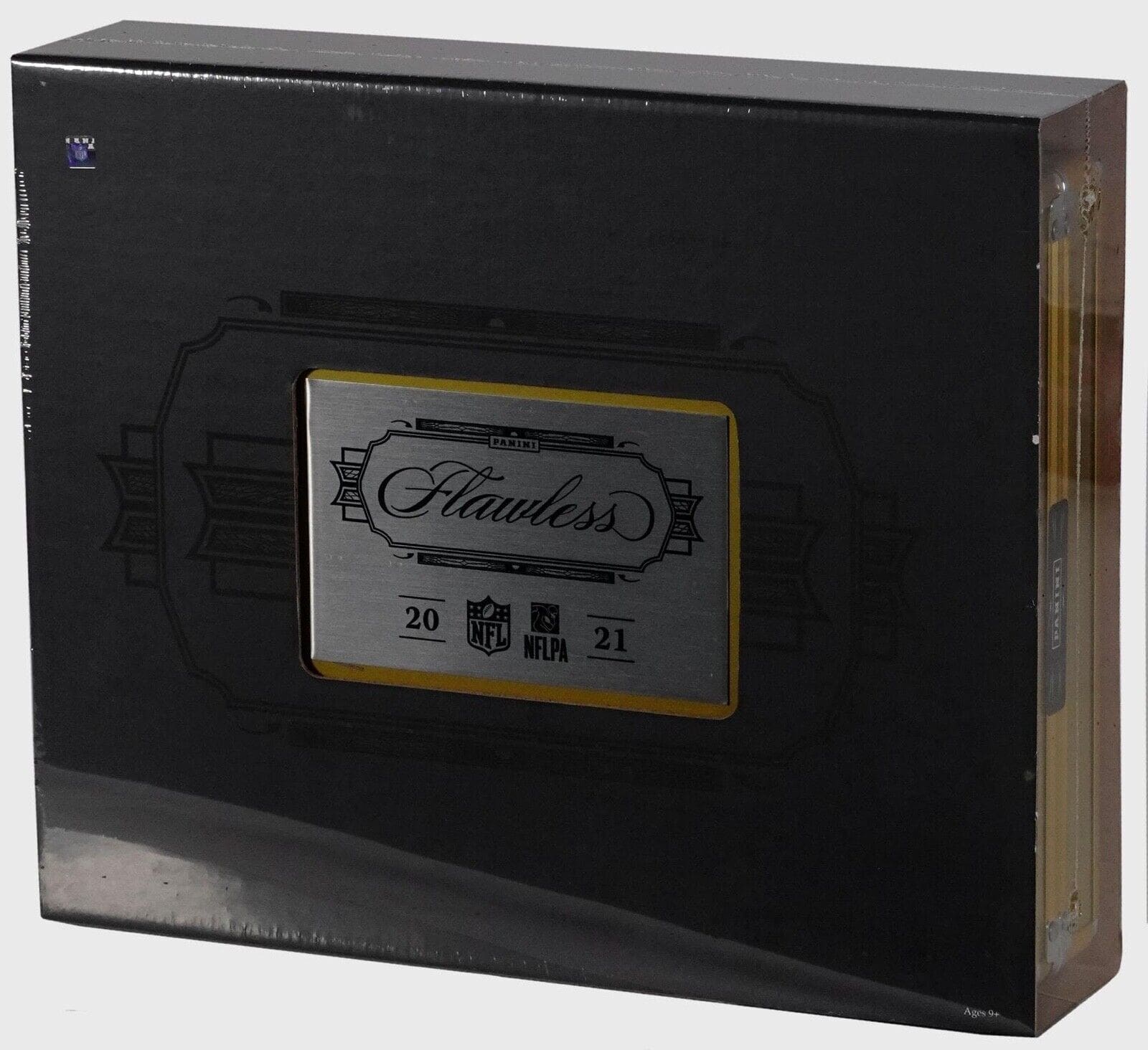 Legacy: 7
Entry: 1
Appeal: 9
Average: 5.6
Flawless makes some of the best-looking cards on the market, and they're unapologetically over the top. Even going as far as adding gemstones into the cards themselves.
But with a pricetag over $10,000 for the box (briefcase), you'll be doing good to find many collectors willing to pony up the big bucks for one of these.
Latest release:

2022 Panini Flawless Football
2021 Panini Flawless Football
Shop for boxes of Panini Flawless Football:
6. Donruss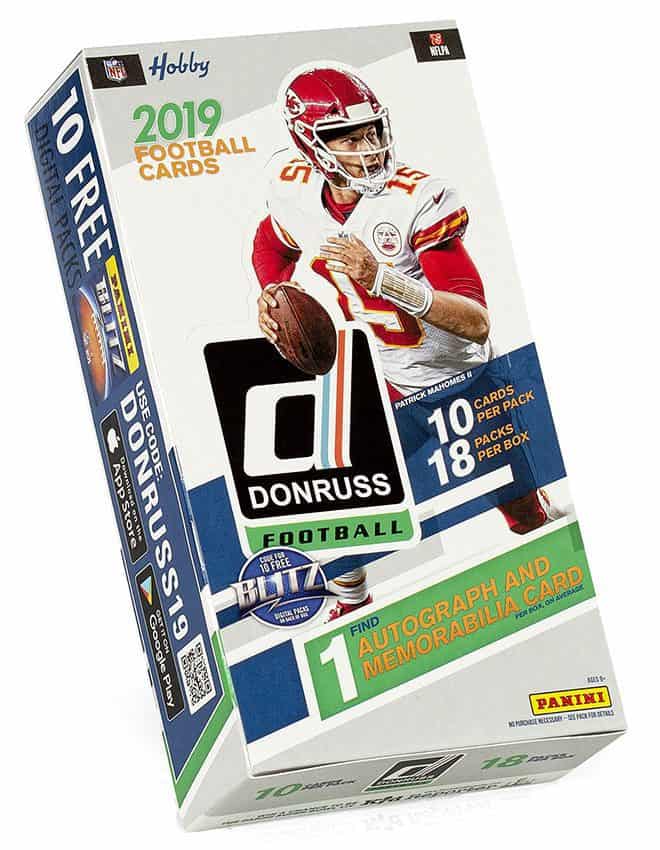 Legacy: 7
Entry: 7
Appeal: 6
Average: 6.6
Donruss is great. It's a classic, kind of like the Topps cards before Topps lost football. Rated Rookies will forever be one of the most attractive rookie cards one can unwrap, a mix of nostalgic and timeless.
That said, most collectors would choose Donruss Optic over Donruss, even despite the price difference. That alone knocks it down to #6 on our list.
Latest releases:
2023 Donruss Football
2022 Donruss Football
2021 Donruss Football
Shop for Donruss Football boxes:
Shop on eBay.
Shop at Walmart.com
5. Contenders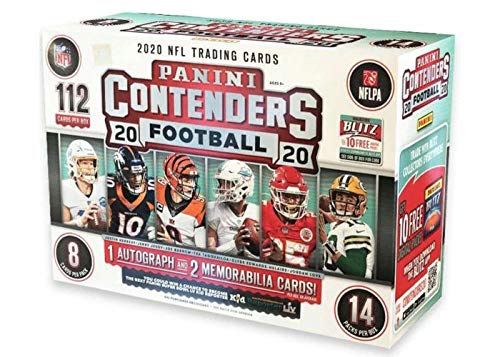 Legacy: 10
Entry: 7
Appeal: 5
Average: 6.6
Tom Brady has a Contenders rookie autograph. That's enough said about the legacy of this product. Joking aside, Contenders has been around for a long time and the rookie ticket autos are some of the hottest cards to collect and keep.
The chink in its armor is the "appeal factor." This is only a set for autograph collectors – it has a very weak lineup of rookie cards and parallels outside of the autos.
Latest releases:
2022 Panini Contenders Football
2021 Panini Contenders Football
Shop for boxes of Panini Contenders
Shop on eBay
Shop at Walmart.com
4. Panini Select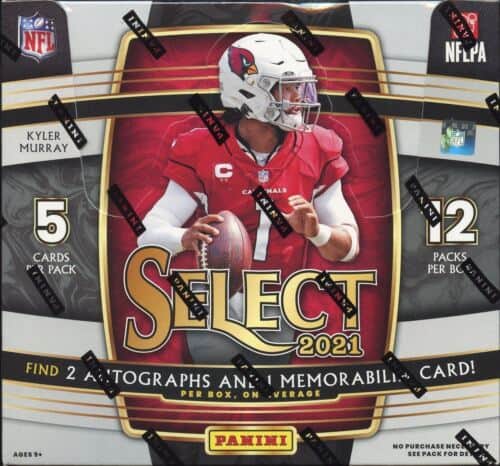 Legacy: 7
Entry: 7
Appeal: 7
Average: 7
Select has been around for over a decade, but it will always be the less attractive version of Prizm. It was probably intended as a more high-end Prizm offering, especially since it didn't have a retail offering for several years, but now it has an off-colored retail set that tells collectors that Select truly isn't sure what it wants to be.
The three tiers of football rookies within the product feel a bit complicated, too – like it's the only product that should come with a how-to guide before opening. That said, it's still a great collection piece and will hold nice value over time.
Latest releases:

2022 Select Football
2021 Select Football
Shop for Panini Select Football boxes:
Shop on eBay
Shop at Walmart.com
3. National Treasures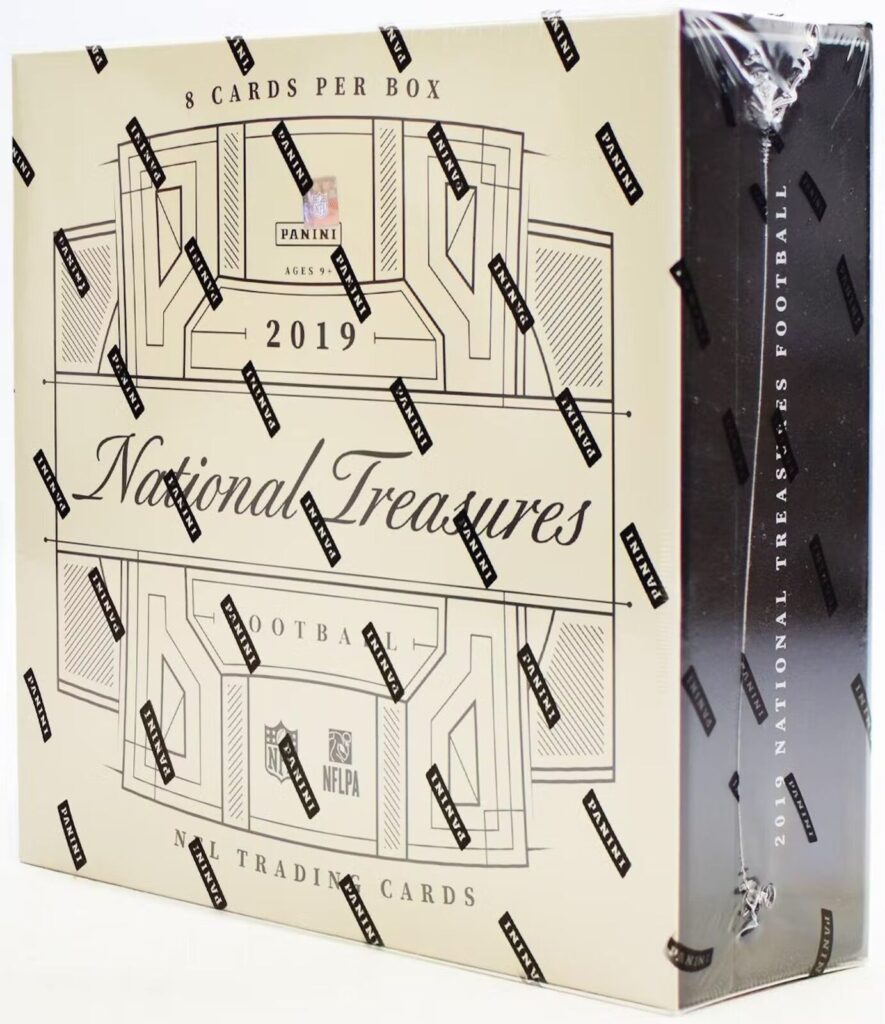 Legacy: 9
Entry: 5
Appeal: 8
Average: 7.3
Of course, National Treasures had to end up in the top three. The RPA's /99 are the best rookie autographs every year, and most of the highest-selling modern sports cards of all time are National Treasures.
It's a very expensive brand, but not as wallet-breaking as Flawless, and it's been around for long enough for everybody to know what it is and why they should want it.
Latest releases:

2022 National Treasures Football
2021 National Treasures Football
Shop for National Treasures Football boxes:
2. Donruss Optic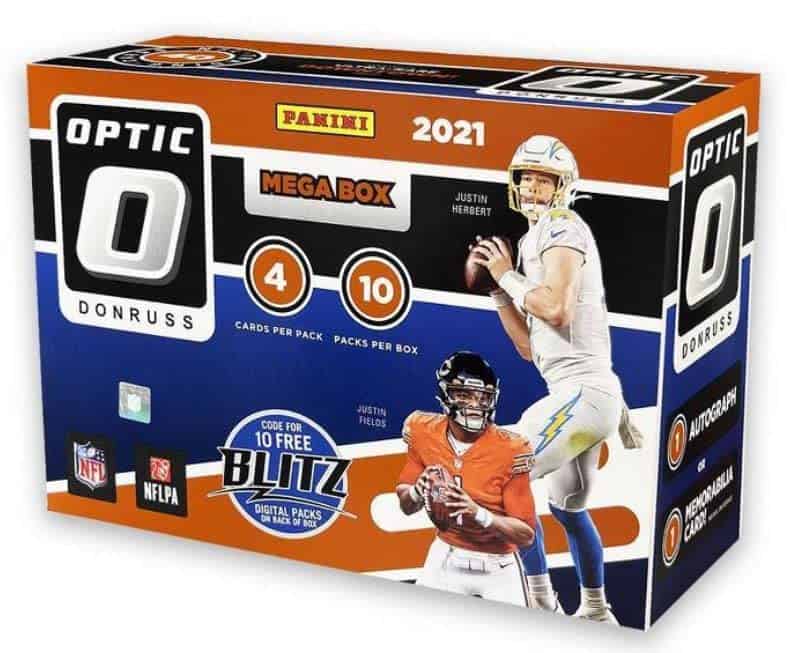 Donruss Optic was released in 2016 and has been one of the best sets ever since. It's a chromium version of Donruss, with a wide variety of rainbow parallels that are short-printed versions of the base.
The cards look great, there are lots to collect, the rookie autographs are often on-card, and most importantly… these boxes are about 60% the price of Prizm. If you're looking for a safe long-term hold on more of a budget, this is as good as it gets.
Legacy: 8
Entry: 9
Appeal: 7
Average: 8
Latest release:

2022 Donruss Optic
2021 Donruss Optic

Shop for Donruss Optic Football boxes
Shop on eBay.
Shop at Walmart.com
1. Prizm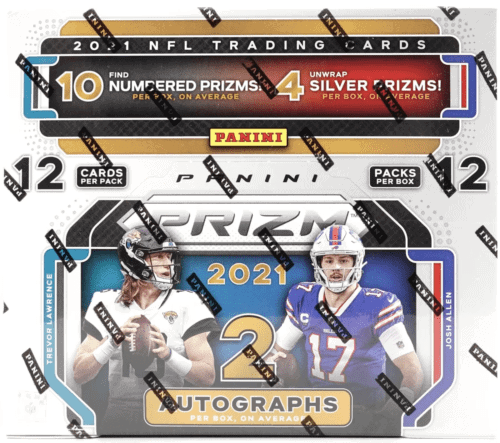 Legacy: 10
Entry: 8
Appeal: 9
Average: 9
Prizm cards, particularly the Silver Prizm, have become the standard currency of sports card investing. The cards are iconic and rare enough that they're hard to find but not impossible to attain. Collectively, this has made the brand the most popular annual release in sports cards since it was launched in 2012.
Want more proof that Prizm is the king of football cards? Look no further than all the optichrome brands – Optic, Select, Mosaic and more – referring to the refractors as "Prizms".
Latest releases:

2023 Panini Prizm Football
2022 Panini Prizm Football
2021 Panini Prizm football

Shop for Panini Prizm Football
Shop on eBay
Shop at Walmart.com
Conclusion: There are a lot of great brands to invest in on any budget!
No matter what you're looking to spend, this list should have something for you! Let us know what you're holding long-term Twitter @card_lines. And don't forget to sign-up for our free newsletter! Happy investing!