The Best Rookie Cards And Early Career Cards Of New Hall Of Famer Fred McGriff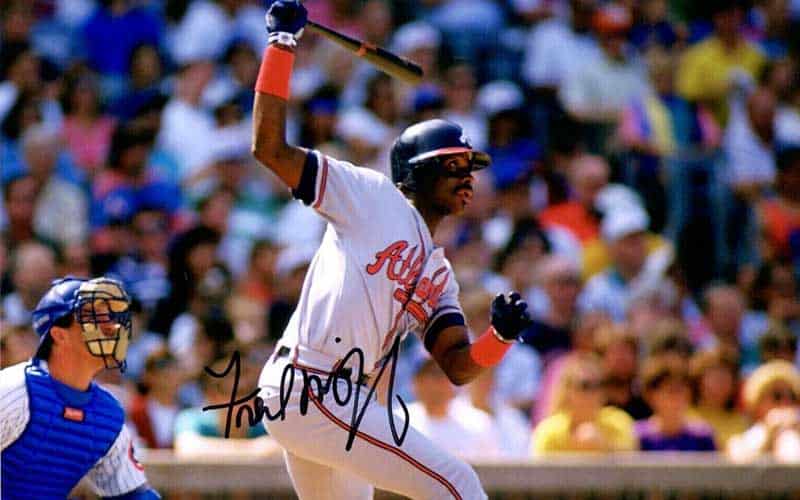 Fred McGriff just missed out on a couple of major career milestones, finishing with 493 home runs and 2,490 career hits. The lack of round numbers may have helped contribute to his missing out on the Hall of Fame for a number of years.
All that changed in 2022, however when he became a select group of players to have their rookie seasons in the 1980s and make the Hall of Fame. But who is newly minted Hall of Famer Fred McGriff? And what are his rookie and early career cards worth chasing?
Shop for Fred McGriff rookie cards on eBay
Who is Fred McGriff?
Fred McGriff played parts of 19 seasons in the major leagues for six different teams from 1986 to 2004. During that time he was an All-Star five times, won Silver Sluggers, and was a World Champion with the Atlanta Braves in 1995.
McGriff hit .284/.377/.509 for his career, good for an OPS of .886 and an OPS+ of 134. He finished with 493 career home runs, 2,490 career hits, and 1,550 career RBI. Twice he led his league in home runs. He was a model of consistency. McGriff hit 20 or more home runs an impressive 15 out of 16 straight seasons, missing the off-year by one home run.
While McGriff never won an MVP award or led his league in many categories, he was a model of consistency, regularly putting up very good to excellent seasons, year in and year out.
While his 52.6 WAR is a bit low for a Hall of Fame 1st baseman (30th all-time among 1B), that total is higher than some other Hall of Famers at the position.
Shop for Fred McGriff rookie cards on eBay
Fred McGriff and the Hall of Fame
If not for the 1994 strike, McGriff likely would have hit those 7 home runs he needed to reach 500 and been in the hall of fame long ago.
Instead, McGriff spent 10 years on the ballot, peaking at 39.8% of the vote in 2019, his final year on the ballot in 2019.
But McGriff was announced as one of the candidates on this year's Contemporary Era Ballot. On December 4th, 2022 McGriff was announced as the sole inductee from the 8 person ballot.
While McGriff wasn't flashy (except for maybe his nickname, "Crime Dog"), his consistent excellence and the fact that he was clear of controversy, PED or otherwise, swayed the committee to select him.
McGriff was inducted into the Hall of Fame on July 23, 2023 alongside Scott Rolen, among others. Here is a breakdown of the 2023 BBBAA results here.
Shop for Fred McGriff rookie cards on eBay
The best Fred McGriff rookie cards
McGriff is a bit of an oddity, in that he's a Hall of Famer (newly minted) that debuted in the multi-set era (1981-date) and yet has only one major company base set rookie card. There are a few other examples, of course – the 1992 Bowman Trevor Hoffman and Mariano Rivera come to mind – but it's far from the norm.
In this case, McGriff's rookie card is the 1986 Donruss #28, just before the "junk wax" era that produced duds such as 1990 Donruss. McGriff also appears on the Canadian version of Donruss, 1986 Leaf, that year. Yes, technically that's two rookie cards, but since it's just a base and Canadian version, I consider it one company.
Shop for 1986 Leaf and Donruss Fred McGriff rookie cards on eBay
In the days around the Hall of Fame announcement, the Donruss RC was selling for $500-575 in a PSA 10. That was up from $325-400 only a month ago. That bump is unlikely to persist long-term, although there will likely be a higher floor going forward now that McGriff is a Hall of Famer.
The Leaf card is much rarer, and recent sales have been right around $1,250 for a PSA 10.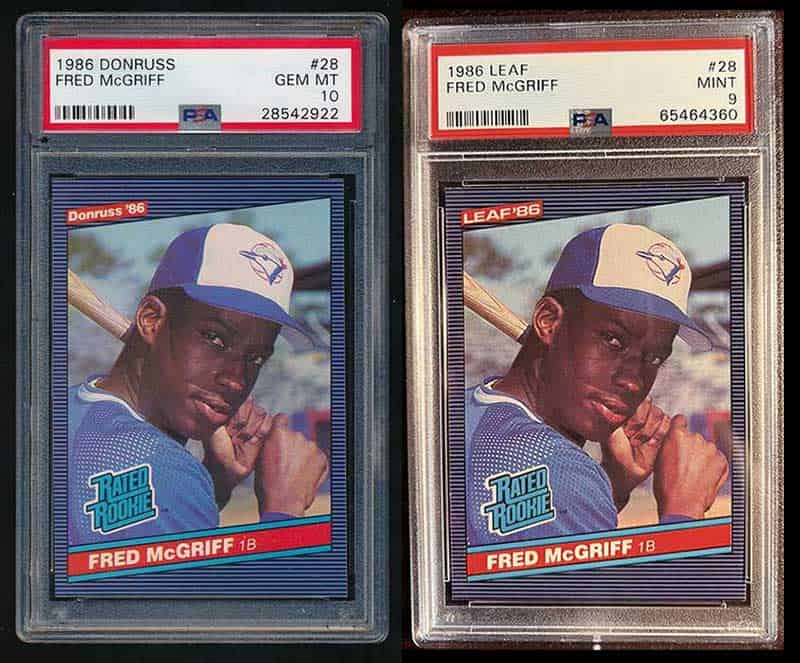 Other early career Fred McGriff cards
McGriff has a few early pre-rookie cards, which range from the low pop to the "no pop". If you're looking for something a bit harder to find, these may be for you.
The first card appearance for McGriff was as a member of the Dominican Winter League over the 1984-85 off-season. The "cards" were really plain paper, blank-backed "stickers". They're also quite rare. Like, PSA population zero rare. Can't find a picture of one on the internet rare. If you're a McGriff collector, they're the Holy Grail.
McGriff next appears in the 1985 TCMA Syracuse Chiefs team set. The set is hard to find and the PSA population of the McGriff card is only 66, with 26 PSA 9's and only 9 PSA 10's. The last PSA 9 that sold garnered $250.
Shop for Fred McGriff 1985 TCMA cards on eBay
McGriff also appeared on a second card in that set, along with teammate Dale Holman, in case you're looking to hit all the early McGriff cards.
The next year, while still with the Syracuse Chiefs, McGriff again appeared on a minor league card, in the 1986 Procards Syracuse Chiefs team set.
The set appears to be a little bit easier to find, although the total PSA count for the card is only 57. That includes 30 PSA 9's and only two PSA 10s. PSA 9s have been selling for around $60. Often minor league cards that appear the same year as a player's major league rookie card don't see high demand, which keeps prices reasonable.
Shop for Fred McGriff 1986 Procards cards on eBay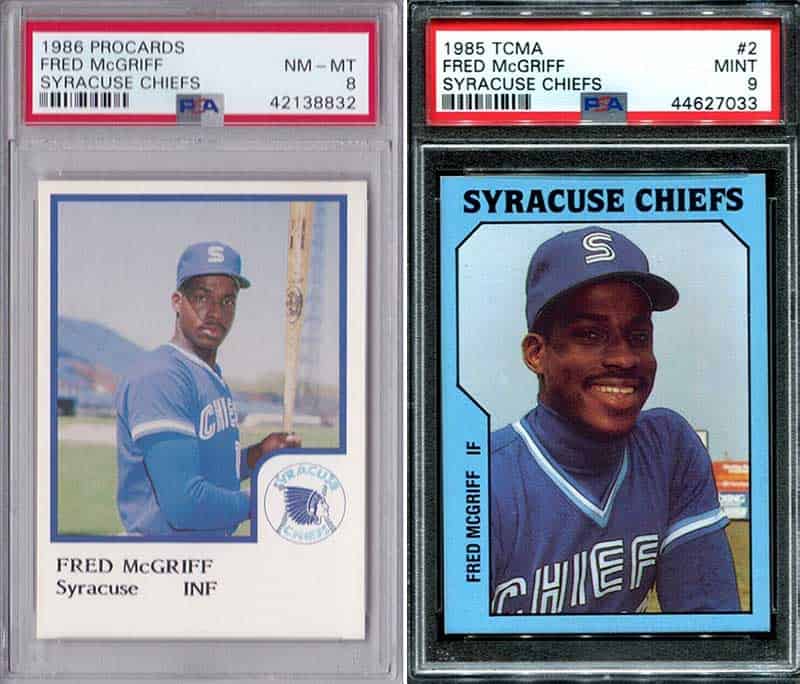 The Fred McGriff 1987 second-year cards
1987 was McGriff's second season with major league cards. Despite being "second-year" cards, the 1987 McGriff cards are still highly collectible and hold some value. They are junk wax era, though, so they're reasonable enough that you can collect them all, if you so desire.
Donruss, the only card company to produce a 1986 rookie card of McGriff, was ahead of the curve again in 1987. His 1987 Donruss #621 is his only base offering in 1987, with all his other cards that year appearing in update, traded, or small box sets.
He also appears in 1987 Donruss Rookies, 1987 Donruss Opening Day, and 1987 Donruss Highlights (on a card with Rob Ducey and Ernie Whitt).
Shop for 1987 Fred McGriff second-year cards on eBay
Fleer and Topps finally caught on, and McGriff appears on 1987 Fleer Update #U75 and 1987 Topps Traded #74T. If you're into the premium offerings, these two sets offer Glossy and Tiffany versions, respectively. The Tiffany is the hardest to find and most expensive of McGriff's 1987 cards.
He also appears in 1987 Sportflics Rookies I on card #12, if that's your thing. If oddball is your thing, check out the 1987 Toronto Blue Jays Fire Safety McGriff.
Final thoughts on the best Fred McGriff rookie card and early career cards
Fred McGriff is at long last a Hall of Famer. His cards are seeing a well-deserved bump due to this. Now likely isn't the time to buy from a pure investment standpoint, as his cards are selling at all-time highs, and are likely to subside from that high before settling into a new, higher floor.
That being said, collecting is a hobby. If you missed the boat on McGriff previously and want to add some of his early career cards to your collection, this guide hopefully helped you pick a favorite to target.
Shop for Fred McGriff rookie cards on eBay
More Cardlines top baseball card rookie coverage
Other Cardlines 2023 Hall of Fame Coverage