Ranking The Best Basketball Trading Card Releases For Investment (2024 Update)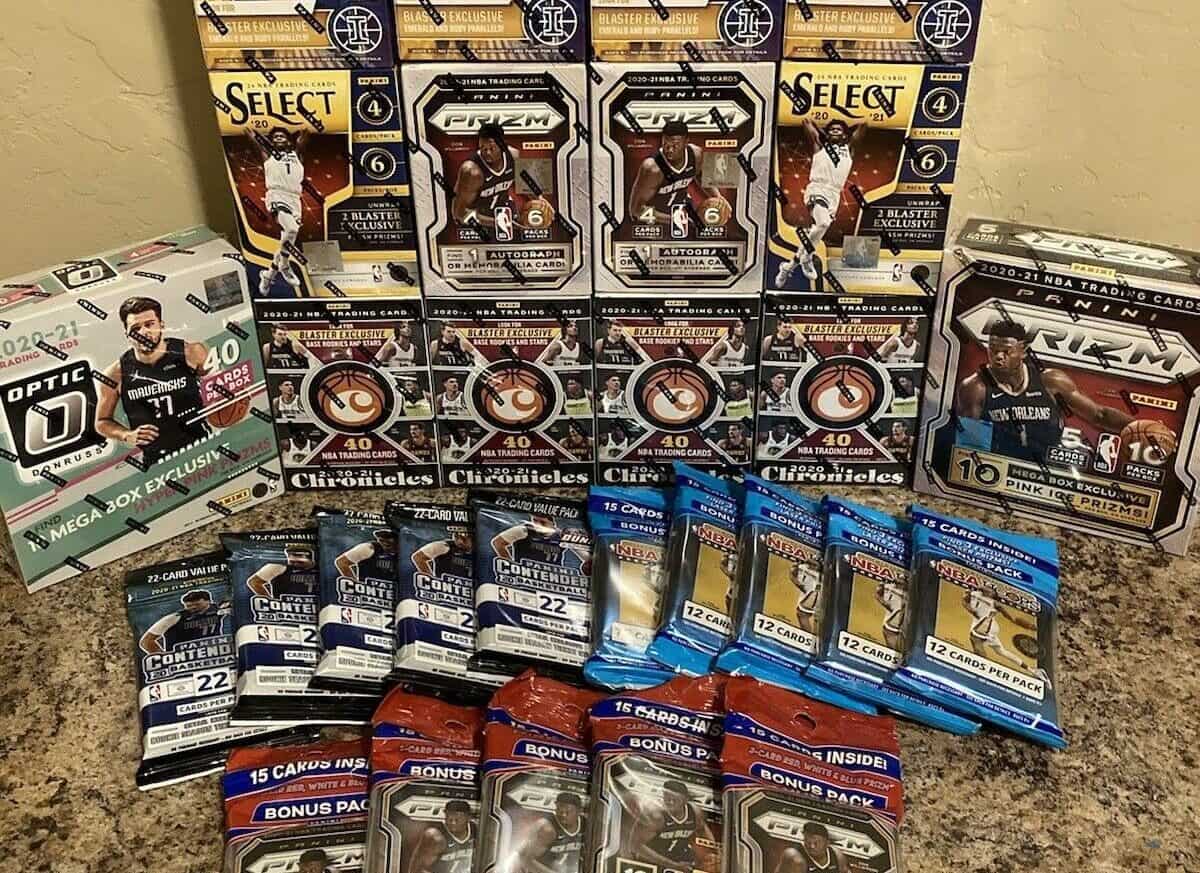 Perhaps more than ever before, a dizzying array of basketball releases is battering collectors. We want to keep things tight, by ranking the top basketball trading card releases.
Recently Panini has gone into overdrive. They are creating products that provide new offerings, styles, and potential for hoops fanatics to unwrap.
That might sound like a good thing. However, it can also be pretty disorienting for collectors looking to invest in long-term cards. With so many products, which should you choose?
Today, we'll help you get to the bottom of that big question with our list of the Top 10 brands for investment. This list covers both sealed products and singles.
Also READ:
What propels long-term value?
If you're looking for cards you can buy and hold long-term, there are a few essential traits to look for. Of course, the best products will have a mix of all three.
We'll walk through them.
Mass appeal
If two movies are showing, one is a wide release, and the other is more obscure, most people will choose the famous film. Why? Because seeing the movie, everybody else is talking about makes it more entertaining. It's media you can consume together.
In the same way, the best card brands have mass appeal. They're not so elite that only the wealthiest collectors can afford them. However, there is another side to this debate.
Scarcity
Long-term value cards need to be scarce, too. Not necessarily scarce in the Flawless way – with only ten cards per $5,000 box. Instead, they can be scarce because people don't want to buy many boxes. Chronicles, Absolute, anything Draft Picks, Score, and many other products have this problem.
History
Finally, having an established history helps brands stand out and makes them a good investment. Keep in mind; Panini recently lost the NBA license. Therefore, they are motivated to print as many cards as people will buy (which makes sense on a balance sheet).
In addition, flooding the market with new releases that do not have any track record makes for some nice Panini profits. However, these products may have little long-term value.
Ranking the basketball trading card releases: New releases
Meanwhile, three factors could signal red flags with new products.
Newness
If a product is new, it won't have long to be fondly remembered before Fanatics takes over.
Overprinting
Print runs have skyrocketed over the last couple of seasons. So yes, there might be 10x more collectors in the hobby than in 2019. But there are also way more new cards as well. And while collectors come and go, the cards will be here forever.
Too many rookies
The Draft Picks and Chronicles brands are watering down the value of rookie cards. You can pull 4 or 5 LaMelo rookies out of one Chronicles blaster. If that's the case, what's a rookie even worth? When it comes to long-term investing, avoid those brands like the plague.
Ranking the basketball trading card releases: Top 10
10) Absolute Memorabilia
Absolute has been around for over a decade. The brand has maintained a consistent, high-level product, amassing a significant following of collectors.
While it's probably no collector's favorite product, it's still a celebrated release with eye-catching jerseys and lovely RPA cards that will age well.
Shop for Absolute Memorabilia basketball cards on eBay
9) Spectra
Spectra is like the result of a collision between Prizm and Noir. The boxes typically only have 16 cards each. So they're priced like a high-end brand. Nonetheless, they have various colors and parallels on reflective chromium print.
Shop for Panini Spectra basketball cards on eBay
8) Donruss
Donruss is a low-end product with mass appeal. The Rated Rookies are some of the most simplistic yet popular rookie cards on any inexpensive brand, and they can still be good long-term holds.
A word of caution, though: Don't invest in the basic paper rookies, even if graded. Get colored parallels, and preferably numbered (and graded).
Shop for Donruss basketball cards on eBay
7) Flawless
Flawless has everything you look for: great short prints, sweet patches, on-card autos, and massive pull potential. The problem is its price tag, which boxes out many collectors.
Shop for Flawless basketball cards on eBay
6) Mosaic
Mosaic is the newest opti-chrome offering. Sure, it's not on the same level as the three "big brothers" (more on them soon). However, it's a cheaper offering that could age well thanks to its rainbow of colors and fun checklist.
Shop for Mosaic basketball cards on eBay
5) Contenders (and Contenders Optic)
Contenders has a legacy to match its popularity. The Rookie Ticket Autographs have been famous since Tom Brady – that's how long they've been around.
The NBA versions are not as popular as the NFL equivalent. Nonetheless, they are an iconic collecting staple.
Shop for Contenders basketball cards on eBay
4) National Treasures
National Treasures is incredibly expensive. With only 8-12 cards per box, the brand doesn't have the desired "mass appeal."
Still, the National Treasures RPAs are perhaps the single most iconic, important rookie card every year. The investment ceiling offsets the incredibly high entry price if you can afford to buy a box.
Latest release: 2022-23 National Treasures Basketball
Shop for National Treasures basketball cards on eBay
3) Select
Select was introduced in 2012-13 and has changed the way collectors think of basketball cards. With an ever-expanding rainbow of colors and a more extensive checklist every year, Select keeps reinventing itself.
In 2020-21, it even introduced a retail format that is visually different than hobby boxes (brilliant, if you ask me). The only problem is the various tiers of cards make for some confusion among new collectors.
Shop for Select boxes of basketball cards on eBay
2) Donruss Optic
Optic is simpler than Select. It has a checklist that includes Rated Rookies, and each rookie has a rainbow of parallels to hunt. Released in 2016 as a chromium version on Donruss, these cards have a classic look, and collectors love them.
Shop for Donruss Optic basketball cards on eBay
1) Prizm
Prizm was introduced in 2012 and has been the most widely sought brand since. First, the iconic "Silver Prizms" were presented as Panini's answer to Topps' refractor.
Since then, most of the significant opti-chrome brands have had their own "Prizm" cards. In other words, Prizm has been grandfathered into all of Panini's most popular chromium brands.
Shop for Prizm basketball cards on eBay
One product that might become more popular
One brand that could become more popular over time is National Treasures. There are a couple of reasons for that:
First, we have historical precedence of this happening. Upper Deck's Exquisite Collection was the first National Treasures, and if anything,
Exquisite has only become more popular in the wake of Upper Deck losing its license. The same could hold for National Treasures, mainly depending on what Fanatics does in the way of high-end brands.
Second, National Treasures staves off many of the "problems" I've written about with sports card investing. Namely, markets cannot be flooded when all the cards are numbered. Therefore, its scarcity will age well.
One product that might become less popular
There's a case to be made that Prizm will become less popular over time. Or, at least, the base rookie cards will be far less sought after.
Why? Because 10 years from now, when there are over 20,000 PSA 10 base rookies of all the desirable rookies, the law of supply and demand will send values crashing down.
Bottomline on ranking the best basketball trading card releases
We don't know what the future holds for Panini's basketball cards, but we can predict their value as investments based on a few factors.
Using those, the long-running "classic" Panini brands will always be the safest bet.