The Catastrophic 2022 Topps Chrome Update Release [Updated]
The 2022 Topps Chrome Update has had a very problematic release, to say the least. However, it seems like an auspicious product initially. The crop of rookies included is the first rate. From Spencer Torkelson to Julio Rodriguez, these are prime prospects with a great future in the game.
Unfortunately, issues have hampered this release, undermining its significant potential. Let's talk a look at the catastrophic 2022 Topps Chrome Update release.
How low are 2022 Topps Chrome Update hobby boxes going for on eBay?
An overview of the problem with the 2022 Topps Chrome Series
The issues started with the initial 2022 Topps Chrome release. Collectors were surprised to learn that some of the biggest rookies wouldn't be included in the base set. Instead, they would be featured in extended base short prints. The decision was deeply unpopular and built some resentment towards the release.
But the problems didn't stop there. The short print rookie cards everyone was looking for didn't appear in 2022 Topps Chrome Hobby boxes or Jumbo Chrome Hobby box breaks.
READ: Topps Chrome Update 2023 to drop October 15, 2023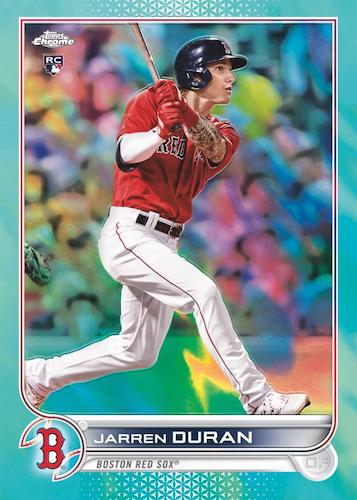 It turned out that these cards were missing from 2022 Topps Chrome baseball, despite appearing in the odds and checklists. As a result, the company released the following statement to address the problem:
"After discussions with our manufacturer, we understand that the planned bonus short print variations of five rookie subjects were incorrectly not included in the collation of select product SKUs. As the short print variations were originally not part of the set and later added for an additional chase element, there was, unfortunately, a technical miscommunication about the product mix in the production process."
Ok, mistakes happen and all that. But as a result of this snafu, the price of the boxes plummeted. They now stand at $150, even after the announcement that silver packs would be included to compensate for the missing cards.
The catastrophic 2022 Topps Chrome Update megabox release
You would think that after the disastrous launch of Chrome, Topps would be very careful to safeguard the Update release from the same line. But apparently, you would be wrong.
The mega boxes came first, with a release date of December 14th. Naturally, enthusiastic purple refractor fans everywhere jumped at the chance to open them. But they were very disappointed at what they found.
Check what 2022 Topps Chrome update Mega boxes are going for on eBay
The pack odds on this product is a real problem. And we will go deeper into that. But it isn't the only one. Once people started getting their boxes in the mail, collectors began complaining about the centering quality.
You can see an example in the picture below. The individual who received these cards complained sarcastically: "My monster hits out of 3 megas. Just brutal. Also, every single one of the purples is horribly off-centered. Good luck, guys."
I looked at a lot of these pulls and agreed entirely. The centering is off on so many of these cards. It is a completely unacceptable rate.
Check out the quality of 2022 Topps Chrome Update cards being sold on eBay.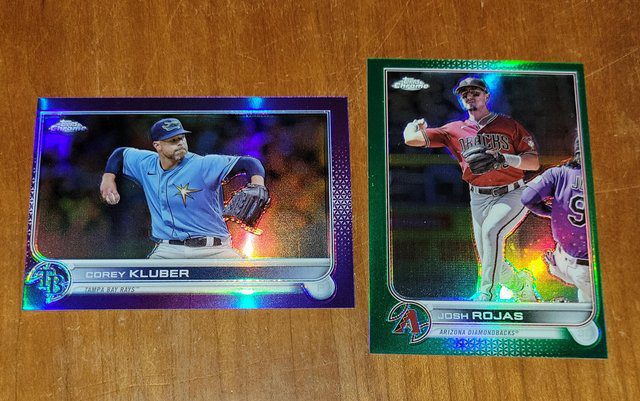 One unsatisfied customer summed up their feelings about the Mega boxes:
"This release is maddening. No on-card autos, which the sell sheet misled on. Terrible centering from megas, hobby likely the same. Rampant surface problems. Redemptions on Witt, Abrams, and Kirby so far, denting long-term hold viability…what a disaster. The ONLY saving grace would be if hobby has something special – better odds, guaranteed autos, more parallels, something! You would really have thought that after the catastrophic Chrome release that Topps would have made sure to come back strong with TCU but nope."
But would the hobby box save the day?
The catastrophic 2022 Topps Chrome Update hobby box release
Well before the product was released in December, some collectors noticed that the odds and guaranteed cards for the product weren't all that. One member of the Blowout Forums commented back in November 18th:
"Appears that this is just a glorified mega box. Instead of 10 packs (like the mega boxes last year), there are 24 packs. And there are auto chances (not guaranteed autos). So if this is going to be a deal, it should be priced around $99. If it is around $150, then a mega box would be the better way to go unless there is something special about hobby boxes that we do not know yet. At $125, just pick your poison."
Check the latest prices for 2022 Topps Chrome Update on eBay
Hobby packs are expected to be different from their retail counterparts. The boxes are usually more expensive and, therefore, should contain more hits. The odds typically reflect this difference. Indeed, most hobby boxes have guaranteed hits. Normally, an auto and another highly sought-after card.
But the 2022 Topps Chrome Update has not fulfilled this expectation. At least they were upfront about it. To an extent. In the information they released on the product, the company stated:
"Look for CHROME versions of the most sought-after rookie cards, with multiple limited and numbered parallels.
Inserts fall 1:2 packs, with CHROME versions of Generation Now, Diamond Greats Die Cuts, and 2022 MLB All-Star Game cards.
Select boxes will also contain autographed cards from MLB rookies. Look for numbered parallels, including the 1/1 SUPERFRACTOR."
So, no big cards are guaranteed.
Some of the biggest accounts on Twitter also noticed the problem:
Gold refractors can only be found in 1 in 893 boxes for the hobby. So it is a very depressing collection of odds for the hobby box, and it is not surprising that people are complaining about what they are pulling.
Reactions to the catastrophic 2022 Topps Chrome Update hobby box release
Up North, collectors referred to this hobby box as "a glorified couple of megaboxes." They say it's the equivalent of buying 2 and a half megaboxes and call it a "fair deal" as a result.
A megabox goes for around $50, depending on where you get them. So, 2 and a half would indeed be $125, which is roughly what the hobby box was priced at upon its release. Notably, several sellers have decreased the box price to $105 since these details became common knowledge.
People buying these hobby boxes were very unhappy with what they were getting. One review on Target expressed the most common complaint best:
"I'm so mad this is the 4th box I've bought with all garbage!! no stars again! and again! and again! I'm literally throwing this garbage away! Thanks again, worthless target and greedy Topps/fanatics. Whoever is putting this garbage for sale $55 down the drain…..again! PLEASE SAVE YOUR MONEY SOOOOOOOOO NOT WORTH IT!!! AVOID AT ALL COSTS!"
Seems like a dissatisfied customer to me.
The final word on the catastrophic 2022 Topps Chrome Update release
The consensus from everyone opening boxes, whether mega or hobby is pretty much the same. This is a product to stay very far away from. But what is going on here? Why is this product so intolerably bad?
There are a lot of conspiracy theories going around on the matter. One is that Fanatics is trying to shatter the big distributors before taking over the reins themselves with more robust direct sales. Others say that they have simply decided to cut costs on quality control, knowing that they are a monopoly and do not need to worry about losing customers.
The latter idea sounds far more plausible. Monopolies are known for their low quality and high prices. I miss the days when Fleer, Topps, Upper Deck, and the rest tried to outdo each other.
As consumers, we can only complain and boycott the products. Well, we certainly do a lot of the former. The crashing prices of these boxes show that we can do some of the latter. So let's keep it up, so we don't get more 2022 Topps Chrome Update-type fiascos.
Check the latest prices for 2022 Topps Chrome Hobby boxes on eBay.