A CardLines Spotlight On A Classic Junk Wax Set: 1989 Topps Baseball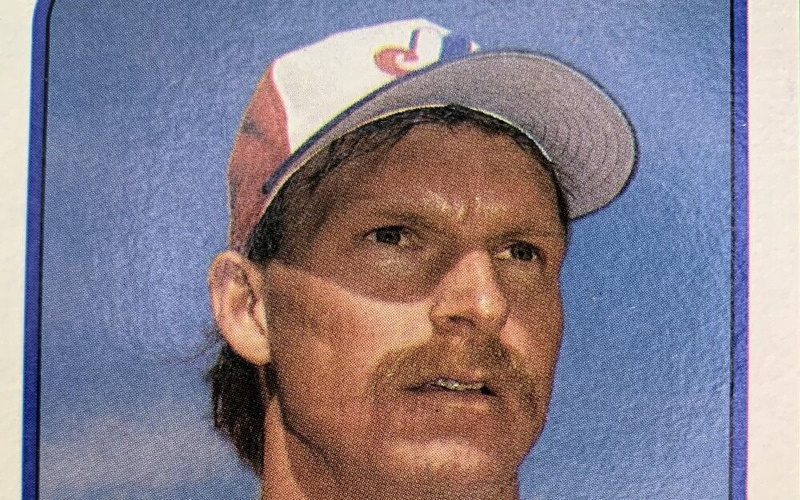 1989 Topps is a classic junk wax era set. It'll never be rare, that's for sure. But it does hold a special place in many collectors' hearts as a set they grew up collecting.
It's also a great-looking simple set that still holds up today.
But what will collectors find in Topps 1989 baseball? What are the rookie cards you'll find in 1989 Topps? And what other cards are worth chasing?
Shop for 1989 Topps baseball boxes on eBay
1989 Topps baseball cards – by the numbers
The 1989 Topps set consists of 792 cards and was released in one series. It contained some errors, but like some other junk wax sets.
Wax packs contained 15 cards plus one stick of gum with the MSRP being 45 cents per pack. Wax Boxes contained 36 packs. A wax case consisted of 20 wax boxes.
Cello packs contained 29 cards per pack and came with 24 packs per box. These carried a MSRP of 79 cents.
Rack packs contained 42 cards in three connected plastic packages, which allowed for six cards from the pack to be visible before opening. There were 24 rack packs per box.
Jumbo packs contained 100 cards and were typically sold in retail outlets. Blister packs also contained 100 cards and were Kmart exclusives.
500 card vending boxes and factory sets were also available.
Shop for 1989 Topps baseball boxes on eBay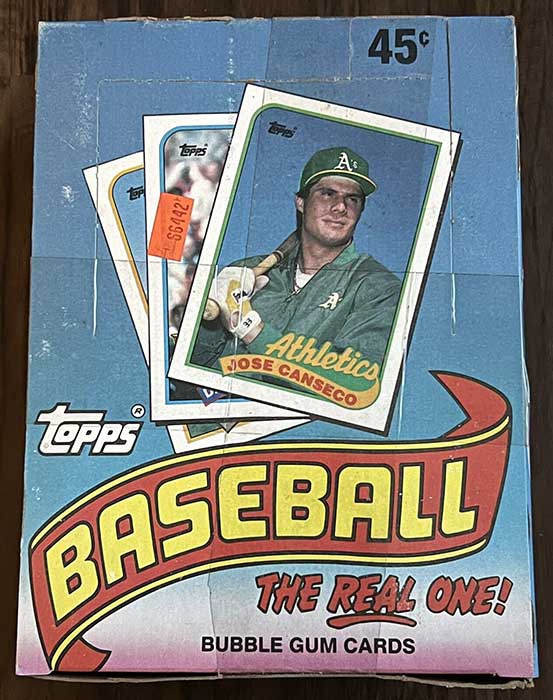 1989 Topps was overproduced. There is no way around that. It has been estimated that as many as 3.5 million copies of each card were produced.
PSA has graded 33,811 cards from the 1989 Topps baseball set, with 11,653 PSA 10s. Those PSA 10s represent a fairly high 34.4% of the total.
Shop for PSA 10 cards of 1989 Topps
The total population is actually a fairly low population in comparison to say, the 1987 Topps set (94,540), but the lower population (and high percentage of PSA 10s) speak more to the lower value and demand for 1989 Topps, and should not be taken to suggest rarity in any way.
Topps 1989 baseball cards – The design
The 1989 Topps baseball set base card front design is a simple yet elegant affair. The white-bordered cards contain a colored rounded rectangle that contained the player's photo, team name (without city), and a colored flag with the player's name.
The rounded rectangle, team name, and player name flag were often color-coded based on the player's team and team colors.
Check out all listings of 1989 Topps cards on eBay
The 1989 Topps baseball card back is simple but utilitarian. The black borders were susceptible to chipping, leading to some condition sensitivity. Black text displaying the card number, player biographical info, and full career stats sit over background shades of red/pink.
Where space allowed, a "monthly scoreboard" was included with one 1988 stat broken down by month and some text discussing career highlights. For players with longer playing records, these were not included due to space restrictions.
Subsets included Record Breakers (1-7), Turn Back the Clock (661-665), All-Stars (386-407), First Round Draft Picks, Future Stars and Team Leaders. Subsets had slightly different designs than the base cards, but generally stayed on theme.
Topps 1989 baseball cards – The big rookie card miss
Before we talk about the best rookie cards in the 1989 Topps baseball set, it's important to talk about their big rookie card miss. That would be that of a former first-overall draft pick and first-ballot Hall of Famer and icon Ken Griffey Jr.
Donruss, Fleer, and of course Upper Deck all hit on Griffey in their base sets. Topps even included him in the 1989 Bowman release. But Topps (and Score) both failed to include Griffey, putting him instead in their update/traded sets later in the year.
That had to sting worse than a stack of 1989 Topps Future Star Gregg Jefferies cards (one of the biggest prospect busts in history).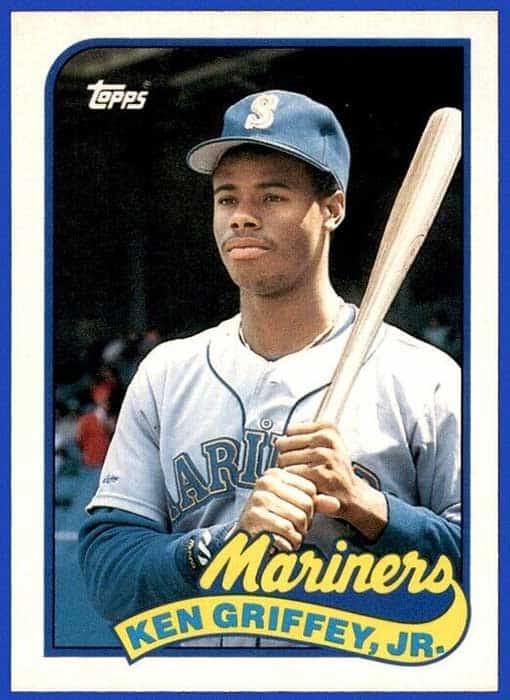 1989 Topps baseball cards – Key rookies
Despite the exclusion of Griffey, there are three Hall of Fame rookie cards in the 1989 Topps set, plus one other player who is currently on the ballot and likely would be elected already if not for PED connections.
Craig Biggio
Craig Biggio kind of snuck up on some people. He did a lot of things very good as opposed to one thing great. But he ended up with 3,060 career hits, over 400 stolen bases, and played three premium positions (C, 2B, and CF) in his career. His 1989 Topps card is actually the second-highest population of the four featured.
Shop for Craig Biggio 1989 Topps rookie cards on eBay
Gary Sheffield
Gary Sheffield is the player with the PED scandal hanging over his head. Once PED guys get into the Hall, he's likely to join them, although he won't be one of the first in. Sheffield had over 500 career home runs and an OPS+ of 140. While he's not a Hall of Famer, his card sells for about the same as the Hall of Famers on this list.
Shop for Gary Sheffield 1989 Topps rookie cards on eBay
John Smoltz
John Smoltz won 200 games, saved 150 more, and was a stalwart of the Braves dynasty of the 1990s and 2000s.
Shop for John Smoltz 1989 Topps rookie cards on eBay
Randy Johnson
Randy Johnson won over 300 games, 5 Cy Young Awards, and has the second most strikeouts ever. His card has been graded more than any other card in the 1989 Topps set, by a significant margin. Yet, his cards sell for the same as the other Hall of Fame rookie cards, and sometimes a little more.
That's a good lesson when dealing with junk wax…supply is high, but demand is also a big factor.
Shop for Randy Johnson 1989 Topps rookie cards on eBay
1989 Topps Baseball Cards value (rookies)
What are the most valuable 1989 Topps baseball cards? Well, because of their overproduced nature, 1989 Topps rookie cards are generally not worth a ton of money, even in a PSA 10. The chart below illustrates this fact.
Other rookie cards in 1989 Topps include Chris Sabo, Jim Abbott, Bryan Harvey, Sandy Alomar Jr., Robin Ventura, and Steve Avery. While these may not be big dollar cards, if you remember these players fondly, they're reasonably priced and fun additions to your junk wax collection.
Topps 1989 baseball cards – other notable cards
The four highest population cards in the set beyond the rookies we have already discussed are also four of the biggest stars and most in-demand. Nolan Ryan and Bo Jackson should be unsurprising here, as they're two of the most iconic and popular players of the era.
Tony Gwynn is of course a Hall of Famer and an eight-time batting champ. Robin Yount is also a Hall of Famer, and was actually won an MVP award in 1989…but with one of the highest PSA populations and no recent sales, I kind of wonder if someone isn't grading these and hoarding them.
1989 Topps Tiffany baseball cards (stars)
Topps Tiffany 1989 baseball cards
Topps produced a number of sets associated with the 1989 Topps flagship product that are worth calling out.
The most famous and valuable is the Topps Tiffany set. Produced on premium card stock with extras gloss, this parallel was only available in factory set form. 1989 Topps Tiffany sets were produced in much more limited quantities than regular cards — 15,000 Tiffany sets were produced in 1989.
Shop for 1989 Topps Tiffany baseball cards on eBay
Topps 1989 baseball cards – O-Pee-Chee, Glossy, and more
Topps also produced an O-Pee-Chee (OPC) version of 1989 Topps for the Canadian market, although that set consisted of only 396 cards.
1989 Topps Glossy Send-Ins is a 60-card set that was acquired for a small fee via mail order (info came in packs). Find prices on eBay.
1989 Topps Glossy All Stars was a 22-card set that came one per rack pack. The Glossy All-Star was on the top and plainly visible, so the best ones were often cherry-picked by dealers or at retail stores. Find prices on eBay
1989 Topps Glossy Rookies is another 22-card set that came one per 100 card Supermarket Jumbo pack. Check prices on eBay
1989 Topps Batting Leaders also consists of 22 cards, this time depicting the active players with the highest career batting average. These have red borders and were only available in 100-card Kmart exclusive Jumbo blisters. That makes them a bit rare and hard to find in good condition. Check prices on eBay.
Topps 1989 baseball cards and grading
My fellow Cardlines author Shaiel Ben-Ephraim recently provided us with A Guide To How You Can Make Money Grading Junk Wax.
And yes, you could grade some of the rookies and stars from the base set, hope for all PSA 10s, and make a few dollars. If you can do this successfully, you're far better than I am at telling a PSA 10 from a PSA 9 (or PSA 8).
With these base cards, you're likely making a solid return on a PSA 10, maybe breaking event on a PSA 9, and losing money on a PSA 8.
If you have an interest in submitting 1989 Topps cards to PSA in an effort to make a profit, I suggest you stick to the harder-to-find offerings. These would include Topps Tiffany, O-Pee-Chee, Glossy Send-Ins, Glossy All-Stars, Glossy Rookies, and Batting Leaders.
These will be a bit more expensive to acquire raw or unopened, and some aren't in high demand at this time, but folks are likely to wake up to the low populations at some point.
Final thoughts on Topps Baseball cards 1989
Topps 1989 baseball cards were overproduced, as it was one of the quintessential junk wax sets. That being said, despite massive production numbers, these cards do have value. Maybe not a lot of value, but value nonetheless.
And around the edges of the 1989 Topps set are some lower production sets that may have some upside, or at least can make fun and harder to find collectibles.
Whether Topps 1989 baseball cards tickle you with the nostalgia of an earlier time in your collecting life, or if you look at them as an odd relic of a strange mass-produced past full of wax wrappers and stale gum, 1989 Topps has something for everyone.
Shop for 1989 Topps baseball boxes on eBay
Other Cardlines Vintage Topps sets