Topps 2021 Series 2 Baseball NFT Review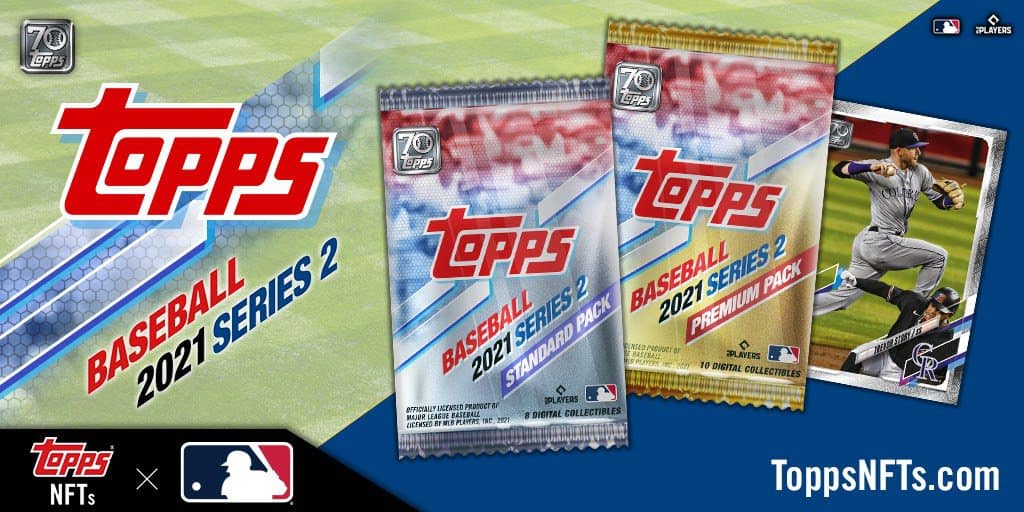 Topps NFT was launched on April 20th and vaunted as a significant step forward into a new market. But what has happened to the release since? How has it fared in the quickly changing card environment? Our Topps 2021 Series 2 Baseball NFT review will answer all of your questions.
Since the original release, the most notable development is that Fanatics will replace Topps as the licensed provider of Major League Baseball trading cards. Therefore, all new releases by the company will be heavily scrutinized in light of the companies unstable present and unclear future prospects.
The Move From WAX To Avalanche
In August, Topps revealed that they would sever their link to NFT centered virtual marketplace WAX (Worldwide Asset Exchange). Instead, Topps released both their Inception NFT and the more recent Topps 2 used Avalanche, a different blockchain-based NFT marketplace.
Topps has released both its MLB and Bundesliga (German soccer league) NFTs through Avalanche. It has also released a Bazooka Joe NFT on Avalanche. We assume they will also move future Garbage Pail Kids NFT releases away from WAX as well.
Avalanche is a newcomer in the NFT space. With its roots in a Cornell University computer lab, the company raised $42 in five hours of making its digital currency token public. The Avalanche token is called Avax, and 72 million were minted and offered to the public in the original release.
The Avalanche platform has massive potential, as it secures blockchain networks and transactions with almost no use of energy or structural centralization. Another advantage is the built-in compatibility of Ethereum cryptocurrency. Ethereum is far more advanced and practical than Bitcoin and has since become the primary means of NFT purchase. While WAX has a bridge to allow Ethereum use in its marketplace, Avalanche integrates it seamlessly into the platform.
Supporters of the new platform tout it as an enormous improvement over the more traditional blockchain protocols deployed by WAX and other similar marketplaces.
A spokesperson for Topps explained that "We chose to partner with Ava Labs to develop ToppsNFTs.com due to their truly decentralized high-performing platform, compatibility with Ethereum, and commitment to lowering their environmental impact."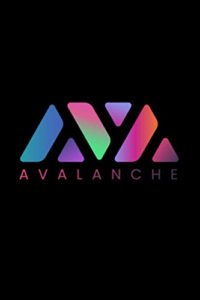 What Does The Release Of  Topps 2021 Series 2 Baseball NFTs Mean For Topps?
Topps has received two central body blows so far this year. First, as we already mentioned, it lost baseball rights to sports apparel giant Fanatics. However, their woes did not end there. As a direct result of Topp's primary asset loss, the companies plan to go public through a merger with Mudrick Capital Acquisition Corporation II was torpedoed.
The deal, valued at $1.3, would have placed Topps in an excellent position to compete in the NFT marketplace (assuming they had not lost their MLB rights). However, the company has not given up, as their move to the cutting-edge Avalanche platform clearly shows.
Unfortunately, the future of Topps may have less to do with sports cards than we would like. A glance at their NFT site shows that they are currently promoting future Godzilla releases and previous Bazooka Joe NFTs over the baseball variety.
Topps 2021 Series 2 Baseball NFT Release
You can buy two different types of packs in the release, similar to the Topps Series 1 NFT Release. Here are the full details on both types of packs:
Standard Pack Specs
$15 per pack
8 Cards per pack
25,000 packs available in total
One rare card guaranteed
Pack Odds
Common: 39.52%
Uncommon: 24.61%
Rare: 16.64%
Super Rare: 14.23%
Epic: 4.96%
Legendary: 0.04%
One Rare Guaranteed
Premium Pack Specs
$150 per pack
10 Cards per pack
6,000 packs available
Pack Odds
Common: 19.29%
Uncommon: 13.33%
Rare: 12.67%
Super Rare: 23.33%
Epic: 30.50%
Legendary: 0.88%
Three Epic Guaranteed
All-Star and 70thAnniversary Platinum Facsimile Signatures exclusively in Premium Packs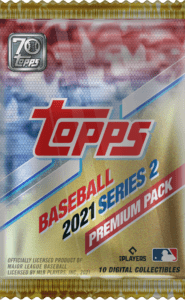 How Can You Get Topps 2021 Series 2 Baseball NFTs?
The release of the NFTs took place on October 4th. I hope you were online because they sold out fairly quickly.
You can purchase the packs on the secondary Topps NFT marketplace. Currently, the lowest ask for a standard pack is $21.50. Meanwhile, the lowest available Premium Pack goes for $182. By comparison, the Inception NFT packs got for $390 on the Topps marketplace.
Value Of Topps Series 2 NFT Singles
Singles in the series vary in price from $2 for the lowliest common to $8000 for the rarest legendary cards. Currently, the highest sale is for a Mike Trout Chrome 1986 Anniversary Facsimile auto. The lowest asking price for the card is $30,000, but it has not sold for over eight grand as of yet.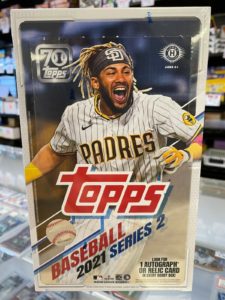 My Experience Buying A Pack Of Topps 2021 Series 2 Baseball NFTs
One of the most frustrating things about the Topps NFT website is logging in. That should be a reasonably straightforward process, right? But it requires two-part authentication. Sometimes they don't send the code to your phone. Other times they take you to the registration page instead of sign in. It is a needless hassle, and hopefully, one Topps will fix in the near future.
Once you get into the site, you have ten minutes to complete the purchase. Once you get into the site, the first product you see is the Bazooka Joe NFT.
I got in line and crossed my fingers. I was number 1070 in line and was told the estimated wait time was 43 minutes. However, the line moved very quickly. While some Blowout Forum members commented that it was a slower experience than Top Shot, I found it was quite the opposite.
I snagged a regular pack. However, if you want to bag another pack, Topps kicks you to the back of the line. This time I found myself 11435 in line. By the time I managed to get back in, there were no premium packs left. The 6000 they had were all gone, and there were only about 5000 left of the regular packs. However, when I clicked to buy a second one, it would not load my payment method even though I had previously entered it. In the meantime, the packs sold out. So, I can't give them very high marks for managing the site.
Opening Topps 2021 Series 2 Baseball NFT Review Packs
When you open the pack, you get a pretty cool graphic sequence. It is far more satisfying than opening a Top Shot pack, for example. So kudos on that.
What did I get?
Tom Hatch Rainbow Base (Rare)
A Ha-Seong Kim Gold Base (Uncommon)
Champion Fireworks Vintage Stock Base (Super Rare)
Jonathan Arauz Gold Base (Uncommon)
Kwang-Hyun Kim Gold Base (Uncommon)
Michael Fulmer Gold Base (Uncommon)
Eric Hosmer (Common)
Dustin May (Common)
On the face of it, I did pretty well. The standard cards are 40% of these packs but only make- up 25% of this pack. I also got a super rare card, which is not guaranteed in every pack.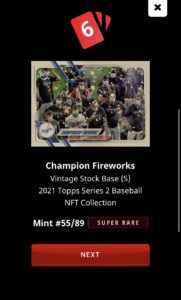 Value Of Topps 2021 Series 2 Baseball NFT 
But how much are the cards worth on the secondary marketplace?
Topps makes it easy to find out, for which I give them credit. You click on the card, and its current market value shows immediately.
Arauz common – $2
Hosmer common – $2
May common – $2
Fulmer uncommon – $2
Ha-Seong Kim uncommon – $2
Kwang-Hyun Kim uncommon – $2
Hatch rare – $2
Champion fireworks super rare – $12
That is a total of $26 immediate (theoretical) resale value. That is a good return for a $15 pack, and I have no cause to complain. However, you will notice that just about every card is worth $2 from common, from uncommon to rare. Therefore, as of now, only super rare and up seem to hold value. In addition, Topps does not allow you to list cards for less than $2, so the value is somewhat inflated. Therefore, it is doubtful you will find a buyer for many of these $2 cards.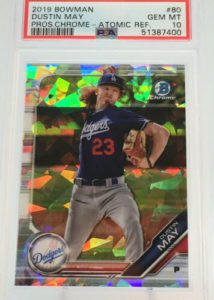 Remember that 81% of regular pack cards and 45% of the premium packs are in this $2 range. That explains why the premium packs are going for far higher prices.
Since Topps allows you to sell unopened packs quickly, it may be better to hold packs, unlike Top Shot. Especially the Premium ones, which are developing an excellent secondary price. You can also list cards to sell relatively quickly. For example, it took me just one click to list my priceless Champions Firework card.
Bottomline Of The Topps 2021 Series 2 Baseball NFT Review 
If you read my review of the Topps Series 1 NFTs, you know I was pretty skeptical. I remain unconvinced by this line, but they have made some improvements and shown a commitment to cutting-edge technology by switching to Avalanche.
But the fact that Topps is essentially dead man walking in terms of baseball issues will not add to the credibility of this release. If you couple that with the fact that people are sick of the 2021 flagship design, this continues to strike me as a product with questionable long-term appeal.