A Complete Rundown Of What We Know About Immaculate Basketball 2021-22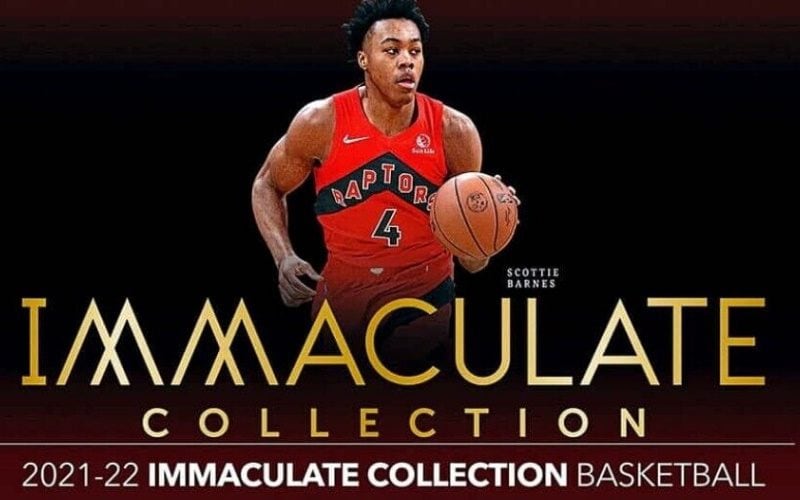 The NBA season is finally underway which means one thing – high end basketball releases are just around the corner.
While we've had product with the '21-22 rookies in their NBA uniforms out for a while now, Immaculate will be our first time seeing them featured in a top-tier product.
In this article we'll break down everything you need to know about Immaculate, including how it compares to products like National Treasures and Flawless, previews of the mockups, and why this might be a great year to splurge on Immaculate NBA.
Check prices of 2021-22 Immaculate Basketball on eBay
The details of 2021-22 Immaculate NBA
Immaculate is currently slated to drop on January 19th, 2023 and is pre-selling at $1800. Much of the other information on this product is, as expected, the same as what we've seen in recent years.
In a hobby box you'll get 6 cards, with 5 hits (3 autos and 2 memorabilia cards). Rookie Patch Autos – probably Immaculate's most recognizable card – will be back, along with Championship Tag Autos, Premium Patch Autos, and Dual, Triple, and Quad Autos, and plenty more.
You can sign up for an alert directly from Panini when the product drops.
How 2021-22 Immaculate Basketball compares to other high-end NBA releases
After first hitting the market in 2012, Immaculate celebrates its 10th anniversary this year. Immaculate was launched alongside Flawless two years after Panini secured their NBA licensing, to complement National Treasures and form a trio of high-end basketball releases.
While Immaculate is not as expensive as the others, they still share many of the same qualities; small print runs, with thicker, tastefully designed cards that come in fancy boxes and are featured in high-stakes breaks.
So, what exactly are the differences between these high-end releases? Take a look at the breakdowns of what's inside and their respective prices:
| Product | Cards In a Hobby Box | Autos | Memorabilia Cards | Base | Price |
| --- | --- | --- | --- | --- | --- |
| Immaculate | 6 | 3 | 2 | 1 | $1,800 |
| National Treasure | 10 | 4 | 4 | 1 | $5,000 |
| Flawless | 10 | 8 | 2 | 0 | $11,750 |
As you can see, Flawless gives you 8 autos – more than Immaculate and National Treasures combined. To add to that value many of the autos have very low print runs. The most common you'll see is #/25, but many only go up to #/10, and there are plenty of 1/1s in the checklist. That's of course why Flawless checks in with a substantially higher asking price.
The price is what I l really love about Immaculate. It gives collectors a taste of the high-end card experience but is still relatively affordable. You still get 3 autos (compared to National Treasures having 4), and you don't potentially risk 5 figures on a box with no big hits.
This isn't to say that Immaculate cards are worth as much as National Treasures, but for collectors who are big on autos, a box or two of Immaculate is probably the better route.
Check prices of 2021-22 Immaculate Basketball on eBay
Best 2021/22 Panini Immaculate Basketball Inserts
Panini has released a handful of mock ups on their website so far. Here's my thoughts on a few of my favorites:
Rookie Patch Autos
The Rookie Patch Auto (RPA) is probably the most popular auto card in the release, and I'm really excited about how the mock-ups look so far.
In this Bones Hyland mock-up you can see that the design is sleek and straightforward. They didn't overdo it with unnecessary design elements. The on-card auto is prominent, the patch is right in the middle, and the picture of Bones takes up a majority of the card.
Logoman
The Logoman patch cards have generated intrigue since they were first introduced. However, their allure skyrocketed last year when Drake went on an expensive hunt to try and pull one.
This Logoman mockup doesn't disappoint and gives NBA fans the bonus of featuring the special 75th anniversary logo.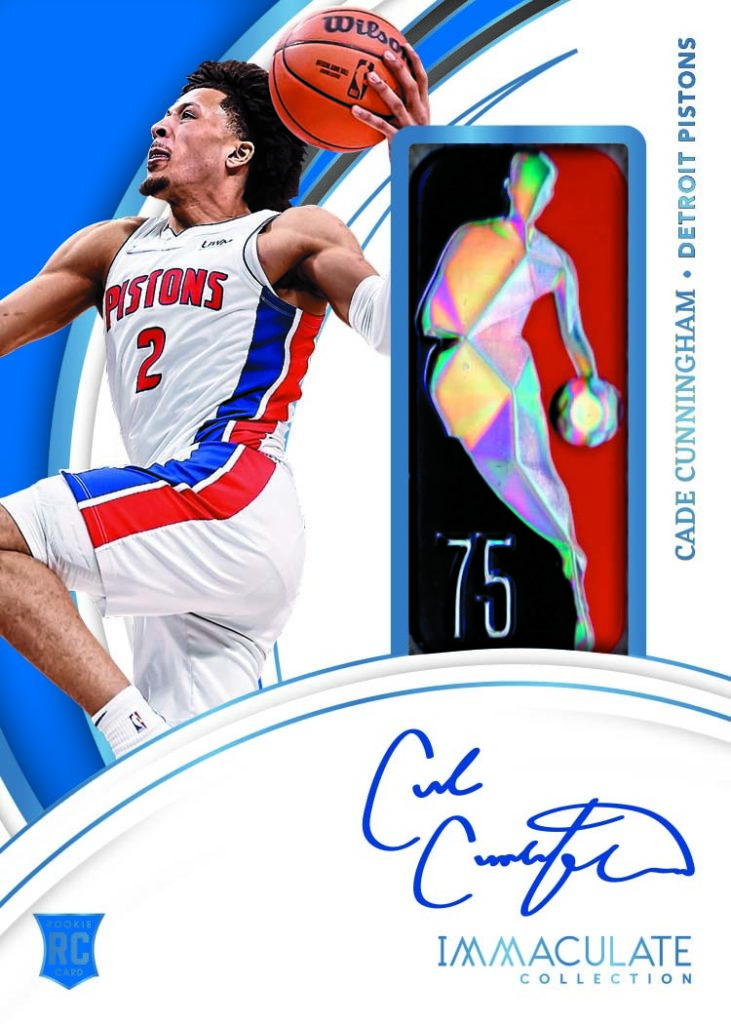 Sole of the Game
Sole of the game debuted a few years ago and instantly became a favorite among Immaculate collectors. The concept is pretty cool – instead of a patch, the card features the bottom of a game worn shoe.
In this card the sole is featured front and center, which is just what you'd want on a unique memorabilia card like this.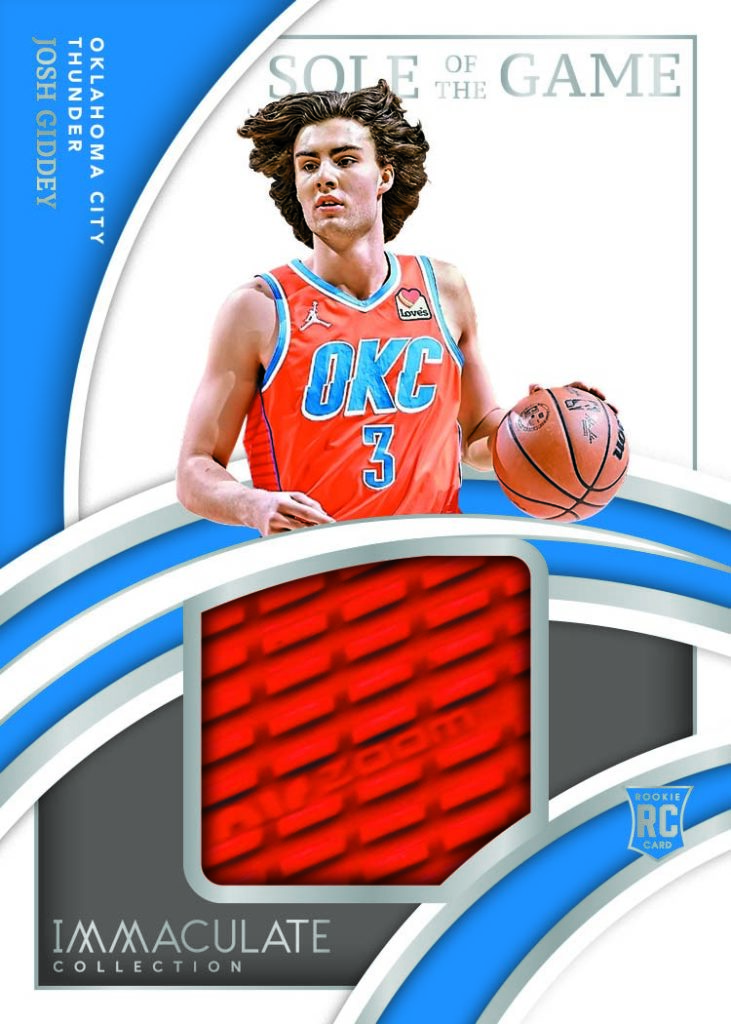 2021-22 Immaculate Basketball Hobby Box breakdown
21-22 Immaculate NBA will only be sold as a hobby box. Release date is January 19th and boxes are pre-selling at $1800.
Check prices of 2021-22 Immaculate Basketball on eBay
Here's what each hobby box will contain:
6 cards per pack,
1 pack per box
5 boxes per case
And here's what Panini has released about the card breakdown inside:
3 Autographs
2 Memorabilia
1 Base Card
2021-22 Panini Immaculate Checklist info
As an unreleased product, we don't know exactly what the checklist of featured players will be. That said, last year's product should give us a decent idea of what will be included.
Check prices of 2021-22 Immaculate Basketball on eBay
Immaculate 2021-22 Basketball base cards
Last year's base set included 100 players, with a mix of veterans and rookies. Colored parallels for the base set came in the following odds:
Red #/49
Blue #/25
Gold #/10
Green #/5
Platinum 1/1
The hits
This box includes 5 hits – 3 autos and 2 memorabilia cards. Some of those hits include:
Rookie Patch Autos
Logoman Autos
Patch Auto Championship Tags
Premium Patches
Patch Autographs
The memorabilia cards we know of so far are:
Logoman cards
Brand Logos
Team Slogans
Sole Of The Game sneaker cards
2021-22 Immaculate Basketball investment outlook
Investing in a high-end product like Immaculate as a rip is something I almost uniformly advise against. When you're only pulling 6 cards, it's going to be feast or famine. Yes, there's the 5-figure allure of pulling a patch auto from a top rookie. But for every big hit, there are dozens of role players whose graded cards aren't worth more than $10.
Sure, you might get lucky. But over time, you're going to waste a lot more money ripping a product like this than you'll make on the singles market.
So if you're looking to make money investing in this product, please don't rip it.
That said, I think that this year's Immaculate is a promising buy and hold and should resell for more than the current asking price down the road. I've got 3 main reasons why:
1. This Class Could Have a Superstar Looming
You can read my full analysis on why I like the 21-22 rookie class in my Select NBA article here. But the short of it is this: with as many high quality players as this class, I like the chances that one will emerge as a superstar.
Right now this class is being undervalued. This year's basketball products aren't seeing prices like the '18-19 or the '19-20 class. And on the surface it's understandable – those classes were headlined by Luka and Zion, and singular superstars are the main drivers of value for a rookie class.
Right now '21-22 lacks that superstar, but it makes up for it in depth. And while 10 good players in a class won't make it more valuable than a class with 1 superstar, history suggests that with this many good players, someone will emerge as a late-bloomer superstar.
I'm not making any guarantees that Evan Mobley is the next Kevin Garnett or that Scottie Barnes is the next Kawhi Leonard. But with the way this class is being valued at the moment, I don't think it's a terrible bet.
Check prices of 2021-22 Immaculate Basketball on eBay
2. Prices Are Down Across the Board
The entire industry is seeing a lull in prices. I think collectors have been raising eyebrows at some of the insane price jumps we've seen in recent years, and the lukewarm reception is lowering initial asking prices across the board.
$1,800 is a pretty solid price for this product. Once we're through this pricing slump, the value of unopened wax will rise even if the product itself hasn't gone up in value.
3. Victor Wembenyama
If you follow the NBA in any capacity, you've most likely heard of Victor Wembenyama. The 18-year-old French kid who stands at 7'4 and has the skill and mobility of a player a foot shorter, is garnering acclaim as the most hyped prospect since LeBron.
So how does Victor Wembenyama, a player who won't be in the league for another year, impact the value of the '21-22 product? 
Well, it's not so much about this product and more about a trend we might see emerging in the next few years. When you get a star like Wemby coming into the league, you can expect prices for his class to go up. And this is fair, considering the speculative value a Wembenyama rookie is going to have.
The problem that some in the industry are worried about is overprinting. While some don't anticipate it being an issue, others are suggesting that Panini, knowing the hype around Victor, are going to be tempted to print an excess of basketball product to sell as much as possible.
If that ends up being the case, there will be a lot of overvalued releases — ones where people will spend big because of the Wembenyama's name, without realizing that overprinting has diminished some of the value.
While we still may be a year or two away from that issue, the threat of a few years of overpriced releases is worth keeping in mind. 18 months from now, $1800 for Immaculate might end up looking even better than it does now.
Check prices of 2021-22 Immaculate Basketball on eBay
Bottomline on the 2021-22 Immaculate Basketball release
Immaculate's January 19th release date should be circled on the calendar for all serious NBA collectors. Immaculate NBA is the most affordable of Panini's high-end products, and with a cast of sleek looking autos and memorabilia cards the '21-22 version looks promising.
This product is an interesting investment proposition for those looking to buy and hold. The price is great, the market is slightly down overall, and the '21-22 NBA rookie class seems poised for a breakout year. For only $1800, there's a great chance this product's value goes up in the months and years to come.
Check prices of 2021-22 Immaculate Basketball on eBay