A Guide To How You Can Make Money Grading Junk Wax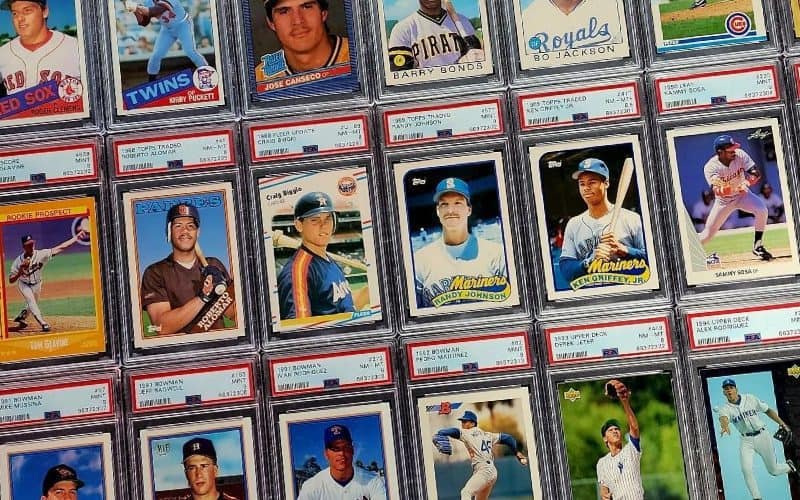 As we all know, Junk Wax cards are not known for their high value. To make matters worse, many of the cards in this category are over-graded.
So, it is tempting to forget about buying and grading junk wax. But it isn't that simple. Junk wax continues to be sold and graded in large quantities for a reason. People love it and cherish the incredible memories that come with it.
So, which junk wax cards are worth grading and which are just junk? Unfortunately, the answers are not always obvious. But worry not; we have the complete guide to grading junk wax.
Check prices of PSA 10 cards made during the junk wax era on eBay
What counts as junk wax cards?
Hobby experts don't completely agree on the definition of junk wax. But generally, the years given are 1986-1993. That was a period where it seemed everyone was collecting and keeping all their cards.
Due to increased demand, the major card companies considerably overproduced. In addition, there were several big companies at the time, as this we the pre-monopoly era. But they were all pretty much just producing base cards.
The whole thing was a recipe for a massive devaluation of cards. And that is precisely what happened. By the late 1990s, we all realized that market forces had rendered our entire collections pretty much worthless.
So, many of us got rid of our cards, got jobs, made babies, and listened to the Spice Girls. This was the 1990s, after all.
Most of us didn't just discard our collections. Maybe it was nostalgia or the hope that they would eventually be worth something, but most of us kept our binders filled with Greg Jeffries rookie cards in an attic. In my case, my grandma said she would take care of them. And she did! I still have them all.
Check prices of PSA 10 cards made during the junk wax era on eBay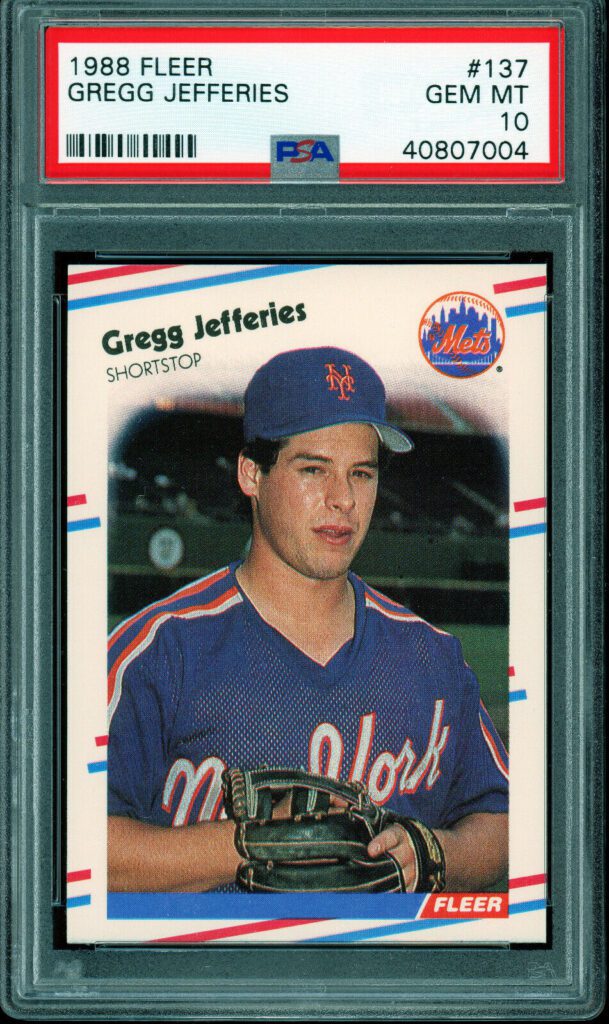 So are junk cards worthless?
No. They are not worthless. While there are very few rare cards from that era, people love junk wax and continue to buy and grade it. The cards are simply too fantastic, and the memories they bring for the millions of us who collected them at that time are too precious to abandon.
Complete sets from the junk wax era are quite commonly sold on eBay and can fetch a reasonable price. Particularly if they are still closed or in good condition.
The biggest rookies, the Hall-of-Famers (and Bo Jackson) have some value. And many of those cards do not hold up well to the ravages of time. So, good-condition versions can be rare. And look, you can't keep the legends down. So there is always a market for legendary rookie cards.
People still buy these cards, regardless of their value. For many nostalgic collectors, the low price of the cards is part of the allure.
Junk wax cards and grading
Grading has completely changed the game for junk wax. Of course, the cards themselves are a dime a dozen since they were so heavily over-printed. But getting one with a high grade can be pretty challenging. And hobbyists have become increasingly obsessed with having the best-graded version of a card possible.
For many collectors, grading is also about aesthetics. The graded versions of junk cards stand out from the messy piles of old cards we all have lying around. They are easier to display and look cooler. Therefore, you can almost certainly find whatever junk you are into on eBay or COMC.
Buy PSA 10 cards made during the junk wax era on eBay
The scarcity of good grades
But grading has completely changed the game for junk wax by creating artificial scarcity. Sure, there are a gazillion Bo Jackson rookie cards. But how many of them are PSA 10?
That is how grading has made a new interest in cards that collectors had long written off as lacking in any value.
How does this work? Let's take a look at the population figures for some of the most popular rookie cards of the 1980s. And see how each one price to get an idea of the role grading plays in creating scarcity and value.
| Card | PSA 7 Pop/Value | PSA 8 Pop/Value | PSA 9 Pop/Value | PSA 10 Pop/Value |
| --- | --- | --- | --- | --- |
| 1987 Topps Jose Canseco | 322 / $1.29 | 1,169 / $5.09 | 886 / $17.50 | 213 / $126 |
| 1987 Donruss Greg Maddux | 2,182 / $7.88 | 11,960 / $20.50 | 13,850 / $23.25 | 2,624 / $237.50 |
| 1989 Topps Randy Johnson | 366 / $2.25 | 1,943 / $5.63 | 3,209 / $15.26 | 1,563 / $68.51 |
| 1992 Bowman Mariano Rivera | 361 / $50 | 1,592 / $71 | 4,166 / $107 | 1,524 / $610 |
| 1993 Topps Derek Jeter | 2,786 / $15 | 12,490 / $19.50 | 19,642 / $55 | 3,289 / $410 |
You can see how for many cards, the most common grade is an 8. This is because many of these cards have been kept in binders and are in reasonably good condition. But they are still almost 40 years old in many cases and are unlikely to be gem mint. So, you have the same kind of high-grade increase you might find in vintage cards.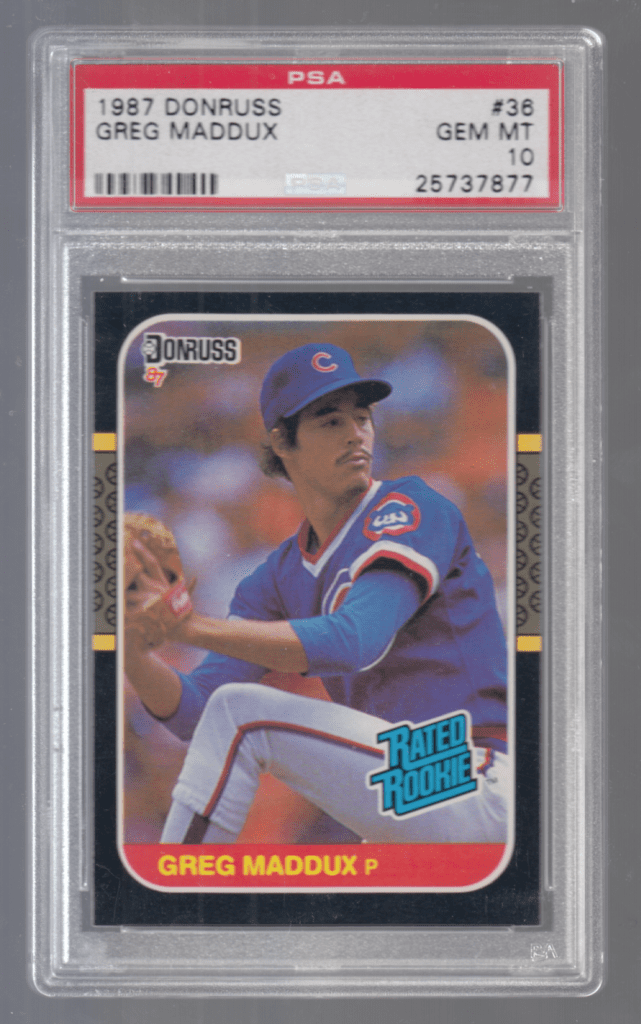 The effect is very understandable. Some of the players that came up in the junk wax era are among the most beloved ever. From Greg Maddux to Derek Jeter, these are athletes that mean a lot to people.
When can you make a profit o grading Junk Wax
Despite all the caveats we made about junk wax cards and their value, with most cards, there is no profit to be made. With the better items, the profit margin is there for the taking. However, it is pretty slim.
Thankfully, you can not get cards graded for more reasonable prices than when PSA was backed up. If you are a member, and any serious collector should be, you can get an $18 per item price in a bulk submission. Put in the value of time and effort, and a card needs to be worth at least $25 to be profitable.
A PSA 10 tends to pay for the grading and leave some room to maneuver. Meanwhile, PSA 9's are kind of hit-and-miss. And a PSA 8 hardly ever pays for junk wax-era cards.
Buy PSA 10 cards made during the junk wax era on eBay
Buying complete sets and grading
The only way to make money on many of these junk wax sets is by getting a PSA 10. Unfortunately, a card that has been out and about for several decades will likely lose some of its luster.
Many of us kept our prized rookies in binders, hoping to keep them flawless. But those aren't the best way to store cards. Cards edges get dull going in and out of the sleeve. The color fades onto the plastic. They get stuck. Etc.
So, where will you get that prized potential PSA 10 to grade? One solution is to seek out unopened wax and or complete sets. But that adds to your expenses, of course. So, is it worth it?
The 1989 Upper Deck Test
One streamer took a 1989 Upper Deck complete set in this clip (shown below) and sent the best cards out to grade. On the face of it, this would be the best shot to get some PSA 10s. You can pick up one of these for $110.
Probably a bit less if you negotiated hardball with the sellers, who are probably not moving a ton of them right now.
Here are the grades they received and the current value of the cards:
| Card | Value |
| --- | --- |
| Nolan Ryan (PSA 9) | $16.50 |
| Nolan Ryan with football (PSA 10) | $75 |
| Greg Jeffries (PSA 9) | $8.50 |
| John Smolz (PSA 8) | $3.25 |
| Gary Sheffield (PSA 7) | $3.00 |
| Randy Johnson (PSA 8) | $10.51 |
| Dale Murphy (PSA 8) | $8.50 |
| Craig Biggio (PSA 9) | $12.00 |
| Mark McGwire (PSA 8) | $5.24 |
| Ken Griffey Jr (PSA 8) | $82 |
| Omar Vizquel (PSA 9) | $4.36 |
| Bo Jackson (PSA 10) | $73 |
| | $301.86 |
Did this experiment turn a profit? Well, let's see. The expenses for the submission were $110 for the initial box. Plus, an $18 submission fee for each card. That comes out to $326. So, despite getting a couple of PSA 10s, the experiment leads to a slight loss.
Here is the video I used:
Grading Junk Wax Era cards from other sports
We have seen that making a profit on junk wax baseball cards can be quite tricky. But maybe it has to do with the sport? After all, the baseball market has shrunk in popularity over the years.
It was utterly dominant in the 1980s and 1990s but has since become less popular. Basketball has overtaken it in terms of value over the years.
But football and basketball cards were printed in lower numbers during the junk wax era. So, their pop numbers should be more value friendly. And with more significant markets now, could they be better investments than baseball? We crunched the numbers for you.
Buy PSA 10 cards made during the junk wax era on eBay
Guide to grading junk wax football cards
Let's take a look at some of the most essential football cards of the junk wax era. Then, I will look at pop numbers and values, just like we did with baseball.
The differences are readily apparent. The populations are far lower, with under 1,000 PSA 10s in most cases. In some instances, far fewer. And the difference shows up dramatically in the price.
A PSA 7 covers costs. Anything above will net you a profit, and a PSA 10 will earn you a VERY big profit.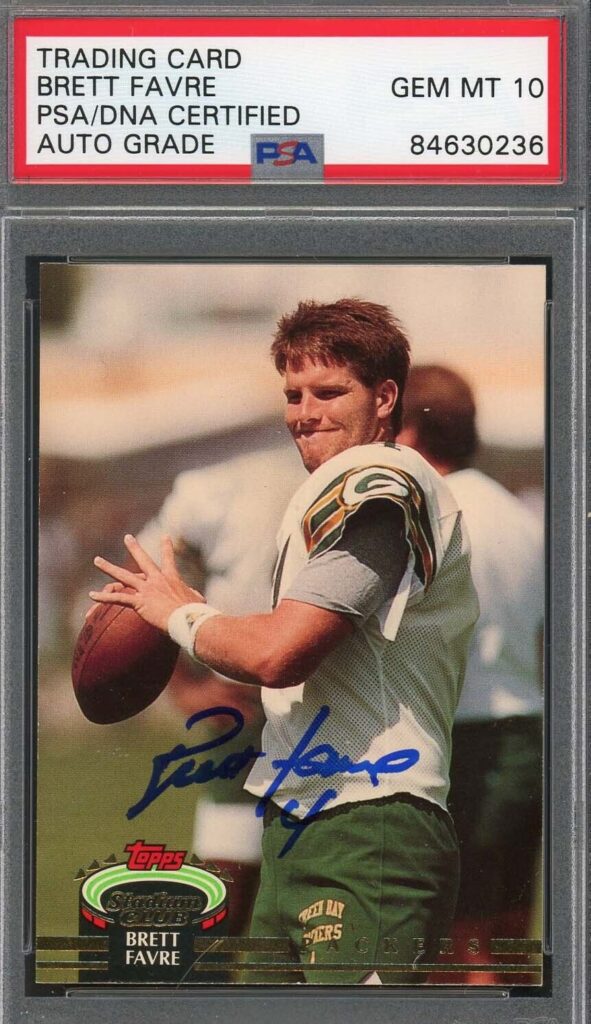 The math here is clearly very different from what we saw with baseball. You have a much more significant margin of error. After all, even PSA 7s cover the cost. So any decent-looking card is worth sending in.
Guide to grading junk wax basketball cards
Football is a much better bet than baseball. But what about basketball? It has undoubtedly overtaken baseball with ultra-modern. But what about the junk wax stuff?
We all know that the highest-value junk wax set of all is a basketball set. Namely the 1986-87 Fleer Basketball set. But does the high-value hold for other sets?
Let's take a look at some of the best non-Fleer 1986 junk wax era basketball rookies and see.
| Car | PSA 7 Pop / Value | PSA 8 Pop / Value | PSA 9 Pop / Value | PSA 10 Pop / Value |
| --- | --- | --- | --- | --- |
| 1992-93 Stadium Club Shaquille O'Neal | 408 / $9 | 1,713 / $8.50 | 2,680 / $19.38 | 647 / $117 |
| 1989 Fleer Michael Jordan | 1,386 / $13 | 6,665 / $23.50 | 9,371 / $66 | 1,113 / $860 |
| 1989 Hoops David Robinson | 643 / $6 | 2,821 / $8.80 | 3,792 / $27.44 | 800 / $288 |
| 1988 Fleer John Stockton | 896 / $18.50 | 3,251 / $18.50 | 4,741 / $84 | 956 / $459 |
| 1988 Fleer Scottie Pippen | 1,819 / $29 | 5,141 / $43 | 3,393 / $177 | 249 / $2,325 |
No, you are not imagining. These cards generally do not perform as well as expected. The Shaq card is a prime example. A highly-rated rookie who had a Hall-of-Fame career.
But a PSA 10 of one of his best rookie cards (though not the best) doesn't exactly break the bank.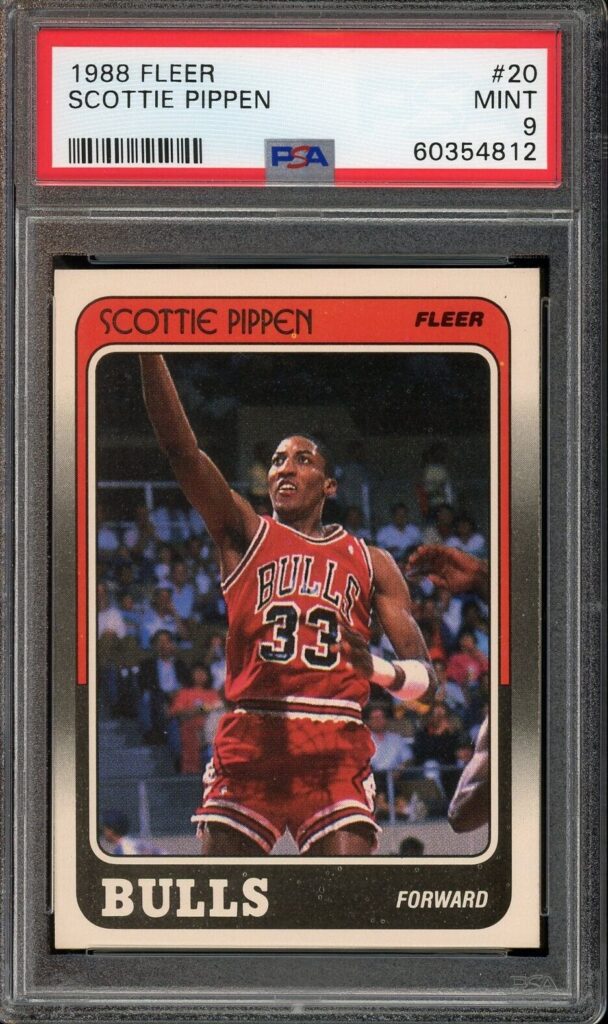 The Scottie Pippen card is a notable exception. You can see why when you look at the population figure. It is by FAR the lowest among this bunch. Interestingly enough, the high price carries over to the PSA 9s and 8s, even though their population count is not particularly low.
But most of these cards do not present much margin for profit, even at a PSA 9. Why?
Why basketball cards do not perform as strongly as football
There isn't as much of an upside on many of these basketball cards as we saw on the football ones. That may sound surprising, but it follows the same logic as the relative weakness of the baseball cards.
Sure, baseball cards were more popular than basketball cards at the time. But they were also printed in smaller numbers. And there was no shortage of people buying and saving basketball cards.
By the time Shaq came around, there was massive attention on the basketball card market. Fleer, Upper Deck, and Topps all increased production at that time, as many thought they would be able to see a return on his rookie cards. And, of course, these collectors carefully held onto their cards like baseball fans. As a result, the pop numbers are high.
After all, the generation coming up in the middle of the 1980s was historically fantastic, and everyone knew it. Michael Jordan and Patrick Ewing headlined an age filled with unprecedented promise and talent.
The guys showing up late in the junk wax era, like David Robinson and Shaquille O'Neal, were no slouches either.
Just think of the hype surrounding the NBA "Dream Team" sent to the 1992 Olympics in Barcelona. Basketball fans at that time had a sense that they were living in a historic era. And we were right.
There was no similar excitement around the MLB or NFL rookies coming up in the junk wax era, as good as Griffey Jr. and Emmitt Smith were. Therefore, there is no shortage of people who bought and kept the cards. Especially the most prominent names, like Jordan and Shaq.
Buy PSA 10 cards made during the junk wax era on eBay
The illusion of scarcity
The problem with high-graded junk wax-era cards high value is that the scarcity is artificial. What do I mean by that? On one level, scarcity is always artificial. So when a company puts out a 1/1, they intentionally make that card scarce.
But when there is a huge print run, as there often is with junk wax cards, the scarcity isn't a question of how many cards exist. Instead, it's a function of the number of cards people have sent in for grading. And that is a number that is highly sensitive to market fluctuations.
Once a card has a high value, a more significant percentage of the people who own the card send it in for grading. This, in turn, changes the population numbers and lowers the value.
Some cards have crashed as a result of this dynamic. One well-known case is the 2001 Upper Deck Tiger Woods card. Obviously, golf cards weren't much of a thing back in 2001. They still aren't. But when collectors figured out that a Tiger Woods rookie card could make bank, they started sending them into PSA.
At first, PSA 10 cards went for close to $1,000 each. But soon, the market was flooded with PSA 10s. There is now a pop count of no less than 12,467 PSA 10s and over 13,000 PSA 9s. That drove the price down considerably to $239, where it currently stands.
The Covid-19 boom
Another element to consider is the influence of the influx of stimulus cash on the hobby in 2021 and 2022. They say a rising tide lifts all boats, and we certainly saw evidence of rising prices across the hobby. From vintage to junk wax, all the way to ultra-modern.
A course correction is already underway. With inflation already eating away at the hobby and recession looking very likely, prices will go down. The junk wax market already has meager profit margins. As the pandemic boom fades, they may completely disappear for all but a very few select cards.
What junk wax cards should you grade?
The margin of error for junk wax cards, except for football cards, is small. The first thing that almost goes without saying is that unless the card belongs to a Hall-of-Famer or someone VERY well known who didn't make it yet (think Barry Bonds or Bo Jackson), the card is usually not worth grading. At least not for profit.
The occasional athlete can have worthwhile cards even after their rookie season. Most notably Michael Jordan and, to a lesser extent, Joe Montana and Nolan Ryan. Then, of course, there are those cards with a notable error on them. But usually, it's the rookie we are after.
There are, of course, other reasons to grade a card. We have already discussed that some people grade cards and collect graded cards to complete PSA set registries. That allows you to make a good amount of money if you find a rare, highly-graded card. However, even in this case, the junk wax cards are worth less than their vintage equivalents.
Buy PSA 10 cards made during the junk wax era on eBay
Condition, condition, and condition
But whether you are going for that rare set-completing card or a superstar rookie, the grade is absolutely crucial. After all, there is an abundance of most of these cards. That is why they call it the junk wax period. So more often than not, if it's not at least a PSA 9, it's not worth grading.
So, if you are planning to invest in junk wax cards, you had better make sure that you are an expert on card condition. If you buy in person, take a perfect look at the centering, the state of the corners, and any other factors that could lower the grade. When buying online, don't bother purchasing any cards without close-up images of the corners.
Then, you can ask sellers for them, and some will even respond! Only spring for the cards if you, or an expert on card grading, honestly believe it has a good shot at getting a PSA 10 or, if you don't mind, not making a profit on grading the card.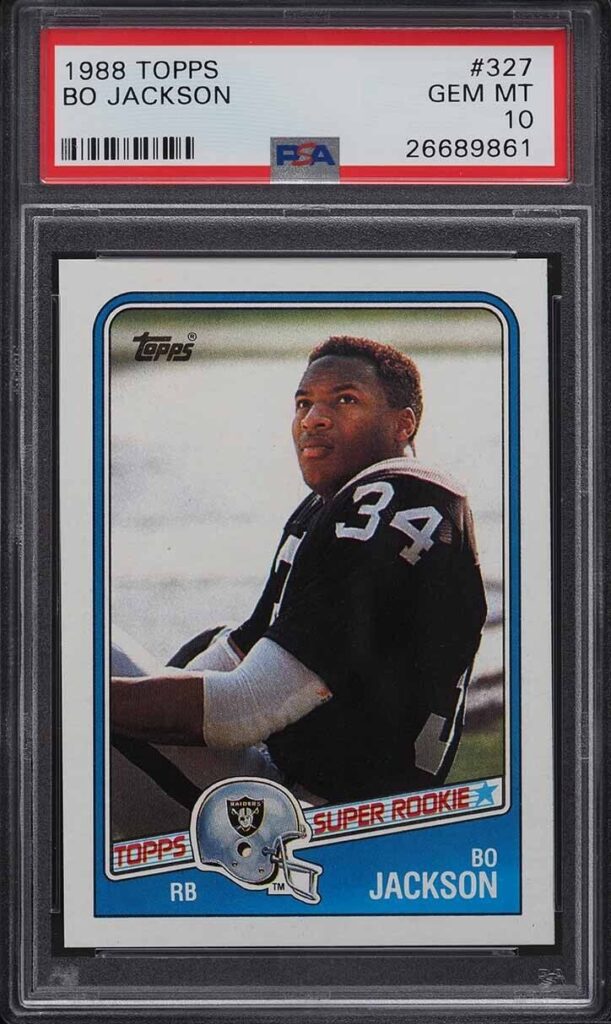 But when you find one with a shot at a ten, grade it right away. There are plenty of horror stories about people who sat around waiting for the right time to grade and damaged their cards in one way or another. Remember, junk wax cards are generally made from subpar materials. Get them slabbed and protected ASAP if the condition is good enough.
The final word on grading junk wax
It is not impossible to make a profit off a junk wax habit. But it really isn't the most efficient way to make money from sports cards. Both ultra-modern and vintage offer clearer avenues to making a few bucks.
Ultimately, the amount of effort it will take to find that junk wax PSA 10 is probably not worth the profit. There is a reason they are worth so much more than lower grades. It is tough to find one.
Even coming fresh from an unopened box, they are more likely to get a PSA 8 or PSA 9 grade.
So, there is no need to go after junk wax just to make money. Yes, it's probably more stable than crypto right now. But there are better ways to turn a profit. Instead, use this guide if you already have a love for junk wax.
If you play your junk wax cards right, you will occasionally make an excellent score. Consider it a reward for your passionate love of junk wax rather than an investment.
Buy PSA 10 cards made during the junk wax era on eBay