The Best Of February Sports Card Auctions
In the sports world, February is a month of transition. Football wraps up with the big party that is the Super Bowl. Baseball starts to dust off the winter doldrums on the back fields of Florida and Arizona. The NBA and NHL seasons kick into high gear as the playoffs loom.
And of course, the sports card auction action remains hot, despite the chilly outside temps. Let's take a look at what the major auction houses have to offer this month!
Clean Sweep Auctions
Clean Sweep Auctions has its Major Winter auction wrapping up at the very start of the month. While baseball is king here, they also have some items from basketball, football, hockey, and boxing.  
Clean Sweep Auction basics
| | |
| --- | --- |
| Auction: | Clean Sweep Auctions |
| Website URL: | Website |
| Auction Dates: | End: February 1 |
| Bid Open: | Open |
| Number of Lots: | 933 |
| Bidding Guide: | FAQ |
| Buyer's Premium | 20% (higher in some cases – see rules) |
Clean Sweep Auctions items of note
While the entire auction spans many different sports and sets, the headliners here are mostly from the 1909-11 T206 and other early sets.
There are T206 Ty Cobb cards in green, red, and "bat off shoulder". Babe Ruth? There's a rare 1923 Maple Crispette Babe Ruth, plus not just one, but two, three, and four 1933 Goudey.
There are rookie cards of Bill Russell, Wilt Chamberlain, and Michael Jordan.
There's a World Series ring and a trophy. And an NLCS ring, to boot. Or maybe you'd like to take a look at Mickey Mantle's original scouting report. I think the kid has potential!
A favorite? How about the 1980 Perez Steele Satchel Paige Auto PSA 8? The legendary Paige passed away just two years after the release of this set, making it a rarity signed.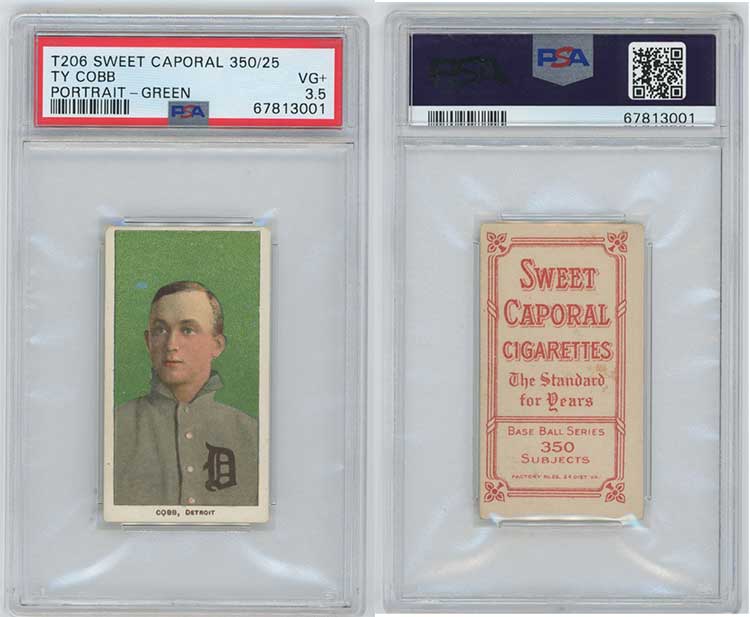 The Collector Connection Post War Sports Cards and Memorabilia XX1
The Collector Connection brings us a nice mix of post-war items in this auction. Of note is that these items trend towards the "more affordable" than many auction houses. While some of these items will sell for a strong price, these aren't all museum pieces, making it a good auction if you're looking to dip your feet into the auction house game.
Collectors Connection Auction basics
Collectors Connection items of note
This auction has a little bit of everything, including some charming oddball lots. There are Picture Packs form the 1940s and 1960s. World Series Press Passes are a unique piece of history. There are plenty of autographed items.
Oh, and there are cards. Both graded and raw, from a variety of eras, sports, and conditions. In addition to singles, there are lots, partial sets, and complete sets.
Before I pick a favorite, a quick shout-out to the 1991 Topps Desert Shield #450 Wade Boggs PSA 10. I always thought that card had a great photo, and a Desert Storm PSA 10 is impressive. One favorite is the 1950 Jackie Robinson Story Mexican Movie Lobby Card, a unique Jackie Robinson collectible.
Another is the Pete Gray Signed Photo CAS Authenticated. Pete Gray, who lost an arm in an accident as a child, defied the odds and played professional baseball, even making the majors in 1945 during the peak of World War II. I saw the 1986 TV Movie A Winner Never Quits as a kid, and have always had a soft spot for Gray.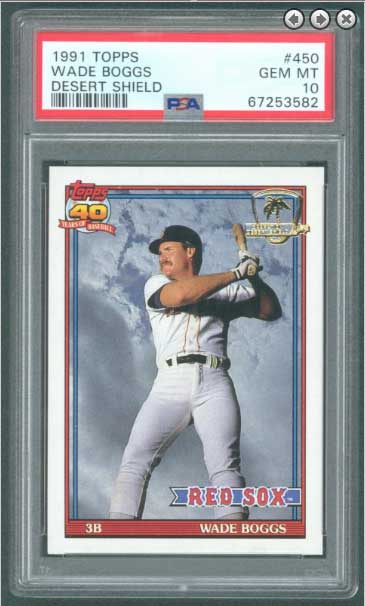 Goldin Auctions 2023 January Sports Elite Auction
While this one is called a January auction, it actually ends eight days into February. Basketball is the biggest sport from a total lots perspective here, although all the major sports are represented.
As a reminder, Goldin now runs weekly auctions as well, which tend to have more affordable items than the elite auctions. Their 2023 Winter Comics, Video Games & TCG Elite Auction is also going on right now, if that's your thing.
Goldin Auctions basics
| | |
| --- | --- |
| Auction: | Goldin Auctions 2023 January Sports Elite Auction |
| Website URL: | Goldin Auctions |
| Auction Dates: | Extended Bidding Starts: Wed February 8 9:00 PM |
| Bid Open: | Open |
| Number of Lots: | 622 |
| Bidding Guide: | FAQ |
| Buyer's Premium | 20% (an additional 3% for credit card payments) |
Goldin Auctions items of note
The headliner here is the famous "Hand of God" soccer ball used to score a goal in the 1986 World Cup by Diego Maradona. Prefer a more modern soccer holy grail? Check out the 2022 Panini Prizm World Cup Qatar Black Prizm 1/1 of Lionel Messi.
You'll find plenty of basketball, as mentioned above. Michael Jordan? There's a PSA 10 1986 Fleer RC, a 1999-00 Upper Deck Retro Inkredible Level 2 Auto, 1998-99 Upper Deck MJ Living Legend Autograph, and more. LeBron James? There's a 1/1 2002-03 Upper Deck NBA Logo Mania Patches Autograph and a PSA 10 2003-04 Topps Chrome Gold Refractor just for starters.
Football fans will find plenty of Patrick Mahomes cards, including a 2017 Panini Donruss Optic Rated Rookie Autograph Gold Vinyl Prizm, a 2017 Panini National Treasures Rookie Patch Autograph, and a 2017 Panini National Treasures Rookie Patch Autograph (RPA) Holo Silver, among others. My favorite item? This Red Sox fan will go with not one, but two 2004 Boston Red Sox World Series rings. I mean, I probably don't NEED both, but I do have two hands.
Love of the Game Set Builder Winter Auction
The Love of the Game auction this month has a definite tilt towards baseball and vintage. There are some iconic cards, although some are in a bit lower condition than you sometimes see in auctions. That's the "set builders" part of the equation.
Check out Love of the Game's really cool virtual online catalog. It's well worth a flip-through.
Love of the Game Auction basics
Love of the Game items of note
As mentioned above, there are some truly iconic cards in this auction, just not in the super high grades you sometimes seen in premium auctions. How iconic?
How about 1951 Bowman cards of Mickey Mantle (PSA 2.5) and Willie Mays (PSA 4.5)? Or 1939 Play Ball cards of Joe DiMaggio (PSA 4) and Ted Williams (PSA 5)? There's a 1933 Goudey Babe Ruth (PSA 2). A 1948 Leaf Jackie Robinson (PSA 1.5).
There are a large number of T206 Tobacco cards, including many Hall of Famers. There are also a number of Exhibit cards of various years.
It's hard to pick a favorite, but let's go with the 1965 O-Pee-Chee #2 NL Batting Leaders Clemente/Carty/Aaron in PSA 5. Vintage O-Pee-Chee cards are pretty amazing, as are Vintage League Leader cards. And the fact that it features iconic inner circle Hall of Famers Hank Aaron and Roberto Clemente is a nice bonus.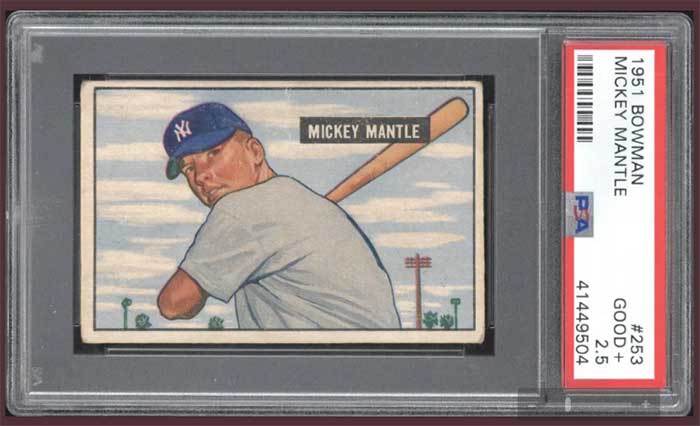 Wheatland Auctions February 2023 Vintage Sports Card & Memorabilia Auction
The Wheatland Auctions February Auction skews towards baseball and vintage, which is definitely a theme for this month's auctions.
Wheatland Auction basics
Wheatland items of note
The vintage goodness in the Wheatland auction this month is pretty impressive. Just looking at some 50s cards, there's a lot to like.
Just using Mickey Mantle as an example, you'll find graded examples of 1952 Bowman (1, 2), 1953 Bowman, 1953 Topps, 1954 Bowman, 1955 Bowman, 1956 Topps (1, 2, and 3), 1957 Topps, and more. A favorite is the 1950-52 Royal Desserts Stan Musial #1 (Hand Cut) Graded SGC Authentic. Any time you can combine Stan Musial, rare, hand-cut odd-ball releases, and dessert, you have a winner in my book!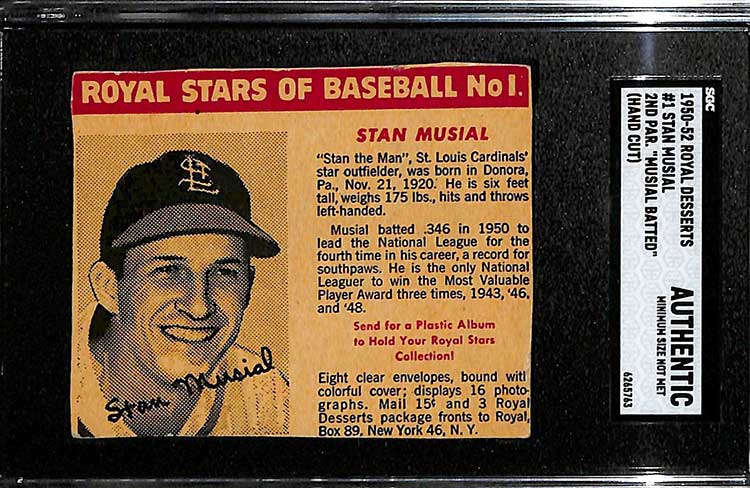 Heritage Auctions 2023 February 25 – 26 Winter Platinum Night Catalog Auction
As is the norm for Heritage, this auction is heavy on baseball and heavy on vintage, although it does have a mix of sports, eras, and items.
Heritage Auctions also runs a weekly auction, which ends on Sunday nights.
Heritage auction basics
| | |
| --- | --- |
| Auction: | Heritage Auctions 2023 February 25 – 26 Winter Platinum Night Catalog Auction |
| Website URL: | https://sports.ha.com/ |
| Auction Dates: | Ends February 25 & 26 |
| Bid Open: | Opens on or around Feb 3rd |
| Number of Lots: | TBD |
| Bidding Guide: | Heritage Auction Bidding Guide |
| Buyer's Premium | 20% (min $29) |
Heritage items of note
The big names abound here. There's a 1916 M101-4 Sporting News Babe Ruth Rookie in SGC 7. A PSA 8 1952 Topps Mickey Mantle. How about an SGC 9 1953 Topps Willie Mays? Lou Gehrig. Joe DiMaggio. Ty Cobb. Nolan Ryan.
Want something more modern? There's a 2003 Upper Deck Exquisite Collection LeBron James (Exquisite Rookie Patch Autographs-Level 1 and a 2000 Playoff Contenders Tom Brady (Championship Ticket) Rookie #144 BGS NM-MT+ 8.5, Auto 10 that should prove popular.
There are plenty of non-card offerings, from uniforms, to bats, to other kinds of memorabilia. A favorite of mine? How about the PSA 9 1959 Marumatsu Scoreboard JCM32c Sadaharu Oh. If you don't know about Oh, he is the Japanese All-Time Home Run king. He was known as "The Babe Ruth of Japan".
Final thoughts on February auctions
The weather outside may be cold, but the auction action remains red hot in February. While there's a lot of baseball and a lot of vintage in this month's offerings, you'll probably find something of interest no matter where your collecting interests lie.
Other sports card auctions by month