Mike D's PSA Sub Review: An Experimentation With Grading Topps Archives & Modern Minor League Cards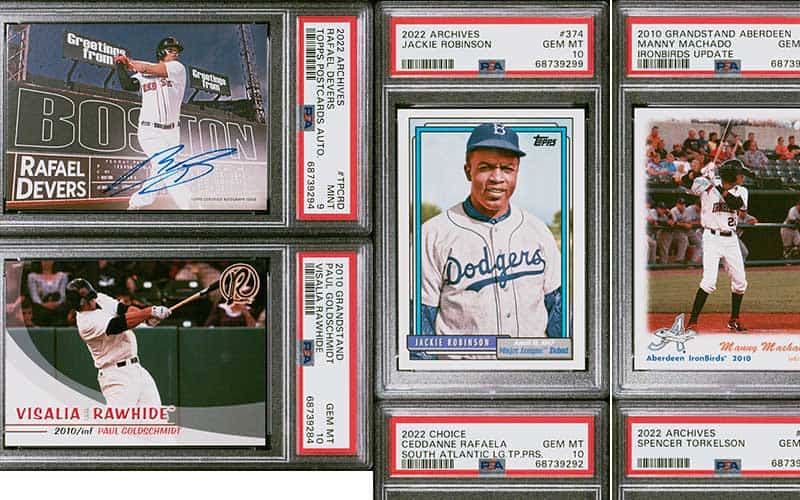 As 2022 came to a close, I got one more holiday gift…my recent submission to PSA popped and I had grades!
I thought I'd share what I subbed and why, the grades I received, and my thoughts on the process with my Cardlines friends.
Some thoughts on PSA submissions
Submitting cards to be graded by PSA is a fun part of the hobby for me. I have been buying PSA-graded cards for a number of years, and finally took the plunge into submitting cards for grading in late 2020.
Yes, so everyone else sent cards in around that time, leading to long backlogs and PSA shutting down for an extended period of time. Things appear to be flowing again, and prices are once again getting rather reasonable.
I enjoy submitting cards for grading because it's an interesting way to add value to your collection. I don't buy a lot of high-end raw cards to submit, but do enjoy submitting lower-cost cards. Typically I am to grade cards that are low pop (since I can't buy one already graded) or is otherwise interesting, fun, or just a cool card.
I'm not looking to slab and flip, and in a typical submission, 90-100% of the cards are going into my personal collection for a period of time.
With modern or ultra-modern cards, I tend to submit cards that I think will grade a 9, and consider 10s a big bonus and an 8 something I can live with.
So, like everything else in my collecting hobby world, I'm looking to have some fun, create something interesting, and hopefully add a little value.
My recent PSA submission details
The PSA submission consisted of 18 cards and was submitted via PSA's November 2022 Monthly Special. The special was for $15 per card and was for cards issued from 1996-present. There was a 10-card minimum and an estimated turnaround time of 120 calendar days. PSA Collector's Club Membership was required to take advantage of this special.
I shipped the cards in early November, and they arrived at PSA on November 7, 2022. PSA had the submission entered into the system by November 11, 2022. The cards shipped back to me on December 28, 2022.
This means that they beat their estimate of 120 business days by a significant margin. After years of backlogs and long waits, this is great to see.
View examples of graded minor league cards on eBay
The submission results
The eighteen cards I submitted fall neatly into three categories. There are several connections to my other Cardlines articles, so regular readers may recognize some of these cards.
Not graded
The first card on my submission was not necessarily bad news, but a bit of a bummer. It was the 1996 Best Scott Rolen Autograph pulled in our Breaks from the Past: 1996 Best Franchise Player Signature Edition.
PSA will grade many certified autographs with a straight grade for the card, but for some, especially older certified autographs, require PSA/DNA at an additional charge. That is the case here, so the card will be returned ungraded and PSA will not charge me for that item.
Assuming the card survives its cross-country journey unscathed, I likely will submit it for that service at the slightly elevated price point. With a little luck, Rolen will be in the Hall of Fame by the time I have this one slabbed.
So, file this one under "incomplete" or "stay tuned".
Modern Minors
One of my hobby niches is purchasing minor league sets that contain pre-rookie cards of interesting players, hoping they look gradable. It's a fairly low-cost, low-risk way to add some fun, low-pop pre-rookies to my graded collection.
View examples of graded minor league cards on eBay
2010 Multi-Ad South Atlantic League Top Prospects 2 Nolan Arenado: PSA 8
Nolan Arenado is an active major league hitter who we think is on the path to the Hall of Fame.
I haven't had the best of luck with this one, as I had submitted a copy of this card previously, and it also came back a PSA 8. The card has a total PSA pop of only 6, and I now own the only two PSA 8s in existence (the other four are all PSA 9s).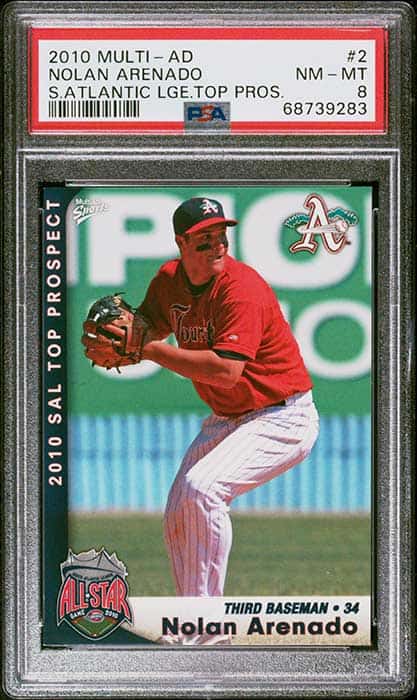 2010 Grandstand Visalia Rawhide Paul Goldschmidt: PSA 10
Paul Goldschmidt is another player on the Hall of Fame path. This is also another card I have submitted a copy of in the past. That one came back a PSA 9, so I was thrilled that this one came back a PSA 10.
This one has a total PSA population of four, with mine the only 10. As mentioned, I also owe one of the two PSA 9s.
2010 Grandstand Aberdeen Ironbirds Update Manny Machado: PSA 10
Manny Machado is, you guessed it, another player on the Hall of Fame path. You're probably picking up on a theme here. This one has a higher PSA population at 261, with 203 PSA 10s, so it's not rare.
That being said, I'm happy to get a Gem Mint copy of this early Machado card.
View examples of graded minor league cards on eBay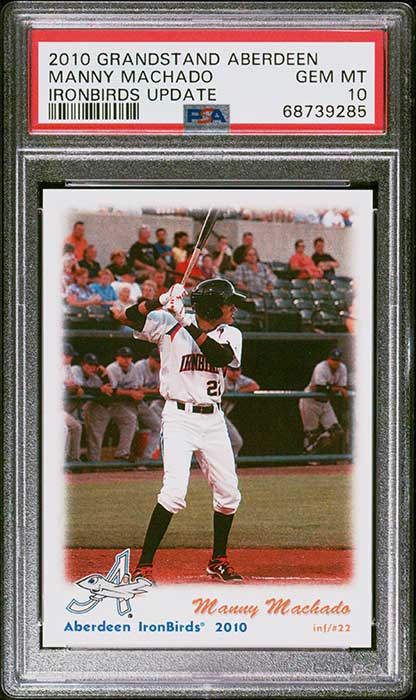 2001 Grandstand Kane County Cougars Miguel Cabrera: PSA 8
Miguel Cabrera is a future Hall of Famer. The difference between him and the prior entries in the list is that he's a sure thing future Hall of Fame hitter. I also submitted a copy of this previously, which came back a PSA 9.
Actually, I also submitted another version of this card. It was damaged at PSA and they reached out and we agreed upon a price, which they subtracted from the cost of that submission. I used that money to buy a third 2001 Kane County Cougars set and subbed that Cabrera.
This one coming back a PSA 8 is a mild disappointment, but the card only has a total PSA population of 17, of which I now own two. I'm OK with that.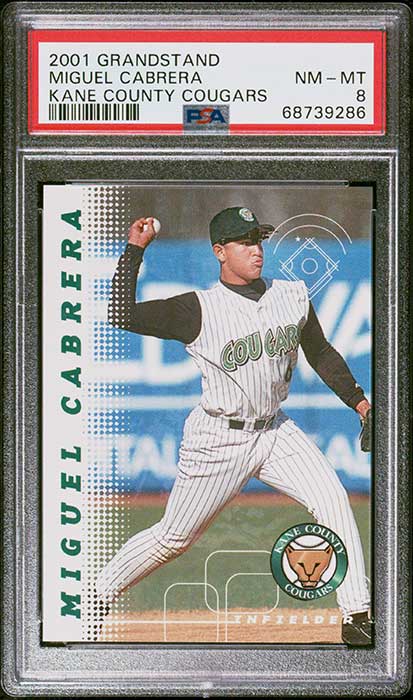 2012 Grandstand Tampa Yankees Andy Pettitte: PSA 8
Andy Pettitte had a Hall of Fame caliber career, although due to PED connections, he's not gained much traction in the voting so far. The numbers are there, though, and I expect Pettitte will eventually be enshrined.
This card is distinctly oddball, as it's not a pre-rookie card. By 2012 Pettitte was a 40-year-old rehabbing from injury. He made four rehab starts in the minor leagues that year, and the Tampa Yankees took advantage of that and made a card of him.
Again, the sting of the card being graded a PSA 8 is softened substantially by the fact that this card is a PSA pop 1.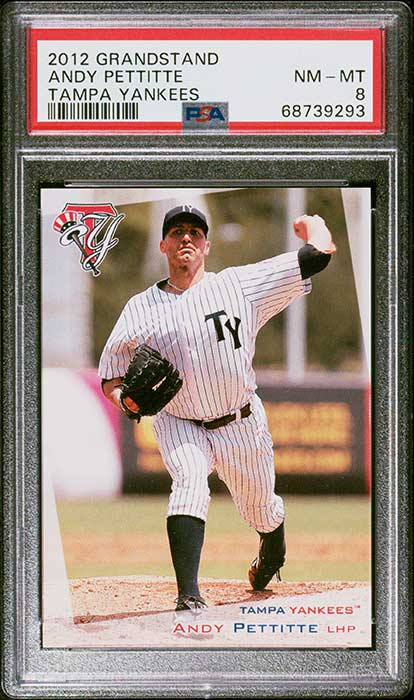 Ultra-Modern Minors
Take the minor league approach, rinse, repeat, and apply to ultra-modern minor league cards. Call his prospecting, Mike D. style.
View examples of graded minor league cards on eBay
2022 Choice Salem Red Sox 22 Marcelo Mayer x 2: PSA 8
Marcelo Mayer is not a future Hall of Famer. Or at least, it's way too early to suggest he is. He is the Red Sox top prospect and hopefully has a bright future ahead of him. This card, of which I submitted two copies, had a limited print run of only 200 sets produced.
These again came back as "only" PSA 8s, but considering he's a top prospect, only 200 total sets exist, and I have the only two PSA graded copies, I can't help but be happy.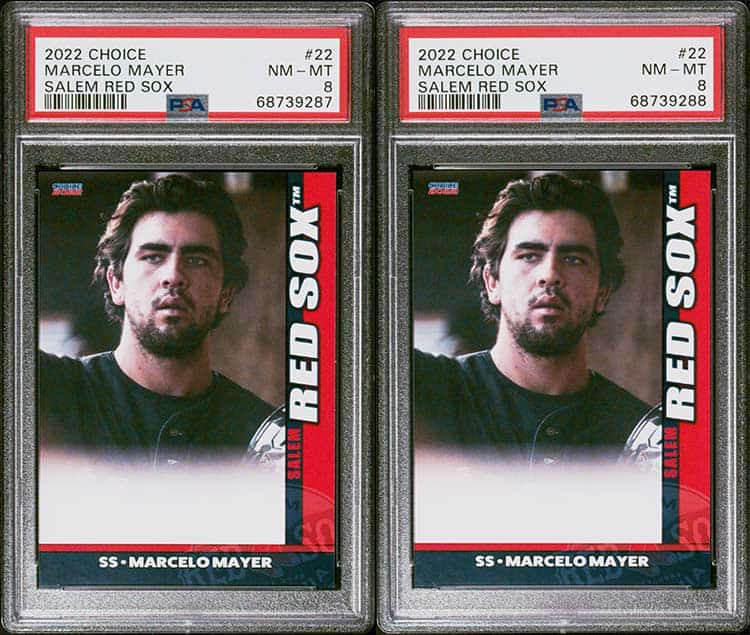 2019 Choice Salem Red Sox 19 Bryan Mata: PSA 9
Bryan Mata is probably the least well-known player in this sub. He is a Red Sox pitching prospect who spent 2022 making his way back from Tommy John surgery. He's currently a starter, and has some potential. So, this one has the potential to make me look insightful in a few years, or to look back and think about what could have been.
This one came back a PSA 9, which is great. It's also a PSA pop 1, which is fun!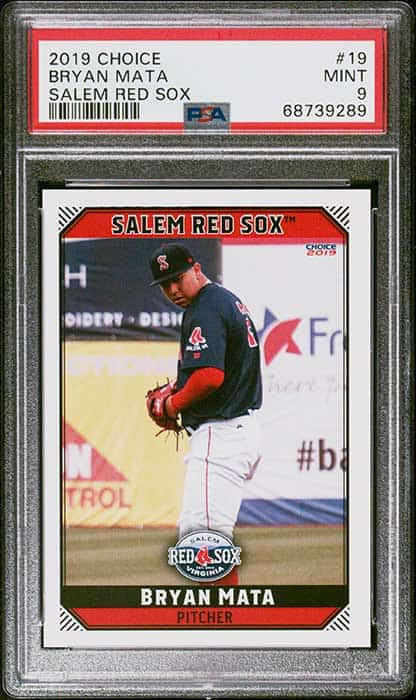 2018 Choice Salem Red Sox 15 Bryan Mata: PSA 9
Another Salem Red Sox Bryan Mata. Another PSA 9. And Another total pop 1. I like it.
2021 Choice Salem Red Sox 21 Ceddanne Rafaela: PSA 8
Ceddanne Rafaela is currently ranked as the #4 prospect in the Red Sox system after a breakout 2022. He split the year between High-A and AA and drew comparisons to Mookie Betts.
This one came back a PSA 8, which isn't ideal. It's another PSA pop 1 card, though, so I can live with it.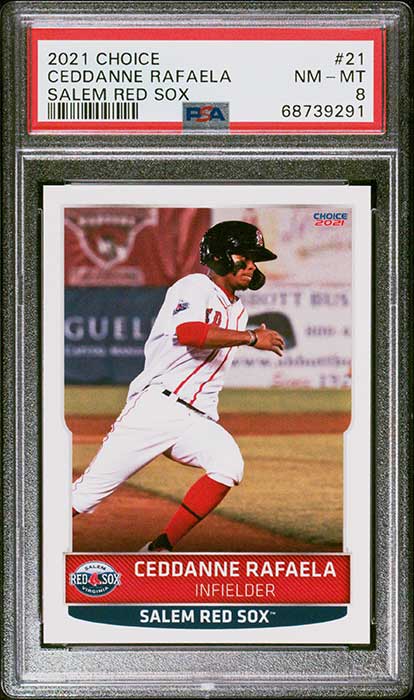 2022 Choice South Atlantic League Top Prospects Ceddanne Rafaela: PSA 10
Another Ceddanne Rafaela card, this one from the 2022 South Atlantic League Top Prospects set. This one came back a PSA 10 and is also a PSA pop 1.
I guess in some ways, getting a PSA 10 and a PSA 8 is as good as or better than getting two PSA 9s.
View examples of graded minor league cards on eBay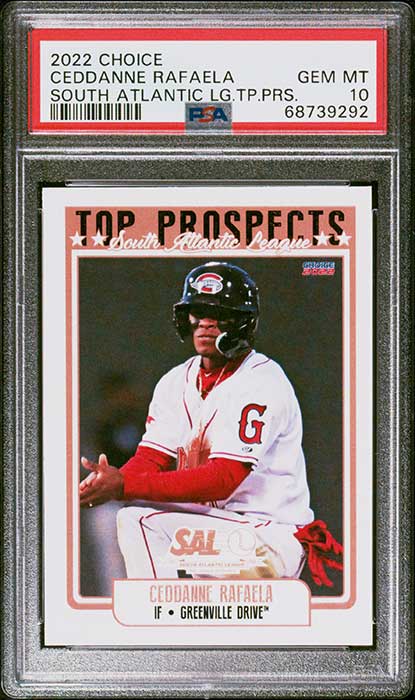 2022 Topps Archives
The 2022 Topps Archives set is a very cool vintage-themed product, and was my first current-year break in over a decade earlier this year.
That break contained a few cards that went into my PSA submission pile, and the majority of those made their way into this submission. I'm happy to get some of these cards slabbed as they're really great looking cards, although admittedly probably not big dollar value.
Shop for graded 2022 Topps Archives cards
2022 Topps Archives Topps Postcards Autographs Rafael Devers: PSA 9
As a Red Sox fan, I was thrilled to pull a Rafael Devers autograph from my very first break. I honestly didn't expect it to grade a 9 when I submitted it, but wanted it encased anyway. So, I'm thrilled to see it pop a PSA 9. It's a PSA pop 1, at least at the moment.
I plan to hold onto this one for a long time. Let's hope the Red Sox have the same plan for Devers.
2022 Topps Archives Fan Favorites Autographs 72FFEB Eddie Bressoud: PSA 8
The other autograph in the 2022 Topps Archives box was another Red Sox, although this time a bit lesser known one. Still, I was happy to pull the Eddie Bressoud Fan Favorite autograph. Eddie spent four years in Boston, making his lone All-Star team as a member of the 1964 Red Sox.
This is another one I just wanted to be slabbed for storage purposes, so it coming back a PSA 8 isn't a big deal. I'm happy that of the two autographs, this is the one that got the lower grade.
Shop for graded 2022 Topps Archives cards
2022 Topps Archives 300 Wander Franco: PSA 9
I know that grading base product singles, even rookie cards, isn't necessarily the best investment, but Wander Franco has some great potential and I just love those 1987 Topps designs.
I'm pleased this one came back a PSA 9. The pop on this one is already 43, and I expect that will grow, but it's a pretty card that will help remind me of my Archives break and has some upside if Franco becomes the star many think he will be.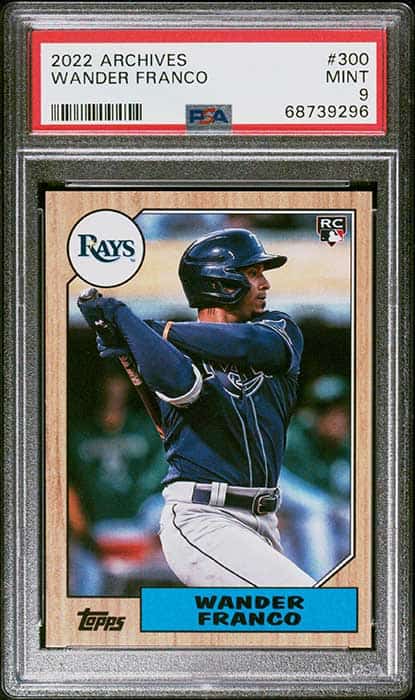 2022 Topps Archives 250 Aaron Judge: PSA 9
Aaron Judge had a good year in 2022. Maybe I'll start a "current year MVP" run like Shai mentioned in our CardLines Staff "New Years Resolutions And Predictions" article.
Anyway, it's a non-rookie base product card, but it's a good one. Happy it came back a PSA 9. It's more of that 1987 Topps design that I do so enjoy. And it's only a PSA pop 6 at the moment, which is a bit surprising.
Shop for graded 2022 Topps Archives cards
2022 Topps Archives 365 Spencer Torkelson: PSA 10
Spencer Torkelson is another young player with significant promise. This card is a 1992 Topps Pro Debut insert, although Archives numbered the inserts from 301-380.
That it came back a PSA 10 is a nice bonus. If Torkelson lives up to his potential, this could be a nice card to have.
Shop for 2022 Topps Archives Spencer Torkelson cards on eBay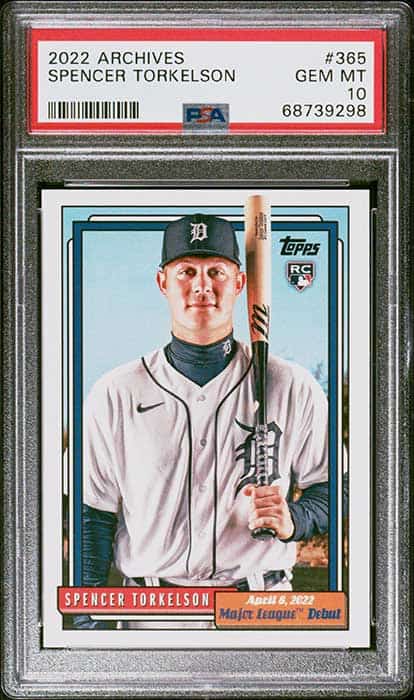 2022 Topps Archives 374 Jackie Robinson: PSA 10
Another 1992 Topps Pro Debut insert, this one of the iconic Jackie Robinson. I'm a sucker for all things Jackie Robinson, so had to sub this awesome-looking card. The fact that it came back a PSA 10 and is currently a PSA pop 1 is two very cool bonuses.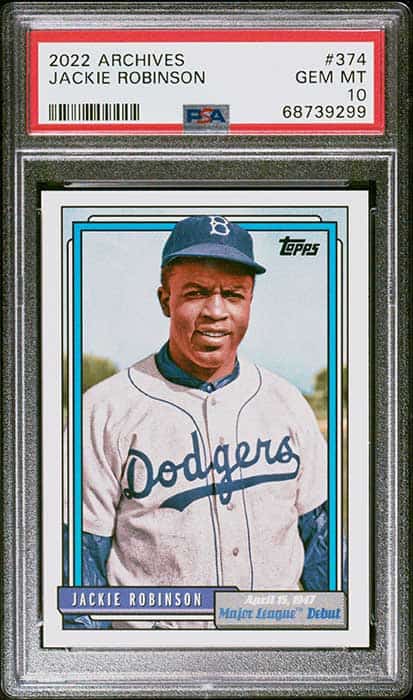 2022 Topps Archives 380 Hank Aaron: PSA 9
Another 1992 Topps Pro Debut insert, this one of Hall of Famer Hank Aaron. Aaron is an all-time great and inner circle Hall of Famer. Clearly I'm a sucker for modern cards featuring Hall of Famers on vintage designs.
This one came back a PSA 9 and is also a PSA pop 1. Very cool.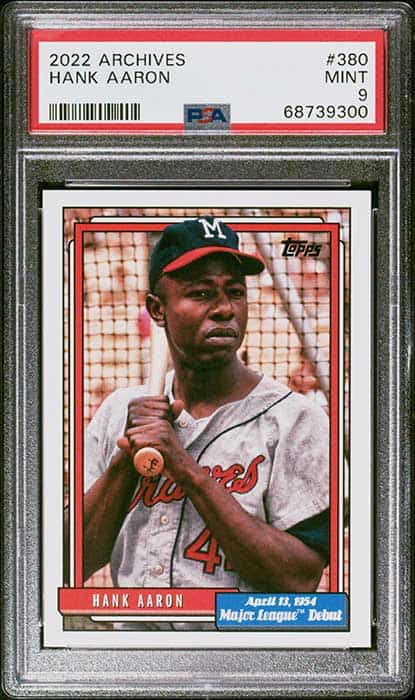 How do I feel about the grades?
If you'd told me that I'd have an 18 card submission that would have 7 PSA 8s, 6 PSA 9s, and 5 PSA 10s (plus one "no grade"), I'd have had concerns about the high number of PSA 8's. If you told me that I'd be thrilled with the results, I'd have probably been surprised, but here we are.
But if when I mailed in the sub, if you'd said "pick two cards you'd be OK with coming back PSA 8s", I'd have picked the Pettitte and the Bressoud.
I already have the Cabrera in a higher grade, which softens the blow there. The Arenado is clearly just not my card, although I reserve the right to try again at some point.
Meanwhile, the five PSA 10s is a great number for a sub this size, and I'm always happy with a PSA 9.
One of my favorite things about this particular submission is that it included an impressive 11 cards that are PSA pop 1 (or in the case of the Mayer, that I own the only two copies of). I'm sure they won't all stay pop 1s for long, but it's cool to have the first copies of these cards graded by PSA.
The rest of the submission is a low population affair in general. The Wander Franco card is the highest population at 43. No other card in the submission has been graded even 20 times.
Final thoughts on my PSA submission
This PSA submission confirmed a few things I already knew about myself. I enjoy minor league cards, vintage-themed modern cards, I'm a bit obsessed with the Hall of Fame, and I'm a sucker for low-population cards, especially PSA pop 1's.
For less than $300 in grading fees and with a turnaround time of just over 50 days, the sub was cost-effective and the wait time was very reasonable and beat PSA's own estimates. With so many low-population cards, finding comps isn't in the cards, but I feel like I did well, value-wise.
Do you enjoy this walk through my recent PSA sub? Let us know at card_lines on Twitter and we'll look to share more similar content in the future.
Related Cardlines Content